Mary Alice Haney's red-carpet style reflects the city's taste for practical glitz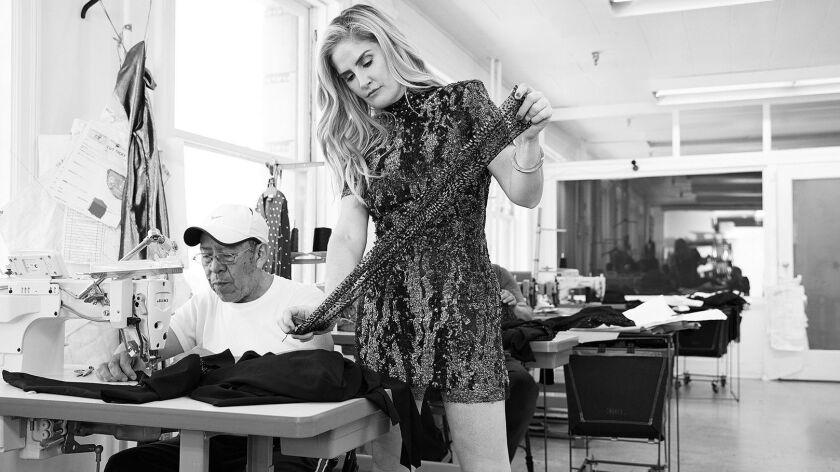 In black yoga pants and a white T shirt, the fashion designer Mary Alice Haney is barefoot, her shoes missing in action somewhere in her downtown Los Angeles design atelier. The jewelry she had planned to wear has been forgotten at home, so she grabs a piece of hardware from a best-selling dress in her collection and shoves it on her wrist like a bangle, grimacing. She forgot her wedding ring this morning, and also the heels she planned to wear in a photo shoot. Her phone has a message from her daughter, who is at summer camp in North Carolina: "Please come get me now!" Then Haney discovers, chortling as she slips into a slinky silk-jersey cocktail dress of her own design, that the invented bangle won't come off.
Chaos is not new to any woman running a business while raising five kids and step-kids, but Haney's all-in-with-gusto approach is refreshingly all her own. It has helped establish her sexy red-carpet fashion label, Haney, and her new line, called Green, which up-cycles leftover fabrics in some of Haney's best-selling styles, passing along the cost savings in lower prices. "We give you the fabric," Haney says. "Otherwise it would end up in a landfill."
Verve has helped her form a posse of entrepreneurial friends who support each other's endeavors, including the actress Reese Witherspoon, Sprinkles Cupcake founder Candace Nelson, and Shannon Rotenberg, executive director of Matthew McConaughey's Just Keep Livin Foundation.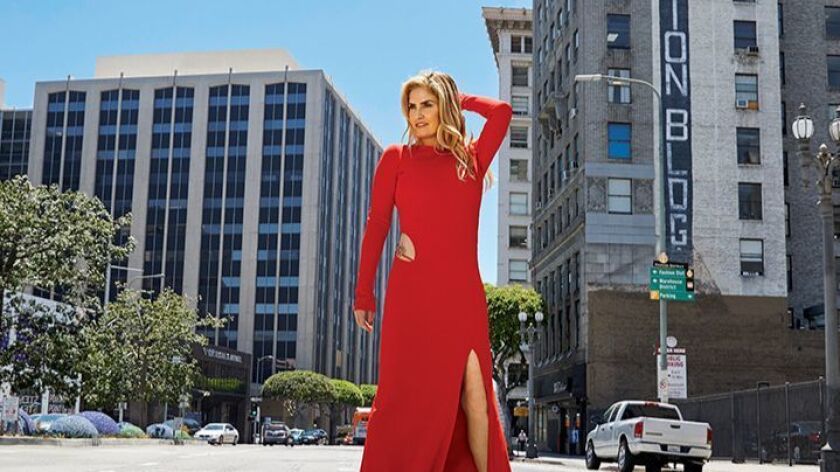 "Mary Alice prioritizes the females in her life," says Nelson. "Mary Alice has been living in Manhattan Beach, with kids in school on the west side of LA and an office downtown. Anyone who knows this city can appreciate what logistical madness that is, yet she … was at my cookbook launch, my restaurant opening, the Baby2Baby gala and all the little events in between. I recently launched a Netflix show and she wanted to know why we weren't properly celebrating it!"
The Haney label is emblematic of the new fashion brands that are budding in Los Angeles, taking up residence in former office buildings and warehouses downtown, producing collections in local factories, eschewing traditions such as showing on runways in New York or Paris and aiming to fill niches the rest of the business has failed to note.
Haney's particular savvy is the cocktail or evening dress, whose pizazz comes of the designer's years as a Hollywood stylist. The job gave her insight into what actresses need for red-carpet appearances—flattering looks that stand out in photographs— and how design details can be used to hide bodily flaws.
Her dresses often have sexy cut-outs placed strategically where they are least likely to reveal flab and embellishments that draw the eye away from tummies. Many of her best-sellers are made of smoothing doubled-silk jersey fabrics with enough stretch to be comfy. "We put in a lining that sucks you in!" Haney says enthusiastically. She points to little flaps that cover the back of her upper arms—an area many women are shy about—on a sleeveless black jumper. "I know where to cover," she says.
A formidable list of Hollywood A-listers appears on red carpets in Haney, with Witherspoon among the most frequent. They include Scarlett Johansson, Kate Hudson, Crissy Teigen, Taylor Swift, Ciara, Heidi Klum and Kerry Washington. "I've just got all these badass women around me supporting each other," Haney says.
Clients cite the comfort of Haney's evening wear. Nelson says she attended the annual gala of Learning Lab, a children's education charity, in a shimmery metallic floor-length gown with metal-link straps. "The strap detail made it utterly unique, and the material hung perfectly and was just slightly stretchy," Nelson says. "It's a dress that you could throw in a suitcase and be black-tie ready at your destination without even having to steam it. Genius!"
Haney isn't formally trained as a designer, which may be one of her strengths, as she focuses on solving real-life glitzy fashion problems. She began as a fashion magazine editor, styling shoots for GQ, Marie Claire and Domino, then segued into styling celebrities for public appearances. She launched Haney in 2013, and this year launched Green, her secondary up-cycle label.
Haney is resolute about producing her collections locally, mainly at two factories within walking distance of her South Los Angeles Street studio. Both factories are owned by women—another part of the Haney posse. And while most designers are secretive about their factories and resources, fearing competition, Haney goes out of her way to name them, saying she hopes getting the word out will build their businesses, too. At Lipstick Prophets recently, Haney designs were waiting to be sewn after Rodarte pieces at two long rows of sewing machines. "Our mission statement is we want American designers to have a place to manufacture luxury without going to France or Italy," says factory owner Ali Barone. Lipstick's pattern maker, Gayane Ketendjian, who turns Haney's concepts into patterns that can be cut and sewn in fabric, keeps a photo of Haney's five children and stepchildren at her worktable. "She's my closest relationship," says Haney. "Other than my husband."
---