The Miramar Beach hotel in Montecito opens with a splash
Rick Caruso has a story to share. It begins in the 1930s, with a New England family summering in a beachside Montecito manor for which they commissioned the renowned architect Paul Williams. Over the years the stately stone home expanded, with two wood clapboard wings and cottages for visitors. The family loved to entertain and equipped their home accordingly, with a Founder's Suite and seven adjoining bedrooms. They played shuffleboard by the beach and bocce ball on the lawn. "This was a fun family that loved having a lot of people over in the manor bar and on the veranda," says Caruso.
This is pure fantasy—an elaborate backstory that Caruso imagined, using his own family as a model, as he created the 161-room Miramar Beach resort, which welcomed its first guests in February. It is the renowned retail developer's first hotel property but not, he says, his last.
The Miramar occupies a beloved place in Montecito memory. The rustic former hotel, which began in 1889 when a local resident built a cottage for visitors (the original Miramar was shuttered in 2000 and is now demolished), had a beach club with grandfathered lifetime memberships for some locals. Hoteliers Ian Schrager and Ty Warner tried and failed to obtain approvals to rebuild the resort, but Caruso wended his way through the environmental and architectural reviews and postponements that delayed the opening until now. He has preserved those beach club memberships and lifted the resort's aspirations to world class.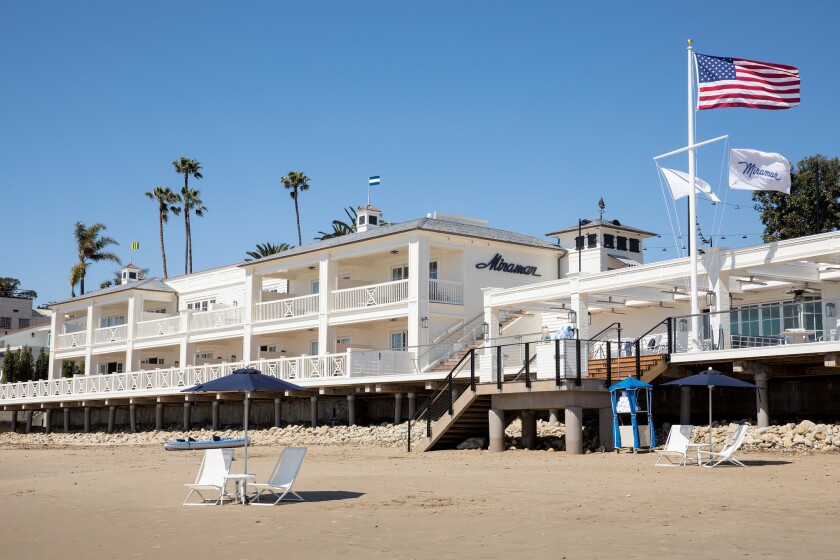 Water in the two swimming pools is salted and treated with ozone and ultraviolet light. Retail shops include Goop and James Perse. Luxe Art Deco- style light fixtures—and a great number of other details—are nickel plated. There's a Caruso's fine dining restaurant by the beach (the chef is Massimo Falsini) and a café by Malibu Farms. Closet drawers in the guest rooms are lined in cedar. Every room, public and private, has a terrace, balcony or garden space.
The hand-painted chinoiserie avian wallpaper in the private dining room and the manor's ladies' room is from renowned de Gournay (two valuable rolls went missing during construction, never to be found). Even the spark arrestors atop the chimneys were custom designed by Caruso's longtime in-house architect, Dave Williams, who also designed a custom wrought-iron loading-dock door—a detail few guests are likely to see. A 24-hour guard escorts patrons across a railroad track that traverses the 16-acre property—an old-school way to solve the tricky problem of trains slicing between the beach and the hotel.
Caruso made his name building Southern California shopping malls—notably the Grove in Los Angeles and most recently Palisades Village in Pacific Palisades—with a Disney-esque devotion to creating happiness. On the side, Caruso is a civic leader, contemplating a run for mayor of Los Angeles (that could still happen) and currently serving in the hot seat as chairman of the University of Southern California board of trustees as the school responds to a series of administrative scandals.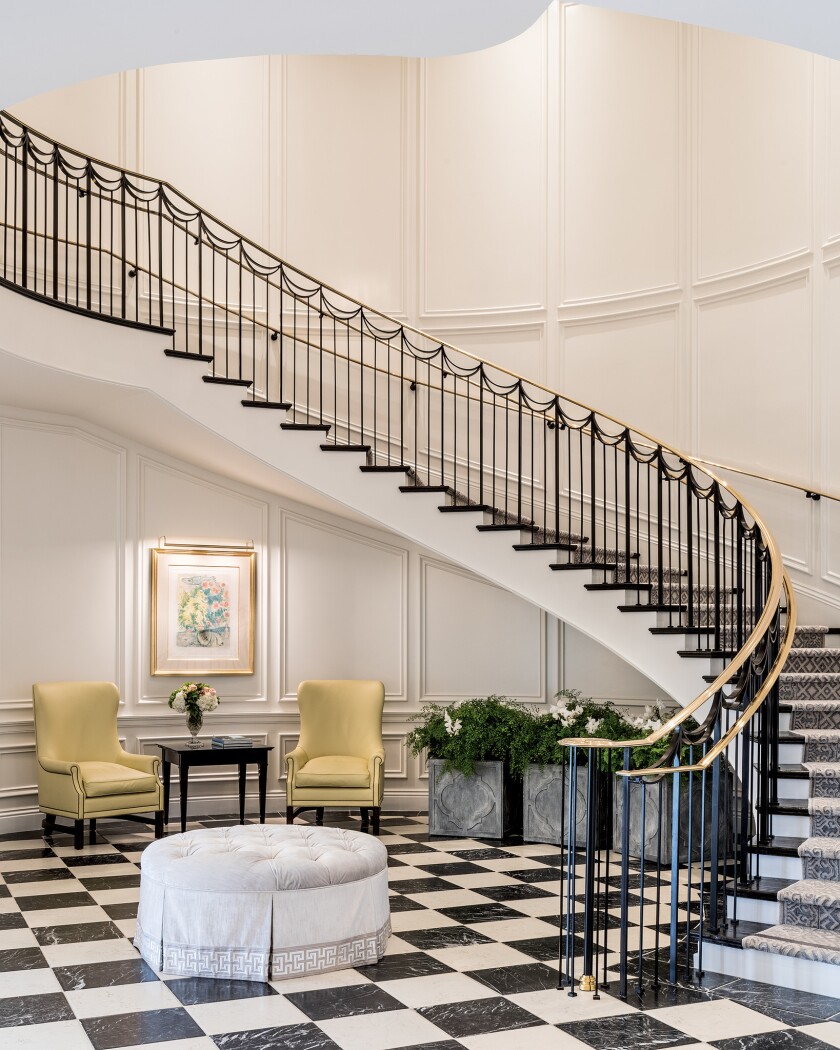 Caruso dives with relish into nitty details like the texture of tile grout, and that attention shows in the Miramar's finishes, which exude grandeur but hide any sense of newness. "This really is the home that I've always wanted to build," he says, seated in the manor's ballroom beneath eight lavish Baccarat chandeliers.
Caruso says he has always wanted a home designed by Paul Williams, and he has achieved bits of that at the Miramar. A scallop-edged pool was inspired by a Paul Williams design at the long-forgotten Arrowhead Springs Hotel in San Bernardino. And from Williams's granddaughter Caruso obtained penciled plans—hand drawn and signed by Williams—for the grand staircase and intricate wrought-iron balustrade that rises by the Miramar's entrance. "That staircase, he designed," Caruso says. "That railing!"
Caruso hired the Otto Ehmig Painting Co. to age the ironwork with varnishes and wax in keeping with the manor's backstory. "Rick says he wants something aged but not worn and torn and abused," says Phil Becker, one of the Otto Ehmig painters. Even details that guests are unlikely to see—such as the loading-dock door—were custom designed for maximum effect.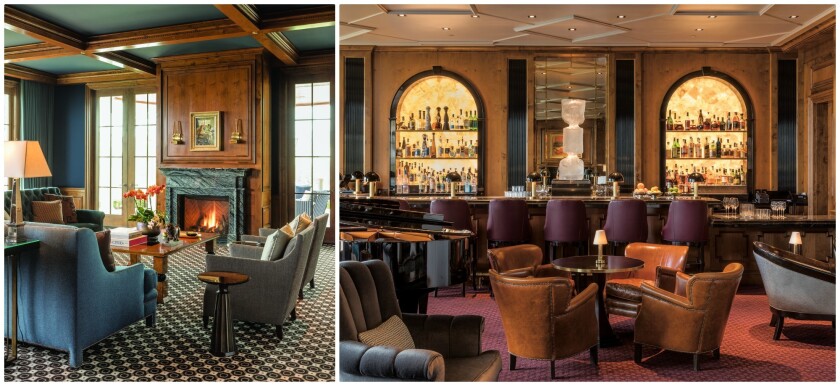 "We're breaking every rule. I don't want to do what everyone else does."
Rick Caruso
Interior designer Diane Johnson created custom furnishings based on the deep-comfort furnishings she has delivered in the past for Caruso's west-side Los Angeles home as well as his 65.5-meter yacht, the Invictus. She is responsible for some of the manor's key moments, including the starkly grand foyer's black-and-white checkerboard stone tile and a quiet concierge and reception areas where guests can get their keys without check-in lines. Plush chairs in an eclectic variety of colors—gold, turquoise, prints and leather—are placed in nooks and corners throughout the spaces in a variety of styles—low backs, high backs and loungers with deep pillows, selected in accordance with Caruso's wish to create the feel of a home whose furnishings were added over time, with an English-Georgian backdrop of wood paneling, marble flooring and a scattering of antiques. "Then we brought the decor into the vibe of today," the designer adds.
Johnson commissioned custom furnishings, adding Nancy Corzine side tables and lamps in the living room. She furnished a sweeping veranda with Janus et Cie outdoor furniture and made the vast ballroom grand with dramatic Baccarat chandeliers. She also designed the Founder's Suite, one of three signature suites in the manor house where resort executives say they hope a royal family could be equally at home as the Caruso family.
Seeking a residential feel, Caruso ignored the practical rules of hotel décor, opting for white and pale-blue furnishings in several rooms, which will require constant cleaning and replacement."We're breaking every rule, because I'm not a hotel," Caruso says. "I'm welcoming people to my home. I don't want to do what everyone else does."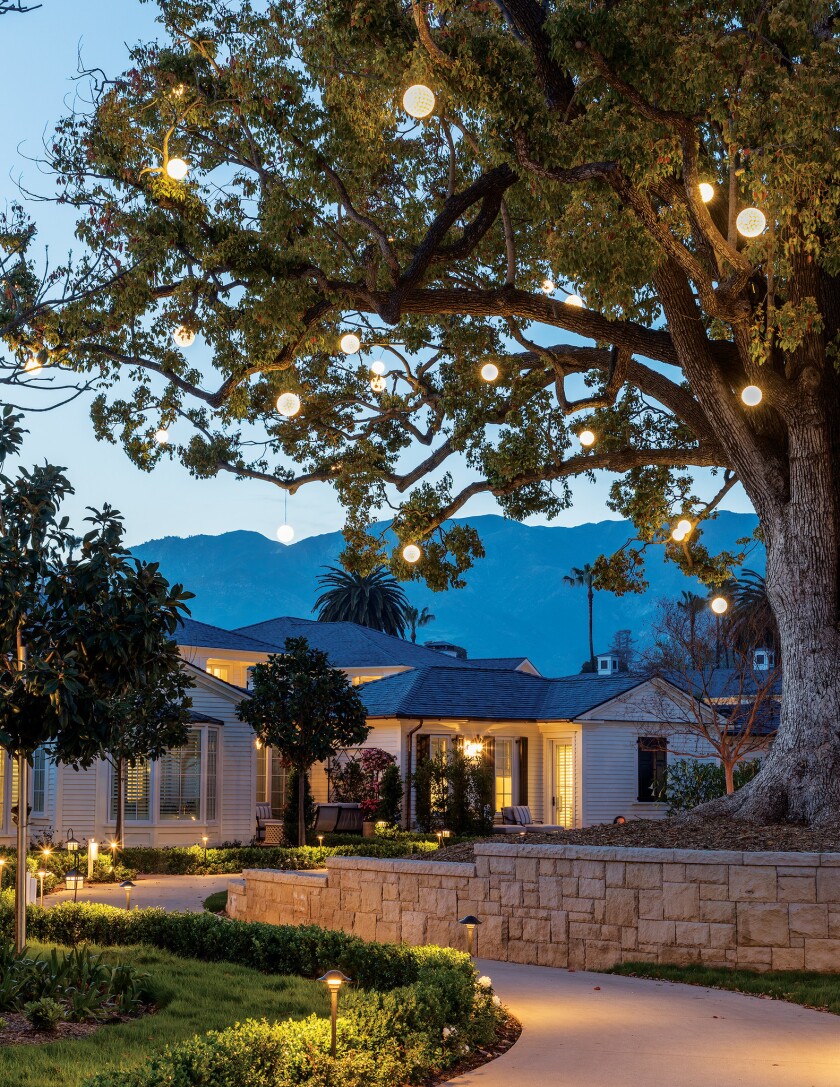 In point of fact, though, it is Rosewood Hotels & Resorts that will be welcoming people to the Miramar as its manager. The hotel group is known for properties such as the recently renovated Hôtel de Crillon in Paris, the Carlyle in New York and the Mansion at Turtle Creek in Dallas. (After a recent stay at the Crillon, Caruso says he recruited the head butler to move to the Miramar.) Caruso has also hired Ali Kasikci, the legendary former director of the Peninsula Beverly Hills and other area luxury hotels. Kasikci's knowledge of the personal druthers of social and business elites is possibly without equal. He knows when to keep a secret and what they like for breakfast. "Rick is building the Taj Mahal," Kasikci says, with typical hyperbole. "Other people cut corners. Not Rick."
The level of Caruso-family detail embedded at the Miramar could make for a scavenger hunt. There is the Caruso family crest in a leaded-glass window—a crest that Rick Caruso had created. "The family history was a very poor family in a very poor town in Italy," he says, noting that his grandfather emigrated from Reggio Calabria in the toe of Italy's boot and became a Pennsylvania coal miner before heading for California. His grandfather's later landscaping career inspired the Miramar's gardens. There's a laughing Buddha statue with four Caruso children climbing on it, a wind vane with the kids' initials, and a favorite quote from each child inlaid in brass on the stone veranda.
Caruso, who is not an art collector, has nonetheless scattered art pieces throughout the Miramar. "I did want a Botero in the bar," he says. "It's a little bit irreverent—like me."
Rosewood Miramar Beach,1759 South Jameson Lane, Montecito, rosewoodhotels.com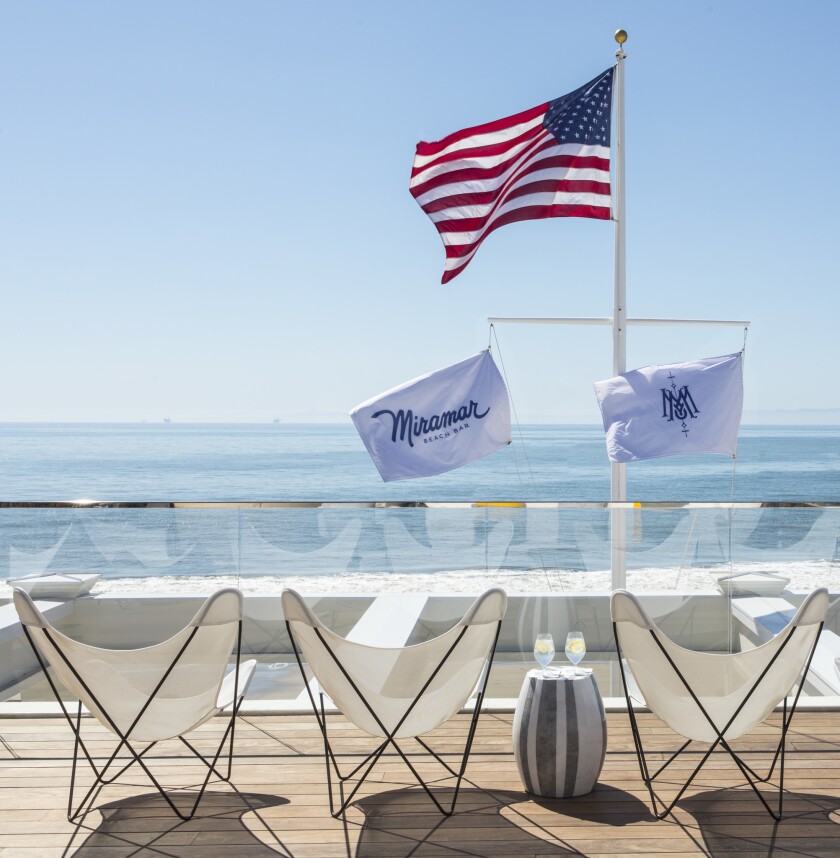 ---