L.A. Times Executive Editor Norman Pearlstine to step down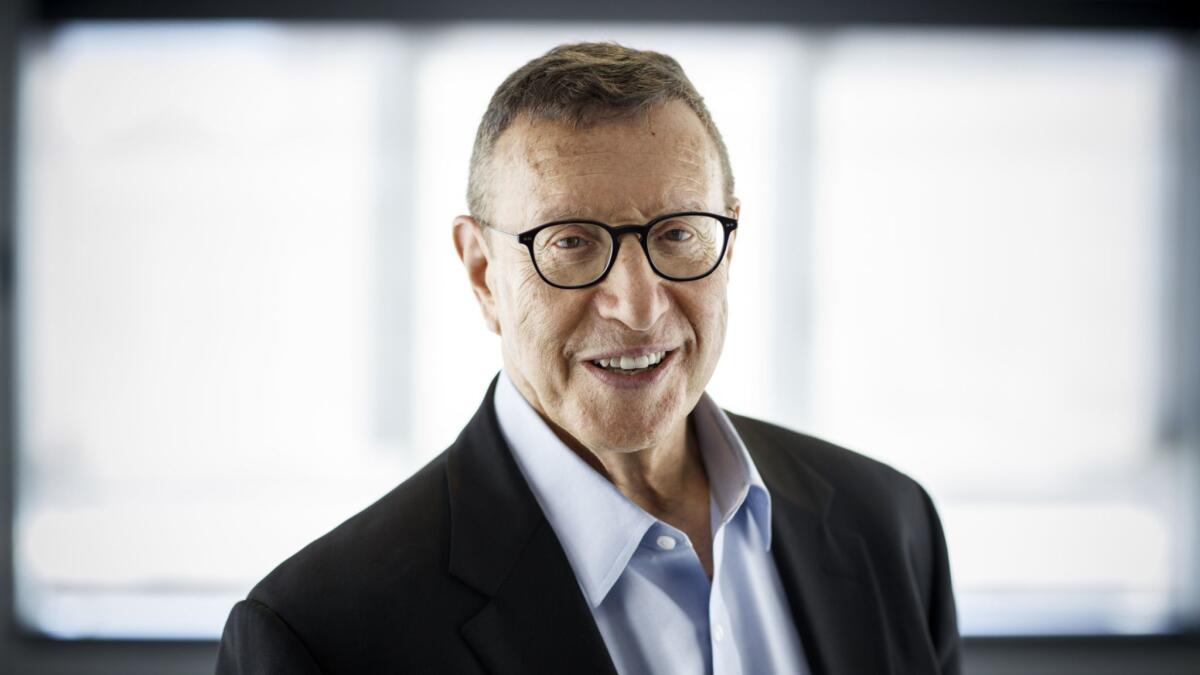 Los Angeles Times Executive Editor Norman Pearlstine announced that he would soon step down and that the paper was launching a search for a new top editor who could chart a digital future and unite a newsroom that has been torn by controversies.
Pearlstine, who celebrated his 78th birthday over the weekend, made the announcement Monday morning during a meeting with top editors and in a note to staff members.
"It has been an honor to serve as your executive editor since Patrick and Michele Soon-Shiong acquired the Los Angeles Times in June of 2018," Pearlstine wrote. "Now, we have agreed that it's time to begin an open search for my successor."
The search for a respected journalist to lead one of the country's largest newspapers is expected to take several months, according to the company. Pearlstine said he agreed to stay on until Dr. Patrick Soon-Shiong identifies a successor who can amplify the journalism produced by the 542-person newsroom, push further into video storytelling and other digital distribution platforms to attract more digital subscribers and return the paper to profitability.
In his nearly two and a half years at the top, Pearlstine sought to stabilize a newsroom that had been battered by years of layoffs, cost-cutting and mismanagement under its former owner, Tribune Publishing, which also called itself Tronc. Pearlstine led a dramatic hiring spree, replenishing the paper's beleaguered ranks, recruiting top editors and working to improve technology used to generate a larger audience for its journalism.
During his tenure, The Times' journalism became stronger, in part, due to the increased resources from the Soon-Shiong family. The paper negotiated its first-ever contract with the union representing newsroom employees. And earlier this year, journalists with The Times were finalists in five Pulitzer Prize categories, and two were awarded the coveted awards. Since 2018, the paper has nearly doubled its digital-only customers to 249,362 subscribers as of September.
But Pearlstine's efforts became overshadowed in the last six months by a racial reckoning and a series of controversies as the newsroom covered major news events while working from home: the COVID-19 pandemic, the George Floyd racial protests, the presidential election and now, President Trump's illness and hospitalization due to the effects of the coronavirus.
Amid nationwide unrest over Floyd's May 25 killing in Minneapolis by police, staff members at The Times began questioning newsroom leadership for its failure to better diversify during a hiring surge as more than 120 journalists joined the staff since late 2018. The Times is attempting to atone for its history of failures in covering communities of color and a newsroom culture that has resulted in mistreatment and underrepresentation of Black and Latino journalists. Last month, the paper elevated Angel Jennings — who had been the lone Black reporter in the Metro department — to the masthead as the newspaper's first assistant managing editor for culture and talent.
During the introspection over race and coverage decisions, the newsroom separately became roiled by revelations of ethical breaches and management missteps. Since early 2019, six prominent editors have departed or had their responsibilities reduced, doing little to ease a crisis of confidence in the newsroom.
"In stepping aside at this moment, Norm's last act may be his most important," said Tom Rosenstiel, executive director of the American Press Institute and a former staff writer at The Times. "He acknowledges there is work that still needs to be done, and that he can't do it. This is an invitation for the next person."
The main challenge now, Rosenstiel said, is "transforming the paper into a truly digital environment that understands its audience and begins to create content that is meaningful to audiences that have been ignored, underserved or even betrayed."
Last week, Soon-Shiong wrote an unprecedented letter to readers that acknowledged the paper's institutional biases and pledged to do better.
"We are committed to change, both because it is just and because it is mission-critical for our business," Soon-Shiong wrote. "Only a diverse newsroom can accurately tell this city's stories. Only a newspaper that holds power to account and uncovers injustice can truly succeed."
Shortly after agreeing to buy The Times and the San Diego Union-Tribune for $500 million in February 2018, Soon-Shiong and his wife, Michele B. Chan, hired Pearlstine to recruit a new top editor. About a month into the search, Soon-Shiong asked Pearlstine to become the executive editor himself when the family took control. Soon-Shiong and Chan thought that Pearlstine could help spark The Times' revitalization, by signaling the paper was growing its ambitions. Pearlstine came out of semi-retirement to take on the challenge.
He had the gravitas the Soon-Shiongs were looking for after a 40-plus-year career in the upper echelons of journalism. He is a former top editor of Time Inc., the Wall Street Journal and Forbes, and also was a senior executive at Bloomberg News.
In an interview, Pearlstine said he was proud of the paper's accomplishments. He also noted that when he arrived in 2018, the plan was for him to run the newsroom for one year. But Soon-Shiong extended his contract, then asked him to stay on longer, even though both men recognized that the rebuilding process would take several years.
"There was always the idea this was a longer-term revival than I should be leading," Pearlstine said, adding that events of the year had brought his departure date into sharper focus.
"The more I thought about the ways in which the pandemic has changed everything, it seemed to me that it also required a rethinking of our priorities and opportunities in ways that were different from what they were in June 2018 — or even at the beginning of this year," Pearlstine said. "The more I thought about that, the more I thought this was the time."
In a statement, Soon-Shiong and his wife said: "We're extremely grateful to Norm. He came out of retirement to work with us, as new owners of the Los Angeles Times, and helped us make great progress in rebuilding and revitalizing the paper over the past two and a half years."
The Soon-Shiongs also echoed the sobering effect of the tumultuous year.
"This year has seen the onset of a pandemic, economic crisis, national reckoning with racism, escalating climate change and a contentious election," Soon-Shiong and his wife said. "It's clear that there's no ideal time to make a change like this in the news business. By opening the search for a new editor now, we will have time to work with Norm through this latest transition.... We're excited about the future of The Times and look forward to identifying an editor who can lead the next phase of its revival."
Soon-Shiong is said to be looking at a handful of internal and external candidates to fill Pearlstine's job in the coming months.
"We thank Norm for his service and will be talking to our members about what we expect from the next editor of the Los Angeles Times," said Matt Pearce, president of the newsroom guild.
Given the tumult in recent years, and the level of distrust in the newsroom, it will be a tough job for anyone.
"He inherited a culture of enormous suspicion, which would be a challenge for anyone to heal — and that's even harder when you are not physically in the newsroom," Rosenstiel said. "It would be very important to have someone who knows L.A."

Inside the business of entertainment
The Wide Shot brings you news, analysis and insights on everything from streaming wars to production — and what it all means for the future.
You may occasionally receive promotional content from the Los Angeles Times.