Alec Baldwin challenges New Mexico prosecutors over additional gun-related charge in 'Rust' case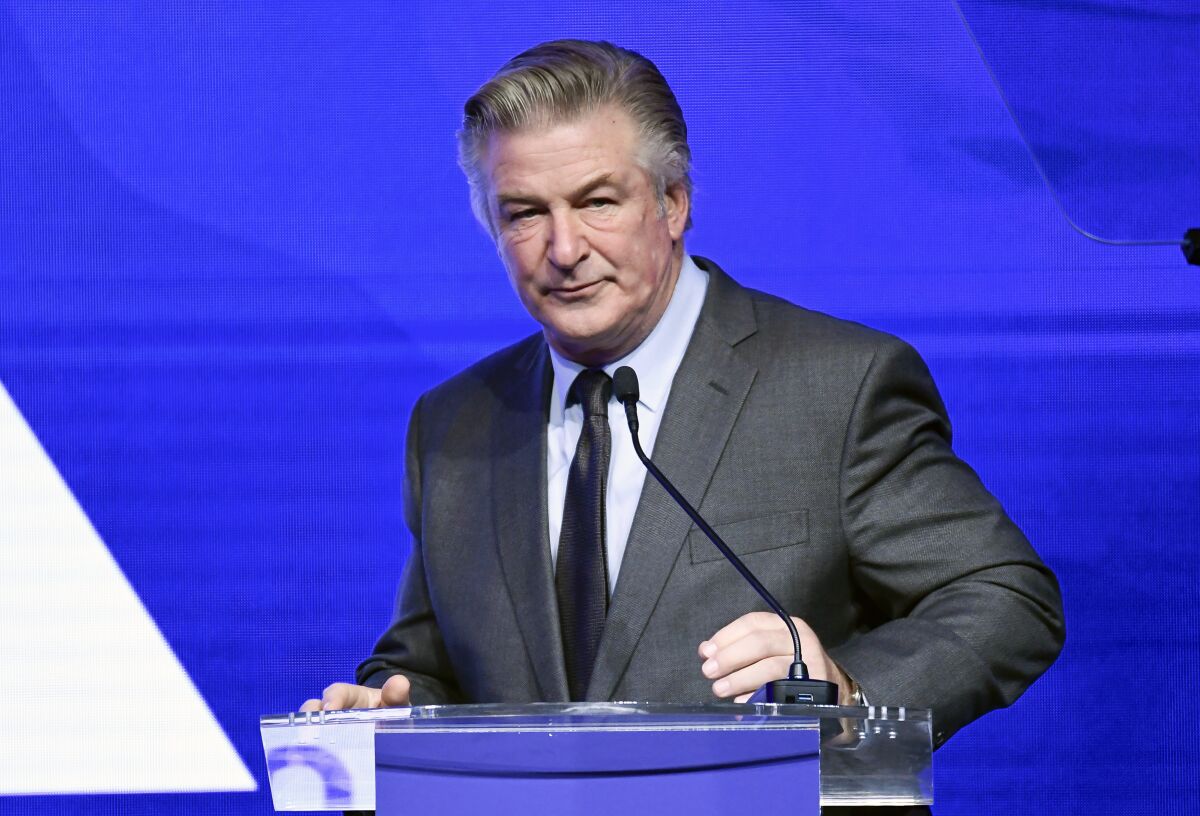 Alec Baldwin is asking a New Mexico court to throw out an enhancement to the involuntary manslaughter charges against him that would lead to a three-year prison sentence if he was convicted.
In a motion filed Friday, Baldwin's attorneys argued that the actor has been unlawfully charged with a so-called firearm-enhancement to the involuntary manslaughter charge in connection with the fatal shooting of cinematographer Halyna Hutchins on Oct. 21, 2021.
The current version of the fire-enhancement statute was not enacted until May 18, 2022, seven months after the deadly shooting on the western movie 'Rust,' attorneys Luke Nikas and Alex Spiro of Quinn Emanuel argued in their motion.
"The prosecutors in this case have committed an unconstitutional and elementary legal error by charging Mr. Baldwin under a statute that did not exist on the date of the accident," the attorneys for Baldwin wrote in their motion filed in New Mexico's 1st Judicial District Court on Friday.
Baldwin has denied culpability, citing negligence by other crew members. The actor, who was also a producer in the film, has said that he did not pull the trigger of the prop gun that accidentally discharged during a rehearsal, killing Hutchins and injuring the film's director Joel Souza.
If granted, the motion would be a setback for prosecutors in their case against Baldwin, who also faces a string of lawsuits from the Hutchins family and crew members. This week, Hutchins' parents and sister sued Baldwin and other producers and crew members for battery and negligence.
Baldwin faces two counts of involuntary manslaughter; a jury can only pick one of the charges. If found guilty of either, Baldwin could face 18 months in prison. A jury can consider adding a firearm enhancement to the charge that carries a three-year prison term in the event of conviction. (Prosecutors previously said the firearm enhancement carries a mandatory five-year prison term, but that applied to a law that was not in effect at the time of the 'Rust' shooting.)

For the record:
11:51 a.m. Feb. 13, 2023An earlier version of this story incorrectly said Baldwin would face a five-year prison term if convicted under a firearm enhancement of an involuntary manslaughter charge. Prosecutors previously said the enhancement carries a mandatory five-year prison term, but that applied to a law that was not in effect at the time of the 'Rust' shooting.

"Another day, another motion from Alec Baldwin and his attorneys in an attempt to distract from the gross negligence and complete disregard for safety on the "Rust" film set that led to Halyna Hutchins' death," said Heather Brewer, spokesperson, New Mexico First Judicial District Attorney. "The District Attorney and the special prosecutor will review all motions--even those given to the media before being served to the DA."
The motion is the latest challenge Baldwin's legal camp have made to 1st Judicial Dist. Atty. Mary Carmack-Altwies and special prosecutor Andrea Reeb.
Earlier this week, Baldwin asked the court to have Reeb disqualified from the case, arguing the New Mexico Constitution prevents her as a state legislator from simultaneously holding a position in the judicial or executive branch of government.
Alec Baldwin's legal team, which now includes Elon Musk attorney Alex Spiro and former Trump appointee John Bash, argues that a sitting state legislator cannot serve as special prosecutor.
Inside the business of entertainment
The Wide Shot brings you news, analysis and insights on everything from streaming wars to production — and what it all means for the future.
You may occasionally receive promotional content from the Los Angeles Times.