The possibility of growth and redemption in Paul Schrader's 'Master Gardener'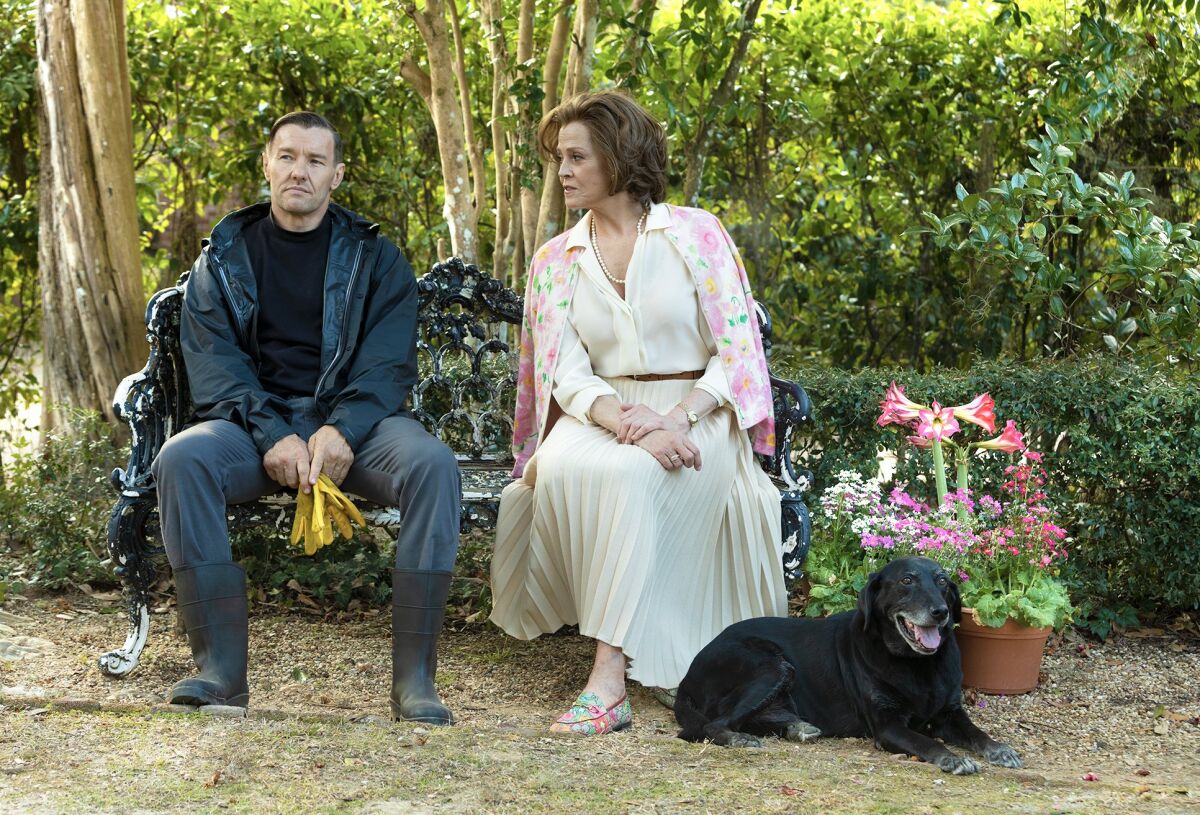 Hello! I'm Mark Olsen. Welcome to another edition of your regular field guide to a world of Only Good Movies.
The Cannes Film Festival is underway, and Justin Chang and Mary McNamara are there covering the action. They wrote this preview of why this feels like a particularly consequential year for what is arguably the most prestigious film event on the world stage.
'Sistas' showcase. Greg Braxton wrote about the Sistas Are Doing It for Themselves Short Film Showcase, which celebrates its 30th anniversary this weekend with a gala opening at the DGA. The program has been a vital early launching pad for Black women filmmakers including Gina Prince-Bythewood, Kasi Lemmons, Dee Rees and Numa Perrier.
"I truly believe that what we're doing has had an impact on Hollywood," said Sandra Evers-Manly, founder and president of the Black Hollywood Education and Resource Center, the organization that puts on the event.
Nicole Holofcener tribute. Nicole Holofcener is a real fave around here, and the American Cinematheque is putting on a four-film tribute to the writer-director this weekend. Her upcoming "You Hurt My Feelings" will be playing on a double bill with her previous movie starring Julia Louis-Dreyfus, 2013's "Enough Said." Holofcener will be at the Aero Theatre Friday night for a Q&A between films.
I will be moderating a Q&A with Holofcener on Saturday night at the Los Feliz 3 Theatre following a 35mm screening of her 2010 film "Please Give." Holofcener then will introduce a 35mm screening of her 2006 film, "Friends With Money."
'Fast X.' After more than 20 years, it's hard to quit the "Fast and Furious" franchise, even as the response to the new "Fast X" feels a bit muted, in part because it is the first leg of either a two- or three-film finale, depending on who is talking. In a review of the film, Katie Walsh noted that it is two newcomers to the franchise, actor Jason Momoa and director Louis Leterrier, who "bring an energy and excitement to 'Fast X' that juices the engine to deliver the goods that fans want. But the jumbled lore and odd treatment of characters may leave audiences with more questions than answers, and wondering whether the franchise is running on fumes."
Jen Yamato wrote about how many of the franchise's female stars have been waiting to get their own spinoff films. As actor Jordana Brewster said, "What I've been fighting the most for is to not be in the babysitting seat, because that's what's frustrating. I want to play with more comedy. I want to play with more action. I want to play with unleashing energy. There's so much at stake in these movies that I want to play more of a central role in it."
And Mark Potts went to stunt driving school and lived to tell the tale.
Enjoying this newsletter? Consider subscribing to the Los Angeles Times
Your support helps us deliver the news that matters most. Become a subscriber.
'Master Gardener'
Written and directed by Paul Schrader, "Master Gardener" completes a rough trilogy with the late-career surge of "First Reformed" and "The Card Counter." Narvel Roth (Joel Edgerton) is a former white supremacist who now tends the gardens of the estate of Norma Haverhill (Sigourney Weaver). She asks him to teach gardening to her biracial grand-niece, Maya (Quintessa Swindell), which causes him to reckon with his past as he never has before. The movie is in theaters now.
For The Times, Justin Chang wrote, "For Schrader, steeped in the conventions of B-thrillers and art films alike, formula can be a jumping-off point rather than a guiding principle. At his best, he treats his political subjects, to say nothing of his human ones, with a moral weight and an emotional gravity rare in American movies. … Unlike 'First Reformed' and 'The Card Counter,' whose moods and rhythms seemed to emerge from a rigorous immersion in their respective milieus of church and casino, 'Master Gardener' doesn't really engage with Narvel's profession beyond the realm of windy philosophical abstraction. Its reckoning with racism — as a fixture of Narvel's past, and as an obstacle to his and Maya's future — feels similarly superficial."
For the New York Times, Manohla Dargis wrote, "There's much to admire about the movie's tense dreaminess, its pulpy undertow and severe elegance, as well as the astonishing, awkward sincerity with which Schrader hurtles headlong at questions of love, hate, race and redemption in an unforgiving world. …There are no grand speeches here on race and reconciliation or reassuring appeals to the audience's conscience; Schrader is intensely focused more on the soul-sickness of one man than that of the nation. Yet the sincerity of Schrader's filmmaking and his insistence on the possibility of redemption for the irredeemable is deeply affecting. That's never truer than when Maya and Narvel drive off into the night and find their way lit by an effusion of gloriously multi-hued flowers, blooms that took root long ago in haunted ground."
For Vanity Fair, Richard Lawson wrote, "Narvel was a bad guy once, and 'Master Gardener' depicts the slow work of his becoming a better one. Edgerton, with a sonorous, Sean Penn-esque growl, makes a compelling case for his character's newfound decency. Narvel carries himself with a practiced, world-weary gentility. He's caring but firm with Norma, who knows about his past and seems to dangle it in front of him as both threat and perverse foreplay. This is all, we are subtly reminded, taking place on what was likely once a slave plantation. Schrader considers these white people as they stand in the wreckage of their history — their own and their country's — with a dispassionate, analytical gaze. The value of such a narrative will likely depend on the beholder. 'Master Gardener' does not issue its own proclamations or moral judgments. The film recognizes the horror and cruelty of Narvel's past, but it is primarily concerned with imagining what might lie after that ideology has been forsaken. Is there redemption for such a man?"
For IndieWire, Leila Latif wrote, "Without going into spoilers, it is also likely that the relationship between Narvel and Maya will not sit easy with many viewers. If you are able to (in any sense) root for Narvel, it will be down to Schrader's ability to write characters who are themselves seeking compassion without ever holding that this is wholly deserved. As with his previous works, Schrader's commitment to moral ambiguity makes his work thrillingly divisive and near impossible to not have some form of a reaction to. Elements of 'The Master Gardener' may in retrospect feel like playing through Schrader's greatest hits but it is lovely to see the director at this point in his career embrace a tiny bit more optimism. Even if this isn't one for Barack Obama, it is proof that not giving a s— if people like you is still working for Paul Schrader."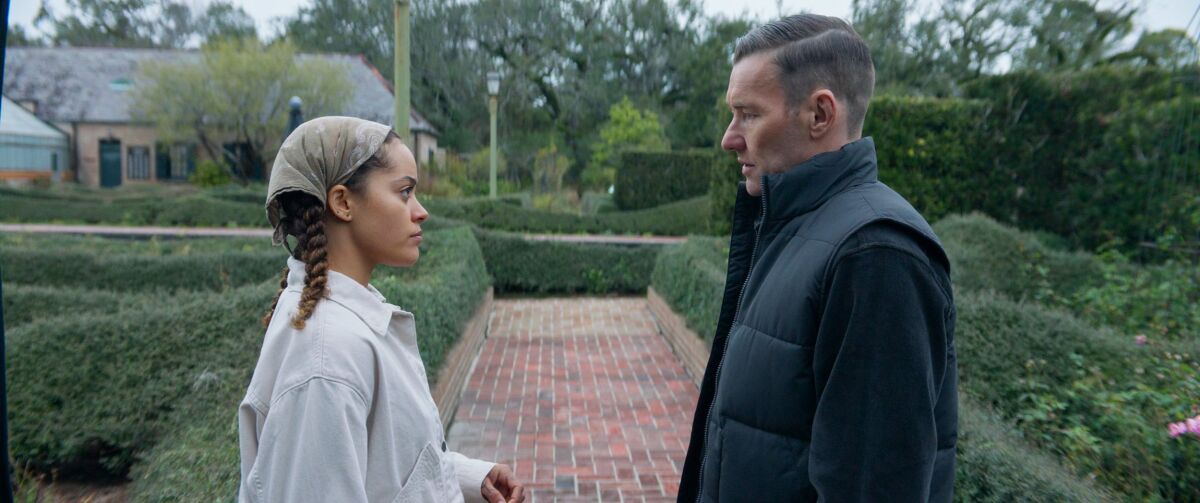 'Sanctuary'
Directed by Zachary Wigon from a screenplay by Micah Bloomberg, "Sanctuary" is a skillful chamber piece that keeps audiences guessing on what's going to happen next. Hal (Christopher Abbott) is set to inherit his family hotel empire, which means he decides to stop seeing the sex worker, Rebecca (Margaret Qualley), with whom he has regular sessions. Whether for personal or professional reasons, this does not sit well with her, launching a series of power plays that will test who is really in charge. The movie is in theaters now.
For The Times, Katie Walsh wrote, "The slippery thing about 'Sanctuary' is that we — and Hal — never know when Rebecca is in or out of character. There seem to be layers and layers of manipulation — or is it preparation? — on her part. So, like a befuddled client, we can only try and keep up with her as her demands grow outlandish. Or are they? … Because ultimately, what Rebecca wants, and what Rebecca gets in 'Sanctuary,' feels like pandering to a passé notion of girl-boss empowerment that rings unfortunately false. All the excellent acting and sumptuous style can't cover up that the culmination of this tête-à-tête is disappointingly hollow with an ironic bow on top."
I spoke to Wigon, Abbott and Qualley about the film, attempting to preemptively have the kind of conversation that audiences will be having after watching the movie. They talked about what it was like to be in a project where role-playing is such a part of the story, acting the part of acting. As Abbott described it, "What was fun was being able to play with the levels of, how good of actors are the characters? When they're role-playing, sometimes they're really good at it and sometimes they're purposefully overacting. It was a fun challenge."
To which Qualley quipped, "Chris gets to decide not to be good. For other people, it just happens to us."
For the Playlist, Charles Bramesco wrote, "Wigon's sleek, seductive drama — as contained and actor-driven as a stage play, though shot so expressively that it could only be cinema — breaks down this pairing just to build it back up from scratch, testing the viability of a connection rooted in guarded performance as it crawls on all fours toward a more open, authentic intimacy. … Put simply, they're complex yet accessible people, utterly realistic in their neuroses and insecurities even as the barbed dialogue flirts with stylization. Their face-off scales dense principles of sexual theory down to the human level, demonstrating the primal, knotty gratification enjoyed by both sides of this tricky equation. Underneath all the textual flip-flopping about realness and fakeness, all the pop-psych theories on fetishistic self-abnegation, and all the mind games, there lies a deceptively sweet love story. In the end, that's all anyone's looking for, whether they go searching in a cathedral or dungeon. The deprivation is the point, but along with his sublimely spiky actors, Wigon illustrates how frightening, overwhelming, and nourishing it can be to stop the withholding — to allow yourself the pleasure of giving and receiving, and to see the liberation in submission."
For Variety, Amy Nicholson wrote, "This is a terrifically nasty thriller about seizing control, over others and over oneself. Wigon proves to have a great grasp on it, as well; his assuredness is half of the film's success. In look and style, sound and execution, Wigon's hand is felt on every frame — a steadiness that's essential when each scene is constructed on a sand dune of constantly shifting emotional dynamics. … Qualley can play all angles of her character from ferocious to vulnerable. She does for the film what Rebecca does for Hal: grab a fiction by its neck and will it into credibility by her own bravado."
'Chile '76'
The debut as director and co-writer for Chilean actress Manuella Martelli, "Chile '76" debuted at last year's Cannes Film Festival. Set in the pivotal year of 1976, when the terrors of the Pinochet regime were at a peak, the film follows upscale Santiago housewife Carmen (Aline Küppenheim) as she is asked by her local priest (Hugo Medina) to help an injured political prisoner (Nicolás Sepúlveda). Suddenly she finds herself part of something much larger than just her bourgeois concerns. The movie is in theaters now.
For The Times, Carlos Aguilar wrote, "With co-writer Alejandra Moffat, Martelli carves a refreshingly feminist entry point into a subject matter so understandably present in the cinema of their homeland. Rather than relitigate the monstrous legacy of the men in power then, the director opts for a portrait of the era painted in seemingly offhand lines of dialogue that communicate plenty, quiet instances of internalized terror for Carmen, and immaculate images. Concise, yet affecting, 'Chile '76' assuredly occupies the post as one of the finest Latin American productions to open stateside this year."
For the New York Times, Teo Bugbee wrote, "Martelli's film demonstrates remarkable skill in reconstructing the time period, giving consideration both to re-creating the appearance of the era and its emotional tenor. … Yet Martelli's detailed, beautiful frames aren't signs of empty aestheticism. Her eye for composition mirrors that of her protagonist, a person of elegant tastes who is drawn into a political plot that intrudes upon her capacity to redesign. The film's original score blends electronic and orchestral music, and acts as an indicator of Carmen's justified paranoia, entering in moments when her routines are most disturbed. As an entrant into the growing canon of Chilean films responding to the Pinochet dictatorship, 'Chile '76' is a sly genre exercise, an example of how political repression can squeeze a domestic melodrama until it takes the shape of a spy thriller."
For Variety, Manuel Betancourt wrote, "Martelli, who co-wrote the script with Alejandra Moffat ('The Wolf House'), has a particular knack for creating suspense in the most mundane of scenarios. An eerie air of paranoia takes over the second half of 'Chile '76,' arising from Carmen's increasing inability to experience her normal life without fear and suspicion. … 'Chile '76' thus represents a different proposition from most period pieces about this dark era of Chilean history. That Carmen only becomes begrudgingly radicalized is conveyed in Küppenheim's captivating performance, which carries a wealth of budding realizations best limited to impassive gestures, lest they reveal her own misgivings and increasingly dangerous alliances. But the shift is presented in a way that feels almost inevitable, if only because it's driven by a deeply personal sense of empathy and compassion."
Get the Indie Focus newsletter, Mark Olsen's weekly guide to the world of cinema.
You may occasionally receive promotional content from the Los Angeles Times.