How Keke Palmer found power and hope in the story of a woman's escape from slavery in the 1970s
It started with the articles Krystin Ver Linden's mother sent her to read, including one in which a Mississippi woman, Mae Louise Miller, recounted to People magazine her early life in indentured servitude — and how she fled to freedom in the 1960s, a century after slavery was abolished in America.
"Her journey out and what she did with her life when she got out was truly inspiring," said Ver Linden, who makes her directorial debut with the Sundance U.S. Dramatic competition title "Alice," a genre-fueled tale of liberation starring Keke Palmer. Vertical and Roadside Attractions release the film in theaters on March 18.
Loosely sparked by stories of mostly Black Americans held through the 20th century in peonage, a form of modern day slavery, Ver Linden wrote "Alice," a fictional period tale about an enslaved woman (Palmer) who escapes a remote Georgia plantation — only to learn that the year is 1973 and that she has legally been free her whole life.
With the help of jaded former activist Frank (played by Common, who also shares music credit with Karriem Riggins, Patrick Warren, Isaiah Sharkey and Burniss Travis), Alice transforms herself into an avenging angel, inspired to action by Angela Davis, Pam Grier, Diana Ross and the civil rights movement.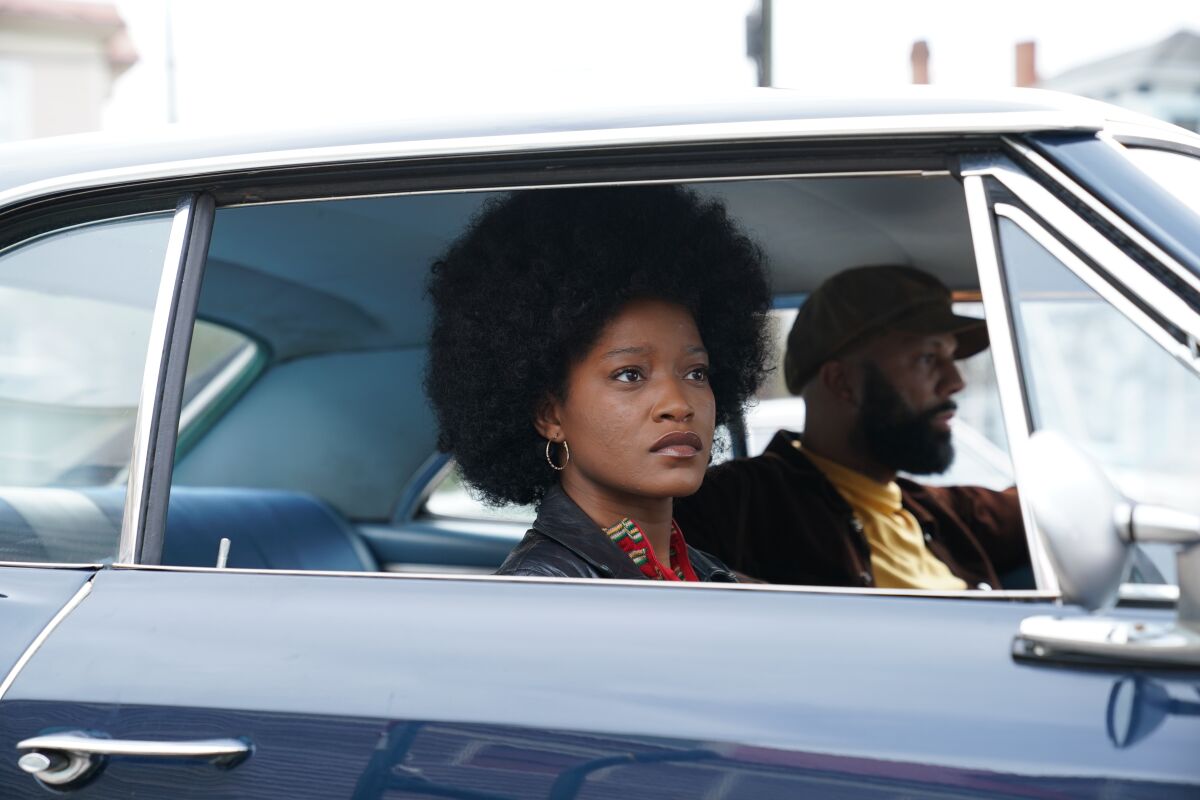 It's a meaty starring role for Palmer, the Emmy-winning actor, musician and host who also serves as executive producer on "Alice." The subject matter, however, was not one she approached lightly. Like many Americans, she hadn't previously been aware of accounts of post-emancipation enslavement, and while the history was compelling, she was wary of telling a narrative of bondage grounded in suffering.
"That is a version of the story that I've heard enough times, and it doesn't make me feel good," said Palmer, joining Ver Linden and producer Peter Lawson ("Spotlight") during a virtual L.A. Times Talks @ Sundance panel, sponsored by Chase Sapphire (the video is embedded above). "When I really read the script, I realized, 'OK, this is not that.' This is exactly the kind of story that I would want to tell when it comes to revisiting history, because it's told to me from the voice of those that survived."
Ver Linden, who counts among her heroes Akira Kurosawa, Andrei Tarkovsky, Sam Peckinpah and Sergio Leone, took cues from such films as Paul Thomas Anderson's "There Will Be Blood" in her approach to the movie's purposefully desaturated opening act, avoiding any lush, glamorized presentation of Alice's life in peonage.
Looking to 1970s Blaxploitation films like "Coffy," which Alice sees at a cinema and makes a fast study of, Ver Linden (working with cinematographer Alex Disenhof) then introduces a more vibrant palette to reflect the character's evolution, building to more contemporary commentaries on activism and self-actualization.
The Sundance Film Festival entry "Nanny" follows an immigrant domestic worker in New York City tormented by supernatural forces.
Taking the director's chair for her first feature wasn't the biggest challenge of "Alice," Ver Linden says, although the production faced anxieties related to the COVID-19 pandemic in Savannah, Ga. The shoot also coincided with the 2020 presidential election, bringing the contemporary echoes of "Alice's" themes to the forefront, added Lawson.
"Shooting in the Deep South with a predominantly African American cast and crew, shooting on plantations where there were rallies going on next door to us on a daily basis, added another element of this intensity, and I think you see it in the movie, I think you see it in the performances," he said. "Unfortunately, a lot of what we were seeing firsthand was mirroring the themes of the picture."
Only a few months prior, video of Palmer urging National Guard members to join a Black Lives Matter protest in solidarity had gone viral. Her own emotions were high — "I felt very, very helpless," she said — but the Alice character gave her an outlet.
"To see and realize that this is who I feel represents my ancestors, because only the strong survived... it gave me even more reason to choose to be happy today. To choose to have hope. To choose to have faith," said Palmer. "To choose to believe that things will get better, and that this is just but a moment."
The filmmakers hope the movie encourages young people to sustain hope and engage with systemic issues that persist today.
"Especially as it pertains as a millennial, and yes, I think specifically as a Black American but also as a young person — as somebody coming to understand the world, coming to understand how to activate themselves and really be a conscious part of how things get done — everything ain't going to be perfect," said Palmer.
"There're always going to be setbacks. There's always going to be an uphill battle. You truly have to be the change that you want to see. And you can look on the past as a guaranteed factor that things can get better."
Note: Chase Sapphire has no influence over editorial decisions or content.
Get our L.A. Goes Out newsletter, with the week's best events, to help you explore and experience our city.
You may occasionally receive promotional content from the Los Angeles Times.