Review: Joy and misfortune season the hilarious and bittersweet 'Una Vita Difficile'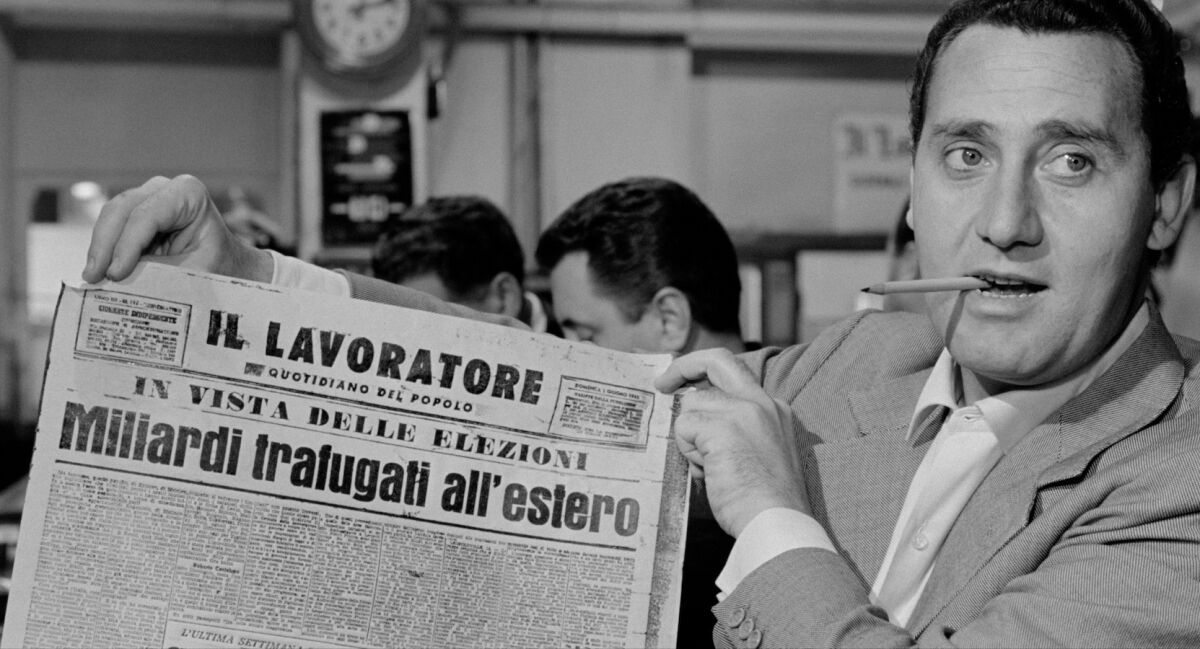 So many great movies came out of Italy in the two decades after World War II that just a handful of last names — De Sica, Rossellini, Fellini, Visconti, Antonioni — instantly conjure the era's might, from masterworks of heart-clutching humanism ("Bicycle Thieves," "La Strada") to dazzling style epics ("8 ½," "L'Avventura").
But right alongside them in the '50s and '60s, and a direct outgrowth of neorealism, were the commedia all'italiana hits — satires and sex comedies pointing a cracked mirror at Italy's mores as they clashed with a newly vibrant capitalism and significant political change. Mixing the theatricality of commedia dell'arte with contemporary situations made for a punchy cocktail of laughs and heartbreak, and one of its maestri was Dino Risi ("Il Sorpasso," "I Mostri"), perhaps best known for his Oscar-nominated "Profumo di Donna" (remade as "Scent of a Woman"). But his 1961 film "Una Vita Difficile" ("A Difficult Life") — one of his more Billy Wilder-esque films — never got a U.S. release. That's now been rectified with a 4K restoration through classics specialists Rialto Pictures.
No year is too late to enjoy this vinegary love story — think Albert Brooks' "Modern Romance" shot through with politics — between a self-absorbed Resistance veteran played by Alberto Sordi and Lea Massari's wartime amore turned wife; the former having moved from fighting fascists to guarding his ideals from corruption, the latter looking to breathe more easily in Italy's economic miracle.
It's a battle of wills and compromises across 17 years of Italian history, played out in the sharply timed exchanges anchoring Rodolfo Sonego's narrative, the no-nonsense vitality of Risi's scenework and the expressive, tough performances of Sordi (of "Mafiosi" fame, and a commedia all'italiana mainstay) and Massari (fresh from "L'Avventura").
Theirs is a love forged not in iron, but by an iron, which is what Lake Como hotel worker Elena (Massari) uses to kill a German soldier about to shoot Silvio (Sordi), a Roman journalist and partisan fighter. After three months sheltering as lovers in her grandparents' old mill, Silvio unceremoniously bolts to rejoin his comrades, but a year later — with the war now over — he finds himself back in the Lombardy region on assignment for his small, underfunded left-wing newspaper. Setting aside her hurt, Elena agrees to move to Rome with her passionate radical, although his meager income hardly squares with the rosy picture of city life he'd painted.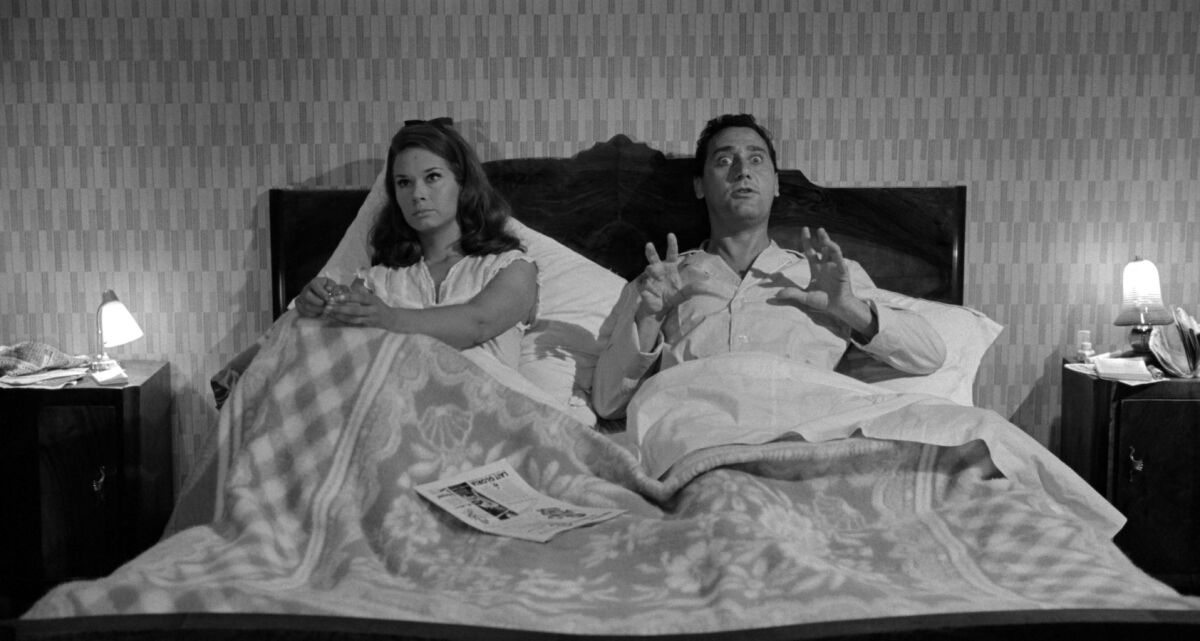 What transpires is a series of joys and misfortunes, sabotages and sacrifices, that makes rooting for this marriage (which produces a son) something of a wild ride, and a sly parallel for a country reconciling its needs and desires. There's enough referenced postwar history that this restored version starts with a list of mentioned events and dates. But even without that timeline info, the societal tensions underscoring everything in "Una Vita Difficile" are perfectly graspable, as in a hilarious scene in which cash-poor, starving Silvio and Elena get unexpectedly invited to dine with nervous, oddball aristocrats on the night of Italy's national referendum on whether to ditch the monarchy and become a republic. It's an uneasy banquet worthy of classic silent comedy.
Sordi, of course, had a boyish mug built to amuse, and it's paired well with Massari's coiled portrait of uxorial frustration. In the last scene, perfectly silly and serious as a conclusion to Silvio's farcical attempt to degrade himself for his family's sake, it's her face you zero in on as the movie's title reasserts itself. But it's Silvio's hapless, cause-driven arrogance that cinches this as Sordi's tour de force, maximizing Risi's canny trust that a fixed camera on gifted actors will yield plenty of funny, poignant, gritty life.
Cinema doesn't suffer for shoutouts to the great Italian stylists of the grotesque and/or bleak, but we could also use more descendants of Risi's sturdy faith in the alchemy of well-timed long shots, middle shots and close-ups in real-world settings to reveal simple, lasting, bittersweet truths about people.
'Una Vita Difficile'
In Italian with English subtitles



Not rated



Running time: 2 hours



Playing: Starts March 17, Laemmle Royal, West los Angeles; Laemmle Town Center, Encino
Get our L.A. Goes Out newsletter, with the week's best events, to help you explore and experience our city.
You may occasionally receive promotional content from the Los Angeles Times.