Jack White pens poetic ode to Meg White after White Stripes drummer was maligned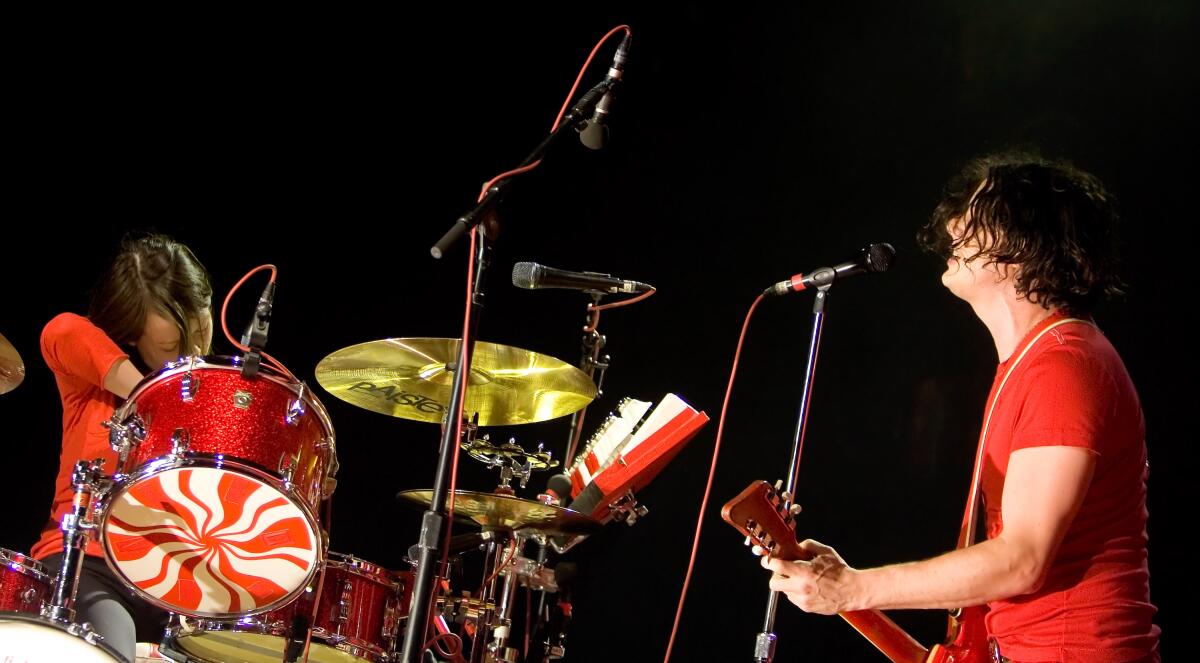 Jack White dedicated a poem on Wednesday to his former wife and bandmate, Meg White, after a journalist posted a disparaging tweet about the White Stripes drummer that went viral.
On Instagram, Jack White shared a photo of Meg White pounding her signature red-and-white drum kit and dreamed of a world "without demons, cowards and vampires out for blood." The guitarist and the percussionist played together for years as the White Stripes, a punk-rock duo from the late 1990s and early 2000s known for hits such as "Fell in Love With a Girl" and "Seven Nation Army."
"To be born in another time, any era but our own would've been fine," Jack White wrote.
"one with the positive inspiration to foster what is good. ... where we could ... be one with the others all around us, and even still the ones who came before, and help ourselves to all their love, and pass it on again once more. to have bliss upon bliss upon bliss, to be without fear, negativity or pain, and to get up every morning, and be happy to do it all again."
The White Stripes' Jack and Meg White still publicly claim to be brother and sister, although it's pretty well known now that they're actually a former married couple.
The musician's poetic tribute to Meg White came days after journalist Lachlan Markay insulted the trailblazing drummer in a tweet that has been widely condemned by fans, music critics and artists alike.
"The tragedy of the White Stripes is how great they would've been with a half-decent drummer," Markay tweeted. "I'm sorry Meg White was terrible and no band is better for having s— percussion."
After a resounding backlash, Markay deleted the unpopular tweet, walked back his remarks and apologized to White. He has since made his Twitter account private, so his tweets are now accessible only to his followers.
This article was originally on a blog post platform and may be missing photos, graphics or links.
In a follow-up tweet, Markay deemed his comments about White "over-the-top," "truly awful in every way," "petty," "obnoxious" and "just plain wrong," according to NME.
"To Meg White: I am sorry. Really," he added. "And to women in the music business generally, who I think are disproportionately subject to this sort of s—, I am sorry to have fed that as well. I'm really going to try to be more thoughtful in the future, both on here and off."
Meg White, who doesn't appear to be active on social media, has not responded to the uproar. But several of her fellow musicians have spoken up on her behalf.
Jack and Meg White make thumping good use of recently vacated Tower Records site.
On Twitter, Roots drummer Questlove called Markay's "troll" opinion "out of line af."
"Actually what is wrong w music is people choking the life out of music like an Instagram filter — trying to reach a high of music perfection that doesn't even serve the song (or music)," Questlove wrote.
Another person who stood up for Meg White was Jack White's ex-wife, singer-songwriter Karen Elson, who hailed the maligned percussionist as "a fantastic drummer" and revealed that Jack White once said "the White Stripes would be nothing without her."
"To the journalist who dissed her, keep my ex husband's ex wife name out of your f— mouth. (Please and Thank You)," Elson tweeted.
This article was originally on a blog post platform and may be missing photos, graphics or links.
Other musical artists — including Margo Price, Ben Lee and Garbage — also weighed in.
"Anyone who s— talks [Meg White] wouldn't know rock and roll if it bit [them] in the ass," Price tweeted.
"If you're dissing Meg White you fundamentally misunderstand what makes music good," Lee tweeted.
"Meg White rules and always will," Garbage tweeted.
Get our L.A. Goes Out newsletter, with the week's best events, to help you explore and experience our city.
You may occasionally receive promotional content from the Los Angeles Times.