The verdict is in: Here's how Johnny Depp and Amber Heard's long trial played out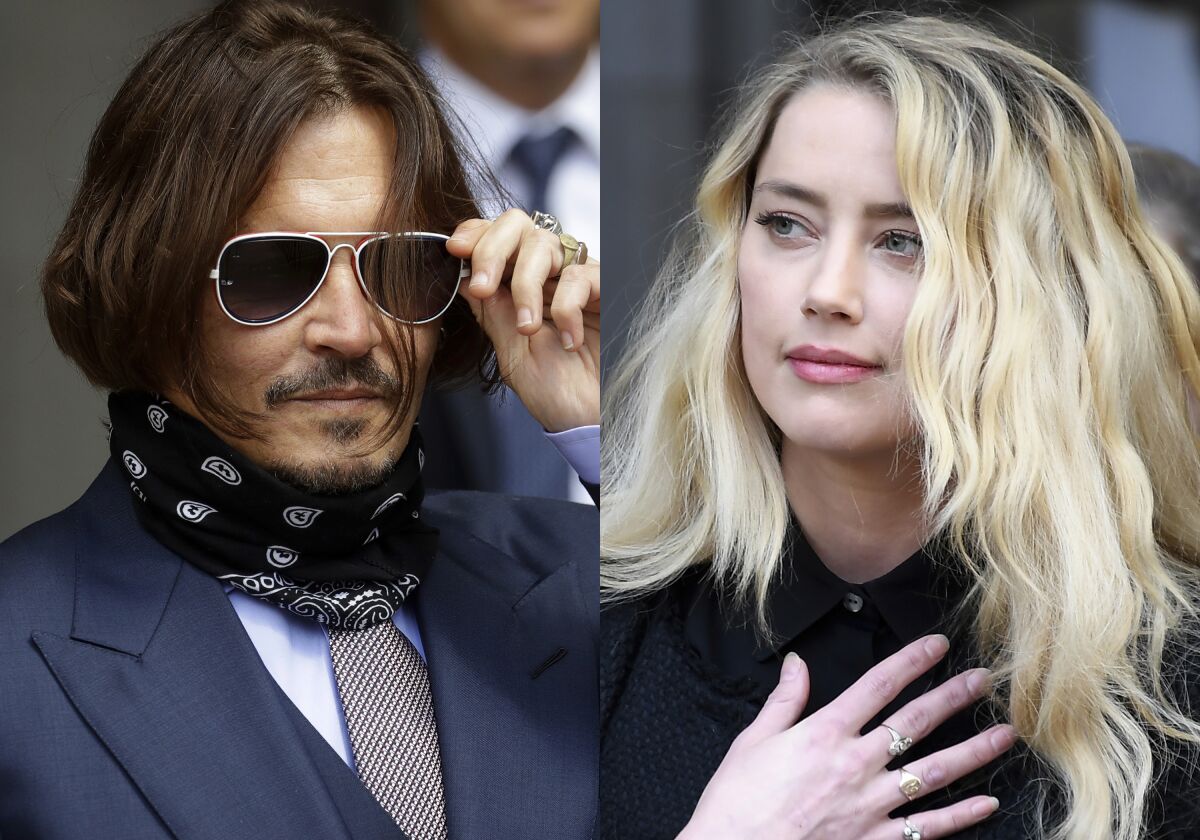 Johnny Depp sued ex-wife Amber Heard for defamation after she wrote an op-ed in the Washington Post in 2018 referring to herself as a "public figure representing domestic abuse." He was seeking $50 million. She then countersued him for $100 million.
The case was heard at the Fairfax County Circuit Courthouse in Fairfax, Va., starting in early April and finally reached a verdict on June 1.
Here's a look back at The Times' coverage of key moments from the protracted trial, which aired the actors' startling allegations of abuse and included witness testimony from the likes of Kate Moss and Ellen Barkin.
1

The dueling defamation cases between Johnny Depp and Amber Heard came to a simple end: She defamed him, but she won $2 million in her countersuit.

2

Many deemed the verdict in the dueling defamation cases — in which Depp was the winner — a step back for the #MeToo movement and said it highlights a distrust and dislike of Heard.

3

Amber Heard's attorney said she has 'excellent grounds' for an appeal after a Virginia jury found for Johnny Depp in their defamation trial.

4

Johnny Depp and ex-wife Amber Heard, who had sued and countersued each other in Virginia, issued dueling statements after the verdict was read Wednesday.

5

After a bruising six-week trial, both Johnny Depp and Amber Heard face uncertain career prospects.

6

Johnny Depp's tales of his chaotic childhood, rise to fame and use of drugs and booze steal the spotlight on first day of his testimony against Amber Heard.

7

Under cross-examination, Johnny Depp was asked if he was more upset by events in 2016 than by what Amber Heard wrote in allegedly defamatory article.

8

Amber Heard's lawyer grills Johnny Depp during cross-examination with a slew of embarrassing messages that might undermine parts of Depp's testimony.

9

Depp is suing Heard for defamation, and she is countersuing him as they air their dirty laundry to the world.

10

Judge Penney Azcarate tells Johnny Depp fans in the courtroom to keep their mouths shut as his testimony turns from cross-examination to redirect.

11

An attorney for Amber Heard requested Tuesday that Johnny Depp's defamation case against the 'Aquaman' actor be dismissed. The request was denied.

12

Amber Heard broke down in sobs while testifying for the second day in a row in her defamation trial against ex-husband Johnny Depp.

13

Amber Heard testified Monday she experienced multiple incidents of domestic violence at Johnny Depp's hands — and blamed the dog for pooping on their bed.

14

Johnny Depp's attorney Camille Vasquez chips away at Amber Heard during photo-filled cross-examination challenging the 'Aquaman' star's testimony.

15

Under cross-examination, Amber Heard painted every witness whose testimony contradicted hers as being wrong, mistaken or someone she disagreed with.

16

In video testimony, Raquel 'Rocky' Pennington, Amber Heard's best friend during her marriage, backs up allegations of violence by Johnny Depp.

17

Ellen Barkin alleged in a video deposition that ex-friend and brief lover Johnny Depp threw a wine bottle across a hotel room toward her and others.

18

Johnny Depp was set to take the stand Monday as a witness for Amber Heard, but her team pivoted. Kate Moss is listed as a rebuttal witness for her ex.

19

If Johnny Depp sued Amber Heard for defamation just to prove that there are people who still think he's a big movie star, he's won. But at what price?

20

Johnny Depp's rebuttal witnesses Tuesday chipped away at Amber Heard's allegations and claims of damages.

21

Model Kate Moss, Depp's girlfriend in the '90s, set the record straight with testimony about what happened on those stairs in Jamaica. Depp agreed.

22

In his rebuttal on the witness stand Wednesday, Johnny Depp called ex-wife Amber Heard's abuse allegations 'humiliating ... and all false.'

23

After Amber Heard tearfully described how she's suffered, she rejected testimony from a key Johnny Depp witness: 'How would he know? He wasn't there.'

24

The Johnny Depp-Amber Heard case went to the jury Friday afternoon in Virginia following nuanced closing arguments from both sides' legal teams.

25

The Johnny Depp-Amber Heard trial pushes LawTube, an online world of legal commentators, to new heights — and ex-L.A. Deputy DA Emily D. Baker to stardom.