A decade after "The L Word" ended its run, Showtime's sequel to the groundbreaking lesbian series, which premiered earlier this month, wasted little time introducing new characters to the mix of familiar favorites. Among them: Silver Lake.
The update, dubbed "The L Word: Generation Q," has moved roughly five miles east from the original's old haunt, L.A.s' storied gay enclave West Hollywood, to the gentrified, artsy L.A. neighborhood named after the concrete-lined reservoir at its heart.
The series catches viewers up with Alice (Leisha Hailey), living in Silver Lake — in the hills up near Micheltorena — and still hosting her talk show; Shane (Katherine Moennig), back in L.A. after time away and residing on a hill overlooking the reservoir; and Bette (Jennifer Beals), inhabiting neighboring Glassell Park with her daughter and running for mayor of Los Angeles.
When "The L Word" debuted on Showtime in 2004, queer women were starved for positive representation in media. It's different for "Generation Q."
Then there's the new group of young lesbian and queer characters: Roommates Micah (Leo Sheng), an adjunct professor confronting his fear of vulnerability; Dani (Arienne Mandi), a PR executive who joins Bette's campaign; and Sophie (Rosanny Zayas), Dani's fiancé and a producer on Alice's talk show, living in a bungalow off Hyperion Avenue. Their friend Finley (Jacqueline Toboni), a free-spirited, on-a-budget production assistant on Alice's show, winds up moving into Shane's spare bedroom.
Showrunner Marja-Lewis Ryan, who lives in Glassell Park with her wife and son, says of the relocation: "I'm lazy. This is the world I know."
But, more seriously, Ryan felt it more accurately reflected how things have changed in L.A. in the time since the original series went off the air.
"I have been living in this city for over a decade and I have watched the migration of queer women — queer people, in general — to the east side," she says. "That was a big part of it: reflecting what L.A. looks like, both geographically and where the queers are. I want queer kids in Missouri to come here and be like, 'OK, I'm here. Where are you?' And they'll find us."
While the original was shot in Vancouver, Canada, subbing for West Hollywood, "The L Word: Generation Q" was filmed in Los Angeles.
"I felt it was important for the scope of the series to shoot in Los Angeles," Ryan says. "And it lends to this idea that queer things can be big. It's a really important message to chipping away at shame. That's part of it. We deserve to be highly funded. It invites us to take up space in the neighborhood we're reflecting."
Here's a guide to some of the spots that play a role in the series.
Showtime's "The L Word" was criticized for its depiction of transgender man Max. Now, with GLAAD's help, sequel "Generation Q" hopes to do better.
Silver Lake Reservoir
1854 to 2246 Silver Lake Blvd.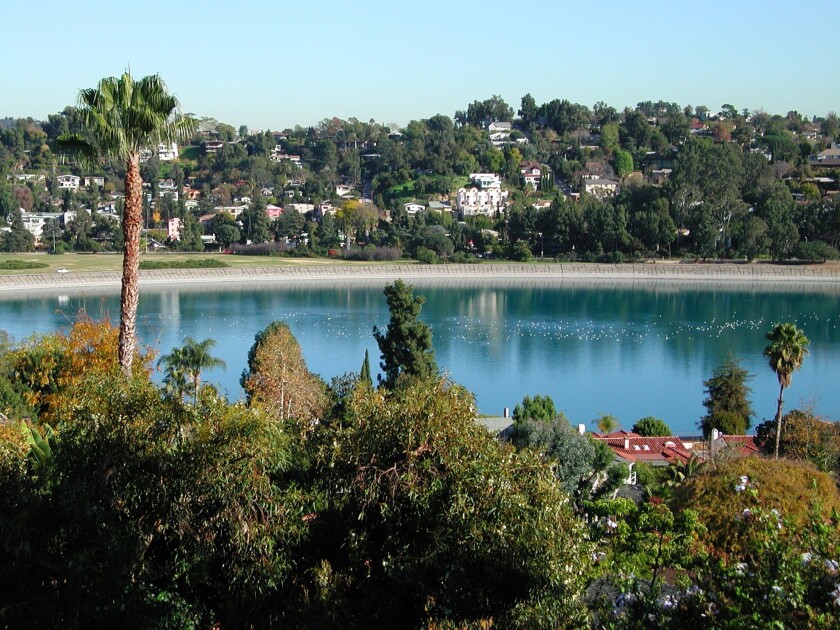 The reservoir is often designated the capital of the east side. Its roughly two-mile trail loop, which circumnavigates the water basins, is a much-journeyed stretch for those in search of outdoor activity. Ryan considers the locale an anchor for the series.
"We sort of oriented all of our characters around the reservoir," Ryan says. "So, like, when we do establishing shots of Shane's house. And some houses we're faking a little bit to be closer to this than they really are."
The show's writers, she adds, wrote many scenes that take place at the reservoir. "But there ended up not being as many, because walks and talks are really hard to shoot," she says. "There was, though, one really special moment with Finley and Sophie riding Finley's bikes at night. It looks really beautiful. And it's just so nice to see our neighborhood come to life like that. If the dirt path could talk about the conversations that have been had here on a daily basis, it'd be something. There are a lot of women that come here and walk in twos or threes and talk about their lives. And that's basically what our show is."
The Line Hotel and Kettle Black
The Line Hotel: 3515 Wilshire Blvd. / Kettle Black: 705 Sunset Blvd.
The original series featured the fictional hangout the Planet, a space where the women often gathered to catch up with one another. With its absence in "Generation Q," Bette, Shane and Alice now convene at various spots throughout the east side, including the Line Hotel and Kettle Black.
Viewers first see the three original cast members together again in the season opener scene at Koreatown's the Line Hotel. Ryan imagines it was Alice who picked the hotel's stylish greenhouse restaurant — complete with vaulted ceilings and an assortment of hanging plants that would make any millennial green thumb swoon — for the trio's bougie breakfast gathering.
"It photographs really beautifully," Ryan says. "It has this really incredible indoor/outdoor vibe. And the pool is right there. It just feels really L.A."
The vaulted ceiling and hip ambience of Kettle Black on Sunset Boulevard — particularly its black accent wall, which features a mosaic of potted plants — also fit Ryan's idea of where the women would frequent. The look of the space, which was formerly a bank, was not changed for the series. But, for the purposes of the show, the sit-down restaurant serving up oysters and quick-fire pizzas was recast as a coffee spot.
."
Atrium
1816 N. Vermont Ave.
A pivotal scene involving Alice will unfold here near the end of the season, Ryan says, careful not to reveal too much. Like the Line in Koreatown, Atrium, located on Vermont Avenue in Los Feliz, was selected for a scene involving one of the original characters because of its elevated aesthetic.
"When I have scenes with the OGs, because they represent a certain socioeconomic bracket, we go for the aspirational," she says. "I'm looking for scope and scale. And for each character, it's a thing of, 'Would they go here?' Like, Finley probably wouldn't be at the Atrium."
Semi-Tropic
1412 Glendale Blvd.
In "Generation Q," the Semi-Tropic in Echo Park serves as the shooting location for the show's fictional Atlas, a sports bar that used to be the site of a gay bar. Shane decides to buy it and flip it back into a queer space. According to Ryan, the new characters will be hanging out at the bar a lot — particularly Finley, because she knows she can get free drinks.
Ryan says the plot point is a bit of wish fulfillment, noting the absence of lesbian bars in Los Angeles. West Hollywood's the Palms, L.A.'s last lesbian bar, closed in 2013.
"It's almost like a directive from me: Someone please open one," Ryan says. "I'll put it on TV, but I need someone to do it for real. So much of this story is about finding family, finding community and just finding places that feel like hubs is just really exciting to me. I'm sure some people will get mad at me when they find out it doesn't actually exist."
She points out that Cuties, an LGBTQ coffee shop in East Hollywood, is a nonbar option in the neighborhood that has become a haven for some of the show's writers. While the establishment was not featured this season, she hopes to include it in a future episode.
---