Can L.A.'s only LGBTQ-focused coffee shop survive?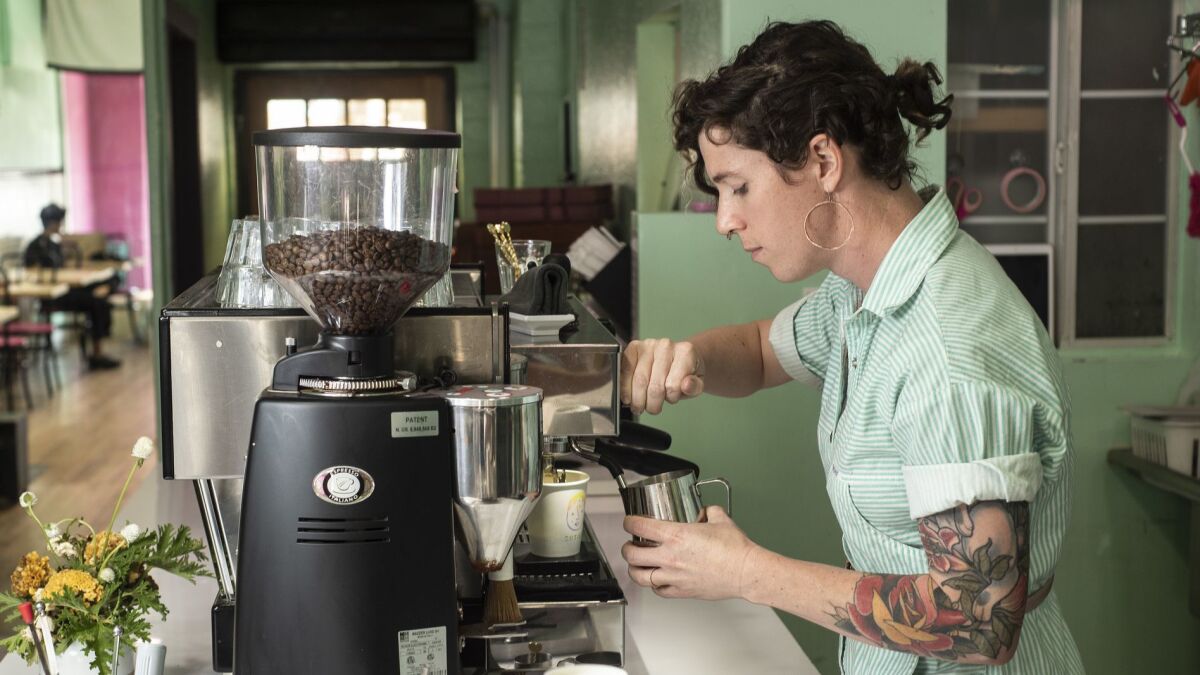 Before she leaves her house in a dress or skirt, or anything else perceived as feminine, Willow Fields braces for a hard day.
At best, she expects to be gawked at and misgendered by cashiers and ride-hail drivers. At worst, she fears becoming the target of violence in a country where at least 28 transgender people were killed in 2017.
But when the 24-year-old PhD student wears something flashy to Cuties Coffee in East Hollywood, that fear is displaced by excitement. The cafe offers her a rare opportunity to show off an outfit without anxiety and to let her guard down.
"In so many ways, Cuties is absolutely the reason why I've been able to survive in L.A.," said Fields, who moved here from Chicago three years ago.
This is what Cuties owners Virginia Bauman and Iris Bainum-Houle intended when they opened the business in July 2017. Both 34 and from Virginia, the pair wanted to create a casual hangout that's welcoming to all members of the LGBTQ community, regardless of age or gender identity.
Such spaces are scarce.
In most cities, the lion's share of LGBTQ-centered establishments are bars and clubs that primarily cater to gay men who are cisgender, meaning their gender identity matches the sex they were assigned at birth. Greater L.A. is no exception. Although West Hollywood is nationally renowned as a mecca for gay men, that's not necessarily the case for lesbians or transgender people.
Given this void, Cuties has quickly become the daytime darling of L.A.'s queer social ecosystem. But despite a loyal customer base, Cuties — the only LGBTQ-focused coffee shop in L.A. — is fighting to stay open.
"We knew that this experiment had to be self-sustaining," Bauman wrote in a blog post on Medium in late August. "So far, it isn't."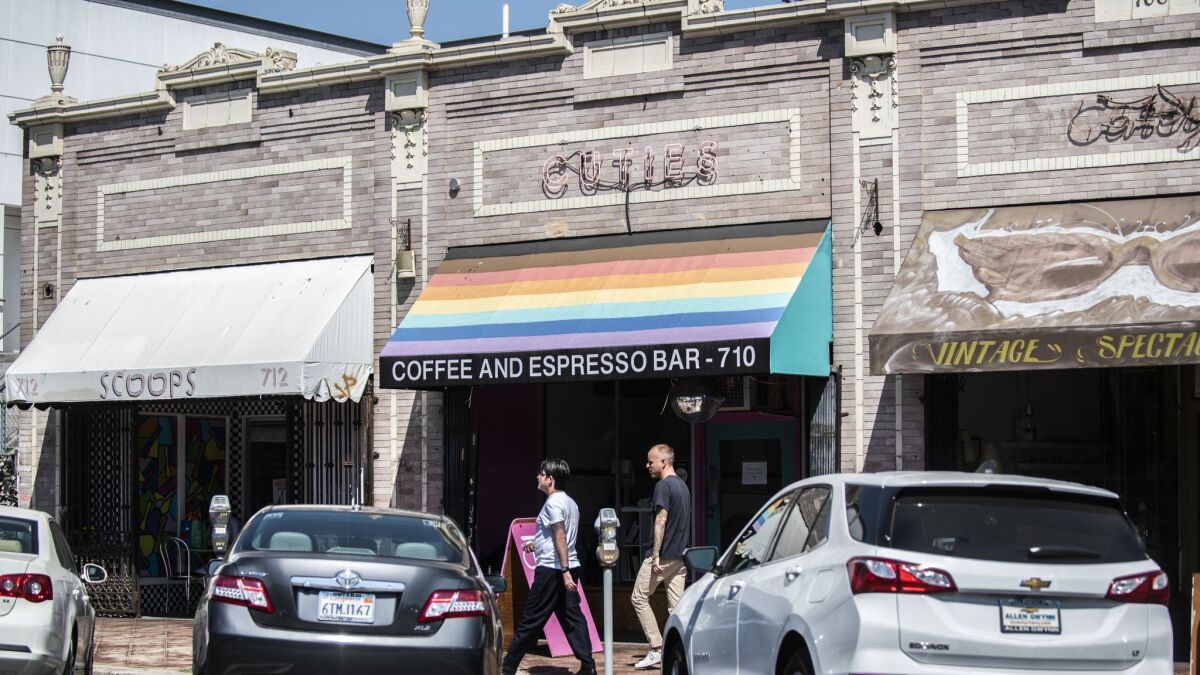 Cuties' plight comes at a time when Los Angeles has lost some of its most beloved queer-owned establishments: Bar Mattachine in downtown L.A. closed in August, and Good Girl Dinette in Highland Park will shut down Oct. 5. The Oxwood Inn, L.A.'s only lesbian bar, closed in June 2017.
The importance of casual gathering spaces for LGBTQ people should not be underestimated, even in a largely progressive city such as L.A., said Petra Doan, a professor of urban planning at Florida State University who studies the development and demise of LGBTQ neighborhoods.
"If you're trans or a butch lesbian or a femme gay man, you're going to have experiences of discrimination no matter how accepting in general California is," said Doan, who is a transgender woman. As a tall person with a deep voice, she said she gets misgendered by every third or fourth person she meets.
"After a while, that begins to eat away at my sense of self," Doan said, "and I need to spend time somewhere I can process and talk to people who understand what that's like."
With its rainbow awning, doorway disco ball and hot-pink-and-teal interior, Cuties signals that it is just such a place. The owners say they regularly receive emails from gender nonconforming customers who say that when they finally mustered enough courage to wear makeup or a dress, they chose to come to Cuties.
"There are people who come here presenting more authentically for the first time, every single day," Bauman said.
The cafe's come-as-you-are environment is one reason 31-year-old Tina Guirguis brought a friend there one recent afternoon, even though she lives in Ventura. Guirguis said that when she first came out as a lesbian at age 20, she knew very few queer people and would have really benefited from a place like Cuties.
"Without seeing it in real life, you don't know what being gay looks like. You question what you're getting into," she said, taking a sip of coffee. "You need real people to validate who you are and show you that this is OK, that you'll be fine."
But Cuties does more than serve pour-overs and pastries. After hours, Cuties lets community groups use the space, often for free. And the shop regularly hosts programs centered on food, music and crafting. It also sends out a weekly newsletter with a carefully curated list of LGBTQ-friendly events.
It is this sense of purpose — to help queer people feel less isolated in a sprawling city — that makes Cuties unique. It also makes it expensive to run.
Bauman and Bainum-Houle launched a Patreon fundraiser to keep the business afloat amid a summertime slump. So far more than 400 people have committed to donating a combined $4,200 each month. That's enough to keep Cuties open through September, said Bauman, who is a transgender woman. But the owners say they need to raise $12,000 a month to keep sponsoring events and paying their six employees.
Alcohol-free establishments that strive to include all identities within the LGBTQ umbrella are few and far between, and often face financial obstacles similar to Cuties'.
One such business is Qulture Collective, a self-described "safe space for queers and allies" in downtown Oakland that features a retail shop, cafe and gallery.
Like Cuties, Qulture rents its space to community groups, often for free. Its owners say they are also considering crowdsourced funding to stay afloat.
"If we can't make it, that'll be really tough, because Oakland is so diverse and so queer and has a real need for something like this," said one of its owners, Terry Sok-Wolfson.
Some have managed to make this business model work, but not without sacrifice.
Bluestockings, a collectively owned bookstore and cafe in the Lower East Side of Manhattan, has become a center of LGBTQ culture since opening in 1999. Bluestockings also hosts events and makes its space available to local groups; but it is run by a pool of 50 or so volunteers, which significantly cuts down on operating costs, said Hadar Kaly, one of the store's owners.
Even so, the store closed briefly in 2003, and in 2015 it had to fundraise to renovate the space. All three Bluestockings owners supplement their incomes by working other jobs.
"You kind of have to be in the right place in your life to commit the amount of time and energy it takes to make sure that the store is open," Kaly said.
Unlike Bluestockings, Cuties will never be volunteer-powered. Bainum-Houle and Bauman said one of their goals was to pay a living wage to members of the LGBTQ community, who disproportionately grapple with unemployment, homelessness and poverty. In a nod to this issue, Cuties has a community tab program that allows customers to buy a coffee for both themselves and a future patron who can't afford it.
"We don't want to be the only ones doing this in L.A.," Bainum-Houle said. "We would much rather show that if you add value to your community, the community will support you in kind."
Twitter: @LauraMNewberry
---
The stories shaping California
Get up to speed with our Essential California newsletter, sent six days a week.
You may occasionally receive promotional content from the Los Angeles Times.