For sports fans, the cancellation or postponement of spring viewing staples like March Madness, the NBA, the NHL and Major League Baseball means lean times from a TV viewing perspective. As ex-Angels pitcher and baseball devotee Jim Abbott wrote in a tweet that recently went viral, "At this point I'd watch the first half of an NBA regular season game."
That was six days ago. Who knows what kind of desperation fans are now feeling?
Although there's no true replacement for the anything-can-happen energy of a live sports broadcast, our bottomless reserve of streaming TV has plenty of options for sports fans needing a programming fix. Below, a rundown of some favorites.
We polled more than 40 TV critics and journalists, inside and outside The Times, on the best TV show to binge while stuck at home.
'Sunderland 'Til I Die'
The blue-collar U.K. city of Sunderland lost its mining and shipbuilding industries, but it still has its beloved, if underperforming, football club. Centering on the goings-on of a struggling team and its diehard fans, this series follows Sunderland amid the fight for redemption after being relegated out of the Premier League. With a second season recently released that offers a tantalizing glimpse of redemption for the club, this is a show that recognizes that for every thrilling victory, there is another side.
Available on: Netflix

"The English Game"
Julian Fellowes ("Downton Abbey") created this historical drama about the birth of modern soccer, and although you won't see the flashy brilliance of a Mo Salah on display, you'll see the game's evolution from promising but plodding showcase for upper-crust Britain to its incorporation of the nation's working class. There's also a pleasantly familiar upstairs-downstairs feel in the rivalry between the posh Edward Holcroft ("London Spy") and mill worker/ player Kevin Guthrie ("The Terror"), and no shortage of stiff-upper-lipped insistence about gentlemanly behavior.
Available on: Netflix

"O.J.: Made in America" / "The People vs. O.J. Simpson: American Crime Story"
Calling the O.J. Simpson saga merely a sports story is akin to viewing the death of Kobe Bryant solely in the context of its impact on the Lakers season. But four years after the release of Ezra Edelman's groundbreaking five-part documentary and Ryan Murphy's 10-episode miniseries, the companion pieces examine the intersection of sports, race, celebrity, wealth and the American legal system in ways no single work could hope to capture — which makes them essential viewing whether you're a sports fan or not.
Available on: Hulu / Netflix

"30 for 30"
"O.J.: Made in America" would not have been possible without this documentary series, which was built on the pretext of combining big-screen storytelling talent with under-examined sports stories of the last few decades. Some highlights include "Bull Durham" filmmaker Ron Shelton on Michael Jordan's minor league baseball career ("Jordan Rides the Bus"), "Friday Night Lights" creator Peter Berg on Wayne Gretzky's move to the L.A. Kings ("Kings Ransom"), Nanette Burstein on the rivalry between Nancy Kerrigan and Tonya Harding ("The Price of Gold") and Barry Levinson's unconventional look at a forgotten aspect of the NFL's Baltimore Colts' move to Indianapolis ("The Band That Wouldn't Die"). And that barely scratches the surface.
Available on: ESPN+

"Friday Night Lights"
Not unlike "The Wire" and "Breaking Bad," this series has probably come up among friends as necessary viewing in the '00s TV boom. And even for someone who doesn't like football, "FNL" holds up beautifully on the strength of humane story lines and rich characters played by now-familiar faces such as Kyle Chandler, Connie Britton, Jesse Plemons and an electric Michael B. Jordan. Sure, there are last-second, big-game comebacks with goose-bump-raising soundtracks, but "Friday Night Lights" reaches far beyond its game (except for that second season, which most fans agree may not have happened).
Available on: Hulu, NBC.com
'Losers'
A spiritual sibling to "30 for 30" (series director Mickey Duzyj even contributed to ESPN's Grantland blog), this show looks at some memorable collapses and also-ran finishes across multiple sports. Duzyj's animations add welcome life to the stories, the best of which include the ahead-of-her-time French figure skater Surya Bonaly and the epic British Open collapse of golfer Jean van de Velde. Sports, like life, centers upon the acceptance of some form of failure. This series gives that practice its due.
Available on: Netflix

'Ballers'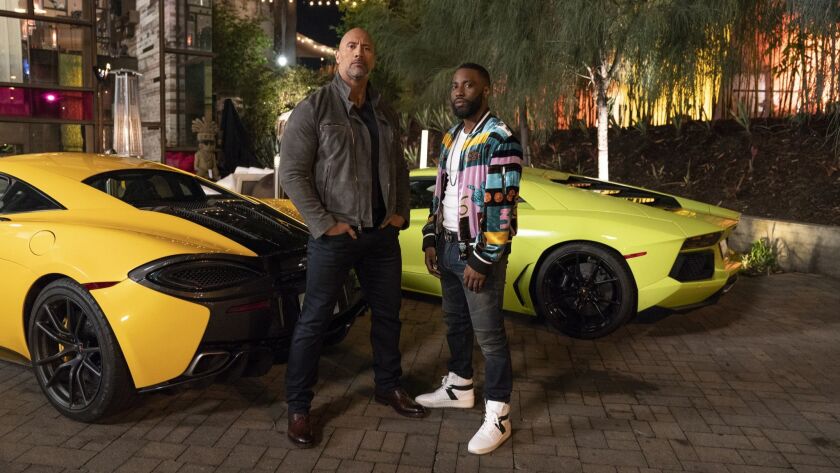 A durable sports-centric bro-down, this series' seemingly endless scenes celebrating young wealth and dudely decadence underscore a lineage to the long-running "Entourage" (Mark Wahlberg executive produced both). "Ballers" ended last year after five seasons, and that lengthy run had everything to do with Dwayne Johnson headlining as a former NFL star turned agent, along with cameos from real-life ballers Steph Curry, Julian Edelman and Terrell Suggs.
Available on: HBO
"GLOW"
Somehow, the show went on for WrestleMania 36 (albeit without a crowd), available via pay-per-view. But for those reluctant to shell out extra, the series inspired by the Gorgeous Ladies of Wrestling of the '80s remains at a safe distance for all concerned. While the outsize fashions and solid performances by Alison Brie, Betty Gilpin and Marc Maron are worth your time, so too are the pro wrestling details on kayfabe and acrobatic stagecraft delivered by Britney Young's Carmen.
Available on: Netflix
"Shut Up and Dribble"
Produced by LeBron James (remember him?) and Maverick Carter, this three-part documentary looks at the history of social activism in the NBA (the title is a play on what Fox News' Laura Ingraham said in advising James to stay out of politics). Although some of the examples of free expression by players under the NBA's newer policies are illuminating, even more so are the stories of ex-players Mahmoud Abdul-Rauf and Craig Hodges, whose activism received a far harsher reception.
Available on: Showtime

"Brockmire"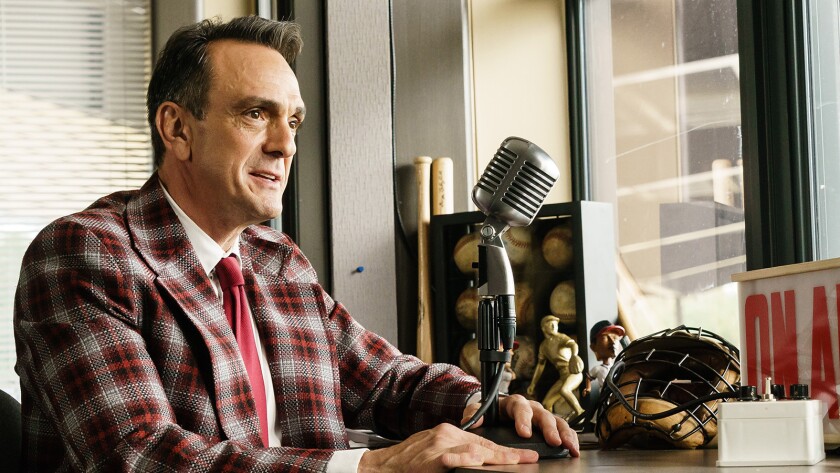 Led by the chameleon-voiced Hank Azaria and Amanda Peet, this series centers on a down-on-his-luck baseball broadcaster who looks to restart his career after spectacularly flaming out in the minor leagues. Over the first few seasons, the show draws most of its comedy from Brockmire's bad behavior, but a 10-year time jump in the just-completed fourth season allows for some barbed, much-needed satire of the major leagues that proves eerily prescient.
Available on: IFC, Hulu
ESPN plans to pivot to news and archival content amid the coronavirus pandemic. But watching a sports network without live sports is still bizarre.
"Pitch"
Considering the particulars, this baseball series deserved far better than its single-season run. Produced by Dan Fogelman ("This Is Us"), this drama imagines the story of the first female pitcher in the major leagues, Ginny Baker (an excellent Kylie Bunbury). The details make the difference in that Baker pitches in Petco Park for the San Diego Padres, Mark-Paul Gosselaar plays a convincingly gruff catcher, and real-life sports figures like Joe Buck and Katie Nolan drop by for cameos, but this is Fogelman's world: There will be crying in baseball.
Available on: On Demand

"Eastbound & Down"
The dim, unearned overconfidence of Danny McBride's characters may be a divisive proposition; this show about the once-famous, mostly monstrous pitching phenom Kenny Powers and his multiple falls from grace is where it meets its apex. McBride's thick build, his mullet and his outrageous swagger are well suited to Major League Baseball's history of relievers, and a few cringe-worthy laughs will be found even though baseball isn't always a key player.
Available on: HBO
---