The Envelope: Ennio Morricone says a hands-off Quentin Tarantino let his 'Hateful Eight' music flow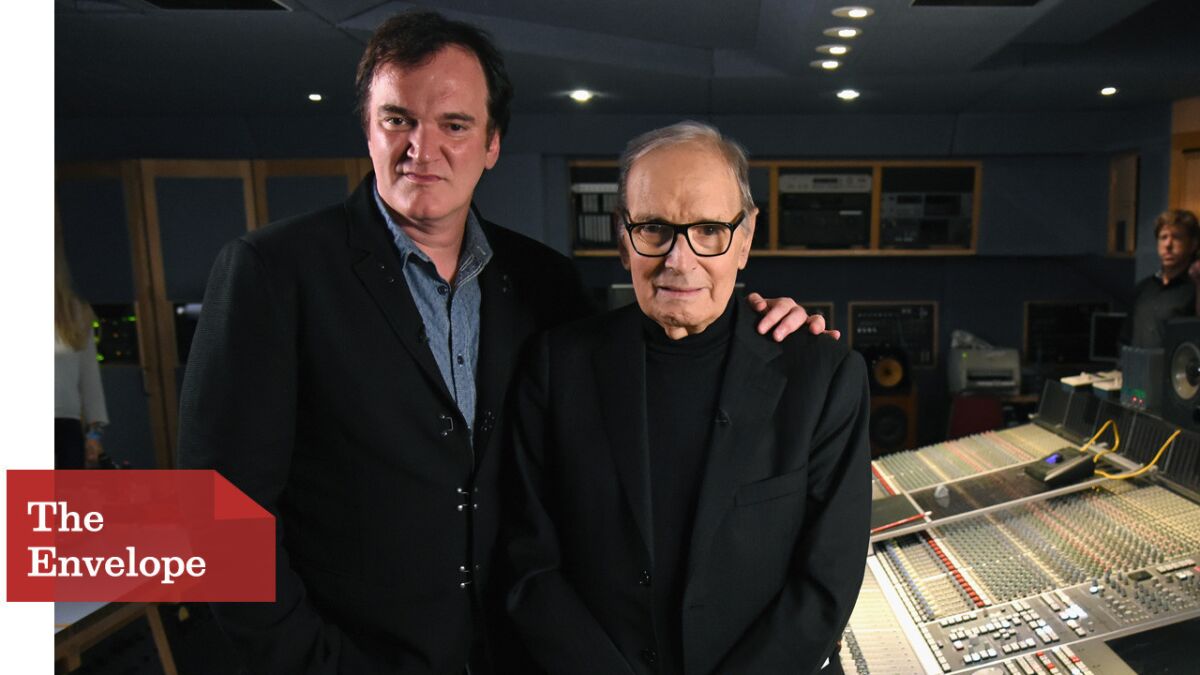 There are just a select few who inarguably belong in the pantheon of great film composers; Ennio Morricone is one.
However, just as the film for which he has received his sixth Oscar nomination, Quentin Tarantino's "The Hateful Eight," is often misleadingly put in the small box of being a "western," the casual moviegoer might limit Morricone to his classic spaghetti-western collaborations with Sergio Leone.
"Many people mistakenly describe 'The Hateful Eight' as a western movie," says the maestro through a translator. "In my opinion, it's not a western movie, but an adventure movie set in a particular moment in American history that is after the war of secession. And [more than 30 years] after my last western score, I didn't want to repeat myself, to resemble what I had done for Sergio Leone or the other western movies.
Oscars 2016: Full Coverage | Complete list | Snubs, surprises and reactions | Top nominee photos | Oscars are so white, again
"In my opinion, if you were to label this movie, it would be an adventure, a drama, with some irony inside."
Indeed, the "Hateful" score belongs much more to a twisty chamber mystery, as Tarantino has described his film, than an ultra-macho cowboy shootout saga. It combines harpsichord-like tiptoeing sounds and gravitas-imbuing strings with a repeating woodwinds theme straight out of a whodunit.
"What I wanted to do with the two bassoons at first — and later there is a tuba and later on the contrabassoon and then the trumpet, and in the end, the male voices — I wanted to de-traumatize the dramatic content of the music," says Morricone. "To add something lighter, more curious, more interesting. The contents of the theme remain tragic and dramatic, but the way these instruments are played, to the extreme ranges of their timbre, makes them quite lighter and ironic."
Morricone has more than 500 scoring credits in a career spanning more than 60 years. And at 87, he's not appreciably slowing down. Counting shorts and documentaries, he has 20 credits in the last five years. He has scored many major American and French films and composed more than 100 classical works, selling more than 70 million records globally. His exquisite work for Roland Joffé's "The Mission" (1986) is No. 23 among AFI's 25 Greatest Film Scores of All Time. And that doesn't include the countless times his iconic themes have been parodied, referred to, or appropriated outright by filmmakers, including Tarantino.
Morricone has previously been quoted as criticizing Tarantino's use of his music in the auteur's films — published reports had him saying Tarantino "places music in his films without coherence," among other things, at a Rome university in 2013. That's apparently all in the past, as the maestro now happily cites Tarantino's use of his "Città Violenta" in "Django Unchained" and "Rabbia e Tarantella," from the film "Allonsanfàn," in "Inglourious Basterds."
"Those were examples of which I really appreciated the way Tarantino used the music," he says, adding, "Tarantino made something very special for this movie because the 70-millimeter version of the film starts with a musical overture; just a fixed image on the screen and you just have music. I really appreciated it.
"And also, the use of the music entitled 'Snow' is used very effectively in all the snow-covered sequences."
At the time he was writing for the film, however, Morricone was scoring blind — he worked only from the page.
"It is true, this music score has been written just on a reading of the script," he allows, "but it was a very, very careful and accurate reading of the script. In addition to that, this script was full of many, many details. It was such a bulky script because every single sequence, every single gesture of every single actor was described in many, many details. It gave me a good idea what the film would look like.
"I didn't compose them knowing the sequences they were intended for; I just gave Mr. Tarantino the music and then Mr. Tarantino was very, very good at actually selecting the pieces of music and putting them in the sequences and editing them in a very brilliant way, as he had done in the past with the other pieces of music I had composed for other films."
Morricone relished the freedom the auteur gave him, allowing him to compose freely, without "any special indication; he didn't ask me for anything precise. Because of this freedom, I took the time to think carefully about what I wanted to do."
The composer received an honorary Oscar in 2007 to go along with three Golden Globes (including for "Hateful Eight"), four Grammys, five BAFTAs and 10 David di Donatello Awards, Italy's highest film honor.
"Awards in general are important for composers; they work silently, unseen, they are in the background," he says. "But the music can be actually appreciated and duly recognized only if the director makes good use of the music.
"Sometimes you can compose great music, but in the editing and cutting of the film, it is not well placed so the audience cannot listen to it, so the music is worthless."
MORE:
'Hateful Eight's' Quentin Tarantino, Samuel L. Jackson touch raw nerve of racism
For 'Hateful Eight's' film editor, there's nothing too outlandish to try
---
Get our L.A. Goes Out newsletter, with the week's best events, to help you explore and experience our city.
You may occasionally receive promotional content from the Los Angeles Times.