A louche, overstuffed Instagram feed with orchestral score, "Knight of Cups" — the new Terrence Malick film and his first set in Los Angeles — is not for the bulk of its 118 minutes a model of anything resembling deference or restraint.
But there is one moment when Malick and his cinematographer, Emmanuel Lubezki, make a pointedly self-effacing decision. During a scene in the Hollywood Hills at Pierre Koenig's Stahl House, otherwise known as Case Study No. 22, the camera steers well clear of re-creating the angle made famous by the architectural photographer Julius Shulman, whose 1960 shots of models in its glassed-in living room, the nighttime grid of Los Angeles stretching out below them, are among the most indelible images of 20th century Southern California.
See more of Entertainment's top stories on Facebook >>
Instead, we look from the living room back toward the rest of the house, or across the surprisingly small pool, catching glimpses of a piece of architecture that is as self-possessed as ever but also sagging a bit and showing its age.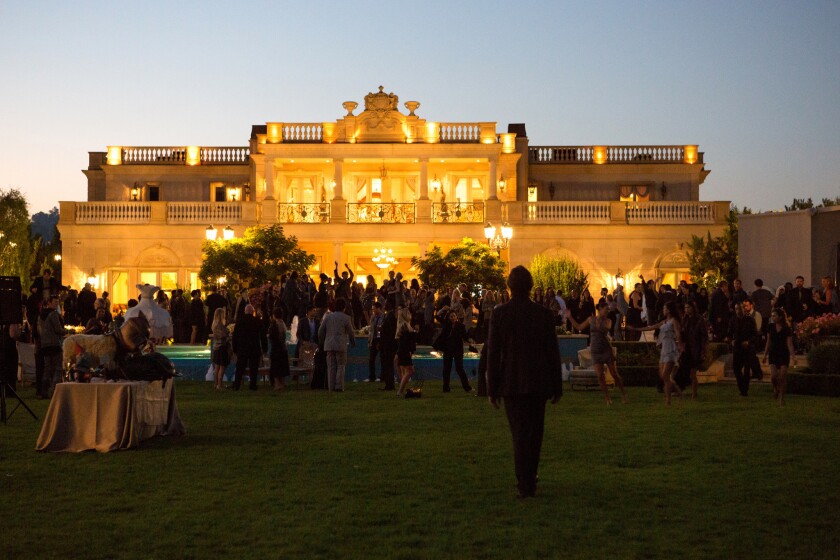 The same might be said of the Malick MO, which appeared nearly fully formed in "Badlands," his astonishing 1973 debut. This time around, in telling the quasi-autobiographical story of a screenwriter played by a largely mute Christian Bale, he relies on the same inscrutable languor, the same sure-footed and deeply vain confidence of visual taste, the same sweeping vistas and pink skies and birds in flight.
It's the rest of the culture that's changed. We produce, organize and consume images differently now. The stringing together of remarkable visual tableaux -- Malick's chief talent, and one he relies on more and more as his films get more abstract -- is in the digital age no longer strictly or even primarily a cinematic skill.
Aside from the kind of enveloping beauty that only movies with this level of fastidious commitment to the medium can deliver — and that is not nothing — there is little in "Knight of Cups" that you couldn't plausibly re-create at home by putting Arvo Pärt or Claude Debussy on a Spotify loop and scrolling through the social-media highlights of a handful of design magazines, fashion photographers, aging (but iPhone savvy!) lotharios and Hollywood agents.
And let's be frank: The timing — releasing right on the heels of #OscarsSoWhite a movie that doesn't just celebrate but practically sanctifies a hyper-privileged white-male POV — is not good for Malick or his shrinking pool of acolytes in Hollywood.
Still, just as people in the industry will have fun picking over the cameos (publicist Kelly Cutrone, agent Patrick Whitesell, Fabio), art and architecture buffs will find pleasure naming the specific floats in Malick's parade: John Portman's Bonaventure Hotel; Chris Burden's "Urban Light" in front of LACMA and his "Metropolis II" (filmed much less engagingly than it might have been) inside the museum; John Parkinson's Los Angeles Athletic Club; various sections of the Huntington Gardens; Minoru Yamasaki's Century Plaza Towers and their neighbor, Gensler's CAA building, better known as the Death Star; A.C. Martin's Brutalist St. Basil Catholic Church on Wilshire Boulevard; Frederick Fisher's Annenberg Community Beach House in Santa Monica; and on and on.
"Knight of Cups" takes its name from a tarot card and its attitude toward women from late Kubrick. This is the kind of movie in which the male characters wear more clothing than you'd expect when they do things like playing tennis or swimming in the ocean and the female ones wear less than you'd expect when doing things like standing on apartment terraces in the middle of Santa Monica.
It's most impressive as an extended, wallowing visual riff on a line Carey McWilliams once used to describe the great appealing paradox of Southern California — that the metropolitan region is "a desert that faces an ocean." We get a collection of scenes on either edge: Natalie Portman's big tears watering the deck of a Malibu beach house, Bale's character seeking self-knowledge (like Tony Soprano before him) among the Joshua trees as the sun comes up.
Back nearer the center of things, when the soundtrack is given over to the drone of leaf-blowers and helicopters, or later when the action moves to skid row, a bit of Mike Davis-style dystopia intervenes, replacing an even briefer homage to the empty freeways of Reyner Banham's "Autopia."
The movie seems to find itself only when it trades Los Angeles for a few scenes in Las Vegas; like the architects Denise Scott Brown and Robert Venturi, who in the late 1960s briefly considered L.A. as the setting for the critique that would propel their most famous book, "Learning From Las Vegas," Malick ultimately finds a concentrated, potent version of American Babylon among the casinos and blinking signage of the Strip.
"I was really interested in Los Angeles," Venturi told one interviewer, "but I realized that Las Vegas was similar in some respects and simpler to study."
Nearly five decades later, "Knight of Cups" stumbles in its final third toward the same lesson: The easiest way to cram the Los Angeles of hedonistic stereotype into a single frame is to throw the camera into your convertible and drive northeast on the 15 until your windshield is filled with neon. The film pairs architecture and image-making most successfully not in the bird streets or Rustic Canyon but in and around Caesars Palace, whose glued-on pilasters and food-court frescoes Malick and Lubezki treat as lovingly as if they were the originals in Rome.
christopher.hawthorne@latimes.com
Twitter: @hawthornelat
---