Neil Patrick Harris to host Tony Awards show, his fourth
"Birdman" actress Emma Stone (center), took on Roundabout Theatre Company's "Cabaret." Pictured with Gayle Rankin, left, Andrea Goss, Kristin Olness, Stacey Sipowicz, Kaleigh Cronin and Jessica Pariseau.
(Joan Marcus / Roundabout Theatre)
Oscar winner Helen Mirren once again portrays Queen Elizabeth II in Peter Morgan's play "The Audience," directed by two-time Tony Award winner Stephen Daldry.
(Johan Persson / Associated Press)
Actress Carly Hughes and Sugarland singer Jennifer Nettles perform during a rehearsal for Broadway's "Chicago."
(Astrid Stawiarz / Getty Images)
Sienna Miller, center, and Alan Cumming, right, appear at the curtain call following her debut performance in Broadway's "Cabaret."
(Greg Allen / Invision / Associated Press)
"Nightcrawler" actor Jake Gyllenhaal, left, and Ruth Wilson stand onstage at the opening night curtain call of "Constellations" at the Samuel J. Friedman Theatre.
(Greg Allen / Invision / Associated Press)
Bradley Cooper, left, Alessandro Nivola and Patricia Clarkson perform in "The Elephant Man" at the Booth Theatre in New York.
(Joan Marcus / Associated Press)
"Wolverine" actor Hugh Jackman played The Man in "The River," a play by Jez Butterworth, directed by Ian Rickson, at Circle in the Square Theatre in New York.
(Richard Termine / Associated Press)
Film actors Ewan McGregor and Maggie Gyllenhaal made their Broadway debuts Oct. 30 in Tom Stoppard's "The Real Thing" in New York.
( Joan Marcus / Associated Press)
Four-time Oscar nominee Annette Bening is no stranger to the stage having started her acting career in theater. Above, Bening performs a compilation of four Ruth Draper vignettes in "Ruth Draper's Monologues," scheduled to run through May 18 at the Geffen Playhouse.
REVIEW: Annette Bening pays fine tribute in 'Ruth Draper's Monologues'
(Allen J. Schaben / Los Angeles Times)
"CSI" alum William Petersen made his
Los Angeles stage debut
in this year's "Slowgirl" at the Geffen Playhouse.
(Katie Falkenberg / Los Angeles Times)
Tom Hiddleston
returned to the stage
as the title character in Shakespeare's "Coriolanus" after playing Loki in "Thor," "The Avengers" and "Thor: The Dark World." The production opened at the Donmar Warehouse in London on Dec. 17 to glowing reviews and continues through Feb. 13.
(Johan Persson / Associated Press)
Ethan Hawke took on the
title role
in the Lincoln Center Theater's production of "Macbeth" that opened on Nov. 21, 2013, and closed Jan. 12.
(T Charles Erickson / Associated Press)
Daniel Radcliffe went from boy wizard in "Harry Potter" to baring all in a Broadway revival of Peter Shaffer's 1973 Tony-winning play "Equus."
The casting of the "Harry Potter" frontman as the psychologically disturbed stable boy caused a stir as the then 17-year-old would appear nude in one scene.
Radcliffe
wowed critics
and earned a Drama Desk nomination for his role.
(Uli Weber / Associated Press)
Jude Law, who played the title role in 2009, and most of the British cast transported the Donmar Warehouse production from the Wyndham's Theatre in London to Broadway's Broadhurst Theatre after a successful run.
(Johan Persson / Associated Press)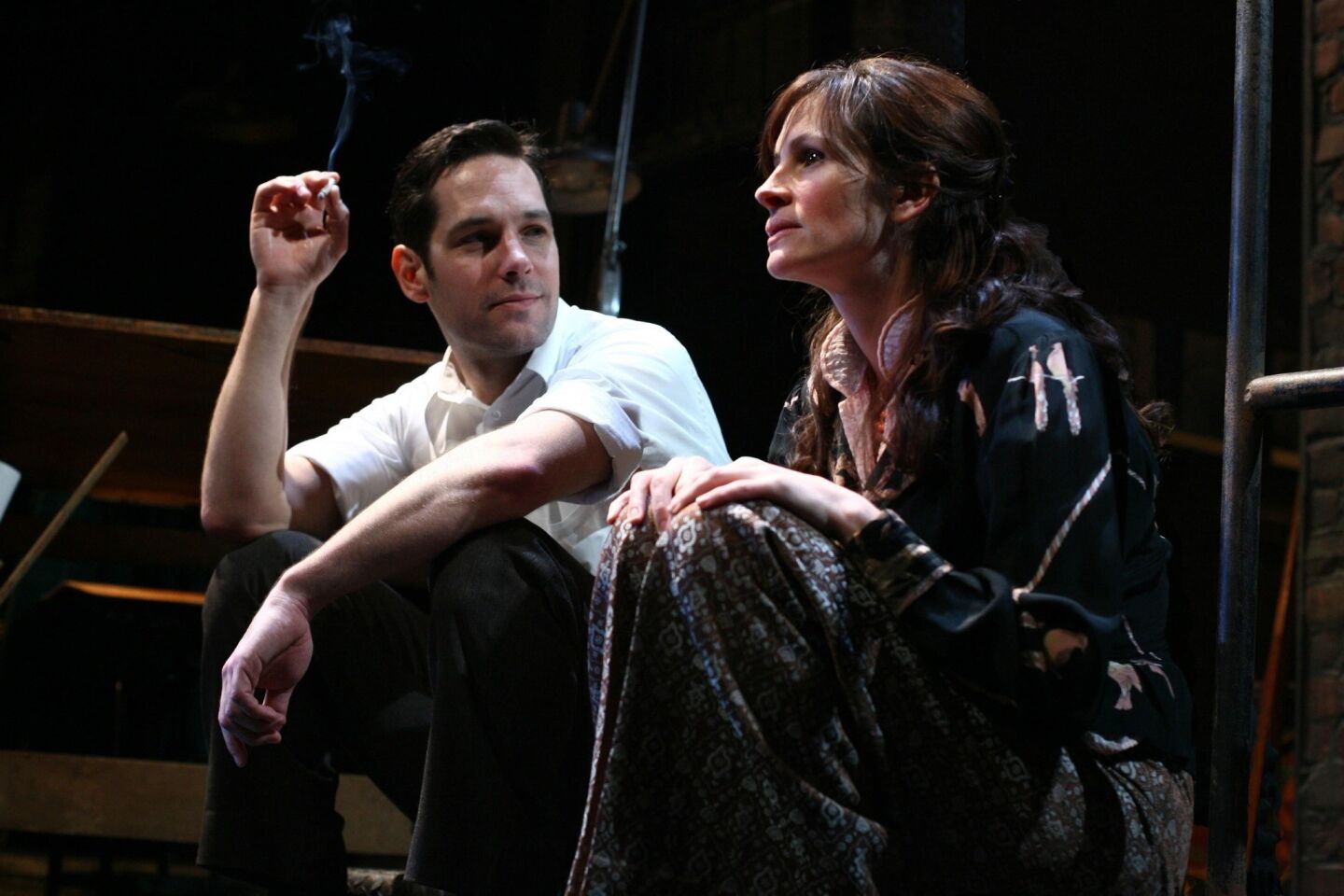 Julia Roberts made her Broadway debut in the revival of Richard Greenberg's "Three Days of Rain," which opened April 12, 2006. Paul Rudd, above, and Bradley Cooper also starred in the play that called for actors to play roles from two generations of family members.
(Joan Marcus / Associated Press)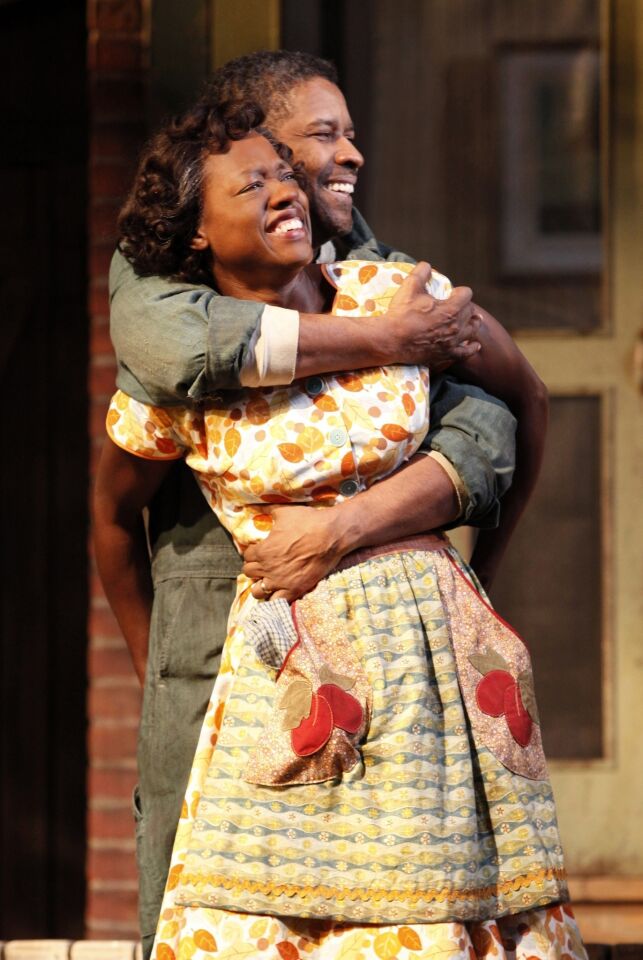 Oscar winner Denzel Washington and Oscar-nominated actress Viola Davis portrayed Troy Maxson and Troy's wife, Rose in the 2010 version of "Fences." Their portrayals in the August Wilson play netted the pair lead actor Tony Awards.
(Joan Marcus / Associated Press)
Daniel Craig and Hugh Jackman, both with impressive stage and screen credits, starred in Keith Huff's "A Steady Rain."
The two-person play, which cast the duo as a pair of cops, opened Sept. 29, 2009.
(Joan Marcus / AP)
Oscar-winner Al Pacino got to recite the famous "Hath not a Jew eyes" speech multiple times as Shylock in both the 2004 film and the 2010 Broadway production of "The Merchant of Venice."
(Joan Marcus / Associated Press)
Theater fans can breathe a sigh of relief that there will be no Seth MacFarlane-style misfire on the Tony Awards show this year: Neil Patrick Harris is to return as host.
Widely praised as the host for the show in 2009, 2010 and 2012, Harris is on track to become the Billy Crystal of the Tonys.
The Times' Mary McNamara wrote after last year's show: "A preternaturally talented performer who manages to project an everyman humility, Harris should probably host everything, including each year's first joint session of Congress."
This year, the show moves from the Beacon Theater in Manhattan to Radio City Music Hall.
Highlights of Harris' shows as host include 2011's opening number saluting Broadway's across-the-board popularity by saying "It's Not Just for Gays Anymore," and a duet and soft-shoe with Hugh Jackman in a parody of the "Annie Get Your Gun" standard "Anything You Can Host, I Can Host Better."
The show is set for 8 p.m. on June 9 on CBS.
ALSO:
Tony nominations: 10 plot twists to know
Tony nominations find some class within the crass
Television review: Why can't Neil Patrick Harris host everything?
---
Get our L.A. Goes Out newsletter, with the week's best events, to help you explore and experience our city.
You may occasionally receive promotional content from the Los Angeles Times.