Ritchie on Gandolfini: 'An almost shocking humility about his success'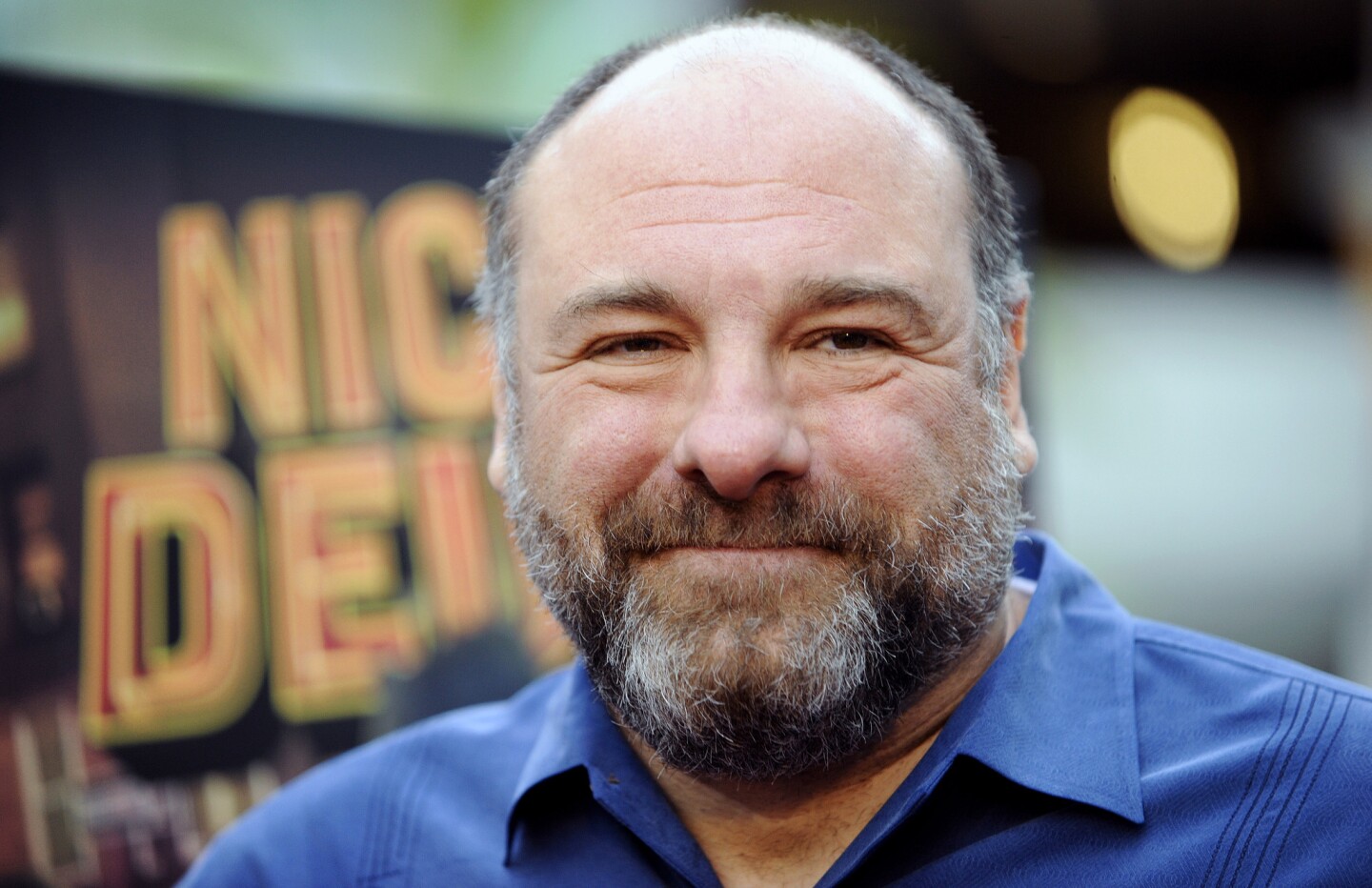 James Gandolfini at the L.A. premiere of Nickelodeon's "Nicky Deuce."
(Richard Shotwell / Invision/AP)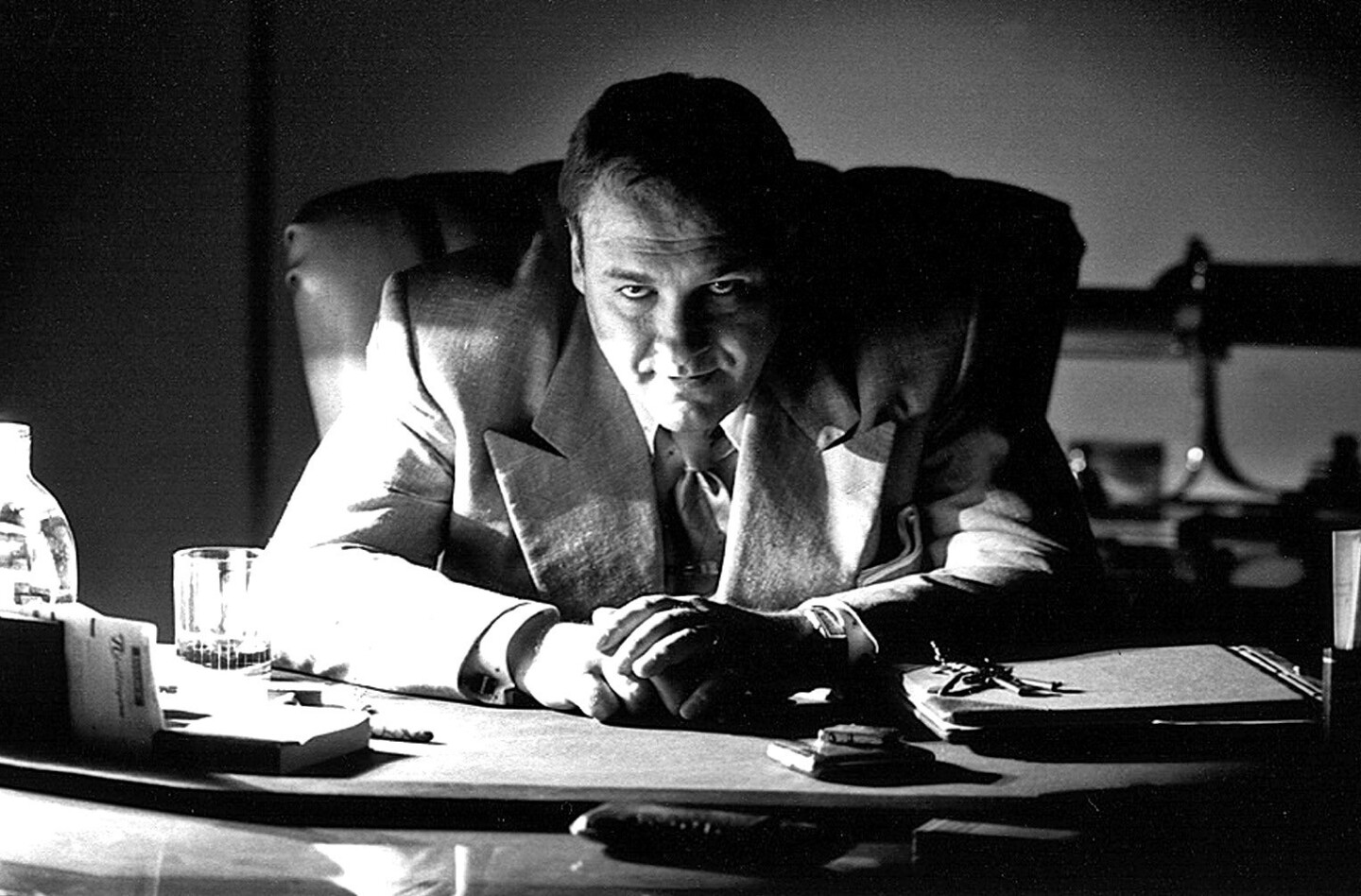 James Gandolfini stars in the Joel and Ethan Coen film "The Man Who Wasn't There."
(Melinda Sue Gordon / USA Films)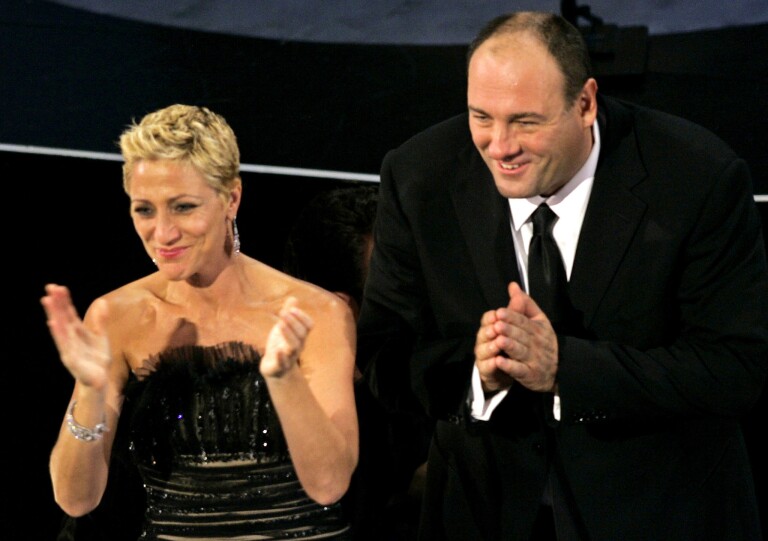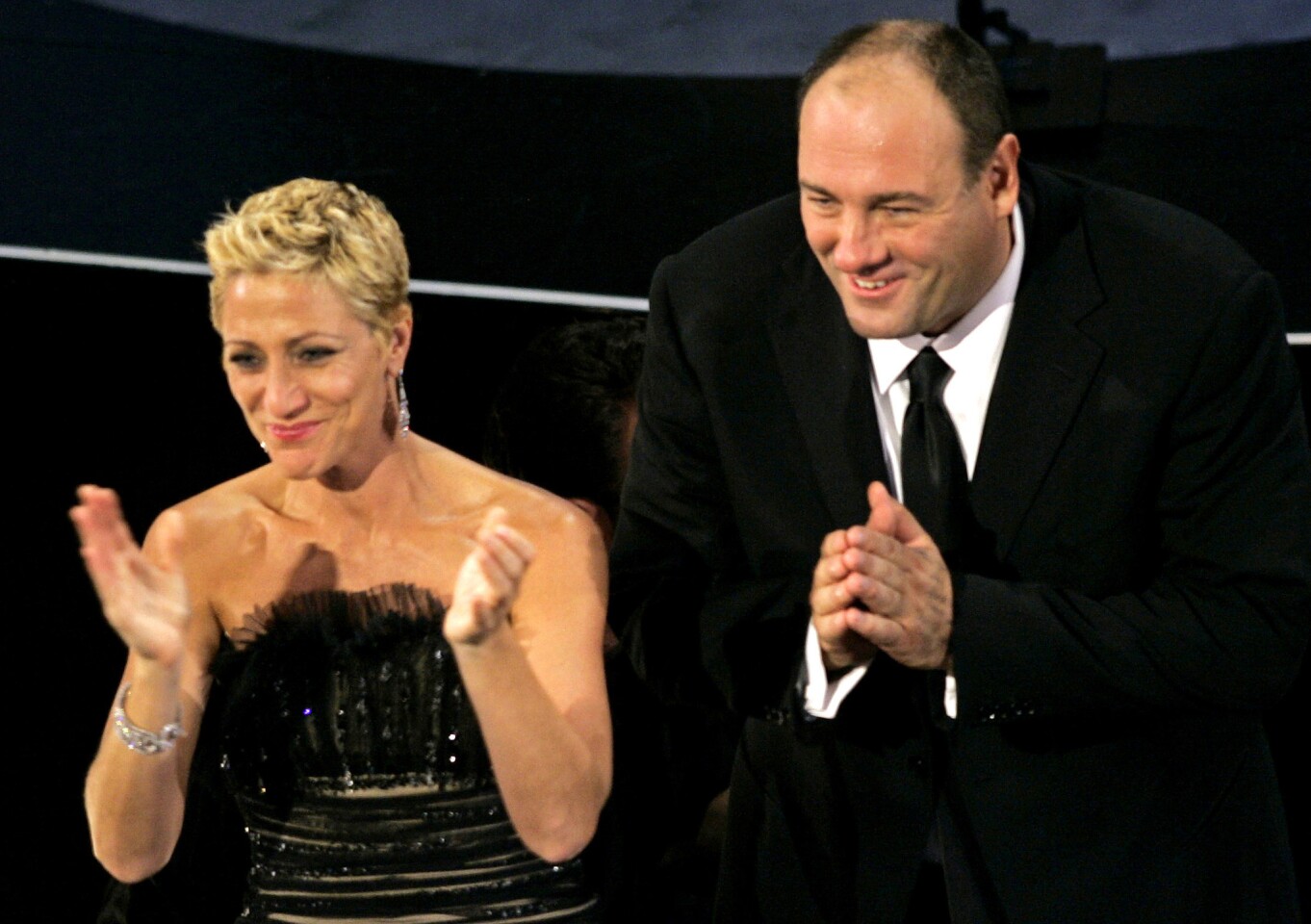 Edie Falco and James Gandolfini celebrate after "The Sopranos" won the 2004 Emmy for drama series.
(Brian van der Brug / Los Angeles Times)
Catherine O'Hara and James Gandolfini in the film "Surviving Christmas."
(Susanne Tenner / DreamWorks Pictures)
Actor James Gandolfini at the premiere of FX Networks "Damages."
(Peter Kramer / Associated Press)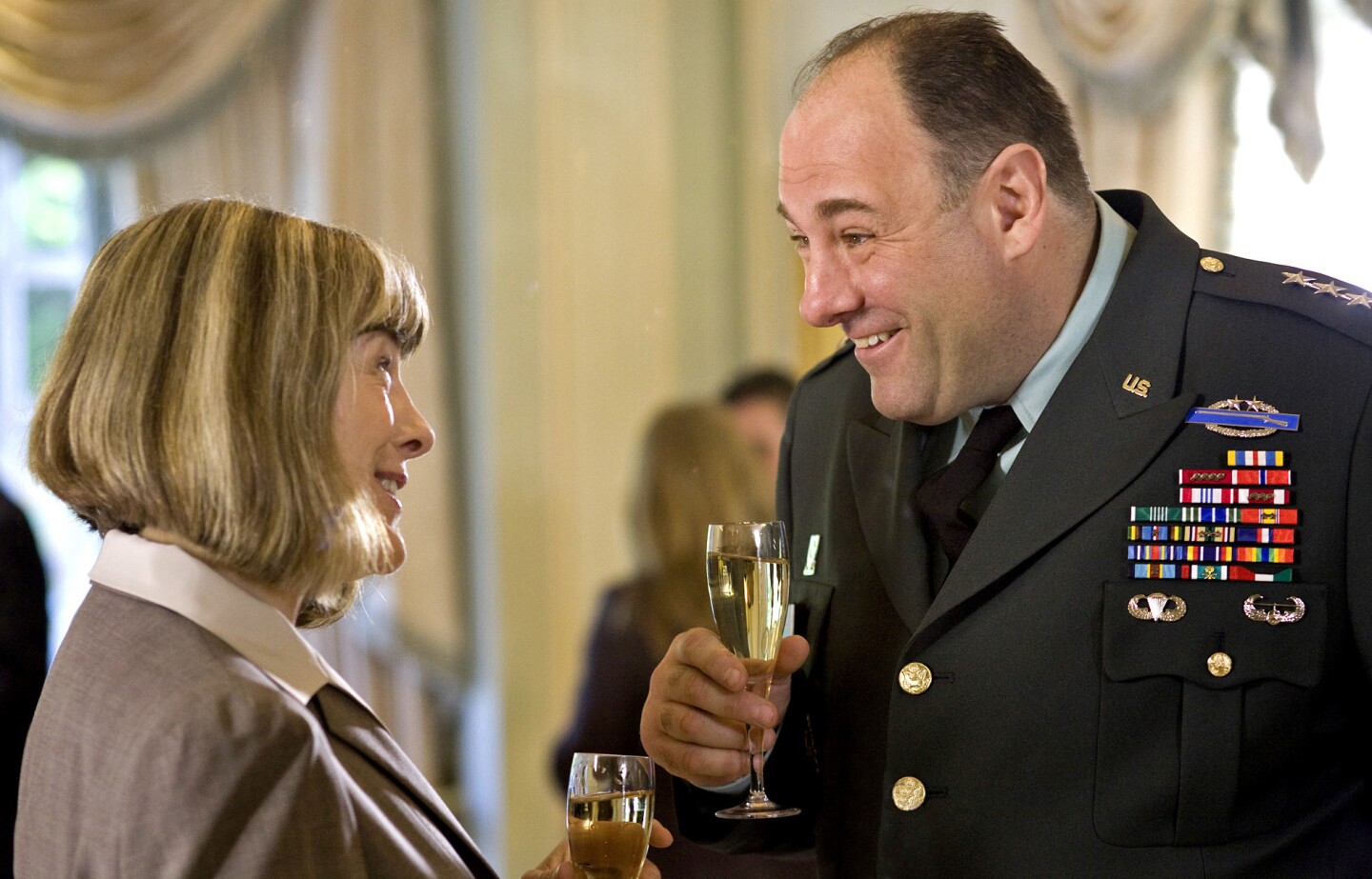 After "The Sopranos" aired its finale, James Gandolfini did a comic turn as Lt. Gen. George Miller in the satirical film "In the Loop." Mimi Kennedy costarred.
(Nicola Dove / IFC Films)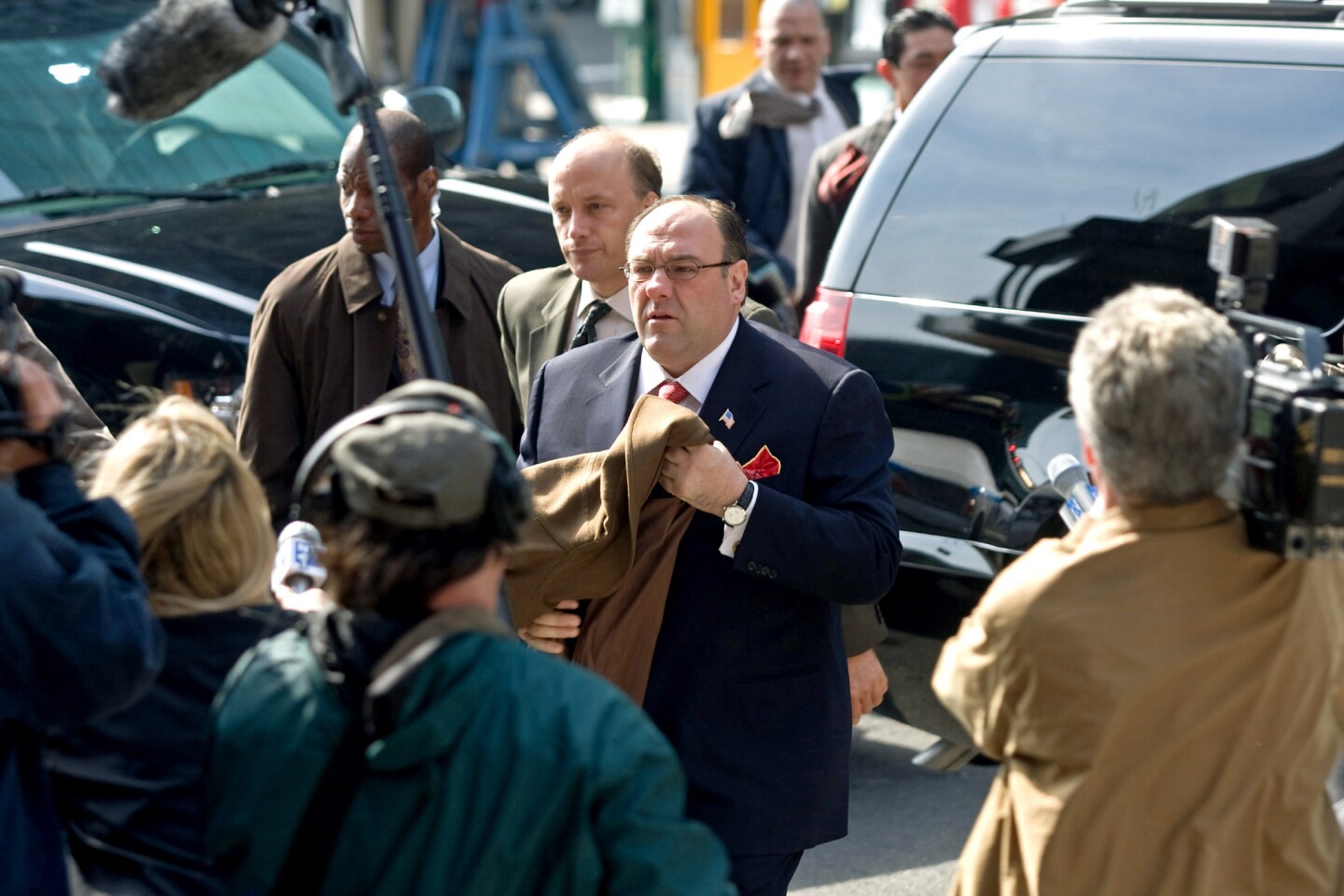 James Gandolfini played the mayor of New York City in "The Taking of Pelham 123," starring Denzel Washington and John Travolta.
(Rico Torres / Columbia Pictures)
James Gandolfini joins cast members and producers of "God of Carnage" as they celebrate their best play Tony Award in 2009.
(Seth Wenig / Associated Press)
James Gandolfini supplied the voice of Carol in the movie version of "Where the Wild Things Are."
(Warner Bros. Pictures)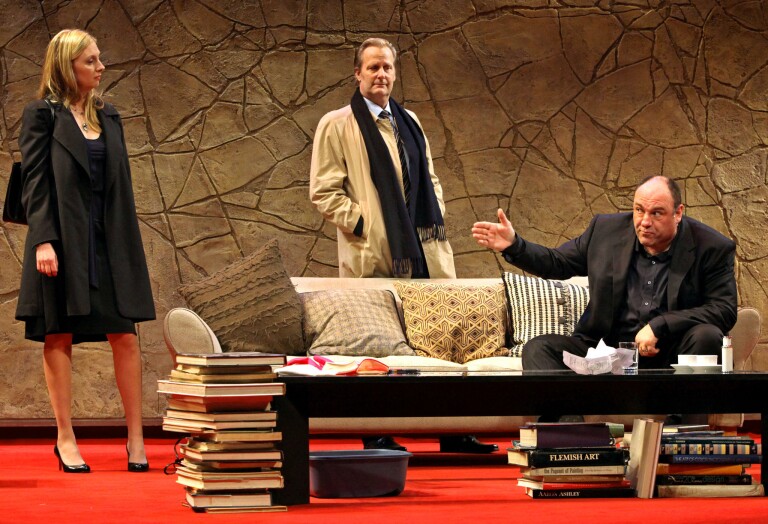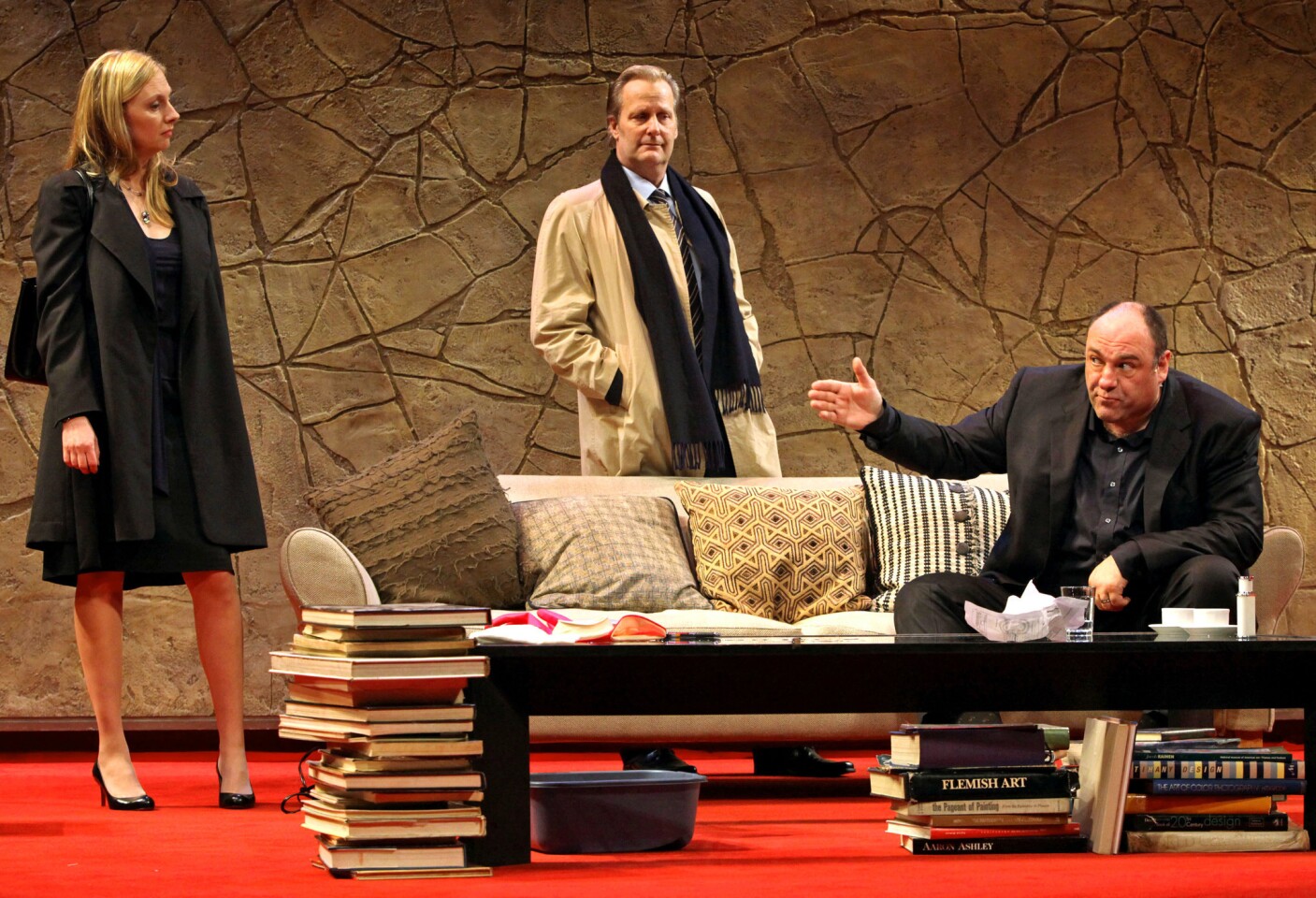 Hope Davis, Jeff Daniels and James Gandolfini in a scene from the play "God of Carnage" at the Ahmanson Theatre in Los Angeles.
(Barbara Davidson / Los Angeles Times)
James Gandolfini as Pat in "Not Fade Away."
(The Weinstein Company)
James Gandolfini joins Steve Carell in the comedy "The Incredible Burt Wonderstone."
(Ben Glass / Warner Bros.)
Actor James Gandolfini at the Roxy. He plays a supporting role in the film "Not Fade Away," written and directed by David Chase.
(Robert Gauthier / Los Angeles Times)
James Gandolfini portrays the director of the CIA in Kathryn Bigelow's "Zero Dark Thirty."
(Jonathan Olley / Columbia Pictures)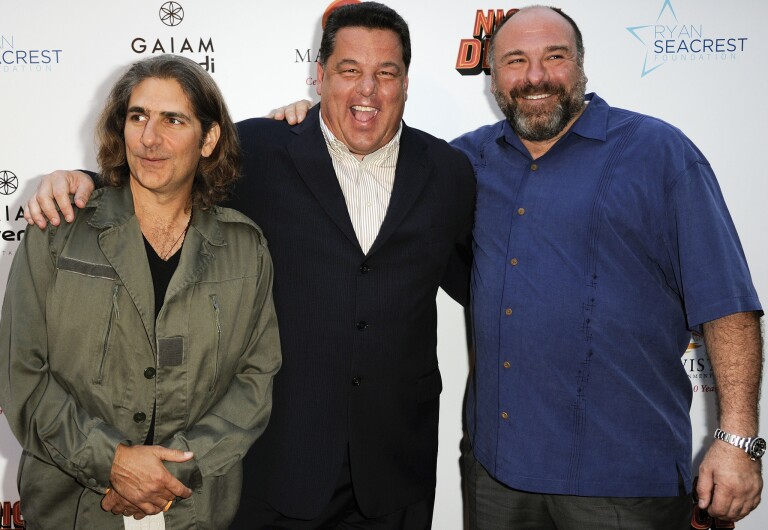 Michael Imperioli, left, Steve Schirripa and James Gandolfini at the L.A. premiere of "Nicky Deuce."
(Richard Shotwell / Invision/AP)
Hearing the news of the death of actor James Gandolfini, Culture Monster checked in with Center Theatre Group artistic director Michael Ritchie, whom he worked with before and after "The Sopranos."
Gandolfini starred in Yasmina Reza's play "God of Carnage" on Broadway with Jeff Daniels, Hope Davis and Marcia Gay Harden. The play was a major hit on Broadway, and all four actors were nominated for best actor Tony awards.
After the four left the cast (the play briefly closed, but then continued on Broadway with different actors), they reunited and returned to the play at the Ahmanson Theatre in April 2011 for a six-week run that was extended to eight weeks.
RELATED: Remembering James Gandolfini on stage
The production was a major hit for Center Theatre Group, its most successful non-musical ever.
But Ritchie's experience with Gandolfini predates "Carnage" by almost two decades.
"I was lucky enough to know Jimmy both as a young struggling actor and as a major star," he told Culture Monster by email.
In 1992, Ritchie said, "I stage-managed a production of 'A Streetcar Named Desire' on Broadway [starring Alec Baldwin and Jessica Lange] and Jimmy played a small role as one of the poker players. I have a great memory of him standing alone onstage before rehearsals just staring out into the house with a look of quiet joy. It was as if he had hit the lottery."
VIDEO: A look at Tony Soprano's best scenes
When Gandolfini came to the Ahmanson with "God of Carnage" in 2011, Ritchie said, "The best part of being able to work with him again many years later was to see that the intervening years and the stardom and recognition had not changed him in any substantial way.
"He treated everyone the same, with total respect for who they were and the work they did. He had a quiet warmth, a good sense of humor, and an almost shocking humility about his success as an actor. He didn't take any of it for granted."
"I got to spend a bit of time with him again, and I loved how that cast worked together, in some ways led by Jimmy," Ritchie said.
RELATED: A last interview with James Gandolfini
"After every performance, following the curtain call, the four of them would huddle offstage for a couple of minutes, just to have a quick chat about the performance and to make sure everything went well for all," he remembered.
He thought there was "an almost musical sensibility" to their ensemble performance.
"They worked together on that show to make certain it was as good as it could be right through the final performance," Ritchie said. "There was a great sense of self-discipline among the four of them that was rare to see, and quite wonderful to observe."
ALSO:
Gandolfini: Villain, hero, sex symbol, slob
Remembering James Gandolfini in 'God of Carnage'
Theater review: 'God of Carnage' at the Ahmanson Theatre
---
Your essential guide to the arts in L.A.
Get Carolina A. Miranda's weekly newsletter for what's happening, plus openings, critics' picks and more.
You may occasionally receive promotional content from the Los Angeles Times.