Review: 'The Laramie Project: Ten Years Later' a haunting feat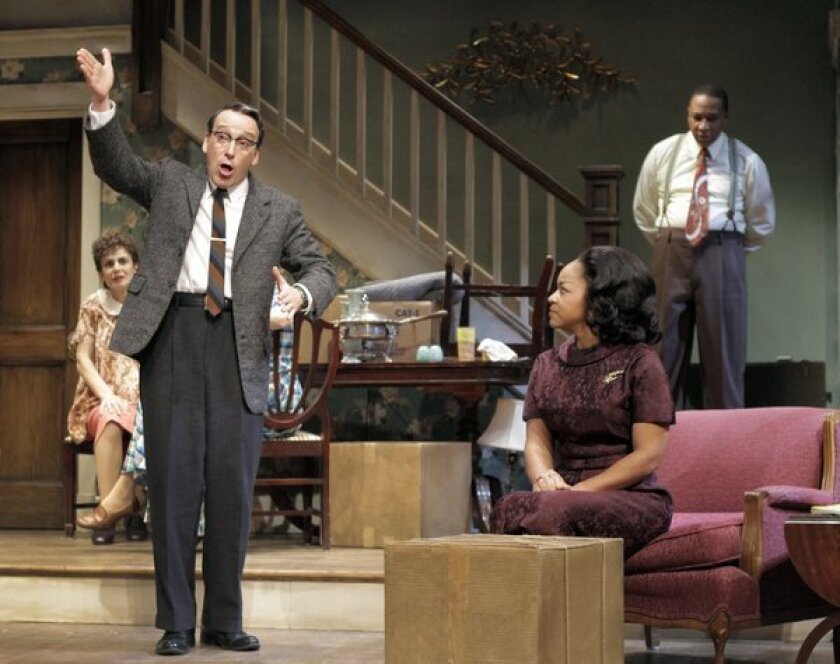 Bruce Norris constructed a provocative history of the house that the African American Younger family is heading to at the end of Lorraine Hansberry's "A Raisin in the Sun." An impeccable ensemble, under the direction of Pam MacKinnon, helped this Pulitzer Prize-winning drama capture the Tony Award for best play after the production went on to Broadway.
(Lawrence K. Ho / Los Angeles Times)
Mike Nichols' Tony-winning revival of Arthur Miller's classic was wobbly in spots, but Philip Seymour Hoffman's Willy and Andrew Garfield's Biff found the emotional combustion when it mattered most.
(Brigitte Lacombe for New York Magazine)
Sheer ecstasy for musical theater aficionados of a Sondheim bent. The side dishes alone (Elaine Paige singing "I'm Still Here," Jayne Houdyshell belting "Broadway Baby") are pièces de résistance by any showbiz standard.
(Glenn Koenig / Los Angeles Times)
Part of Tarell Alvin McCraney's acclaimed "Brother/Sister Plays," this still-running poetic drama introduces L.A. audiences to an adventurously lyrical talent in a production directed by Shirley Jo Finney that is a marvel of ensemble acting.
(Ed Krieger)
Anton Chekhov's first major dramatic offering was played more comically than usual in an insouciant production by Bart DeLorenzo that still somehow managed to zero in on the tragic pathos of a decent man who cannot make sense of a life that to others seems reprehensible.
(Odyssey Theatre)
Set in the 1970s, August Wilson's drama was brought to life in all its funky, recessionary, keep-on-trucking glory in a South Coast Rep production, directed by Ron OJ Parson and starring the dependably wonderful Charlie Robinson as the demandingly upright boss of a down-and-out Pittsburgh taxi depot.
(Henry DiRocco / SCR)
John Hurt's performance in this two-character piece (the aged Krapp and his recorded younger voice on tape) was a tour de force of Beckettian acting in which slapstick and poetry united to scale our common abyss.
(Anne Cusack / Los Angeles Times)
David Cromer's stark revival, starring Helen Hunt as the Stage Manager, wiped away the bittersweet sentimentality of Thornton Wilder's classic to expose the savage beauty lying beneath the years of accumulated theatrical clichés.
(Iris Schneider)
Alan Mandell and Barry McGovern made a Beckettian dream team in this reinvestigation of the absurdist classic incisively directed by Michael Arabian. It's been a long time since existential anguish felt so good.
(Craig Schwartz / Center Theatre Group)
In Pam MacKinnon's justly celebrated revival of Edward Albee's masterpiece, Tracy Letts (author of "August: Osage County" and a first-rate acting talent) and Amy Morton bandy the acerbic zingers with drunken relish but never at the expense of the play's realism.
(Michael Brosilow / Booth Theatre)
History forgotten is history repeated, which underscores "The Laramie Project: Ten Years Later" in its Los Angeles premiere at the Gay & Lesbian Center's Davidson/Valentini Theatre.
This potent follow-up to the landmark Tectonic Theater Project docudrama about community reactions to Matthew Shepard's 1998 murder reminds anew of how theater provides context in ways no other form can match.
In 2008, Tectonic director Moisés Kaufman and colleagues Leigh Fondakowski, Greg Pierotti, Andy Paris and Stephen Belber returned to Laramie, Wyo., to explore what progress, or lack thereof, had been made in a decade. Their interviews with previous subjects and new ones comprise the narrative, which again deploys reportage and once-removed characterizations without editorializing.
Leave that to the audience, since director Ken Sawyer's inspired staging wraps us around the action, up close and personal, enfolded in designer Robert Selander's set. This immersive approach, aided by Luke Moyer's ambient lighting, lands the property's overview in our laps.
CRITICS' PICKS: What to watch, where to go, what to eat
The ensemble, accompanied by singer Johanna Chase, is beyond praise. Ed F. Martin, Ann Noble, Paul Witten, Paul Haitkin and Carl J. Johnson play the Tectonic crew and various interviewees along with Elizabeth Herron, Che Landon and Christine Sloane, all interrelating with preternatural versatility and control. And in a directorial masterstroke, Michael Hanson and Dylan Seaton alternate nightly as killers Aaron McKinney and Russell Henderson, evoking a chilling duality.
Yes, the final addendum on gay military and marriage equality advances feels slightly abrupt, but it's thematically apt. The recent public heckling at an Old Miss "Laramie" performance and the homophobic backlash on both hemispheres demonstrate the ongoing validity of Tectonic's objective.
At present, this riveting sequel is perhaps only rivaled by "The Normal Heart" at the Fountain for cumulatively moving, issue-driven power. It's a haunting achievement as trenchant as it is artful, and not to be missed.
"The Laramie Project: Ten Years Later," Davidson/Valentini Theatre at the Gay & Lesbian Center's Village at Ed Gould Plaza, 1125 N. McCadden Place, Hollywood. 8 p.m. Fridays and Saturdays, 7 p.m. Sundays. No performance Oct. 20. Ends Nov. 16. $25-$20. (323) 860-7300 or www.lagaycenter.org/theatre. Running time: 2 hours, 5 minutes.
---
Inside the business of entertainment
The Wide Shot brings you news, analysis and insights on everything from streaming wars to production — and what it all means for the future.
You may occasionally receive promotional content from the Los Angeles Times.