Willard Mullin, cartoonist creator of Brooklyn Bum, gets fresh look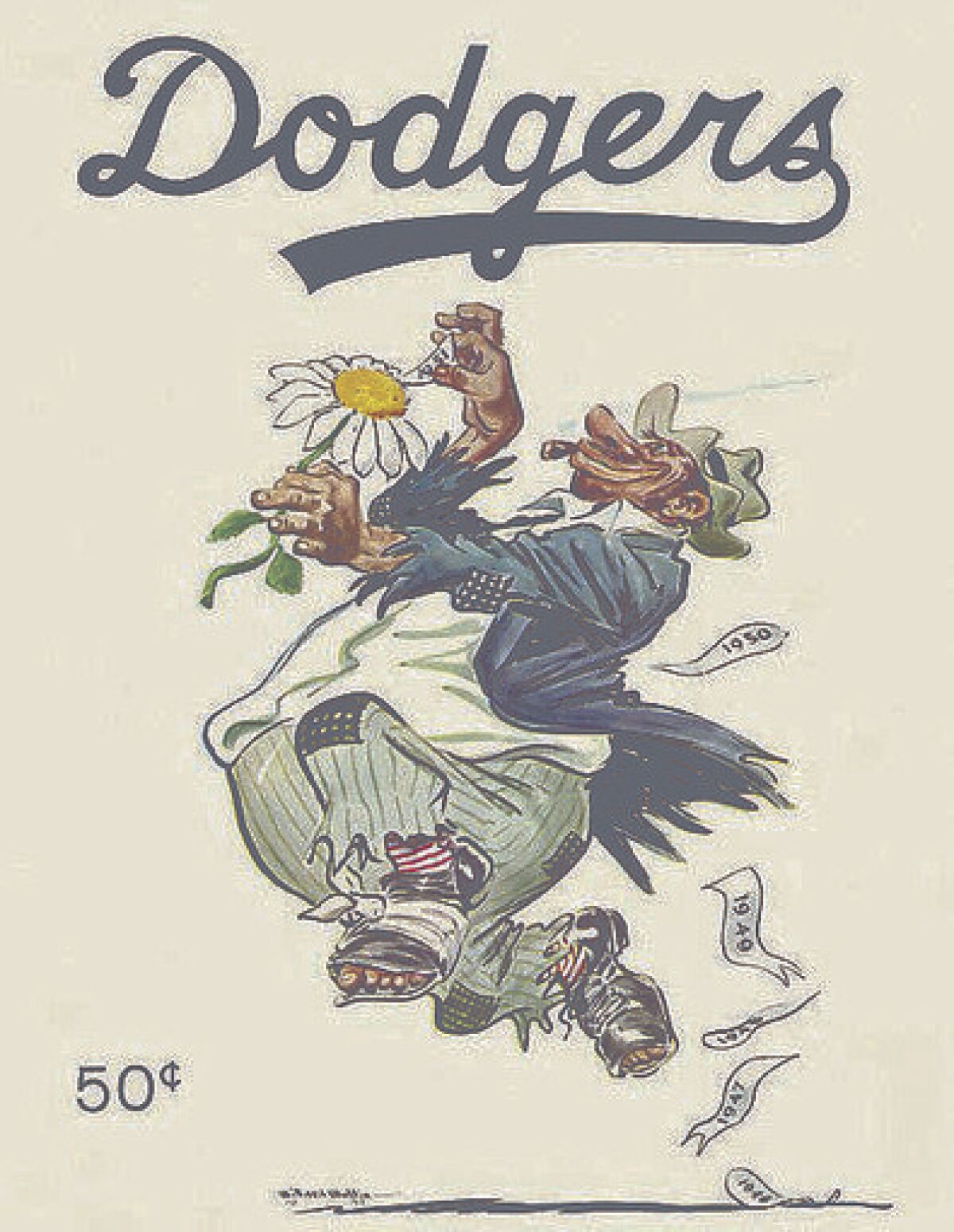 It was a taxi driver who inspired Willard Mullin's most indelible creation. Mullin was leaving Ebbets Field one night during the 1938 season, after watching the Brooklyn Dodgers drop another one, when he jumped into a cab.
"How did our bums do today?" the driver asked.
Mullin's Brooklyn Bum became the pencil-and-ink symbol of the perennial underdog franchise: He sported three-day stubble, a crumpled fedora, patchwork pants and an ever-present stogie. When the Dodgers finally defeated their archrivals, the pinstriped New York Yankees, in the 1955 World Series, Mullin depicted an exultant Bum being taken away in a straitjacket yelping, "We dood it! Woil' Champ-eens! Me!"
PHOTOS: Celebrities by The Times
Sports cartoonists were recognized stars within the newspapers of that era, led by a crew of California artists (Bob Ripley, Rube Goldberg, Bob Edgren and Tad Dorgan). Mullin emerged as the Rembrandt of the lot. He was born in Ohio and migrated to Los Angeles with his family when he was 4. After graduating from Los Angeles High, he worked at Bullock's department store, hand-lettering the personalized luggage of movie stars like Tom Mix, to improve his printing.
In 1923, he joined the art department at the Los Angeles Herald newspaper. After two stints at Hearst-owned papers in Texas and another spell in L.A., he moved to New York in 1935. He churned out six cartoons a week on deadline for the next 30 years; Scripps Howard News Service syndicated these across the country.
Long before the concept of graphic novels, Mullin served up graphic columns: pithy and informative, opinionated and emotive. Once he conceived of the idea, he liked to sketch out the cartoon — the images, the words, the balloons — with a hard pencil. He completed it with flowing ink and neat, blocky text that was reminiscent of Ripley's "Believe It or Not!" series. Less detailed illustrations accompanied the centerpiece drawing, as if Mullin were doodling asides.
Mullin chronicled every sport, including boxing and yachting and often used photographs for visual inspiration. He is best known for his baseball cartoons, and Seattle-based Fantagraphics Books this month is publishing a voluminous compilation titled "Willard Mullin's Golden Age of Baseball Drawings, 1934-1972." It's the first retrospective of his work since Mullin's memoirs were published in 1958; the new book covers figures including Babe Ruth, Lou Gehrig, Joe DiMaggio, Jackie Robinson, Willie Mays and Sandy Koufax. And, of course, the Bum.
In 1958, after the Dodgers moved west, Mullin spruced up the character that he called his "deepest professional delight" with a pair of sunglasses, shorts, a loud shirt and a hipster's hat. The Brooklyn Bum was now L.A.'s own.
---
Get our L.A. Goes Out newsletter, with the week's best events, to help you explore and experience our city.
You may occasionally receive promotional content from the Los Angeles Times.