15 Images
Shakespeare 2.0: The Bard onscreen
Shakespeare 2.0: The Bard onscreen
Traditional or not traditional? That is the question when directors mount productions of William Shakespeare's plays. Over the decades, theater, movies and even television versions of the Bard's plays have defied convention, some turning them into musicals, samurai action thrillers, films noir and modern-day dramas. Go back as far as MGM's all-star "The Hollywood Revue of 1929," and you'll find Norma Shearer and John Gilbert performing the balcony love scene from "Romeo and Juliet" in the slang of the day, including pig Latin. Here are just a few of the films inspired by Shakespeare's works.
-- Susan King and Aaron Williams
(Handout)
'Much Ado About Nothing,' 2012
"The Avengers" director Joss Whedon switched from comic books to classic English literature. Whedon's first release from his micro-studio Bellwether was an adaptation of Shakespeare's "Much Ado About Nothing," which Whedon shot in 12 days on location in Santa Monica, Calif. Whedon familiars Amy Acker, Alexis Denisof, Nathan Filion, Clark Gregg and more starred.
(Matt Sayles / AP)
'Coriolanus,' 2011
Shakespeare's Roman tragedy "Coriolanus" was adapted in 2011 by English director Ralph Fiennes who not only wrote and directed the film, but starred in it as Gen. Caius Martius Coriolanus.
(Larry D. Horricks / The Weinstein Company)
'The Tempest,' 2010
Director Julie Taymor, famous for her Beatles-themed musical drama "Across the Universe," adapted Shakespeare's "The Tempest" in 2010 with a twist: The lead character was changed from the male Prospero to the female Prospera.
(Melinda Sue Gordon / Tempest Production, LLC)
'O', 2001
Actors Mekhi Phifer and Julie Stiles star in this modern retelling of "Othello." Phifer plays Odin James, a high school basketball player, whose life becomes tragic when he is led to believe his girlfriend is cheating on him.
(Bob Basha / Lions Gate Films)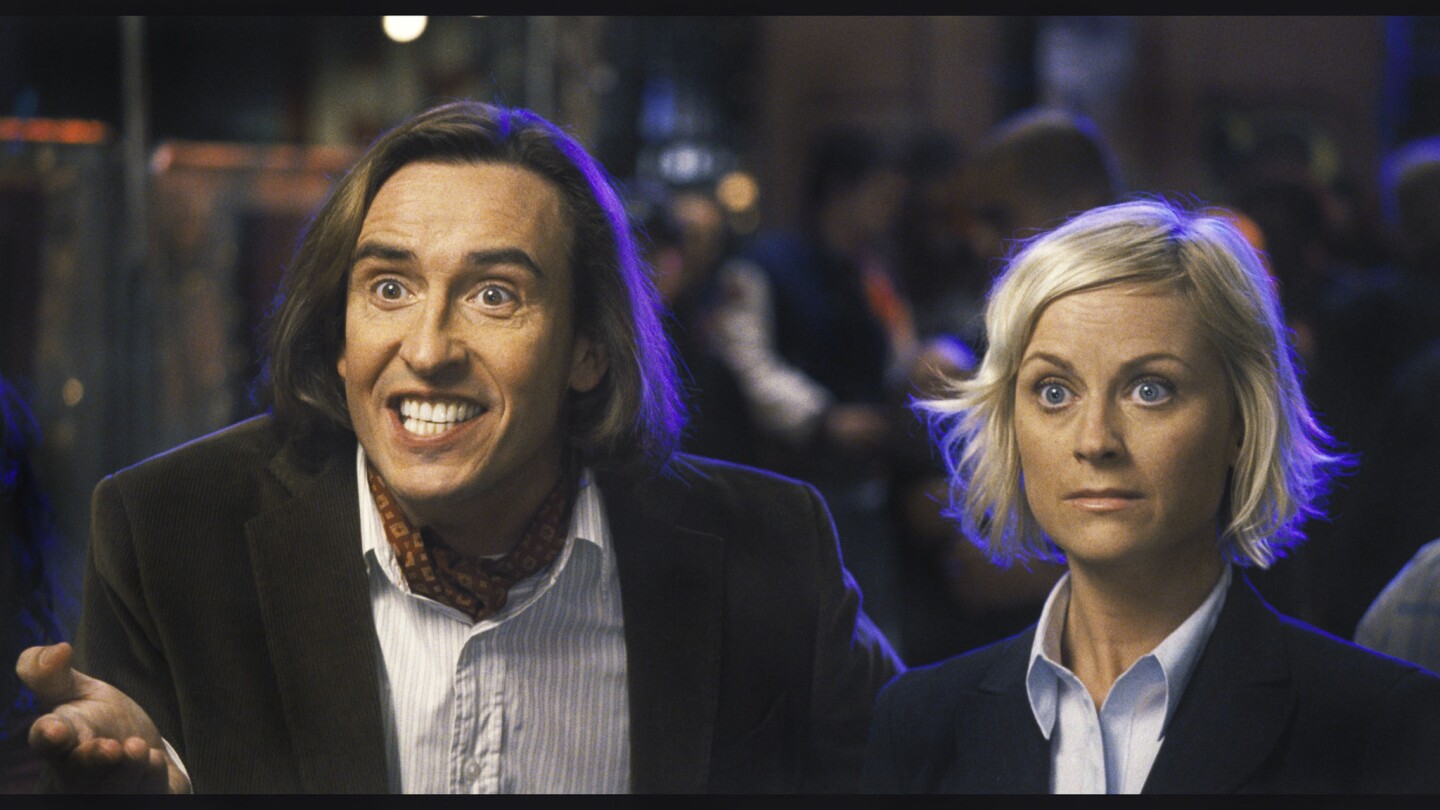 'Hamlet 2,' 2008
"Hamlet 2" isn't quite "Hamlet" but rather a raucous farce about an Arizona high school teacher (Steve Coogan, here with Amy Poehler) who puts on a sequel to the great tragedy in hopes of saving his career.
(Focus Features)
'Kiss Me Kate,' 1953
George Sidney directed this high-flying -- and 3-D -- MGM musical version of the hit Cole Porter Broadway sensation about a formerly married theatrical couple (Kathryn Grayson and Howard Keel) who reunite for a new musical version of Shakespeare's bawdy comedy "The Taming of the Shrew." Songs include "Too Darn Hot," "I Hate Men" and "Brush Up Your Shakespeare."
(Warner Bros. Pictures)
'Moonlighting's' 'Atomic Shakespeare' episode, 1999
Glenn Gordon Caron's 1980s detective series, starring Cybill Shepherd and Bruce Willis as wisecracking gumshoes, was always stretching the boundaries of traditional entertainment. One of the best episodes of the ABC show was this insanely funny spoof of "The Taming of the Shrew" complete with Willis performing the Rascals' classic "Good Lovin.' " Caron was inspired to do the episode after seeing Meryl Streep and Raul Julia in the 1978 Central Park performance of "Shrew."
(Bravo)
'10 Things I Hate About You,' 1999
High school is the setting for this entertaining little teen romantic comedy version of "The Taming of the Shrew" starring Heath Ledger in his first American feature as outsider Patrick Verona who is paid to take out Kat (Julia Stiles), the ill-tempered older sister of the beautiful Bianca (Larisa Oleynik).
(Richard Cartwright / Touchstone Pictures)
'Richard III,' 1995
Ian McKellen -- one of the most acclaimed Shakespearean actors of the last 50 years -- gives one of his best performances in this film adaptation of the Bard's historical drama about the murderous hunchbacked monarch. As directed by Richard Loncraine and based on the stage production for the Royal National Theatre, this "Richard" is set apart from others because the action takes place in a fascist-leaning England of the 1930s.
(Alex Bailey / The Los Angeles Times)
'West Side Story,' 1957
Composers Stephen Sondheim and Leonard Bernstein changed the face, and tone, of Broadway musicals with their score for the Tony-winning update of the Bard's romantic tragedy "Romeo and Juliet." They, with Jerome Robbins and Arthur Laurents, updated the action to the contemporary gang life of Manhattan and transformed the lovers into Puerto Rican and white. The 1961 movie version won 10 Oscars, including best film, best director (Robert Wise and Robbins), supporting actor (George Chakiris) and actress (Rita Moreno).
(MGM / UA Entertainment)
'William Shakespeare's Romeo + Juliet,' 1996
Leonard DiCaprio, right, as Romeo and Claire Danes as Juliet in "William Shakespeare's Romeo + Juliet," directed by Aussie Baz Luhrmann.
(Merick Morton / 20th Century Fox)
'Hamlet,' 2000
Julia Stiles as Ophelia, and Ethan Hawke as Hamlet in Michael Almereyda's modern-day retelling of Shakespeare's greatest tragedy.
(Larry Riley / A Miramax Films Release)
Akira Kurosawa
During his illustrious career, the Japanese director created three of his greatest achievements based on Shakespeare's works: 1957's enthralling "Throne of Blood" (pictured) is a samurai-retelling of "Macbeth"; 1960's gripping film noir "The Bad Sleep Well" borrows from the pages of "Hamlet"; and his last epic, 1985's "Ran," for which he received an Oscar nomination for best director, sets the tragedy "King Lear" in feudal Japan.
( Janus Films)
Kenneth Branagh
The Irishman came to fame in 1989 as star and director of a lavish adaptation of Shakespeare's "Henry V." Since then, he's brought "Much Ado About Nothing" (pictured) and "Hamlet" to the screen. In 2000, he transformed "Love's Labour's Lost" into a 1930s-style musical featuring Cole Porter songs. But unlike Branagh's previous three Bard films, critics and audiences alike brushed off this Shakespeare. The director garnered better results with his 2007 adaptation of "As You Like It." Branagh set the tale of drama, mistaken identity, love and comedy in 19th century Japan.
(The Samuel Goldwyn Company)