18 Images
'Eye of the Storm: War Through the Lens of American Combat Photographers'
For a long time, the memorable photograph of the exhausted face of "Marlboro Marine," Lance Cpl. James Blake Miller, seemed to sum up the existence of U.S. troops in Iraq.
Now, a new corps of U.S. military combat photographers are revealing the war from the point of view of the military fighting it, in an exhibit at the Reform Gallery at West Hollywood, titled "Eye of the Storm: War Through the Lens of American Combat Photographers."
Their photos show an inside view of the war that has claimed the lives of more than 4,000 American soldiers--estimates of Iraq dead range from close to 100,000 to hundreds of thousands--and cost more than $500 billion. Among the star photographers are women, who say they travel armed and uniformed in combat situations.
What follows are some highlights of the soldiers' work.
"Portrait": This photo of an Iraqi man was taken after an attack in which a dump truck bomb detonated at the gate of the Democratic Party compound in the town of Bartallah east of Mosul, Iraq, killing the driver and two others, and wounding five.
(Tech. Sgt. Jeremy Lock / U.S. Air Force)
A young Iraqi boy runs across the road in front of a Stryker, an eight-wheeled medium armored weapons combat troop transport vehicle, as it patrols the streets of Al Tanak, Mosul, Iraq. The threat of the unknown is a constant danger for soldiers as they continually hunt for terrorists and insurgents.
(Tech. Sgt. Jeremy T. Lock / U.S. Air Force)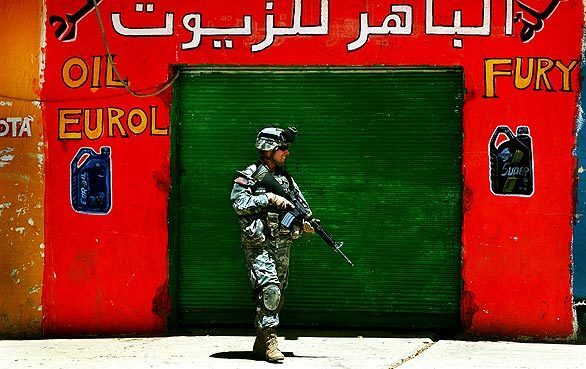 "Oil Shop, Samara, Iraq": An American soldier stands in front of an advertisement for auto parts and oil while out on a psychological operation ("psyop"). Soldiers patrolled the area to make sure American posters printed by the U.S. forces were being displayed in store windows. That day they found many store owners had taken them down because of threats made by local Al Qaeda to the shopkeepers and their families.
(Staff Sgt. Russell Lee Klika / U.S. Army)
"Fuel Stop, Kuwait": At center, Secretary of Defense Donald H. Rumsfeld, left, and Maj. Gen. Sheik Ahmed Khalid Al Sabah, deputy chief of staff, Kuwait Armed Forces wait with other officers and diplomats in the Kuwaiti International Airport VIP lounge prior to going to Iraq on Sept. 4, 2003.
(Master Sgt. Andy Dunaway / U.S. Air Force)
"MEDCAP, Kapisa, Afghanistan": Young Afghani girls carrying infants plead with a U.S. Army medic to let them into the women's medical tent during a Medical Civil Action Program held in the village of Aroki Province of Kapisa, Afghanistan, on Jan. 21, 2003.
(Staff Sgt. Cherie A. Thurlby / U.S. Air Force)
"Presidential Palace, Saddam Hussein, Iraq": Members of a Combat Control Team assess the bomb damage to Saddam Hussein's presidential palace during Operation Iraqi Freedom.
(Staff Sgt. Cherie A. Thurlby / U.S. Air Force)
"Wounded Soldier, Iraq": U.S. Army Pvt. 1st Class Jeffrey Wolf, 3rd Infantry Division, waits at the Medical Airlift Staging Facility at Baghdad International Airport to be loaded onto a C-130 Hercules and taken to another hospital on April 22, 2003. The MASF, consisting of only 15 personnel, is responsible for getting the sick and wounded out of the combat environment and into a hospital where they can receive extensive care.
(Staff Sgt. Cherie A. Thurlby / U.S. Air Force)
"Sleeping Child, Tal Afar, Iraq": A youngster sleeps as U.S. Army soldiers from the 1st Brigade Combat Team, 1st Armored Division, search a house for weapons in Tall Afar, Iraq, on Aug. 27, 2006.
(Staff Sgt. Jacob N. Bailey / U.S. Air Force)
"Baghdad 'Stack Up' ": U.S. forces "stack up" to demonstrate entry tactics during reenactment -- for training purposes -- of a raid conducted just hours earlier.
(Michael B. Watkins / U.S. Navy)
"Brick Factory, Baladruiz, Iraq": An Iraqi soldier stands guard during a drill on the grounds of a brick factory, where stray and guard dogs live in the yard. The area is so rich with oil that children who worked in the factory would siphon it from the ground and add it directly to the fire used to make bricks. The air is so polluted that American soldiers stationed across the street receive an automatic 20% disability compensation. This factory is one of 175 in the area.
(Staff Sgt. Russell Lee Klika / U.S. Army)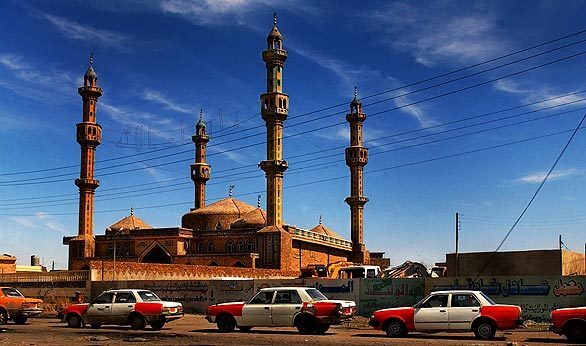 "Kirkuk Taxis, Iraq": Ubiquitous orange-and-white taxis line up in front of a mosque in Kirkuk, Iraq. "Taxis were everywhere in the city, but they made soldiers nervous because you never knew what they were carrying.," said photographer Russell Lee Klika. "Their fares might be just people going about their business, or it could be carrying the explosive device that would end your life."
(Staff Sgt.Russell Lee Klika / U.S. Army)
"Baghdad Landfill": An Iraqi family, attempting to build a home in the landfill, scavenges for construction material. There are roughly 1.7 million people of Iraq that have been displaced by the violence.
(Staff Sgt. Russell Lee Klika / U.S. Army)
"Machine Gun Training IA, Iraq": Soldiers of the 4th Iraqi Army Division learn the fundamentals of different firing positions. Here an IA soldier shows his pain from the heat of the machine gun barrel as he holds up the weapon so his partner can fire from a standing position.
(Staff Sgt. Russell Lee Klika / U.S. Army)
"Contaminated Canal, Sadr City, Iraq": Pvt. Zachary McDaniel and Pvt. Shane Irwin of Charlie Company of the 101st Airborne Division walk along a contaminated canal outside Sadr City. They were providing security for a U.S.-hired forensics archeology team searching for Saddam-era mass grave sites. Located in a landfill, the water's unnatural hue is the result of years of pollution from trash, human bodies and animal carcasses.
(Staff Sgt. Russell Lee Klika / U.S. Army)
"Private Lukowski, Iraq": "Most Black Hawk photos always show the helicopter, what I tried to show was what happens on the ground as the helicopter is taking off.," said photographer Russell Lee Klika. "The air is black with all the dust and it is impossible to see. Eighteen-year-old U.S. Army Pvt. Andrew Lukowski of the 1/187 INF and others from the 101st Airborne Division were participating in air assault missions to search for weapons caches in Northern Iraq. Having three sons of my own, one the same age, I couldn't help but to be proud of this young soldier."
(Staff Sgt. Russell Lee Klika / U.S. Army)
"Baseball in Kahn Bani Sahd, Iraq": A U.S. Army soldier improvises a rock for a ball so he and his squad can play a game of baseball in Kahn Bani Sahd, Iraq, on Feb. 6, 2007.
(Staff Sgt. Stacy L. Pearsall / U.S. Air Force)
"Sha'ab Neighborhood Patrol, Iraq": Sgt. Robert Brogdon, of Erie, Pa., a squad leader with B Company, 2nd Battalion, 325th Airborne Infantry Regiment, 2nd BCT, 82nd Airborne Division, checks his position on a GPS while conducting a nighttime foot patrol in Sha'ab, Baghdad, Iraq.
(Sgt. Mike Pryor / U.S. Army)
"Rest, Fallujah": Marines of the 3rd Platoon, E Company, 2nd Battalion, 6th Marines, Regimental Combat Team 6 get some much needed down time in a large room after a long night spent of building and fortifying a new observation post and Iraqi police station in the Sana'ee District of Fallujah, Iraq, during Operation Alljah on Aug. 18, 2007.
(Cpl. Samuel D. Corum / U.S. Marine Corps)