9 Images
'Your Bright Future' at LACMA
A child makes her way through "HappyHappy," an outdoor installation at the
Los Angeles County
Museum of Art. Artist Choi Jeong-Hwa made it out of hundreds of plastic bins, tubs and bowls as part of "Your Bright Future: 12 Contemporary Artists From Korea."
(Kirk McKoy / Los Angeles Times)
"A Needle Woman, 2005. Patan (Nepal)," a video projection by Kimsooja, is part of the sprawling multimedia show.
(Kimsooja Studio / LACMA)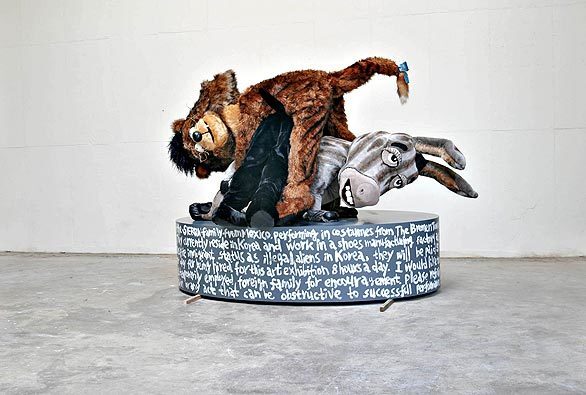 "The Bremen Town Musicians" by Gimhongsok, who makes use of videos, drawings and stuffed animals in his work.
(Gimhongsok / LACMA)
The exhibition takes its name from a sculpture by Bahc Yiso that is made up of 10 electric lights facing upward. They could be mimicking a crowd before a charismatic leader.
(Bahc Yiso / LACMA)
Kim Beom has transformed an iron into a radio, a kettle into an iron and a radio into a kettle.
(Kim Beom / LACMA)
Gimhongsok's "The Wild Korea, 2005" is a single-channel video on a 16-minute, 20-second loop.
(Gimhongsok / LACMA)
Jeon Joonho's "The White House," digital animation. Some artists in the show don't like being labeled a "Korean artist." "It's a very popular thing to talk about identity, Korean identity, but I have never thought that I am a Korean artist," Young-hae Chang says. "I am just an artist, that's all."
(Jeon Joonho / LACMA)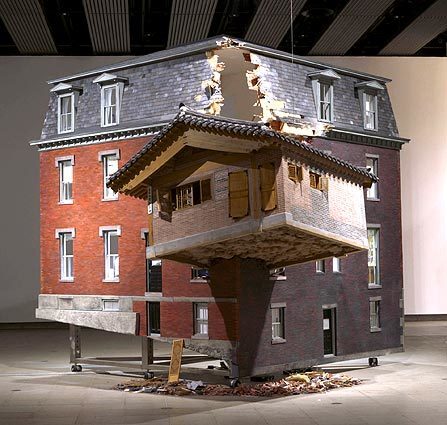 "Fallen Star, 1/5," a huge installation by Do Ho Suh, depicts a collision between a traditional Korean house and the building where he rented his first apartment in the U.S., at one-fifth of the actual scale.
(Do Ho Suh / LACMA)
Koo Jeong-A's "Mountain Fundamental, 1997- 2009," made of stone powder on a wooden table.
(Koo Jeong-A / LACMA)