9 Images
Best of classical music 2011: Mark Swed
A three-way tie among the vibrant French early music specialist Emmanuelle Haim at the Los Angeles Philharmonic; German director Christof Loy, who was responsible for Los Angeles Opera's delectable production of Rossini's "The Turk in Italy"; and, also at L.A. Opera, the Italian tenor Vittorio Grigolo (pictured with Nino Machaidze) in Gounod's "Romeo and Juliet."
(Lawrence K. Ho / Los Angeles Times)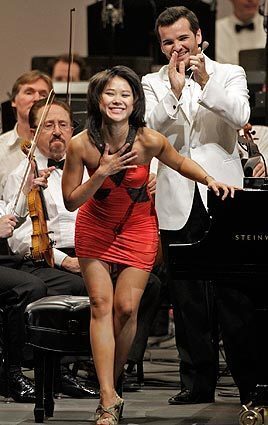 The L.A. Times' spicy photo of Yuja Wang in her revealing little orange dress at the Hollywood Bowl went viral as the blogosphere bloviated about the appropriateness of this and that, somewhat obscuring her electrifying performance of Rachmaninoff's Third Piano Concerto.
(Lawrence K. Ho / Los Angeles Times)
Valery Gergiev has given great Tchaikovsky performances for years, but nothing was preparation for the way he got four Tchaikovsky symphonies to erupt with elemental volcanic power in his appearances with his Mariinsky Theatre Orchestra at the Segerstrom Concert Hall.
(Luis Sinco / Los Angeles Times)
The highlight of the L.A. Phil's "Brahms Unbound" festival was his profoundly spiritual performance of Henryk Gorecki's Third Symphony.
(Lawrence K. Ho / Los Angeles Times)
The collaboration among director Peter Sellars, the African musician Rokia Traore and novelist Toni Morrison in "Desdemona," at Berkeley, turned the afterlife of Othello and Desdemona into a true transmigration of souls. Pictured: Tina Benko.
(Peter DaSilva / Cal Performances)
Peter Sellars rendered Handel's "Hercules" at the Lyric Opera of Chicago, a wake-up call about the experiences of American war veterans.
(Heather Charles / Chicago Tribune)
Baritone Nicholas Isherwood opened every raw nerve with his starkly honest and cathartic solos in Gyorgy Kurtag's death-haunted "...pas à pas ... nulle part ..." when he gave the work's U.S. premiere, for the Monday Evening Concerts, on the night his mother died.
(Lawrence K. Ho / Los Angeles Times)
The 91-year-old Ravi Shankar (above) gave a glorious Disney recital, and Elliott Carter celebrated his 103rd birthday in New York with premieres of several (yes, several!) new pieces.
(Lawrence K. Ho / Los Angeles Times)
Igudesman and Joo, the funniest (and most accomplished) musical comedy act since PDQ Bach, shook the Broad Stage with so much hilarity that they did double duty testing the young theater's earthquake preparedness.
(Barbara Davidson / Los Angeles Times)