Abu Dhabi's fortune favors the bold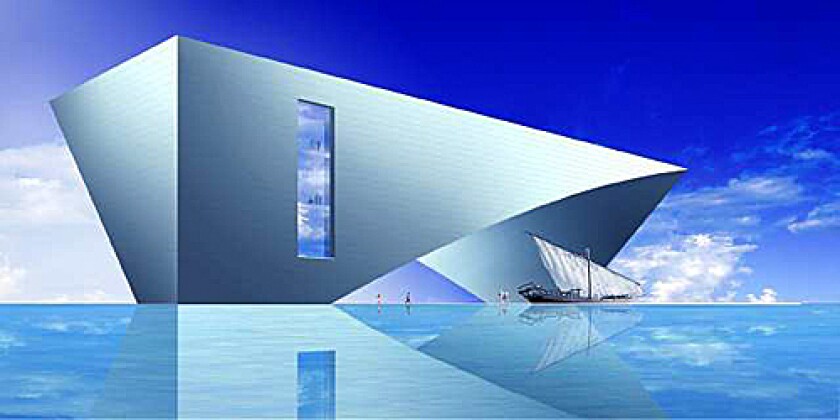 Architecture Critic
Reporting from Abu Dhabi, United Arab Emirates —
The longstanding sibling rivalry between the two biggest members of the United Arab Emirates, always complex, has taken a remarkable turn in recent months.
For years, as its neighbor on the Persian Gulf, Dubai, engaged in a frenzy of construction and deal-making, Abu Dhabi -- the capital of the UAE and owner of its deepest petroleum reserves -- was mostly content to keep its ambition in check. Its caution underscored old stereotypes about its role as the wary, wealthy older brother to an aggressively ambitious emirate next door.
Now, as Dubai struggles to recover from the dramatic collapse of its real-estate market, Abu Dhabi is taking advantage of the downturn to savor a moment in the spotlight. The emirate is actively promoting its 2030 Plan, a wide-ranging blueprint for growth unveiled in 2007. It is also moving forward on a number of big-ticket urban initiatives that it has the luxury of financing to a significant degree from its own coffers.
Two in particular, both in the early stages of construction and both located on the edges of Abu Dhabi proper, are drawing interest from around the globe. The first is Masdar City, a $22-billion development that was designed by Norman Foster's huge London firm and aims to be the world's first zero-waste city. The other is Saadiyat Island, a $27-billion collection of housing, office space and cultural facilities that will include a Guggenheim Museum by Frank Gehry, a branch of the Louvre by French architect Jean Nouvel and a maritime museum by Japan's Tadao Ando.
These projects are far more ambitious culturally than any initiative Dubai has launched -- and therefore full of potential pitfalls for Abu Dhabi's ruling family. They aim to make this closed, religious, autocratic society a new center for the arts and for green-tech research, and as such raise a series of tricky, potentially intractable questions: Does it still make sense to hire celebrity architects from the West to put a non-Western culture on the global cultural map? Will Abu Dhabi allow the Saadiyat museums to show politically or sexually charged artwork -- and if so, will that openness lead to cracks in the emirate's air-tight political structure? And finally, is it possible for a government to save the planet from ecological damage while neglecting human rights, or even energy-efficiency, at home?
Glimpses of the future
Early one rainy morning, looking to explore those questions on the ground, I left Dubai, my home base on a recent reporting trip to the UAE, and traveled southwest by taxi along the shores of the Persian Gulf to spend the day in Abu Dhabi. My first stop was the muddy future site of Masdar City, on the eastern flank of the emirate, where its ruling sheiks, with assistance from scientific and engineering experts from around the world, are hoping to build a community that will operate both as a perfectly sustainable civic organism and as a laboratory for new green strategies that can be exported to other nations. In theory it will be a kind of self-contained Silicon Valley for eco-research, housing several thousand green-tech companies and 50,000 or so residents. Students are expected to begin enrolling at the Masdar Institute, a science and engineering academy operated in part by the Massachusetts Institute of Technology, this fall.
After arriving at the Masdar building site, I hopped into a Land Rover with John Shenton, a British architect who is Masdar's senior development manager. As we drove, he quickly and candidly made the project sound like a comedy of errors. The soil, Shenton said, was terrible: waterlogged and high in saline content. On top of that, dust kept collecting atop the solar-panel arrays, among the first parts of Masdar already in operation. That led to a conundrum: Wash the panels regularly, therefore using more water than planned, or allow them to operate far below peak efficiency.
Shenton's list of complaints was not done. Masdar's remote site, once home to a municipal nursery that grew palm trees to line Abu Dhabi's grand boulevards, was hardly ideal. And there was not enough wind, he said: "All these lovely concepts in the beginning showed a city with wind towers everywhere, and we were going to have giant turbines to help generate electricity. It's all died a death because we have no wind."
After a few minutes, I realized that his pessimism was in part an act, or least a tic that seemed deeply British, and that he believed firmly in Masdar's larger goals. And yet his comments did make clear some of the project's fundamental oddities, starting with the fact that if you wanted to create a zero-carbon city and give it a reasonable chance of success, you'd likely put it not in the United Arab Emirates, which suffers from severe heat and humidity, among other climate extremes, but somewhere like Northern California.
Later, in a phone interview, Gerard Evenden, the senior partner who is overseeing Masdar for Foster and Partners, told me that such extremes actually make the site an ideal testing ground for sustainable technologies. If green-tech systems are battle-tested here and succeed, he said, they'll be ready for export around the world.
He added that the striking form of the city -- its buildings and streets huddled together in the center of the sprawling Masdar site, as if for protection, leaving the bulk of the acreage open -- was the key to its sustainability. It is certainly the heart of its graphic and architectural appeal, a kind of anti-sprawl throwback to the shaded, dense corridors of ancient Middle Eastern cities.
Still, it remains striking if not paradoxical that the capital of the UAE, a country that consumes more energy per capita than any other and exports more oil than all but two nations, is now pursuing a zero-carbon project of Masdar City's scale. It's as if Abu Dhabi, having run up a remarkable record of environmental profligacy, were bent on turning guilt into green technology. In a Muslim country, I realized, there is something Catholic about Masdar.
Still reeling from the strangeness of the Masdar tour, I found myself by midafternoon on a speedboat bumping over turquoise waters and headed for Saadiyat Island. I soon arrived at a group of makeshift offices and climbed into an SUV for a trip, chauffeured by a pair of Saadiyat representatives, around the project site, which will include not just cultural facilities but offices, golf courses and retail districts, along with housing for as many as 160,000 residents.
Cranes moved mounds of sand on the horizon. In a few places, palm trees had been planted in neat rows. But for the most part the enormous site had a moonscape emptiness about it. Every once in a while a group of construction workers filed past, wearing fluorescent safety vests over purple jumpsuits. Eventually we made our way to the northwestern tip of the site, where the star architectural attractions of Saadiyat Island will be welcoming visitors as early as 2012. If there is a focal point for Abu Dhabi's efforts to recalibrate its global image, it is located here. Gehry's Guggenheim, covering more than 300,000 square feet, will occupy the end of a peninsula. Nouvel's dome-covered Louvre will jut out into the water just a few hundred yards away.
Purely from an architectural perspective, I am eager to see both museums built. Each is a bold yet thoughtful design, and as a pair they will play off one another with remarkable vitality -- Nouvel's protective dome, sending filtered light into open-air lobbies, a unified contrast to the jumbled energy of Gehry's collection of gallery blocks and soaring entry cones. It appears their construction remains on track -- as does that of the Sheikh Zayed Museum by Foster and Partners -- even as doubts remain about the viability of a performing arts center by Zaha Hadid and Ando's maritime museum.
But as cultural institutions they are fraught with unanswered questions about the range of exhibitions they will be allowed to organize or put on view. Representatives of the Guggenheim and the Louvre have maintained that they will be free to show the same artworks they display back home. But that would mark a significant departure from existing UAE practices.
In recent weeks, these questions have been complicated by a pair of news items from Abu Dhabi that suggest a troubling underside to the emirate's generally placid surface. About six weeks ago, a videotape from 2004 was leaked to the worldwide press showing a member of the emirate's ruling family, Sheik Issa bin Zayed al Nahyan, appearing to torture an Afghan merchant, beating him with whips and nail-studded boards, stuffing his mouth with sand and driving over his ravaged body with an SUV. The tape has thrown a wrench into negotiations in Washington over a pending nuclear-arms agreement between the U.S. and the UAE.
Around the same time, Human Rights Watch issued a stark report, building on earlier research, condemning working conditions on Saadiyat Island. The report singled out the Louvre and Guggenheim projects, urging the museums to take stronger steps to make sure that laborers on the island were not being mistreated.
Difficulties ahead
At a time when so many other mega-developments around the world have come to a sudden halt, Abu Dhabi has risen to a new level of global prominence simply by plunging shovels into the sand at Masdar and Saadiyat Island. And yet each project suggests that the character of the emirate's newfound ambition may lead it into a thicket of problems. Unlike Dubai's recent troubles, these are unlikely to be financial. Instead, they may begin to upset the careful balance Abu Dhabi has long maintained between growth and prudence.
It is one thing to try, as Dubai has, simply to expand at whatever headlong pace new investment will allow. It is quite another to link new initiatives with claims about cultural freedom and environmental justice. In essence, Abu Dhabi is attempting to carve out "free zones" for the arts and green development in the same way that Dubai has done for media companies and high-tech entrepreneurs.
This promises to be a hugely complicated task: At least from a Western perspective, cultural openness can be expected, eventually, to create hunger for the political variety. But this is the world we now occupy: Many of the globe's most ambitious states -- economically, politically, culturally, even architecturally -- are also the most closed and autocratic ones. China has been a leading example of the shift, as has Dubai. Now it is emerging -- with a high-design, eco-friendly twist -- in Abu Dhabi as well.
That makes the construction sites for Masdar City and Saadiyat Island more than mere test beds for green-tech and high-art ambition. It also makes them a proving ground for an experiment in forging a new, hybrid civic culture -- a kind of Enlightenment Authoritarianism. And if you believe in the power of culture -- or more grandly of knowledge -- to spawn political change, these initiatives arguably constitute a bolder, riskier strategy than anything Dubai has yet tried.
---
Inside the business of entertainment
The Wide Shot brings you news, analysis and insights on everything from streaming wars to production — and what it all means for the future.
You may occasionally receive promotional content from the Los Angeles Times.