'The Big Cloud,' one photographer's obsession with the drama in our skies
If you ever wondered if cows can fly, just ask photographer Camille Seaman. The storm chaser has witnessed a flying four-legged animal, hail the size of baseballs and an entire roof blown off during her five years of photographing sometimes menacing, sometimes magical clouds.
The Bay Area photographer began chasing storms in 2008 at the urging of her 8-year-old daughter. Seaman had recently finished a 10-year project documenting melting icebergs. Three days later, she was in Oklahoma chasing a 50-mile-wide supercell.
In her new book, "The Big Cloud," Seaman continues her exploration of nature by capturing the heavenly beauty and darkest dangers of these vast, constantly transforming bodies. Whether a half-mile-long wedge tornado, a fluffy cumulus field or multitiered shelf clouds, her subjects required an extreme amount of patience.
"The key to storm chasing is to not end up being chased by the storm," she said.
Her goal: to photograph the entire structure. That often meant standing 15 to 20 miles away.
Rotating clouds, also called "barber poles" for their vertical swirls, are often mistaken for tornadoes. In the Nebraska plains, Seaman captured such a formation hovering over a distant farm. Twenty minutes later, the cloud had morphed into a spaceship, ominously suspended above the land. In the foreground, a windmill stands tall against a bright sky. Smoke from a distant wildfire in Fort Collins, Colo., added a strange, reddish haze to an image backlit by the setting sun.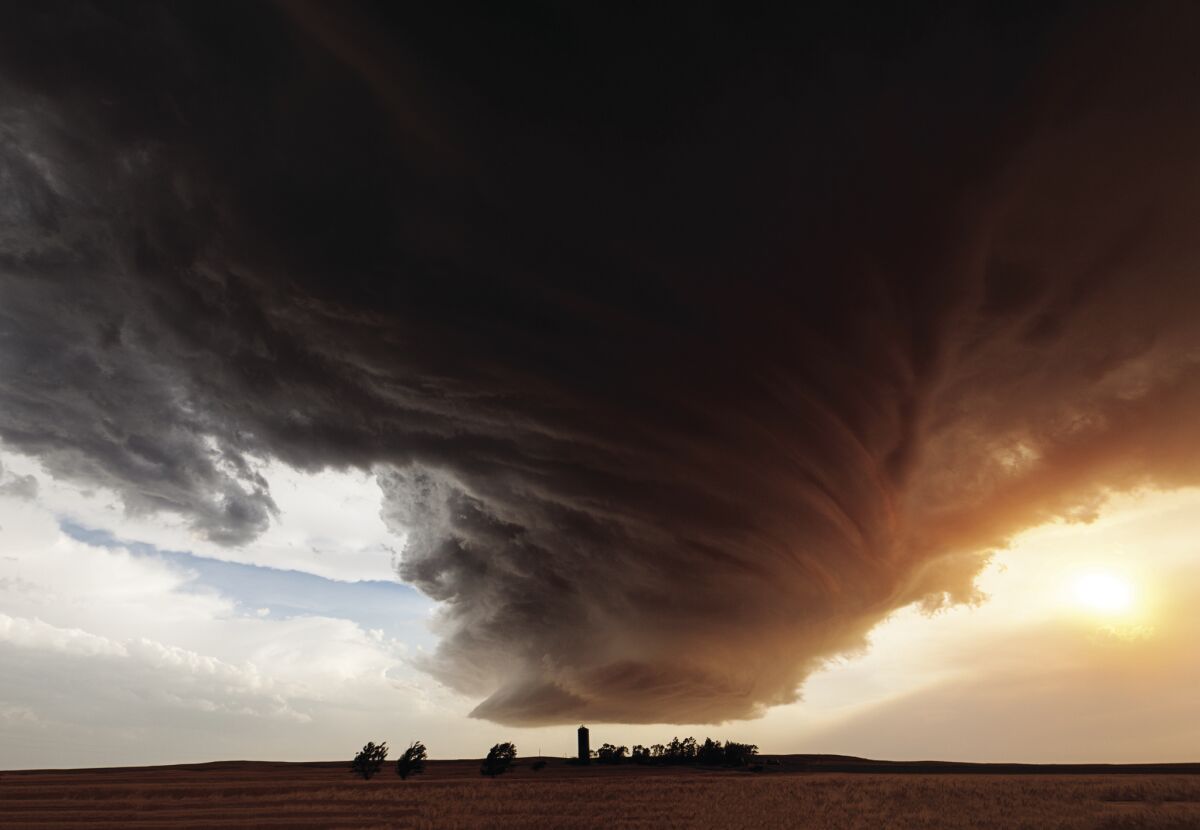 In the rolling hills of South Dakota, a mass of clouds moved in like apparitions reaching out and touching the earth. These moving formations are especially challenging to capture. For Seaman, it's a visceral, multisensory experience.
"It's the smell of the charged particles, the sweetness of the grass, the scent of pavement just before it rains and the sight of the wind blowing through cornfields," said Seaman, adding how just before charges become lighting, a palate of turquoise and green can be seen inside the clouds.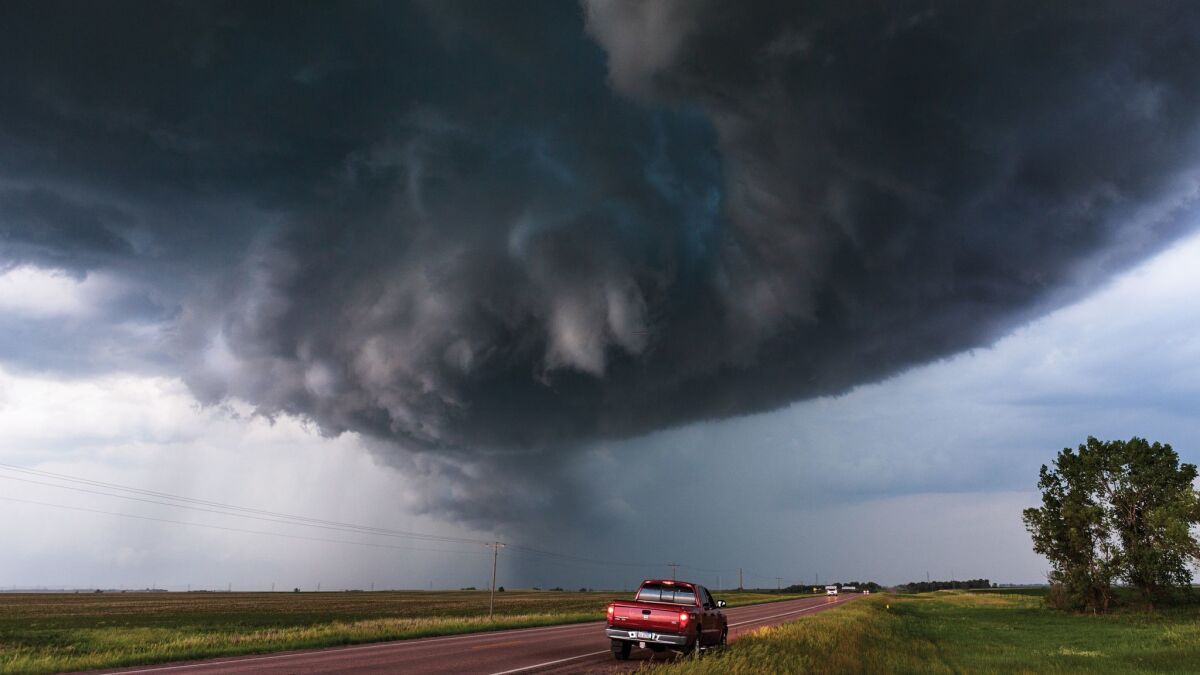 See all of our latest arts news and reviews at latimes.com/arts.
MORE ART:
A photographer's portrait of mixed-race America
Mesmerizing pictures of daily living, year after year after year
The childhood art of Ed Ruscha, Catherine Opie, Doug Aitken and others
---
Get our L.A. Goes Out newsletter, with the week's best events, to help you explore and experience our city.
You may occasionally receive promotional content from the Los Angeles Times.