'My Kid Could Do That': See the childhood art of Ruscha, Opie, Aitken and others on view in L.A.
When Andy Moses was 5, he painted an airplane soaring through a crimson and electric yellow sky. His mother, Avilda Peters, held onto that painting, proudly, for 50 years. She packed it in a box and tugged it along when she relocated from Santa Monica to Boulder, Colo., to Halifax, Nova Scotia, to Ojai and then back to Venice in California when, later in life, Peters remarried Andy's father, Ed Moses.
"It's a spacecraft or airplane," Andy Moses says of the painting. "I saw '2001: A Space Odyssey' in 1968 at the Cinerama Dome when I was 6. It changed my life forever and sent me on the search for the infinite."
Now that weathered, hand-signed painting will be on view this weekend as part of the group exhibition "My Kid Could Do That" at the Underground Museum in L.A.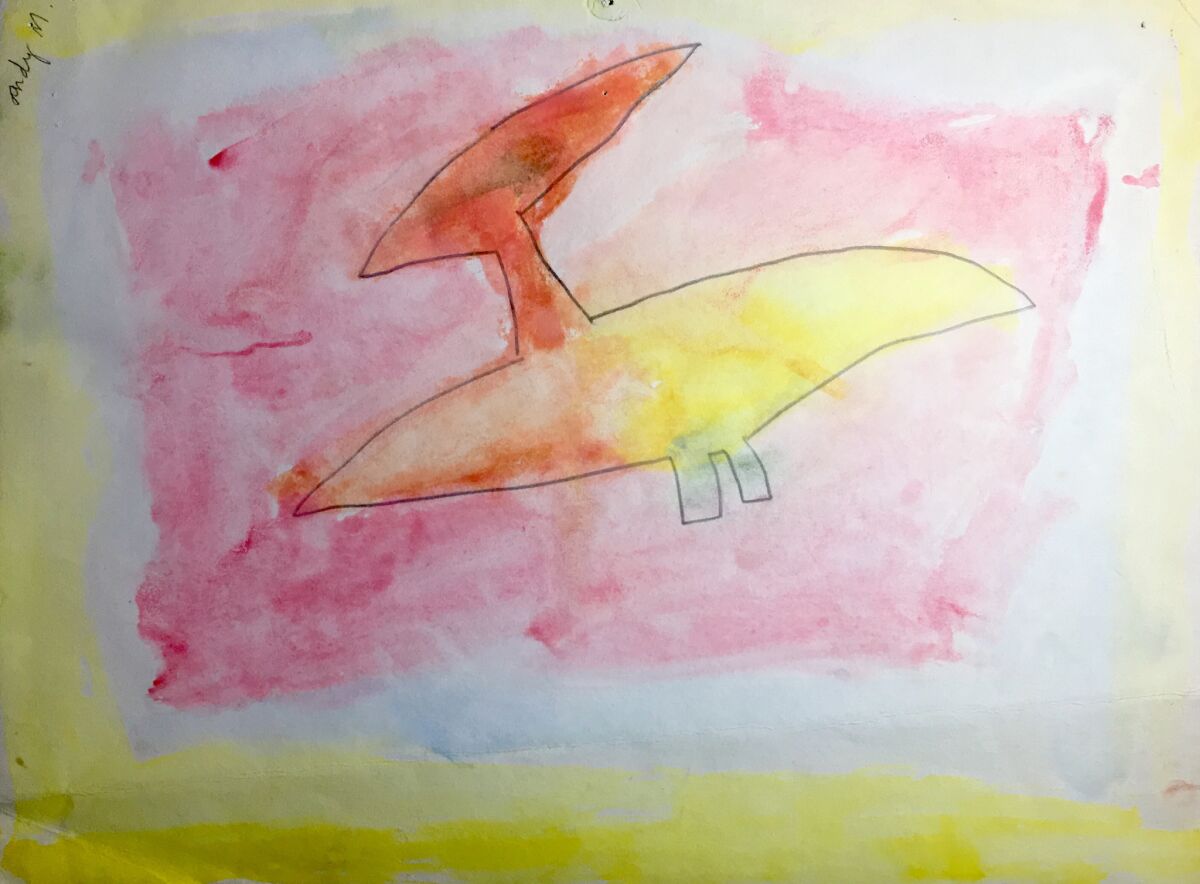 Also on view: the childhood pencil scribblings, finger paintings, papier-mâché puppets, crayon drawings, clay sculptures and collages by more than 70 contemporary artists, including Ed Ruscha, Doug Aitken, Diana Thater, Catherine Opie, Alex Israel, Jim Shaw, Njideka Akunyili Crosby, Petra Cortright and Jonas Wood.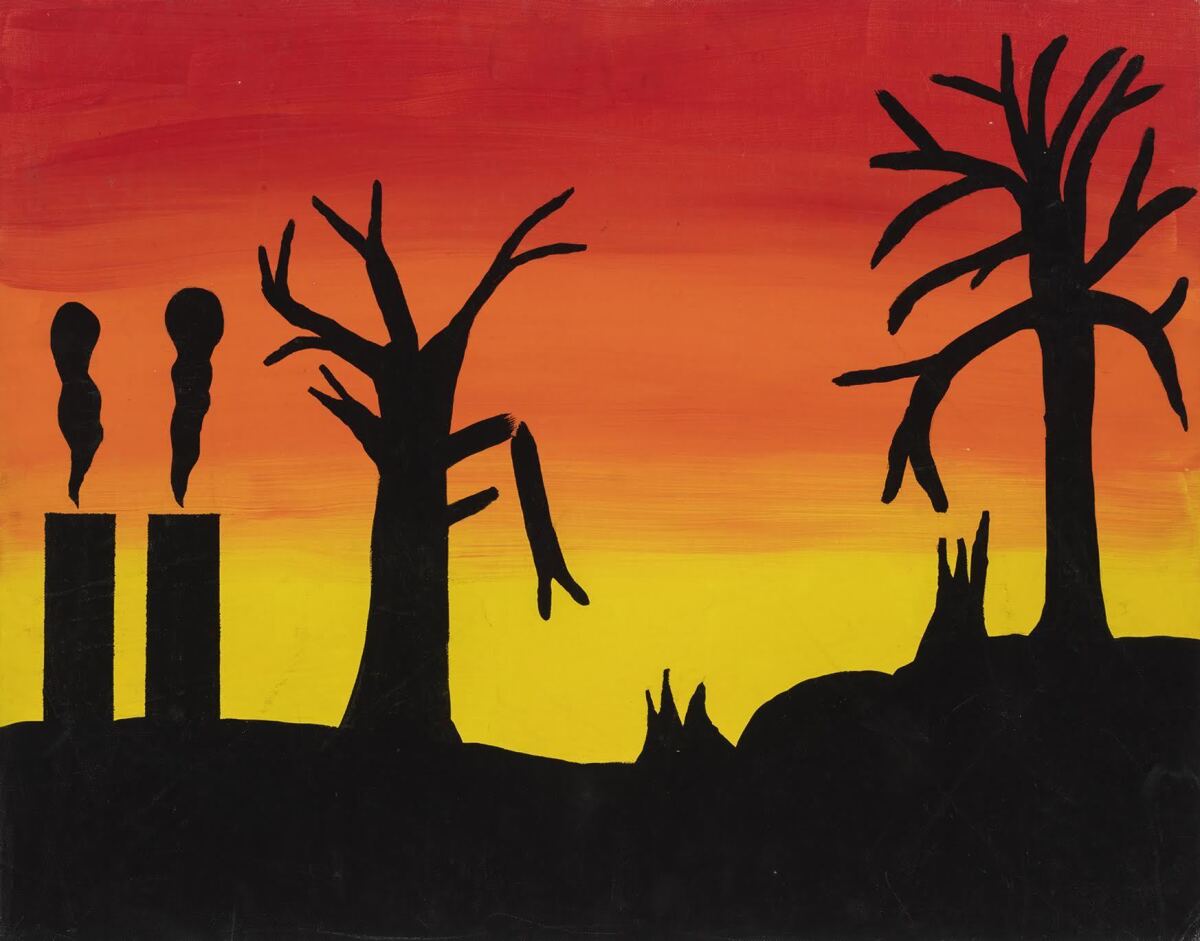 The show is a benefit for ProjectArt, which partners with public libraries and artists in underserved communities around the U.S. to hold free art classes for youth ages 4 to 17. In return for teaching classes (typically as part of nine-month residencies), artists are given free studio space at the library and grants of up to $6,000.
"There are over 4 million kids in elementary schools in the U.S. that don't receive any arts education," ProjectArt founder and executive director Adarsh Alphons said. "We realized libraries are the best distribution systems because, unlike a museum, they're decentralized with branches in every community and it's free — anybody can walk through the doors."
So far ProjectArt has launched in New York, Chicago, Detroit, Pittsburgh and Miami. It plans to expand into 12 more cities by 2021. L.A. outposts are the public libraries in Inglewood, Arlington Heights and on the edges of downtown.
"We provide the art classes, the art supplies and great teachers, and the libraries provide the space," Alphons said. "We've accumulated a lot of real estate so far around the country, but we don't pay any rent. And the programming draws people to the library. It's a mutually beneficial, symbiotic partnership."
ProjectArt's inaugural benefit exhibition was at Red Bull Arts in New York last year. This weekend marks its West Coast debut. Writer-activist Rebecca Walker will emcee the ticketed kickoff party Friday night, an event co-chaired by philanthropist-entrepreneur Kyle DeWoody and Underground Museum co-founder Karon Davis. Mark Ronson and DJ Chocolatebarbangs will perform, as will the Youth Orchestra of the Fernando Pullum Community Arts Center.
The "My Kid Could Do That" exhibition, which is free and open to the public, will take place Saturday and Sunday.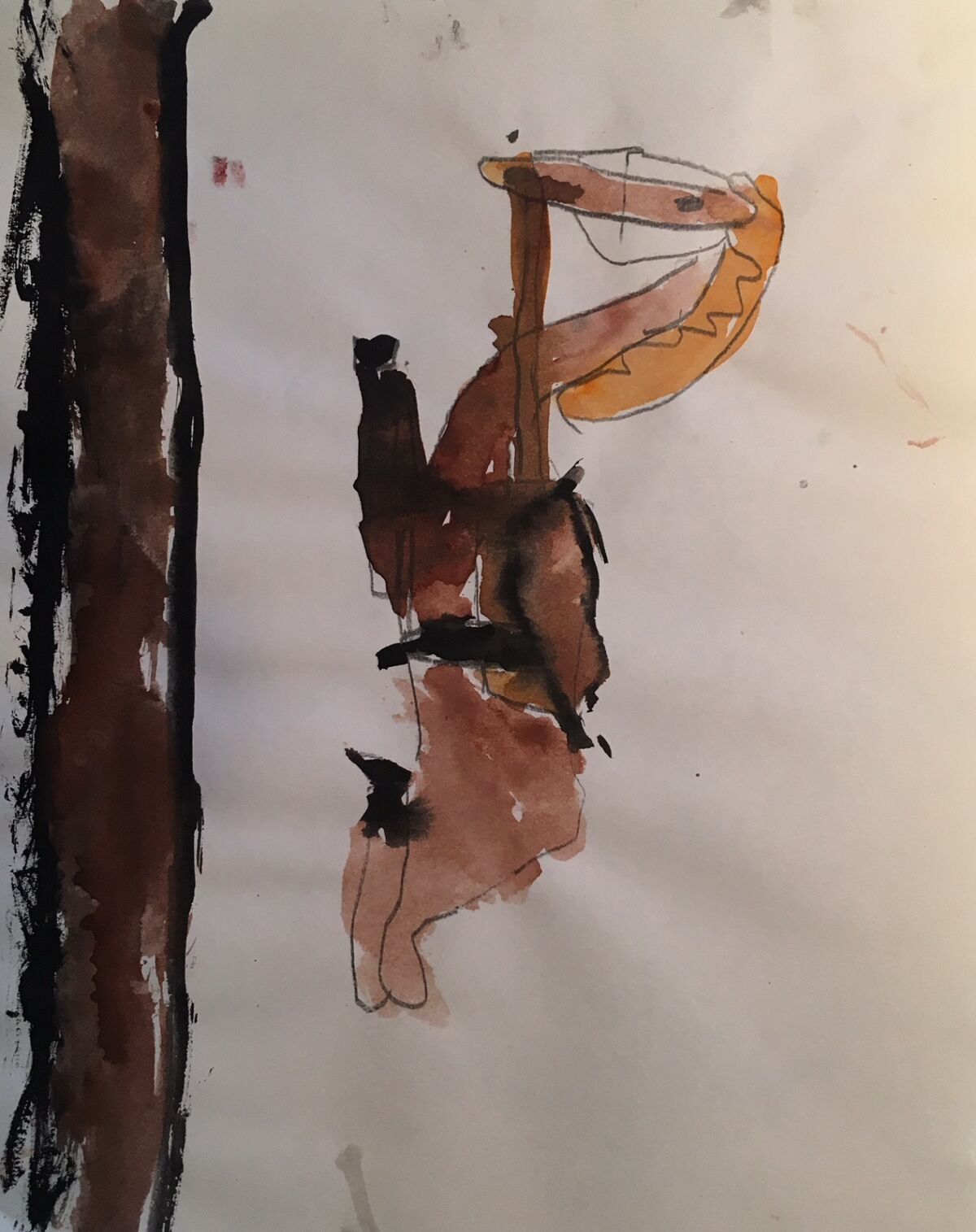 Culling the artworks was no easy affair, Alphons said. Some pieces came from the artists themselves, who'd lovingly stored their childhood inspirations. Others were coaxed from nostalgic family members, such as Mattia Biagi's mother, in Ravenna, Italy, who'd kept her son's work in a plastic folder tucked inside a dresser. Some works came from professional archives, such as the art gallery Regen Projects, which represents Opie.
And while the beaming Jimmy Carter puppet that Lisa Anne Auerbach made in fourth grade is pretty amusing, "My Kid Could Do That" does also offer some deeper insights. Many of the kiddie works reveal hints about artists' future practices.
"With several of the artists, you can really see their vernacular forming in their early pieces," DeWoody said.
Street artist Kenny Scharf's painting of birds, which he made at age 13, reveals an early fascination with screamingly bright colors. Alex Israel's painting-on-canvas, from when he was 10, employs his familiar sunset-like palette and gradient style. Akunyili Crosby, the recently named MacArthur fellow, offered a paint-on-paper piece that she created when she was 14 that visually corresponds to her work today. Ry Rocklen's clay sculpture of a smushed face, which he made when he was 5, reveals his humorous sensibility.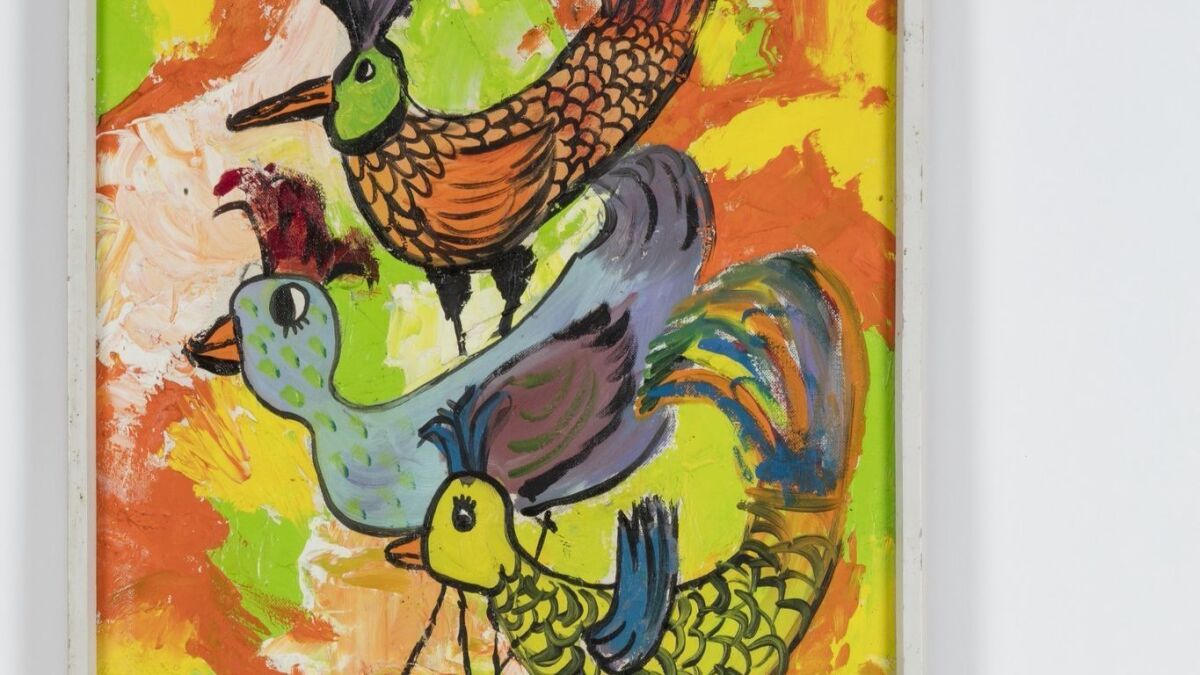 Installation artist Aitken is presenting, among other items, his personal art tool box from high school — still filled with paint brushes, pens and a staple remover — that he also used throughout his years working in New York. It bears his handwritten name and now-defunct phone number inside, in case it got lost.
The works on view during the exhibition won't be for sale, lest someone's proud grandmother be left with a naked refrigerator door. But limited-edition prints of the artists' works will be available.
As will a heavy dose of humor.
About the Santa Claus collage he made when he was 7, Ruscha said:
"In 1944, I probably tasted more library paste than it took me to make this collage."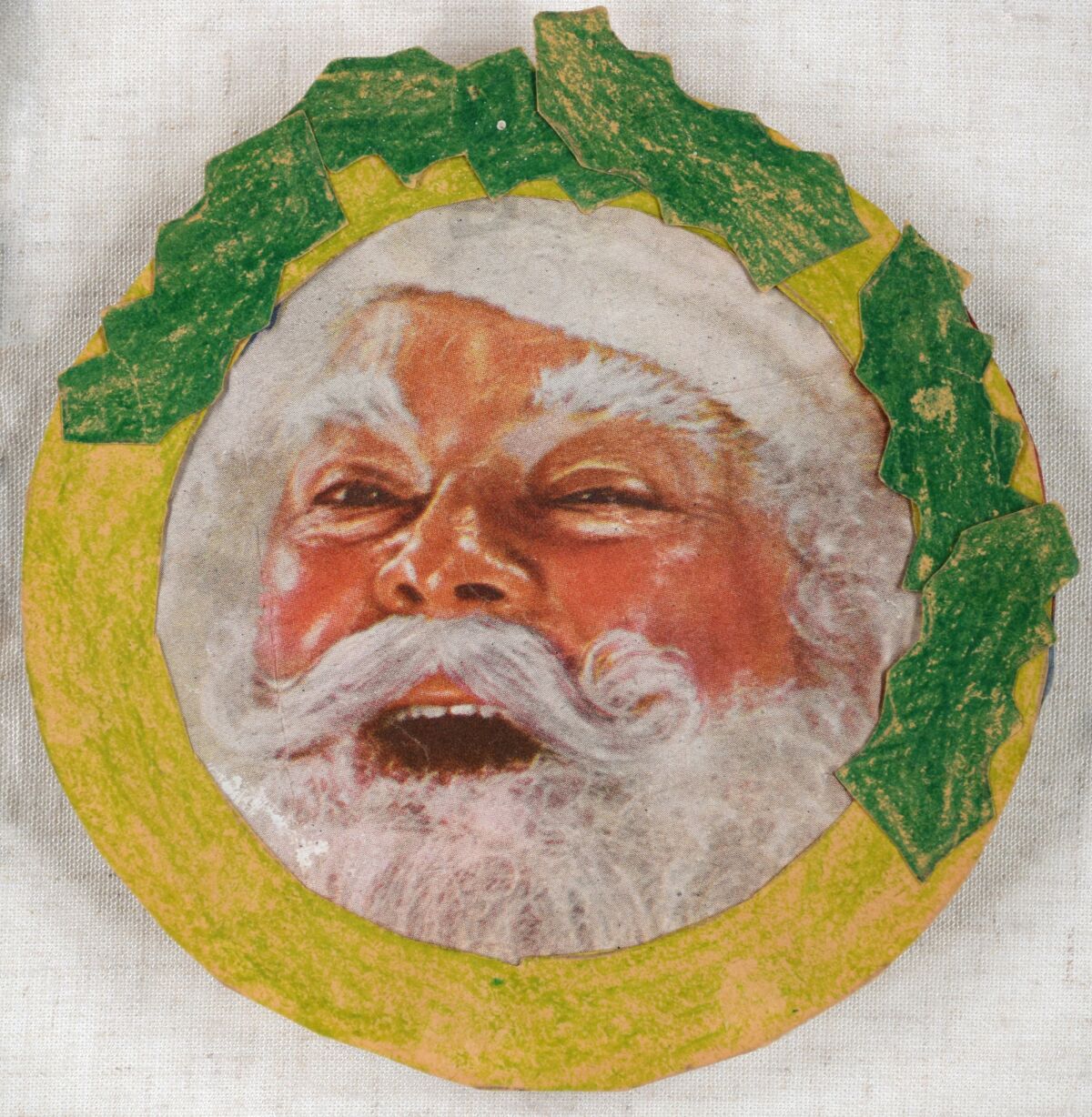 'My Kid Could Do That'
Where: Underground Museum, 3508 W. Washington Blvd., L.A.
When: 11 a.m.-4 p.m. Saturday-Sunday
Follow me on Twitter: @debvankin
---
Get our L.A. Goes Out newsletter, with the week's best events, to help you explore and experience our city.
You may occasionally receive promotional content from the Los Angeles Times.