Column: 'A biennial is not an all-star team': Sharon Johnston and Mark Lee on 'Make New History'
Architecture Critic
Sharon Johnston and Mark Lee, husband-and-wife architects and co-founders of the Los Angeles firm Johnston Marklee, are artistic directors of the second Chicago Architecture Biennial, a dense and ambitious portrait of contemporary architecture featuring more than 140 projects by firms from around the world. During the biennial's preview days last week, I caught up with Johnston and Lee to talk about their show, which they call "Make New History." Though exhausted by a parade of panels and opening events, they gamely sat down inside the Chicago Cultural Center, the biennial's central venue, to discuss the show's origins and its major themes. What follows has been edited and condensed.
---
What attracted you to history as a guiding idea for this biennial?
Lee: We're at a moment when we're just coming out of this fascination with the new. I remember Rem Koolhaas, in [an interview] in the '90s, somebody asked him, "Where do you think we are now?" And he said, "I think we're waking up from the semantic nightmare of the '80s." So I was thinking, "What is the nightmare that we're waking up from, if we had to think of the equivalent?" And at least from our point of view, being in L.A., in the schools, there has been a complete fascination with newness — new for new's sake. To the point where there are architects who do really interesting projects and I would say, "You should also look at [German architect Erich] Mendelsohn," suggesting it's something they would be interested in. But they'd take it as a critique, like we're accusing them of not being original.
Johnston: Like, "Someone's done that before?"
Lee: At a certain point, newness becomes a disease.
And then it becomes almost impossible to get off that hamster wheel. Along with history, your biennial is very much about returning a focus to architecture itself, to the discipline of architecture — a kind of introspective turn.
Johnston: It's certainly looking into the discipline. But we're not radical in saying that, that we're looking at the discipline and nothing else. I would also say that, looking at the range of work [in this Biennial], despite its focus on the discipline, I think what we wanted to put forward is the diversity of what people bring as input to produce that work, from an interest in materials to how artists and architects collaborate. I think it's a really diverse set of things that people are looking at. And the continuity we wanted to focus on at is how all of that gets processed into architecture.
Lee: And we think it's momentary. Within the architecture community, it's useful to focus on the center, but once you get resituated, you have the confidence — you can deal with a lot of things.
What kind of responses are you getting so far?
Johnston: Everybody seems to have a sense that you can tell that architects [as opposed to a curator, critic or historian] put it together. There's a sort of quality about the space, the way the works are together, the way they engage the building that I think people are perceiving.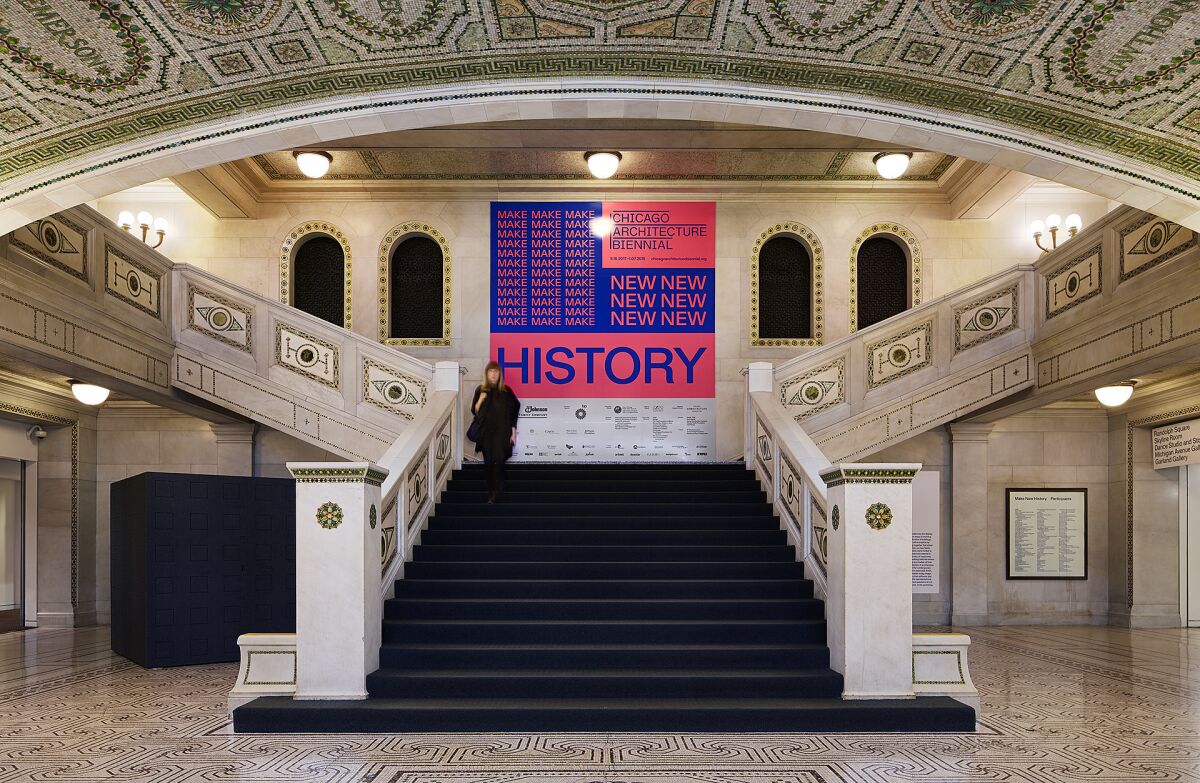 What kind of instructions did you give the participating firms?
Johnston: It was the artistic statement. [Sample: "This second edition of the biennial will focus on the efforts — across registers of building and discursive production — of contemporary architects to align their work with versions of history."] We just gave them the initial statement, and sometimes we knew projects in advance that we knew we wanted to have in, and other times we shared the statement with them and wanted to see what projects they had that they thought would resonate. And sometimes people produced new projects.
Lee: For us, the biennial is not an all-star team. We wanted people who could address the theme well.
In what ways, specifically?
Lee: I think one of the things we wanted to convey was a certain idea about subtlety. And maybe ordinariness, common ground, slowness — a slow cadence. A lot of people have been talking about how the speed of life has been accelerating and architecture needs to catch up to that speed. No, we think architecture is fundamentally slow and we should appreciate that slowness.
One thing that stands out in the show is a pretty consistently spare, basic, even generic or primitive approach from a number of firms, especially in terms of form-making. Why do you think that is?
Johnston: I think a lot of these architects are really interested in the fabric. They're interested in buildings that are part of something larger. So it's not the icon building, it's somehow looking for a different way to engage the context, which is perhaps sometimes more about being continuous with it, or creating a more nuanced response to it.
Lee: It's not just a reaction against iconic buildings. A lot of people in our generation and beyond don't believe that an icon — some opera house, one great design — can trickle down and solve the larger problem. And the larger problem is that the architectural fabric of our cities is eroding, whereas there are a few icons that are getting more and more complex. So we're not against icons. We just have to refocus on building a high-quality architectural landscape, in order for architecture to be an important discipline to be discussed. Otherwise, it's all just fashion.
SIGN UP for the free Essential Arts & Culture newsletter »
You've also been finishing a redesign of the Museum of Contemporary Art here in Chicago and overseeing a major project in Houston, the Drawing Institute at the Menil Collection, near Renzo Piano's main Menil building. I'm wondering how these projects might have folded back on one another. Did watching the Menil project take shape make you think differently about this show, or vice versa?
Lee: I don't know about the Menil, but I will say that doing the show made us think differently about architects! Doing a show is like being an urban planner, and you have to deal with all kinds of architects. Some are very easy to deal with. Some are very difficult. And some are very difficult for not a very good reason. So it was a different hat from what we normally wear.
Johnston: I think it's an interesting question. I think the process of working on the Menil has been a process of understanding the deeper history of the museum campus, the Menil family.
Lee: When we started that project, the first month or two, we didn't do anything. We just studied the history of the campus and the history of the family before we proposed anything. So in the end, I think that history is quite embodied in our building.
Johnston: Lars Lerup [professor and former dean at the Rice School of Architecture in Houston] talked about seeing our building and how you're not quite sure if it came before or after Renzo's building.
Lee: That's a great compliment for us.
Building Type is Christopher Hawthorne's weekly column on architecture and cities. Look for future installments every Thursday and additional coverage from the Chicago Architecture Biennial at latimes.com/arts.
christopher.hawthorne@latimes.com
Twitter: @HawthorneLAT
MORE ARCHITECTURE:
Apple, Amazon and two very different approaches to the American city
Credit where it's due: Remembering Gin Wong
MoMA's love-hate relationship with Frank Lloyd Wright
John Yeon, unsung master of Pacific Northwest modernism
Get our L.A. Goes Out newsletter, with the week's best events, to help you explore and experience our city.
You may occasionally receive promotional content from the Los Angeles Times.