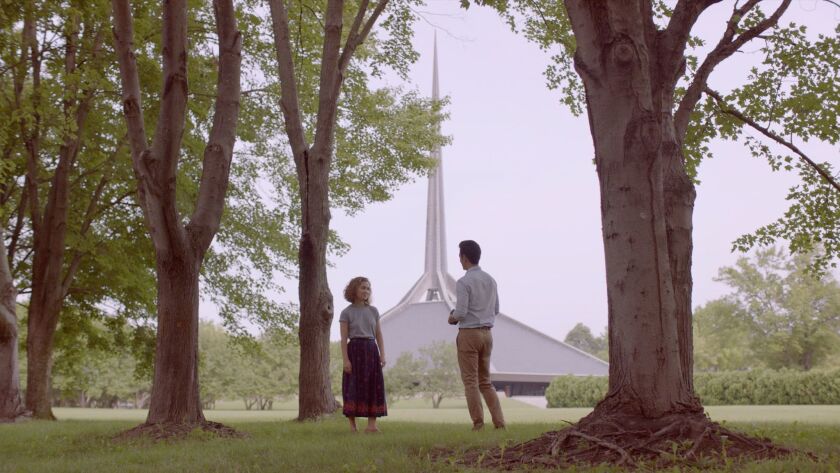 Architecture Critic
The camera barely moves in "Columbus."
The debut feature from the single-named director Kogonada — who first gained notice in Hollywood for his video essays on Yasujiro Ozu, Wes Anderson, Stanley Kubrick and other filmmakers — is set in the modern-architecture mecca of Columbus, Ind. (Population as of the 2010 census: 44,061.) Along with Haley Lu Richardson, John Cho and Parker Posey, the stars of the movie include Eero Saarinen's Miller House (1957) and North Christian Church (1964), I.M. Pei's Cleo Rogers Memorial Library (1969) and James Stewart Polshek's Quinco Mental Health Center (1972).
The way Kogonada and his cinematographer, Elisha Christian, frame these buildings, with an unhurried series of static shots, says a lot about the larger story they're trying to tell. Once in a very long while there's a subtle zoom or an almost imperceptible tracking shot, but in general this is a film very much about stillness, one firmly rooted in place.
Or rather it's a film about how tricky it can be to find a balance between rootedness and ambition. The architects who came to build in Columbus beginning in the 1940s — thanks in large part to the patronage of J. Irwin Miller, chairman of the Cummins Engine Co., and his wife, Xenia Simons Miller — were not only leading figures in the profession but also in many cases exemplars of what became known between World War I and II as the International Style. Their arrival hinted at the ways in which American architecture and the larger culture were poised to change in the decades ahead, trafficking increasingly in global ideas and — if the harshest critiques of modernism are to be believed — neglecting local context and regional character along the way.
The extent to which that traffic qualifies as progress is one of the many themes that run silently beneath the surface of "Columbus." Richardson (best known for roles in "The Edge of Seventeen" and M. Night Shyamalan's "Split") is superb as Casey, a smart, guarded 19-year-old who grew up in Columbus and, having put off college for the time being, is reluctant to leave. Cho is similarly effective and understated as Jin, a translator who has flown in from Seoul because his father, a well-known architectural historian who came to Columbus to give a lecture, collapsed outside Saarinen's church and remains in a coma in the local hospital.
They wind up bonding over visits to a number of landmarks in town, despite Jin's initial insistence that he hates architecture. Before long, their conversations have ranged well beyond the subjects that fill guidebook entries. About halfway through the movie, Casey tells Jin, almost off-handedly, "You know, meth is a big thing here. Meth and modernism."
She says this as the two of them are sharing a cigarette in the parking lot of Irwin Union Bank, a building designed by Deborah Berke, who runs a New York firm and last year became architecture dean at Yale. Though she never appears on-screen, Berke emerges as a significant part of the storyline in "Columbus," a symbol of the opportunities waiting for Casey if she can ever break free of her hometown.
The references to meth — and an addiction storyline involving Casey's mother, played by Michelle Forbes — suggest a movie that has more than architecture on its mind, that sees famous buildings less as stylish backdrops and more as the means to a thematic end. In a typical Hollywood movie, important architecture, especially important modern architecture, would be a symbol of big-city sophistication (or even, as documentarian Thom Andersen and others have pointed out, of deviance or criminality). A town in the middle of Indiana would be, in its folksiness and local color as well as its struggles, a foil for that far-away glamour.
SIGN UP for the free Essential Arts & Culture newsletter »
But Kogonada wraps the sophistication and the struggle together in a single locale. (In addition to directing, he wrote the film's screenplay, which takes a while to get going and whose architectural metaphors could use some shoring up.) Casey wants to stay in Columbus because she feels an obligation to take care of her mother — and a kinship with the town's architecture. Jin is trapped in Columbus because of his father's condition, but at least outwardly rejects Casey's sense of familial obligation.
They are mirror images of one another, existentially speaking. As quietly ambitious as she is, Casey should leave but wants to stay. As dire as his father's health is, Jin should stay but wants to leave.
The film offers a subtle critique of globalization and a timely portrait of Donald Trump's America. It's a reminder that the sense among longtime red-state residents that they're underestimated or overlooked by big-city elites is a layered and complex grudge, sometimes flowing from ignorance or at least provincialism and sometimes from genuine pride of place.
Columbus is Vice President Mike Pence's hometown. This fact is never mentioned in "Columbus," but once you've seen the film it makes a strange sort of sense. You might even say it points to one of Kogonada's guiding themes, one that's surprising only by the standards of Hollywood: the idea that small towns in smallish states in the middle of the country are capable of producing human beings as contradictory, complicated and self-interested as anywhere else — even the sort of politician who is deeply religious and steadfastly conservative and at the same time supports the agenda of a president who is famously, flagrantly neither.
I visited Columbus several years ago, on a driving trip across the country. I found some of the buildings disappointing, in part because they seemed to sag under the burden of knowing they had to compete for attention. Maybe my expectations were too high. But the places where trophy buildings are grouped together — the campus of the Vitra design company in Germany and the neo-traditional town of Seaside, Fla., are two other examples that come to mind — often turn out this way.
That's one reason Columbus works so well as a setting for this story and for Kogonada, whose video essays are marked by a forensic attention to detail. The loyalties of the town's most significant landmarks are divided in all sorts of ways: between the needs of everyday users and the expectations of architectural tourists, between the responsibilities of workhorse and show horse, between community fabric and individual personality. Casey and Jin can relate.
Building Type is Christopher Hawthorne's weekly column on architecture and cities. Look for future installments every Thursday at latimes.com/arts.
christopher.hawthorne@latimes.com
Twitter: @HawthorneLAT
MORE BUILDING TYPE:
Frank Gehry takes to the Web for an online master class
Santa Monica's 'grand bargain' on growth and housing
A lawsuit to protect LAX parking garages in the name of 'environmental quality'?
---