Carmen Cusack, star of Edie Brickell and Steve Martin's 'Bright Star,' finds her place in L.A.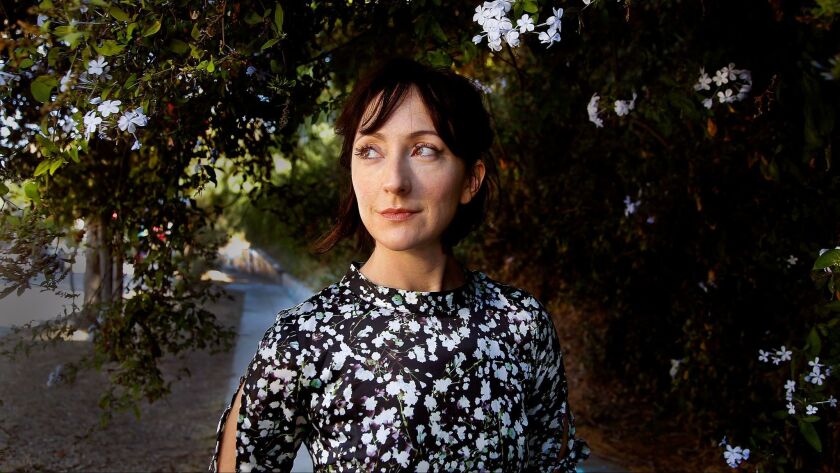 The Broadway star Carmen Cusack arrives at the Silver Lake Reservoir dressed for a midday walk in shorts, sneakers, a hat and sunglasses. Even the most devoted theater fanatic would be hard-pressed to identify her as the lead in Edie Brickell and Steve Martin's musical "Bright Star."
Cusack is due later at the Ahmanson Theatre, where she's reprising her Tony-nominated role as a magazine editor with a secret romantic past. But for the moment, she's just one in the throng of fit, urban nature lovers.
As she sets off at a brisk pace past the dog park, Cusack mentions that she and her husband, the Scottish actor Paul Telfer, live just up the hill. They fell for Silver Lake when she was performing in "South Pacific" at the Ahmanson in 2010, and they established a home base here. They chose their place for a view of Echo Park that was soon blotted out by new construction.
Still, after years on the road in musicals — "The Phantom of the Opera," "Les Misérables," "Wicked" — she likes nesting. The novelty of sleeping in her own bed after a day's work, she says, is part of what lured her back to play Alice Murphy in "Bright Star," which premiered in San Diego in 2014 and on Broadway in 2016. (She is contracted to do the national tour in Los Angeles, San Francisco and for two weeks in Salt Lake City; subsequent stops, and Alices, have yet to be announced.)
Cusack's agents and managers are champing at the bit to send her on to new adventures on stage and screen, and she's eager to stretch in new directions as well. But when the chance to play Alice again presented itself — and right in the neighborhood — she couldn't resist.
After all, she knows the songs in the show. She knows the songs that got cut from earlier versions of the show. (She performs some of these — the ones she particularly regrets losing to the implacable logic of new-musical development — in solo gigs she does in New York, Detroit and San Francisco.) She's been working with the "Bright Star" creative team to develop the musical since a workshop in 2013.
"As soon as I read the script," she says, "I was like, I know exactly who this woman is, and it's me, in a sense: channeling my mother, channeling my own success story, channeling my own ambitions and frustrations and my own walls that I put up. I knew this woman from the beginning."
In the beginning, Alice was a relatively minor character, but Martin and Brickell, along with director Walter Bobbie, started shifting the story's focus. The musical had been built around songs from Martin and Brickell's bluegrass album "Love Has Come for You," but soon the evolving book demanded new songs. Both composers found inspiration in Cusack's vocal range and versatility. Cusack recalls that Brickell, especially, was "like a kid in a candy shop."
"Every time we'd hit a bump where we'd be like, 'We need to have a different lyric for this,' or 'We need something more,' " Cusack says, "it was like giving her another gift. And everything was her baby. But she was very pragmatic, as Steve was, about having to let go of things. And Steve wanted to hear everything I was saying. Whenever I was onstage talking to Walter about a line or something, he would, like a ninja, immediately be there so that he could facilitate. It was a dream. An actress' dream."
Cusack always assumed that she would be replaced by a better-known name if the show made it to Broadway. By the time it did, she and Alice were inseparable.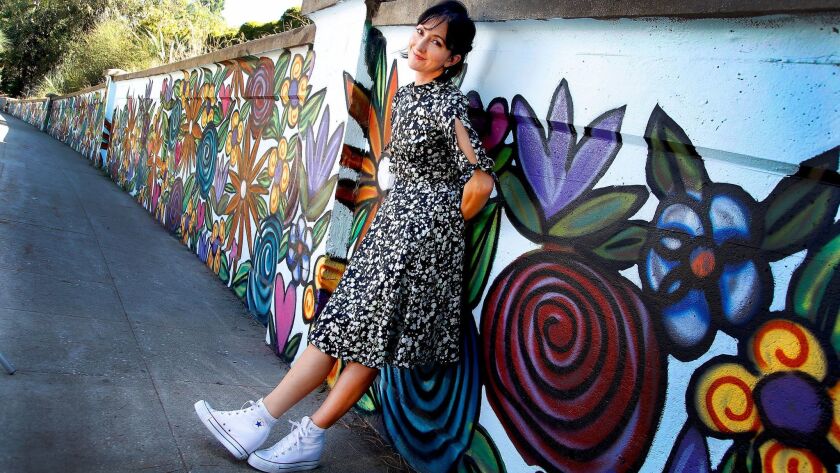 At this point in the walk, noticing that her companion is panting, Cusack suggests a rest, pointing out a shady spot. "Are you comfy?" she asks as she settles onto the grass. Her accent sounds faintly British at moments — she worked in London for 14 years — but then the twangy vowels of her Southern childhood re-assert themselves.
Cusack was born in Denver when her mother was 16. They moved around a lot, to Florida and then Alabama, ending up in Texas, where she tends to tell people she's from, "because it makes it short and easy and simple," she says, "and because most of my schooling was in Texas." Even though there's a lot about Texas she doesn't like — "Hello, that's why I live in L.A." — she says she's still "a Texas girl deep down."
"Edie Brickell is a Texas girl as well, and I think that's part of our connection."
She takes off her sunglasses, and her amber eyes are mischievous half-moons in a delicate, luminous face. It's easy to imagine her as a Texas teenager, dreaming of a career in musical theater.
Wrong.
"I'm not a fan of musicals. Never have been," Cusack says unapologetically. "If you looked at my music collection and saw an album that was a soundtrack to a musical, it's probably because I had bought it to learn the music so I could go and audition. Musical theater just never was my trajectory. I just wanted to sing."
She started singing early, as a young child performing gospel in church — various churches, because her mother switched denominations regularly. "It seemed to be a different flavor every year," Cusack remembers. "We grew up 7th Day Adventists, then it was Baptist, then it went nondenominational, and then we went to Assembly of God. And then she became a Messianic Jew! She's really been searching all of her life."
I'm not a fan of musicals. Never have been.
— Carmen Cusack
When an opera singer heard the young Cusack perform and recommended a professional vocal coach, her mother made it happen, even though her job as a school-bus driver complicated the logistics.
"My lessons would happen right after school, when my mother had to finish her rounds," Cusack says. "So she would plant the car and hide the keys somewhere in it, and I'd find them and drive myself all the way across town. And I hadn't even gotten my driver's license yet at that point."
Gospel singing earned her a scholarship to Bible college, where she was trained for missionary work. "But then I realized that people were trying to cast demons out of me far too often," she says.
Although her tone is light, she's not kidding: "My mother had people lay hands on me to cast demons out of me when I was 8. Then two or three times when I was in college. We had a prayer group, and the girls seemed very upset that I'd gone on a date, and they'd heard that I'd had a glass of wine on the date. In Assembly of God, that's wrong. So then I realized maybe I'm not cut out for the ministry. So then I managed to get a scholarship to University of Texas to study opera."
It was through opera that Cusack arrived at musicals. From Christine in "Phantom of the Opera," she moved into a string of leading lady roles in major touring shows.
"After I'd been doing it for about seven years, I thought, this is crazy, I don't even like musical theater, and I decided to take a year off and just sing jazz music," she says with a laugh. "But I missed that paycheck. And that's when 'Wicked' came along."
She was cast as Elphaba in the first U.S. national tour in 2007.
She credits her early vocal training with preserving her voice.
"Elphaba's probably the hardest thing vocally I've ever had to do," she says. "It's basically asking you to do everything you're not supposed to do for three hours. So many girls hurt themselves doing that role. Luckily I had my opera training. That helped me keep everything together."
In comparison, the bluegrass aesthetic of Martin and Brickell's music is liberating.
"I like my cheese, I like my milk in my coffee, and nobody's gonna tell me any different," Cusack says. "And especially with this job, the huskier, the more gravelly my voice is, the better. Sounding perfect is boring. It might be right for some things, but for this particular job, nah, I like the husky."
Her ultimate goal, though, is to pursue singing and acting separately. "I've been a good singer all my life," she says. "But I'm a good actress too. And sometimes the good fit takes over, and people don't think you can do other things. If I want to branch out into other areas, I have to be looked upon as a serious actress, and I think that won't happen until I start doing proper plays. So I think that's the next step, unless of course a musical comes along that's as rewarding to me as this one has been."
She'll keep singing, too. She's planning an album of her original compositions, many of which are autobiographical. The genre? "One of my friends said, 'Well, it's Southern Gothic Swamp, isn't it?" Cusack says. "I was like, 'Oooh, is that a category?' I'm sticking with it."
♦ ♦ ♦ ♦ ♦ ♦ ♦ ♦ ♦ ♦
'Bright Star'
Where: Ahmanson Theatre, 135 N. Grand Ave., L.A.
When: In previews; opens Oct. 20. 8 p.m. Tuesdays-Fridays, 2 and 8 p.m. Saturdays, 1 and 6:30 p.m. Sundays (check website or call for exceptions); ends Nov. 19.
Tickets: $30-$130 (subject to change)
Info: (213) 972-4400, www.CenterTheatreGroup.org
National tour: "Bright Star" plays in San Francisco, Nov. 28-Dec. 17, Salt Lake City, Jan. 12-27; and later dates in Houston; Worchester, Mass.; Raleigh, N.C.; New Haven, Conn.; Dallas; and Charlotte, N.C.
Support coverage of the arts. Share this article.
ALSO
MacArthur fellow Yuval Sharon: Director on how he will use his $625,000 award
In 'Runaway Home' at the Fountain Theatre, hurricane-battered lives hang in the balance
'Curve of Departure' at South Coast Rep: The dad, the ex, her son and his lover
Deaf West and Pasadena Playhouse populate 'Our Town' with fresh faces
---
From the Oscars to the Emmys.
Get the Envelope newsletter for exclusive awards season coverage, behind-the-scenes stories from the Envelope podcast and columnist Glenn Whipp's must-read analysis.
You may occasionally receive promotional content from the Los Angeles Times.