Angela Lansbury, Chris Pine, Rajiv Joseph: Favorite memories from 50 years of Center Theatre Group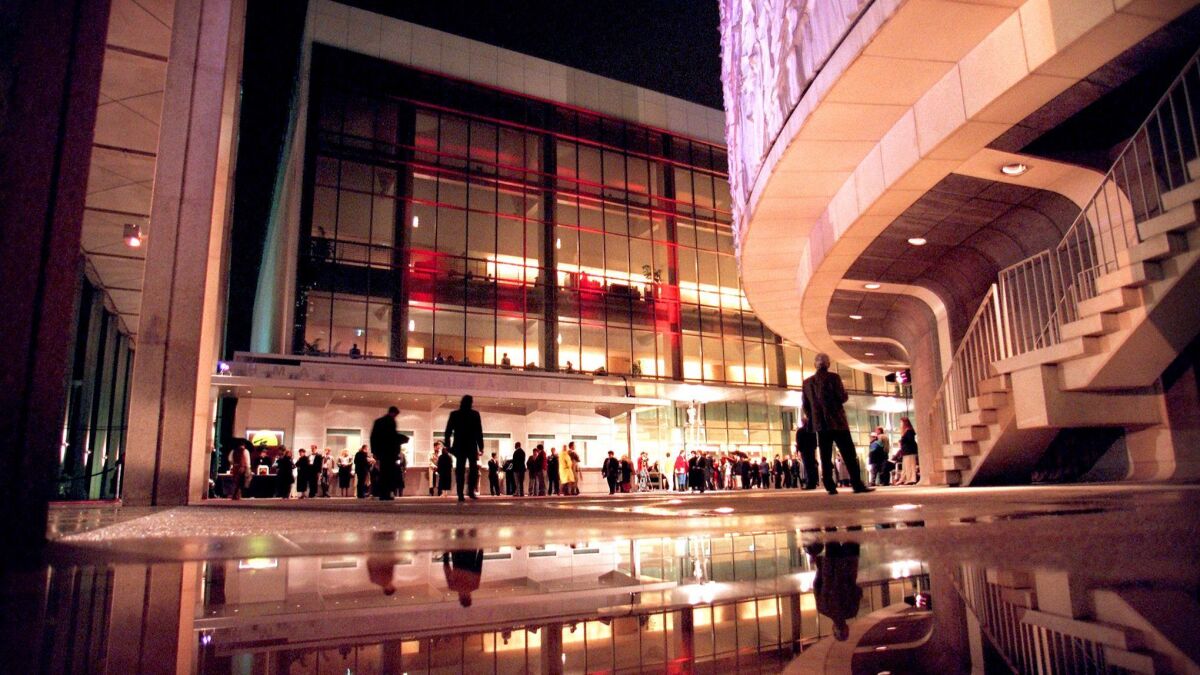 Fifty years ago, Los Angeles welcomed the Ahmanson Theatre and the Mark Taper Forum with a weeklong celebration marking the newest addition to the city's cultural center. Designed by Los Angeles architect Welton Becket, the Ahmanson and Taper joined the Dorothy Chandler Pavilion to complete the Music Center, the West Coast's answer to New York's Lincoln Center.
Gordon Davidson was the artistic director of the Taper, a position he would hold for nearly four decades. The Taper opened April 14, 1967, with Davidson's staging of John Whiting's provocative play "The Devils," starring Frank Langella. Under Davidson's leadership, the Taper would go on to produce and present groundbreaking theater, including the world premiere of Lanford Wilson's "Burn This" starring John Malkovich and Joan Allen, Tony Kushner's "Angels in America" and August Wilson's final play, "Gem of the Ocean."
Opening night at the Taper featured a star-studded gala attended by Kirk Douglas, Gregory Peck, Cesar Romero, Alfred Hitchcock, Paul Newman and Joann Woodward, Charlton Heston, Ray Bradbury, Glenn Ford, then-Gov. Ronald Reagan (who walked out during "The Devils," reportedly over the sexual content of the production), Dorothy and Otis Chandler, and theater namesake Mark Taper with his family.
A few days later, the Ahmanson opened with another starry gala, attended by Rosalind Russell, Greer Garson, Gregory Peck, Art Linkletter and financier Howard Ahmanson. Guests were treated to a performance of the Los Angeles Civic Light Opera's production of "The Man of La Mancha," starring Richard Kiley, which played before the Ahmanson's official premiere season launched in September with Eugene O'Neill's "More Stately Mansions," starring Ingrid Bergman, Arthur Hill and Colleen Dewhurst.
"If you want a master class in world theater, spend five seasons seeing shows at the Center Theatre Group, and you'll see the best artists that are working in their time," artistic director Michael Ritchie says.
Without a doubt, the Ahmanson and Taper have introduced, nurtured and hosted some of the finest actors and actresses, directors and playwrights in the world. We reached out to a few of them by phone and email, asking them to share their favorite memories, which have been condensed and edited for space.
---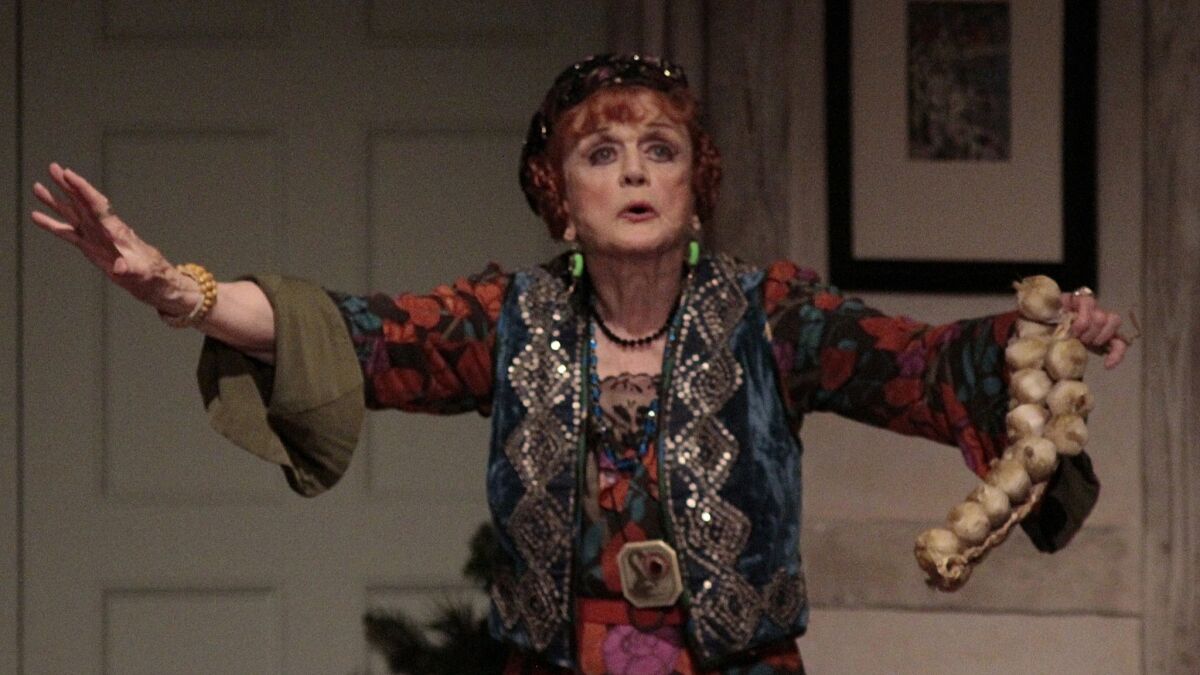 Angela Lansbury, actress
"A Little Family Business" (1982-83 season), "Blithe Spirit" (2014-15)
One of the things firmly entrenched in my memory is that it took me an hour and a half to get down to the Music Center from my house in Brentwood for every performance. And that was a pain in the ass, if ever there was one. I mean, I came back in a half hour, but going, it took me an hour and a half in packed traffic. You can't read because it makes me feel a little bit sick, reading in the car, so I would simply ooh and ahh at the traffic and hope that we'd make it in time.
But once you get to the theater, it's extraordinary. A calm descends over you. Your dresser meets you at the door. You go in your dressing room. Your makeup is there. Your costumes are hanging up there. Your whole world is in front of you, ready for you to walk in and take on this role that you're going to play. It's extraordinary.
It all has to do with the energy to do the job at hand. The excitement that one feels when you're going to play an important role and that you're expected to entertain an audience you've never seen or spoken with or had any dealings with before. Suddenly you get out there on the stage. The curtain goes up, and you're on. Then you do what you know how to do. That is how one is able to bring off a performance on a day when you've come through a lot of traffic and it takes you an hour and a half to get there. Life takes care of itself.
---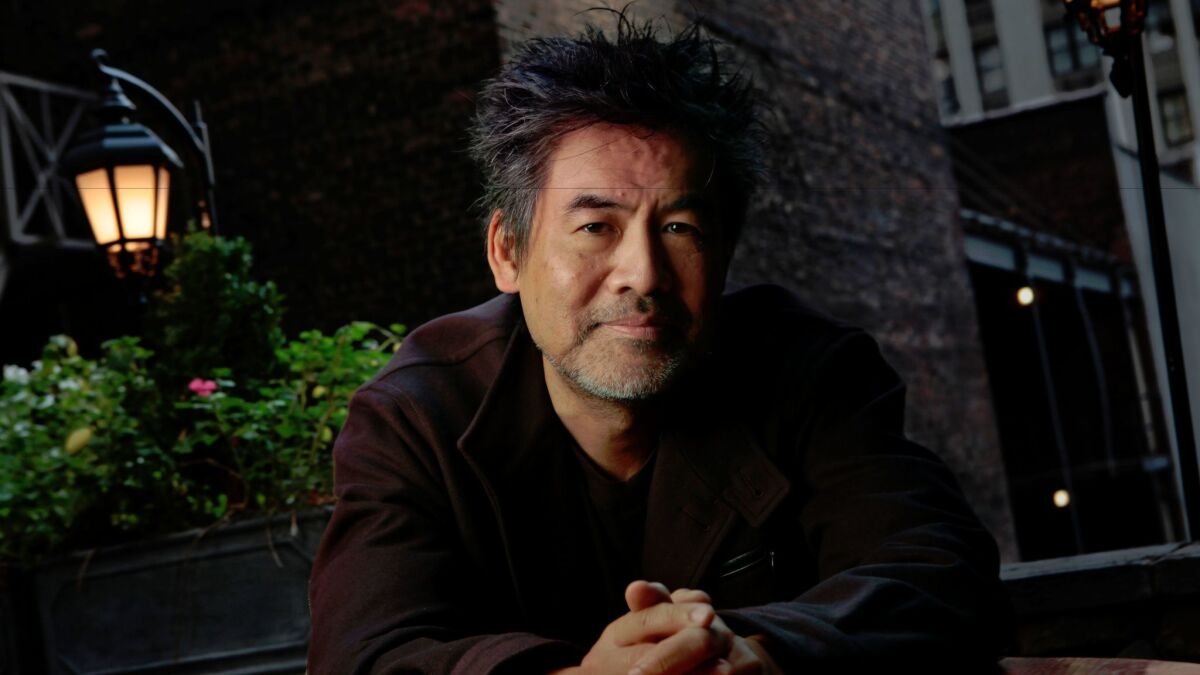 David Henry Hwang, writer
"Aida" (2001-02), "Flower Drum Song" (2001-02), "Yellow Face," (2006-07), "Soft Power" (2017-18)
In 2001 we were rehearsing for the world premiere of my revised version of Rodgers & Hammerstein's "Flower Drum Song," which was receiving its world premiere at the Taper. Things were going well, so I decided to go to New York for a few days and see my family.
I left L.A. on Sept. 6, intending to return on the 13th. So I was home in Manhattan on Sept. 11. I was very fortunate to be with my wife and children when the towers fell, but couldn't get a flight back to Los Angeles until the following week. Much of the cast and creative team was New York-based, so we all mourned together along with the rest of the nation.
On Oct. 14, our opening night gifts were red, white and blue ribbons, personalized with the name of our show.
---
Matthew Broderick, actor
"Brighton Beach Memoirs" (1982-83), "Biloxi Blues" (1984-85)
Places are always colored by the experience you have in them. I had a wonderful time there because it was my very first lead in a play, "Brighton Beach Memoirs," a Neil Simon play.
Charlton Heston came backstage when I did "Biloxi Blues." He said, "Oh I had this dressing room." I think he had done "A Man for All Seasons" there. He said, "Do you have a fridge?" And I said, "No." And he said, "Oh, you should have a little fridge. I had a little fridge. Make sure they get you a fridge." And when he was leaving, he said it again, "Get that fridge." It was very important to him.
When I did "Biloxi Blues," I remember throwing up in the wings. I ate Mexican food nearby after a matinee, and at the evening show I started to not feel well. Between Act 1 and Act 2, I really didn't feel well, but they said, "You'll be all right." I went on for Act 2, and I made it as long as I could. Where the sergeant was staring me in the face, challenging me to do something, and I just ran away. I ran into the wings and threw up, mostly in a large trashcan, stage right, just past where the audience could see.
People put another shirt on me. As I was coming to, I remember hearing the actors on stage improvising. They were just talking about nothing. It was men in a barracks saying, 'Wow, the sergeant sure seems mad." "I wonder what will happen now." I guess that's part of my experience at the theater — I marked it. After I threw up, I felt better, and I went back on. Everybody was very concerned. I forgot about a third of my lines after that, but everybody helped me out. I don't think the audience knew; they probably thought the character was running off, being upset or something.
---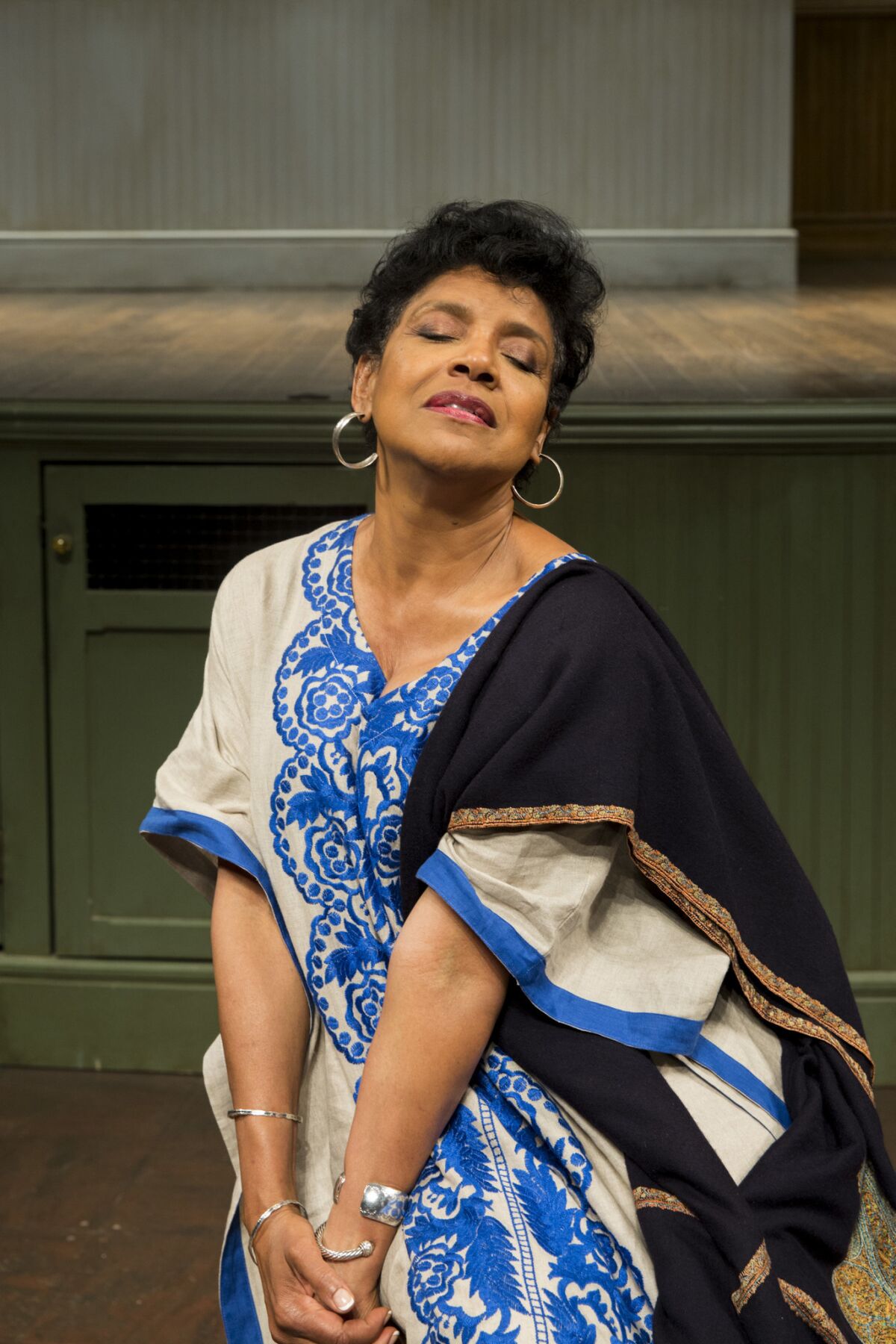 Phylicia Rashad, actress and director
"Gem of the Ocean" (2002-03), "A Raisin in the Sun" (2012), "Joe Turner's Come and Gone" (2013), "Immediate Family" (2015), "Ma Rainey's Black Bottom" (2016), "Head of Passes" (2017)
In a production, depending on what's going on, you need certain things. For "Ma Rainey's Black Bottom," one thing that became clear to me was that it was important that the actors play the instruments in the play. That meant something, because they're not musicians. There's one who was a musician, Damon Gupton. He is actually a conductor of concert orchestras all over the world. The other actors were musical — like Keith David has performed in many musicals, but he never played the bass in his life. Glynn Turman has a piano that he said was in his house for 22 years that he never touched. Jason Dirden studied trumpet as a little boy, but he hadn't been playing the trumpet. So we had to prepare for this, and how you prepare for this is to say, "OK, well you've got to find instructors for each of these instruments, for each of these actors."
The staff and administration never said no. This is what needs to happen; this is how many times a week this needs to happen. OK. We had planned for training to be longer than it was but because of the schedules of the actors, it didn't amount to more than about three weeks, maybe, before rehearsals. I'm telling you, it was very tight. But the theater staff never said no.
---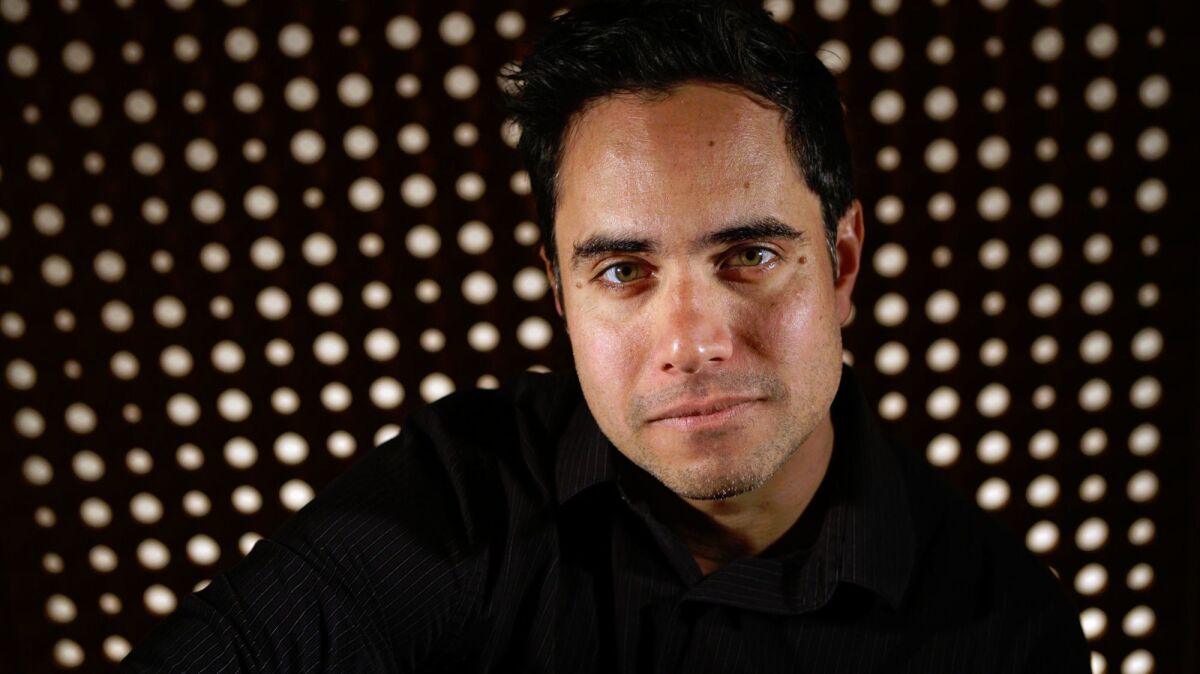 Rajiv Joseph, writer
"Bengal Tiger at the Baghdad Zoo" (2008-09 and 2010) and "Archduke" (2017)
I first came here in 2009, when we were doing "Bengal Tiger" at the Kirk Douglas. When I look back on that time in my life, it was really intense because it was my first really big production. Up until then, all my productions had been in tiny theaters in New York with 99 seats; here I had this 300-plus-seat theater, this major regional theater, and it was this play that I had been working on for so long.
They were housing me in Marina del Rey in the Oakwood Apartments.
I would go swimming every morning and go to rehearsal, and then I would write intensely until late in the night and then pass out. It was this really creative experience, but I was also stressed out. I was nervous that the play wouldn't be well received.
I had been there maybe six or seven weeks, and I had three friends who were coming in to see a preview. They were staying with me, all crowded into this little apartment. I knew that they would want to go to the beach, so I went to the front desk of the Oakwood and said, "Hey, how do you get to the beach?" And the guy was like, "Um, it's like right there. You can see it from here. It's like 40 feet away. You've been here six weeks but you're asking me how to get to the beach?" I had been so intensely in my work that I didn't even know that was here.
That theater is such a special place, not only because it's such a great theater, but that it was an old movie theater is really special. I remember seeing the name of my play up in lights like that. Even though it was live theater, it felt really Hollywood and apropos to have my first big play in a former movie theater in L.A.
---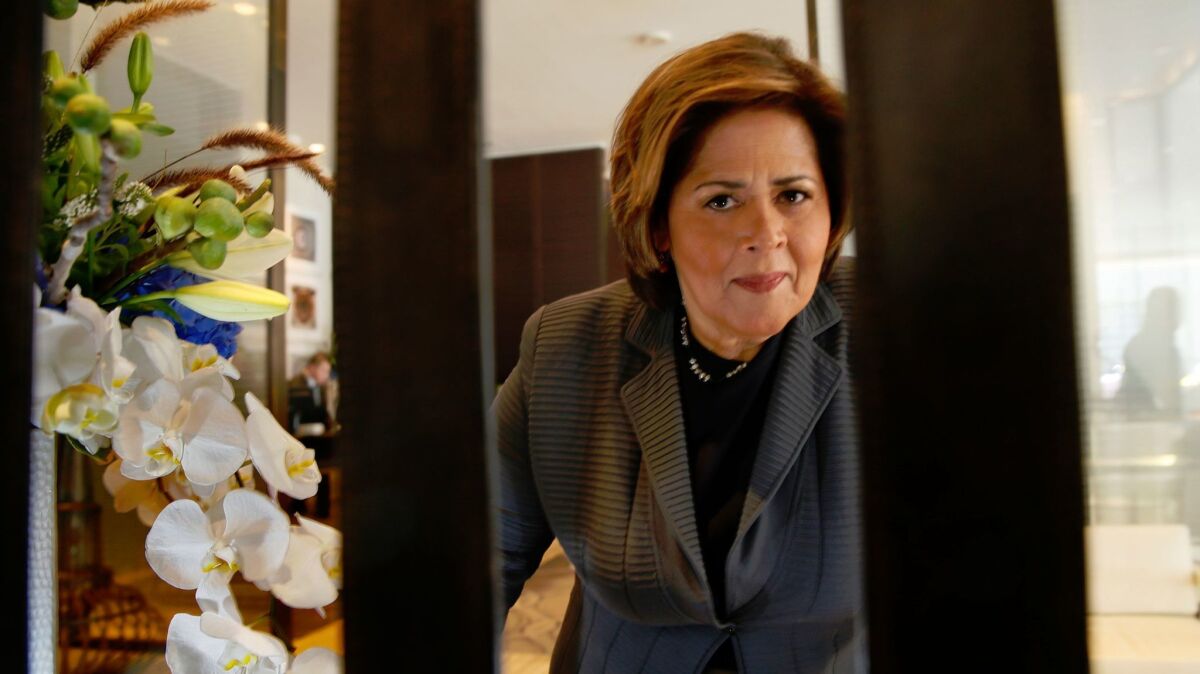 Anna Deavere Smith, writer, actress and director
"Twilight: Los Angeles, 1992" (1992-93), "House Arrest: An Introgression" (1998-99)
While I was writing "Twilight Los Angeles 1992," my play about the L.A. riots, the Taper hired a variety of consultants, each representing a different ethnic group and perspective about the riot. Their jobs entailed introducing me to folks all over L.A.
After performing each preview, I went home and revised the play. Before doing so, I met with the consultants and the creative team. The city was still on edge, and so were these "dramaturges," as we called them. We should have sold tickets to those discussions. All over town people were anxious that there might be another riot, depending on the outcome of the second trial — the federal trial of the four police officers who beat Rodney King.
Hector Tobar, now a Pulitzer Prize-winning journalist [formerly with The Times], was among those consultants. On the morning of the "second" verdict, I got an urgent call from Hector, who was down at the courthouse with gas masks in his car, including one for me. I went inside the courtroom to hear the verdict, sans gas mask.
It amazed me throughout the project that the Taper opened its door to all kinds of talent and perspectives from the communities around the city. As a result of that, throughout the project I felt an enormous generosity coming from the citizens of Los Angeles, in all kinds of ways, who wanted me to know their story and their city. The Taper's radical hospitality at that moment made it possible.
---
Chris Pine, actor
"The Lieutenant of Inishmore" (2010)
Working in Los Angeles at the Taper was a joy. It was just down the road from where I was living at the time in Silver Lake, and I was working for Michael Ritchie, who ran the Williamstown Theatre Festival the first summer I was there. My mom was a part of the Taper's brief repertoire company in the late '60s, so there was a special resonance there on the stage.
During Act 2, I end up all the way down stage, nearly in the audience, holding my dear ol' dead cat, crying my eyes out. I'm there for a while. One night, most likely a matinee, actually (it seems to always be the matinees when something interesting happens), two older ladies right in front of me are yelling to each other about how disgusting the show was (there was a copious amount of fake blood on the gimbaled stage, which was built especially for the purposes of draining it) and wondering why anyone would put on this play or why anyone would want to see it. As they're yelling, they step over me on their way out. Not exactly proper theater etiquette, but I loved it just the same. It meant we were doing something right.
I loved doing that play and, especially given how provocative a piece it was, every single performance pulled something unique and different from the audience.
---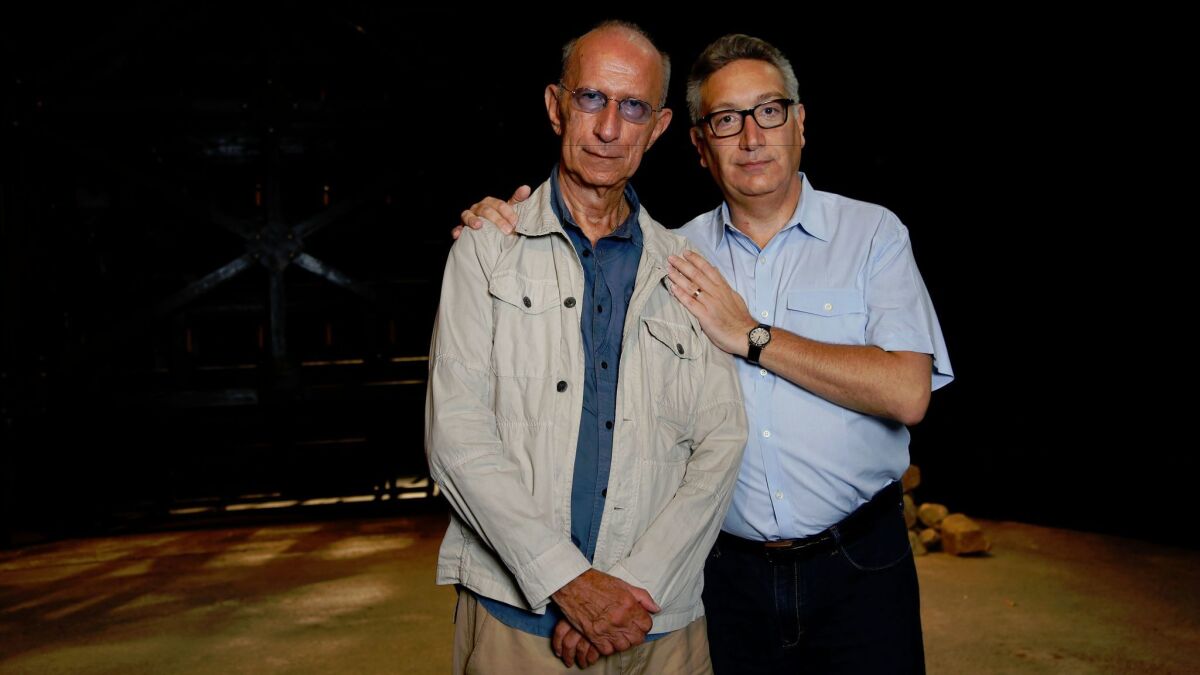 Moises Kaufman, writer and director
"Gross Indecency: The Three Trials of Oscar Wilde" (1997-98), "The Tallest Tree in the Forest" (2014), "Bengal Tiger at the Baghdad Zoo" (2008-09, 2010), "33 Variations" (2011), "Bent" (2015)
We opened "Gross Indecency" at the Barrow Street Theater in New York in 1997 to a 99-member audience. Up to that point, Tectonic Theater Project had been an ambitious young experimental company few people in the New York downtown theater scene knew about. But when "Gross Indecency" succeeded, our world changed. And the first person to invite us to do our work at a regional theater was Gordon Davidson. We were a 7-year-old company, and working at the Mark Taper Forum was a dream come true. But then, CTG really ruined us in a lot of ways: Never before had we been immersed in an environment that welcomed and nurtured artists with such love and support. From the artistic director to every member of the administration and the crew, the entire CTG family took care of us. They supported our vision and never failed to lift us up.
Then Michael Ritchie took over and brought the entire organization to new heights. I went on to direct three more productions at CTG under his artistic direction — and whether I was developing a new play or re-imagining a pre-existing one, the theater has remained one of my favorite places in the world to do the work.
At CTG I helped welcome Jane Fonda back to her hometown stage ("33 Variations"), I watched Sidney Poitier gush to Daniel Beaty about his portrayal of Paul Robeson ("The Tallest Tree in the Forest"), and I celebrated with Rajiv Joseph as "Bengal Tiger" was nominated for the Pulitzer Prize. CTG is a cherished home for me, and one of the best artistic assets of our country. I am so proud and delighted to celebrate 50 years of CTG. Here's to 50 more.
SIGN UP for the free Essential Arts & Culture newsletter »
Follow The Times' arts team @culturemonster.
ALSO
CTG at 50: Artistic director Michael Ritchie plots the second act (Hint: Think Hollywood)
CTG at 50: The guy who knows all the Mark Taper Forum's secrets
The duel is on: CTG to launch 'Spamilton,' the hit 'Hamilton' parody
---
Get our L.A. Goes Out newsletter, with the week's best events, to help you explore and experience our city.
You may occasionally receive promotional content from the Los Angeles Times.