First 'Detroit '67,' then 'Shameless,' now a Temptations musical: Dominique Morisseau's star rises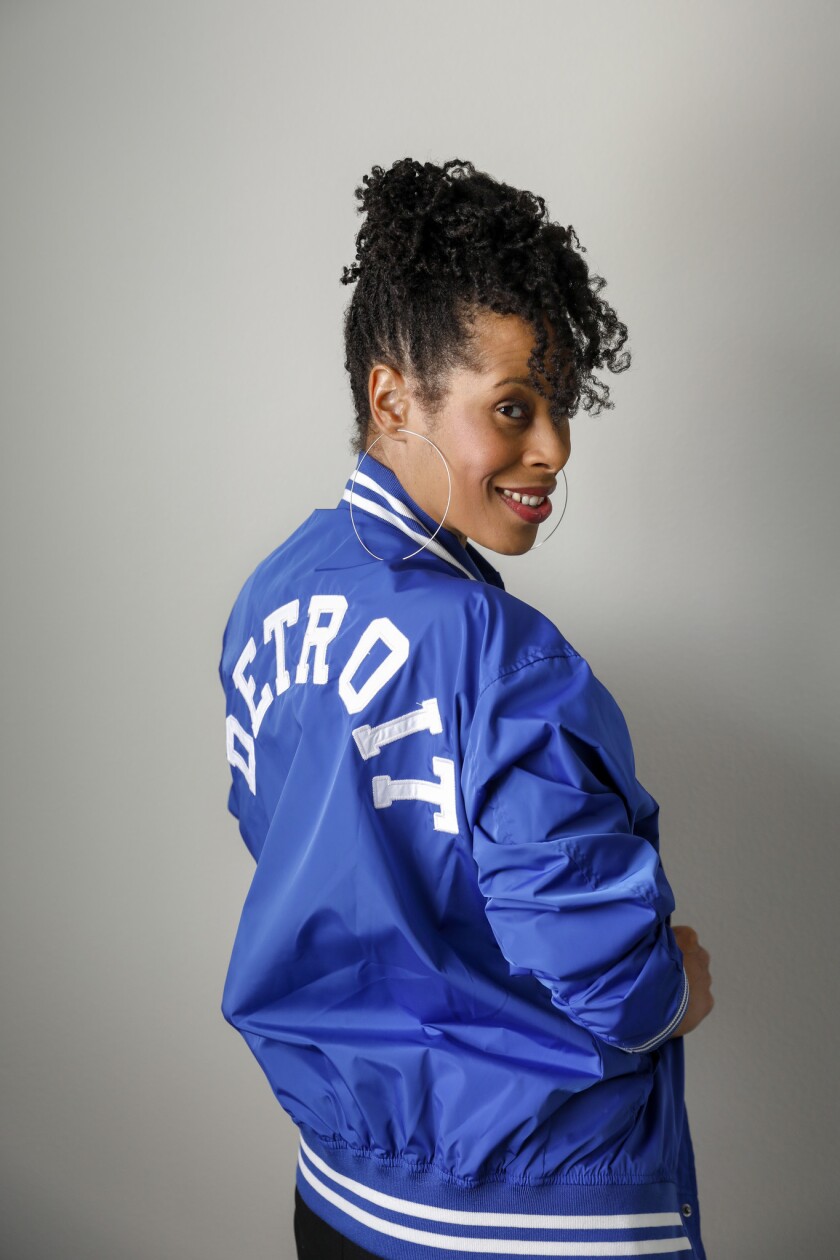 She wrote the novellas on lined school paper. She'd fold them into little booklets and pass them around to the third- and fourth-graders at Bates Academy in Detroit. They were titled "The Cabbage Patch Kid Mysteries," and kids began asking when the next installment was coming.
Their author, Dominique Morisseau, enjoyed the attention and played the part of budding author to a T. When she was 7 and vying for a juicy role in her school's annual Black History Month show, she was cast as an understudy — but drama became her heart and soul.
That Morisseau is now a playwright surprised exactly nobody in her life. Nor did her success in a notoriously competitive field. Morisseau's determination defines her, say those close to her.
Everybody deserves to have their story fully told.
— Dominique Morisseau
They call her a fighter and say she will stand in the eye of the storm and hold her ground when she believes in something — that she is as much of an activist as she is an artist.
It is these qualities that have brought Morisseau to this moment in her career: A respected playwright for years, she is now a name playwright, a rising star. She ranked No. 5 on American Theatre's list of the 20 most-produced playwrights of 2017-18 — one spot above Arthur Miller — and her first musical, "Ain't Too Proud — The Life and Times of the Temptations," opened Friday at the Ahmanson Theatre after runs at Berkeley Repertory late last year and the Kennedy Center in Washington, D.C., this summer. Broadway is likely next.
People look at her now and think she had some sort of meteoric rise, jokes Morisseau, but she has been in the playwright trenches since moving to New York City just after 9/11 in 2001. She worked for a time as a teaching artist for an educational theater company in Queens alongside a then-unknown Lin-Manuel Miranda.
She eventually earned a spot in the Public Theater's emerging writers group, as well as with the Eugene O'Neill National Playwrights Conference. A Playwright of New York Fellowship came with a stipend and an apartment in the city for a year, a plum setup that allowed her to concentrate solely on her writing.
"I met a New York that was in mourning, and a very benevolent New York," she says, sitting on the couch in her home office in Van Nuys on a recent sunbaked afternoon. "And that's the New York I've kinda always known."
She fell hard for New York, but she never renounced Detroit. People who leave Detroit, she says, carry the city like a shield on their backs. It protects them, but they also protect it. The city Morisseau loves has been so maligned over the years that she feels a responsibility to it as a hometown scribe. Her breakthrough play in 2013, "Detroit '67," examines the race riots of 1967 through the eyes of siblings running an after-hours club devoted to Motown music.
That play became part of a three-work cycle called "The Detroit Project" that includes "Paradise Blue" and "Skeleton Crew," which wrapped a run at the Geffen Playhouse in July. Each play touches on the sociopolitical and economic underpinnings of the Motor City and strives to give voice to often marginalized people.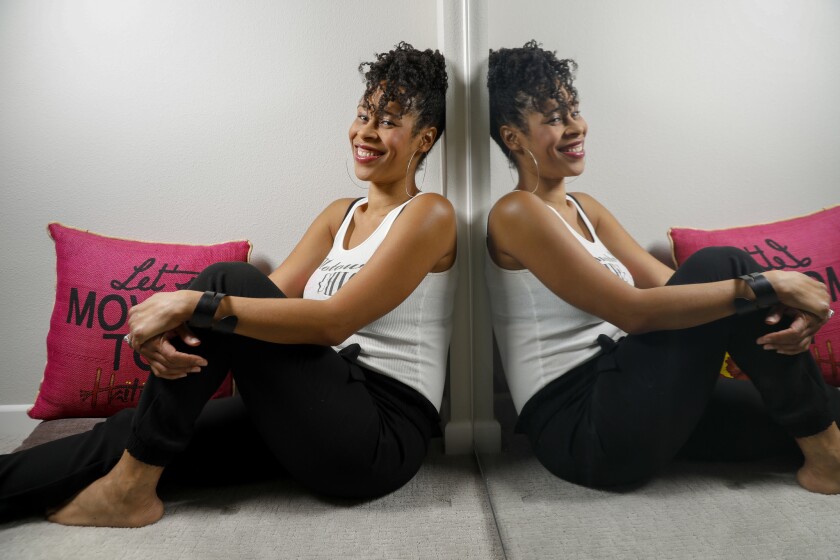 "Everybody deserves to have their story fully told," Morisseau says. "I write about the people I love, or that I'm very curious about, and I'm going to investigate those people. … If I don't get them right, if I fail them, or over-explain them, I'm doing them a disservice and it feels unfair."
In a review of "Skeleton Crew," Times theater critic Charles McNulty called Morisseau "one of the rising talents in American drama," adding that the play, which takes place inside a soon-to-shutter auto plant at the start of the Great Recession, "is a powerful drama about workers, the value of their work and what happens to society when that work is taken away."
"Ain't Too Proud" also dives into the complex world of Detroit as it details the sacrifice, pain and triumphs behind the rise of the Temptations, who are played by Derrick Baskin, James Harkness, Jawan M. Jackson, Jeremy Pope and Ephraim Sykes. Some might call it a jukebox musical, but director Des McAnuff sees that label as a bit dismissive. He says it would be more accurate to describe the show as a biography.
Morisseau, he says, has successfully taken the history of the band and fit it succinctly into a show that is much more than a musical revue. The Temptations and Detroit are in her DNA, and that allowed her to make story choices that might not have been apparent to a writer less versed in Motown.
"I love her words," McAnuff says. "She puts the right words in people's mouths. Not only are they authentic, but there is a poetry to her writing that works when you're up against lyrics."
Morisseau has not shied away from embracing the cultural dialect she grew up around — the rhythm and cadence of language used in the African American community of her childhood. The title of black female playwright can feel very heavy, indeed, she says. The title is wrapped up in responsibility, not just to herself, but to a community, and the often-fraught racial forces that shaped her.
Morisseau grew up in a working-class neighborhood. Her mother taught at an inner-city elementary school and her father was disabled following a stroke at age 35. Her father is from Haiti and displays what Morisseau describes as a "very old-school Caribbean machismo."
"I am like his wrath come upon him," jokes Morisseau, referencing her feminism and progressive ideals.
Her mother, Linda Morisseau, describes her as her father's kindred spirit — both type-A personalities and extremely feisty.
"She has surprised me," Linda says. "I always knew she had a passion for what she was doing, but a lot of what happens in theater is about timing and getting breaks. She has worked very hard to get to where she is."
Morisseau's role models in Detroit — the teachers, doctors, lawyers and activists — were all black. She saw reflections of herself in leadership positions all over the city. It was, she remembers, an ideal childhood. College, however, proved a bit of a wake-up call.
The writers Morisseau studied while earning her bachelor's degree in theater at the University of Michigan were, Morisseau says, "old white men, dead or alive," and in the department's shows she was relegated to roles in the one show per year helmed by a black director.
She expended great energy trying to find a space where her voice, as a woman of color, would truly be heard, says her husband, the hip hop artist J. Keys, who met her in college.
"A black woman's voice is an asset if it is used correctly instead of being whitewashed or made to fit into another box," Keys says. "In hindsight I think what she was searching for was more work that would let her be what was first nature to her."
That quest led Morisseau to write a play for herself and the two other black actors in the theater department. The title: "The Blackness Blues: Time to Change the Tune, A Sister Story." If that conjures thoughts of Ntozake Shange's 1976 play, "For Colored Girls Who Have Considered Suicide / When the Rainbow Is Enuf," that's no coincidence, Morisseau says.
She had been studying Shange and was greatly inspired by the poet, playwright and feminist. She also found purchase with August Wilson and George C. Wolfe, whom she counts as a friend.
When Morisseau arrived in New York, she was introduced as a "poet playwright from Detroit" to an aspiring director and producer named Kamilah Forbes, who was running a hip-hop theater festival that later staged a reading of Morisseau's work.
"She loves her people so intensely, and you see that in her characters," says Forbes, who is now the executive artistic producer of the Apollo Theater in Harlem. "She gives them space to breathe and exist in all their beauty, flaws and fullness."
Morisseau, Forbes says, possesses a fearlessness that propelled her forward at a time when there weren't many women of color playwrights being produced at all.
"We could count them on one hand," she says.
But Morisseau has broken through, not just in theater but on TV, as a writer and co-producer for the Showtime series "Shameless" who has more projects in development with FX and HBO.
Success has upped the ante for Morisseau, who says that as a known artist it has become more complicated to represent women and people of color. She wonders how long she will have to explain the same things about herself, or the people she writes about, before her audience decides to take a journey with her.
"My liberation as a writer is when I am not writing under a white gaze, but I am also not writing under a black gaze," she says. "I'm actually writing under my gaze."
♦ ♦ ♦ ♦ ♦ ♦ ♦ ♦ ♦ ♦
"Ain't Too Proud — The Life and Times of the Temptations"
Where: Ahmanson Theatre, 135 N. Grand Ave., L.A.
When: In previews through Thursday; opens Friday. Performances 8 p.m. Tuesdays-Fridays, 2 and 8 p.m. Saturdays, 1 and 6:30 p.m. Sundays (check for exceptions); ends Sept. 30
Tickets: $30-$145 (subject to change)
Information: (213) 972-4400, www.CenterTheatreGroup.org
---
Get our daily Entertainment newsletter
Get the day's top stories on Hollywood, film, television, music, arts, culture and more.
You may occasionally receive promotional content from the Los Angeles Times.