In 1890 tobacco tycoon Abbot Kinney set out to transform marshland about 14 miles west of downtown Los Angeles into the Coney Island of the Pacific. He imagined a resort with amusement piers, casinos, Venetian-style canals and blue lagoons dotted with gondolas.
In the decades that followed, the oceanfront boardwalk in the community of Venice Beach has seen an oil boom, raging pier fires and more, eventually earning its reputation for a circus-like atmosphere of performers, mystics, artists, vendors and tourists.
Street photographer Dotan Saguy has been documenting it all for three years, capturing what he sees as the final vestiges of a dying society. With skyrocketing rents changing the neighborhood's culture and character, Saguy has compiled images of transient hippies, tattooed skaters, body builders, surfers and vagabonds for the forthcoming book, "Venice Beach: The Last Days of a Bohemian Paradise," published by Kehrer Verlag.
"I felt more connected to Venice's inclusiveness and its opened-minded, free-spirited people," said the Israeli-born former tech entrepreneur, who added that his goal has been to find insight in the beautiful, eclectic chaos.
The book's cover shows Jenna, a blond, bikini-clad snake tamer in something of a classic, surreal Venice scene. Later in the book, though, Saguy's photos show Jenna and her 6-year-old son fighting an eviction notice. Other images capture lighter moments, such as when a man named Jingles in a mohawk hat preaches the vegan lifestyle to a pregnant young woman.
"Everyone comes to Venice to be seen and entertained, which made it easier to approach and hang out with the hippies and homeless," Saguy said. "I was able to create relationships, which helped me get beyond the circus."
Saguy has a presentation scheduled for noon-2 p.m. Sunday at Leica Gallery in West Hollywood. A reception and book signing are slated for 5 p.m. Aug. 11 at Venice Arts in Marina del Rey.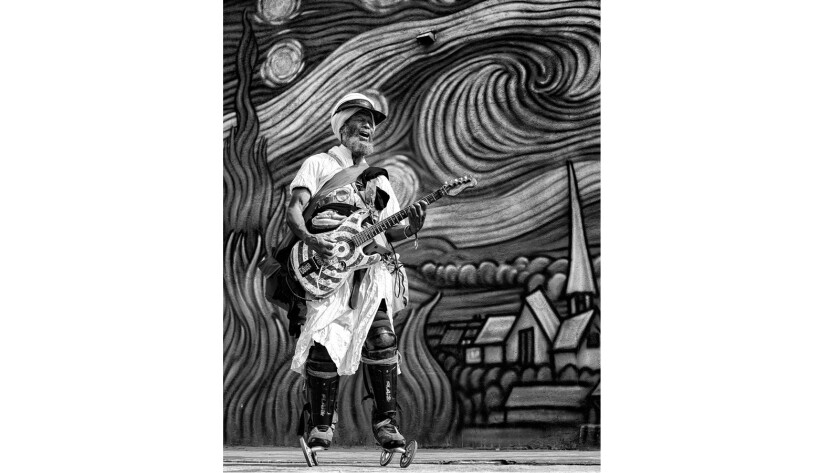 See all of our latest arts news and reviews at latimes.com/arts.
---
UPDATES:
9:30 a.m.: This article was updated with a new time for the Leica Gallery event on Sunday.
---