The godfather of Chicano art — and the son who's keeping his memory alive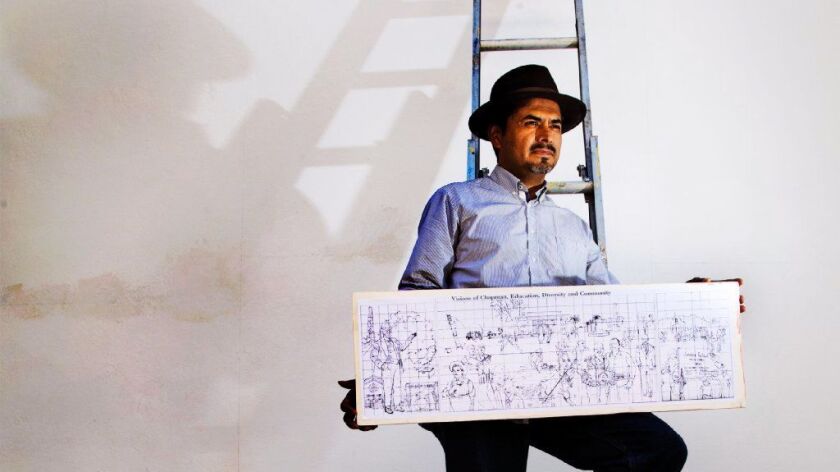 It was 1979 and Emigdio "Higgy" Vasquez was 11. His father, Emigdio Vasquez, often called the godfather of Chicano art in Orange County, drove him to a mural he was painting in the working-class, largely Mexican American Cypress Street neighborhood close to where they lived; many residents worked at the fruit packing house down the street. Vasquez's mural, on the side of an apartment building garage, depicted the faces of Chicanos: Cesar Chavez, citrus farmers, rail workers, miners.
The elder Vasquez mixed the goopy paint and put a brush in his son's palm.
"That was the first time he felt I could do it. I was a little bit nervous," Higgy says. "He told me not to paint outside the lines. I painted the face of a pachuco, the hipster of the time."
More than four decades later in 2013, Higgy — by then married, living in Santa Ana and an artist in his own right — returned to his childhood neighborhood to restore his father's work. The mural's bright orange, red and royal blue had faded from the sun, and the underlying concrete wall was crumbling. The elder Vasquez was suffering from dementia and would die within a few months. But not before Higgy drove him, one last time, to the mural.
Higgy put a paintbrush in his father's palm and gave him directions: Touch up the pachuco that Higgy had painted as child.
"He hadn't painted for two, maybe three years," Higgy says. "But I put a brush in his hand and he just did it like nothing. He didn't talk a lot, but he sat there for almost three hours painting like time had never gone by."
Now fully restored, "El Proletariado de Aztlán" (The Proletariat of Aztlán) anchors a Chapman University exhibition about Vasquez's work. The show, "My Barrio: Emigdio Vasquez and Chicana/o Identity in Orange County," is the university's offering for the Getty's Pacific Standard Time: LA/LA, a coordinated exploration of Latino and Latin American art at dozens of institutions across Southern California. "My Barrio" also includes a gallery exhibition of Vasquez's oil paintings on view with contemporary works by eight other L.A. artists; photographs, articles and other artifacts in the student union giving social and historical context to Vasquez's work; and a new iPhone app for self-guided tours, created by Chapman students, mapping all 30 of Vasquez's Orange County murals.
"He found his voice by painting people," says Higgy, now 49. "He really liked that, the human experience. And his medium was the Hispanic community."
As part of the exhibition, Higgy will create a new mural that's both an assertion of his own style and a tribute to his father's work. He'll work on "Visions of Chapman: Education, Diversity and Community," about Chapman University history, over six months on a wall that faces the entrance to the university's Guggenheim Gallery. Visitors can stop by and watch him paint.
Higgy's mural, like his father's work, is a pastiche of scenes and figures over different time periods, he says, showing sketches of the work at the mural site. When it's completed, the triptych will depict university namesake Charles C. Chapman along with Nobel laureate and university presidential fellow Elie Wiesel, students and notable alumnae. One section pictures a Cypress Street festival that Higgy based on his old family photographs. His mother, little sister and uncle appear in it.
"I wanted to paint a new mural, add my work to the neighborhood," Higgy says. "I always see this as my neighborhood too, because I played here as a kid, had friends here."
The mural will be painted on cloth-like material that will be affixed to the wall, so that it's more durable and can be portable. Higgy was able to create the mural with $30,000 from a university donor. The 2013 restoration was made possible with $30,000 funded by the university.
"It was such an emotional time," Higgy says of the roughly five-month restoration process, in which his brother and one sister painted with him one day, side by side, while sharing funny stories about their father.
The mural still hangs on the garage wall of the apartment complex.
The Guggenheim Gallery portion of the Chapman show will display works including oil paintings, sculpture, photography, neon signs and video installation. Corrugated cardboard sculptures of buildings by Ana Serrano, neon signs of the words "Rise" and "United States of America" by Patrick Martinez, and a woman's portrait on a wood panel by Shizu Saldamando all address themes in the elder Vasquez's work, such as community, family and identity.
"It's the idea of the barrio and how these people define themselves and what makes a community," says co-curator and project director Natalie Lawler, who adds that the guiding quote for the whole project came from Vasquez himself. "He said that when he was in high school, the art he was taught had nothing to do with his life here, so he decided to create his own work that was personal and relevant to his life in the barrio."
The student union exhibition is dedicated to the history of Chicanos in Orange County, with information about school segregation in the area. It also includes a 10-foot-long annotated reprint of Vasquez's "El Proletariado de Aztlán," with detailed information about images and people in the work.
"The idea of Chicano was really popular during the '70s," Higgy says. "When he was painting that, there was a movement to sort of reclaim our history and looking at it in a different way."
Meanwhile, Higgy hopes to complete his own mural by spring.
"I have no illusions about trying to re-create what my dad did with his career. It was his own special thing," Higgy says. "My mural is different; it speaks more to the university and its accomplishments and the careers of its graduates."
And yet, the two works are artistically and thematically connected.
"They're similar in the technique and style of social realism," Higgy adds. "And, in the end, we're both definitely memorializing the Cypress Street neighborhood."
♦ ♦ ♦ ♦ ♦ ♦ ♦ ♦ ♦ ♦
'My Barrio: Emigdio Vasquez and Chicana/o Identity in Orange County'
Where: "El Proletariado de Aztlán" at 442 Cypress St., Orange; Vasquez oil paintings at Guggenheim Gallery at Chapman University, Orange; photos and other artifacts in the student union at Chapman.
When: Sept. 13-Jan. 5
Price: Free
Info: www.chapman.edu/pst
Follow me on Twitter: @debvankin
---
From the Oscars to the Emmys.
Get the Envelope newsletter for exclusive awards season coverage, behind-the-scenes stories from the Envelope podcast and columnist Glenn Whipp's must-read analysis.
You may occasionally receive promotional content from the Los Angeles Times.