Hal Linden returns to the stage for 'The Fantasticks,' the longest-running musical in history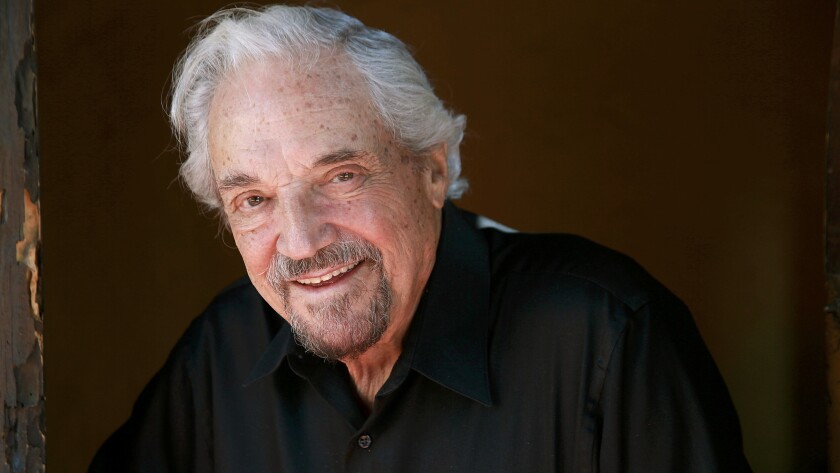 Hal Linden, 85, acknowledges he's not the most disciplined human being — and that turned out to be a good thing for his career.
"If I had discipline, I would have been a professional musician," said Linden, who played the clarinet in big bands. "Today, I could be making hundreds of dollars a week. I got sidetracked into theater."
Making his Broadway debut opposite Oscar-winning actress Judy Holliday nearly 60 years ago in the musical "Bells Are Ringing," Linden won the Tony for lead actor in a musical in 1971 "The Rothschilds." But he's best known for his Emmy-nominated turn in "Barney Miller," the acclaimed ABC sitcom (1975-1982) about a detective squad in Greenwich Village.
SIGN UP for the free Essential Arts & Culture newsletter »
Since then, Linden has appeared in countless TV shows and specials, movies, theater and concert performances. He's currently in rehearsals for "The Fantasticks," the longest-running musical in history. It begins previews Sept. 6 at the Pasadena Playhouse. The allegorical story revolves around two neighboring fathers who trick their offspring, Matt and Luisa, into falling in love. Linden plays an old actor named Henry who is hired along with his fellow actor Mortimer to stage a mock abduction of Luisa.
During a break in rehearsals the spry and charming Linden chatted about "The Fantasticks" and his career.
Had you ever done "The Fantasticks" before?
Nope. I saw the original.
With Jerry Orbach?
Yes. At that point, he was Jerry Orbach and I was an understudy. Eventually Jerry and I were competitors on Broadway, leading-man competitors.
How would you describe Henry, your character?
The kind of wonderful thing about Henry is that there are really no bounds. He can be anything. He can be everything. He can be over the top, because he is. We keep adding to him every day.
Are you adding business for him to do?
No, not just business, attitudes. A line can be literal or it can raise a question. There's a mine-full of stuff to do and it's all valid. That's the wonderful part about it.
When you do a play — and I'll get philosophical here, actor-philosophical — the function of a character is to fulfill the play as the author intended it or as the director envisioned it. The first question you always ask is, how does my character affect what happens and how should it affect what happens? That's the basis for all choices you make. His character is kind of outside the story, so anything goes basically. I don't have that limitation.
It's refreshing that this is basically a colorblind production.
El Gallo is black. The lovers, the boy is WASPy-looking, the girl is Asian. I have no idea what her background is. The Asian girl's father is black, and the boy's father is Japanese. It works and in a sense points out the universality of this little story.
Why do you think "Fantasticks" continues to enchant audiences?
It's a simple little story about truth, about life and love. The first act is the picture version that we get, the sanitized version we get, and the second is about what really happens in life.
You've played the clarinet in big bands, starred for years in "Barney Miller" and do concert performances. But I sense the theater is your big love.
The most-asked question that I get is which do you prefer, theater, television, movies, or performance? I used to say all of the above and leave it at that. Truth be told, what I like best is rehearsal — going in there, taking words on a page and fleshing it out and making it live. That to me is the creative part. Doing the show is fun because you get audiences that tell you how wonderful you are.
How did you go from doing Broadway to star in "Barney Miller"? Did [co-creator and executive producer] Danny Arnold see you in "The Rothschilds"?
Exactly, Danny did. I've heard different versions, but I think Danny told me that it was only pure accident that he went. His children had come [to New York] for Christmas, he was shooting a picture. He didn't have time to be with them, so he put them in a limousine with a stage manager and they took them to a Knicks game, they took them to a hockey game, they took them to a trip around the island, just to keep them busy until the evening when he could spend time with the kids. One day, the kids objected. They wanted to be with him. He got in the car, and he went where they were scheduled to go, which was "The Rothschilds."
Two and a half years later, when the time came to cast "Barney Miller," and the network sent him a list of who they thought would do well as Barney Miller, he said "No, I saw this actor in New York," and that was it. I never auditioned for it. He just called and made a deal.
Were you reluctant initially to leave Broadway for television?
[Danny] had a track record. He made it sound interesting, so I was interested in doing it. The truth is, that pilot did not sell, so I was back on Broadway. That season, I had an offer to do a Broadway musical and then all of a sudden, he somehow managed to get the network to go for two more episodes, two more pilots basically. He called and said, would you do it?
So how did you make your decision to leave the musical and take a chance on "Barney"?
The truth is, it was entirely cavalier. I couldn't make my mind up. The Broadway producer finally said, "Close of business Friday, I've got to know." I remember sitting in my manager's office, he sat behind the desk and said you got to make a decision. I'll quote myself. I said, "We did Broadway, let's try television."
Follow The Times' arts team @culturemonster.
---
Get our daily Entertainment newsletter
Get the day's top stories on Hollywood, film, television, music, arts, culture and more.
You may occasionally receive promotional content from the Los Angeles Times.