From chorus girl to leading lady: Emmy Raver-Lampman, the Cinderella of 'Hamilton'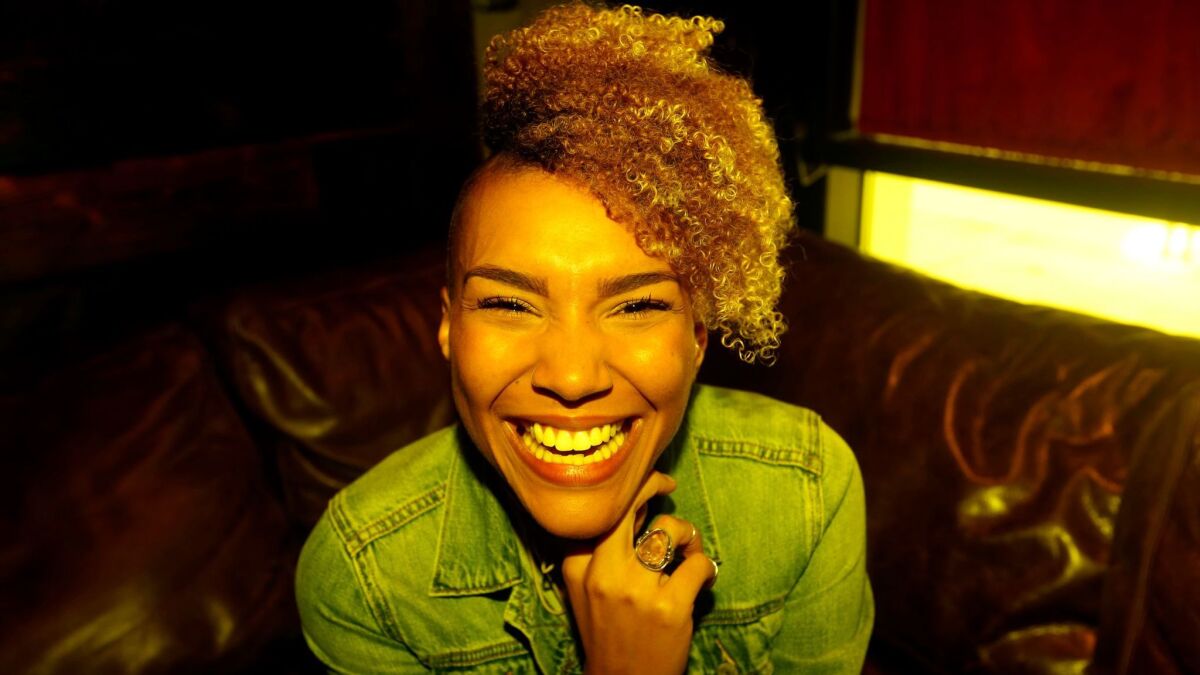 "Have you heard of a show called 'Hamilton'?" Emmy Raver-Lampman's agent asked her in spring 2015.
The actress had just concluded the national tour of "Wicked" in Los Angeles. The hype surrounding Lin-Manuel Miranda's off-Broadway musical was just reaching the Left Coast, but Raver-Lampman didn't know much. The production was adding two cast members to the ensemble for its Broadway debut in August, her agent told her. Would she like to audition?
"I was like, 'Sure, I don't have a job,'" recalls Raver-Lampman, sitting in the plush cocktail lounge Dirty Water, on the ground floor of Twitter's San Francisco headquarters on Market Street.
The next thing she knew, she was a part of the cast that originated what became a Tony Award-winning smash on the Great White Way and a cultural phenomenon beyond. Two years later, she has ascended from unnamed background player to Angelica Schuyler, a starring role in the touring production set to open Wednesday at the Hollywood Pantages.
I think it's a very accurate, current and relevant depiction of the American dream.
— Emmy Raver-Lampman on the importance of "Hamilton"
Hers is a story of happy accidents. Hard-working chorus girl perseveres, serves as an understudy, makes tough decisions and emerges triumphant at the top of the heap.
"Never in a million years did I know — no one did, but especially me — what this show would become," Raver-Lampman says. "I had never heard the music. I didn't even really know what it was about. So I was truly flying blind into this cloud."
A candy-colored dream cloud. In a little under a year, Raver-Lampman and the cast of "Hamilton" had won a Grammy, performed at the White House and met Beyoncé. This was all before the record-setting 16 Tony nominations and 11 wins (including best musical) in 2016.
Also before the Tony nominations: an agonizing decision. Raver-Lampman chose to leave the "Hamilton" ensemble on Broadway to star in the "SpongeBob SquarePants" Nickelodeon musical in Chicago, where she played Pearl Krabs.
"I remember writing my resignation email to Lin and crying on the couch," she says, describing "SpongeBob" as a passion project. "Sometimes as an artist you have to follow your gut."
This sentiment has served the actress well in her 28 years. She was asked back to "Hamilton" when a second production of the musical opened in the Windy City, and she compares the trajectory of events earlier in her life to a snowball rolling downhill, picking up speed and bulk as it goes.
Born in Norfolk, Va., Raver-Lampman was a loud kid. When she threw temper tantrums, the neighbors across the street could hear her. She frequently stood on the coffee table belting out songs.
"We've got do something with her," her mother said. "She sings all the time."
The family's solution was to enroll her for high school in the conservatory-style Governor's School for the Arts, which has funneled a good number of students onto Broadway. From there she auditioned for — and received early acceptance to — Marymount Manhattan College in New York.
Her first professional theater job came her sophomore year, when she was cast in "Children of Eden" at the Astoria Performing Arts Center — and that snowball she calls her life really started rolling.
It just so happened that the choreographer for "Children of Eden," Christine O'Grady, was also the associate choreographer for the revival of "Hair" that had just won the Tony on Broadway. "Hair" was about to go on tour, and O'Grady told Raver-Lampman she should audition. She did, and she booked the gig.
She left school her junior year and went on tour for 16 months, all the while taking classes remotely.
"We were in D.C. during finals and I was taking this HIV-AIDS biology class, and I remember being onstage and thinking about all these deadly diseases and stressing out while running around trying to be a hippie," Raver-Lampman says, laughing. "When I think back, that was crazy."
"Hair" ended up returning to Broadway for 10 weeks, which provided a rare opportunity for Raver-Lampman.
"With one fell swoop, I got my Equity card, my first national tour and my Broadway debut," she says. "All with one job. I was like, 'How did that happen?'"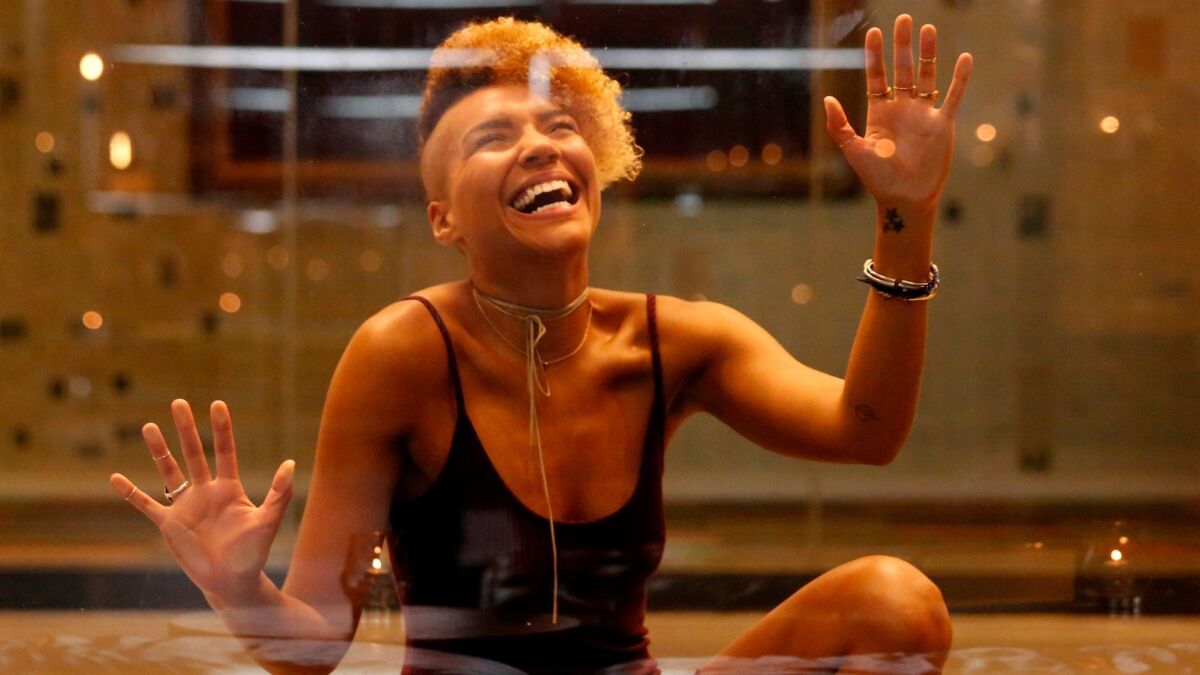 SIGN UP for the free Essential Arts & Culture newsletter »
Raver-Lampman's enthusiasm is contagious. So is her laugh. It comes from deep inside, just like her voice, and it rings out — ricocheting off furniture and walls. Her head is shaved, all except for a distinctive swath of tight curls on the top and left side of her head. She has the tiniest septum ring in her nose, and a tattoo of what looks like a musical note behind her right ear. These details give the impression of a fierce free spirit, which her love of travel backs up.
To date Raver-Lampman says she has visited more than 50 countries. Much of that travel was done when she was growing up. Her mother is a professor of communication disorders and special education at Old Dominion University in Norfolk, Va., and her area of expertise often took the family on the road. By the time she was 15, Raver-Lampman had lived in the Czech Republic, Ukraine and India.
Recent Raver-Lampman vacations have included Thailand and a stint in Madagascar as a volunteer building toilets.
But back to that "Hamilton" snowball. When Raver-Lampman resumed her role in the ensemble of the Chicago production, she had no idea that the producers were still casting for the national tour. When her agent called to say Raver-Lampman could play Angelica Schuyler starting in March in San Francisco, the offer came as a surprise.
Asked why she thinks "Hamilton" has turned into such a cultural touchstone, Raver-Lampman says that much has to do with the diversity of the cast.
"That's what our country looks like," she says. "It's not doing anything that we are unaware of. It's just telling a story with honest eyes."
The musical, she adds, also echoes what could be said of her own story so far: "a very accurate, current and relevant depiction of the American dream."
You can find all of our latest "Hamilton" coverage at latimes.com/hamilton.
Support coverage of the arts. Share this article.
MORE 'HAMILTON' NEWS:
Behind the scenes of the national tour
Meet Aaron Burr: Why 'Hamilton' brings actor Joshua Henry to tears
A critic's take on why 'Hamilton' matters more than ever
How a YouTube video went on to change theater history
Get our L.A. Goes Out newsletter, with the week's best events, to help you explore and experience our city.
You may occasionally receive promotional content from the Los Angeles Times.