'Hamilton' star Phillipa Soo on bringing the magic of 'Amelie' to the stage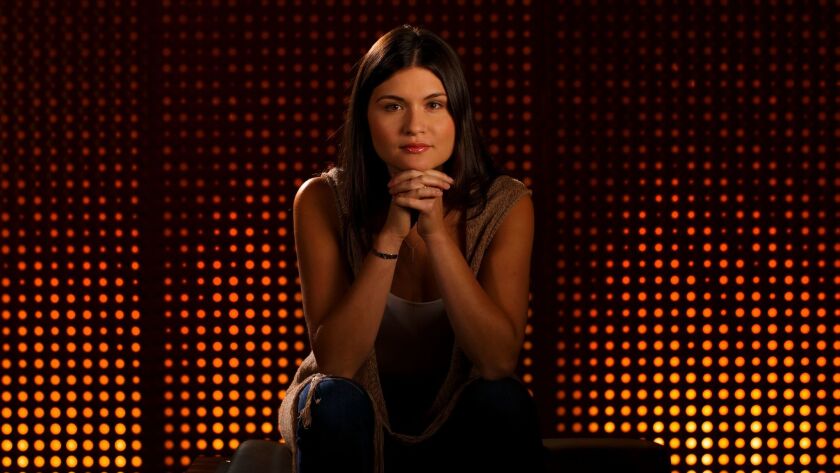 When Phillipa Soo was growing up in suburban Chicago, she would climb onto her parents' coffee table in her pink tutu to perform. There, before a rapt audience of her brother and stuffed animals, she'd belt out Aretha Franklin songs at the top of her lungs.
The performer has come a long way from a tabletop in Libertyville, Ill. Just two months after graduating from the Juilliard School's acting program in 2012, she made a much-heralded debut as Tolstoy's Russian heroine Natasha Rostova in the pop opera "Natasha, Pierre & the Great Comet of 1812." By the end of the following year, she was playing Eliza Schuyler Hamilton in "Hamilton," a role that brought her a Lucille Lortel Award when the show was off-Broadway and later a Tony Award nomination.
Now comes Soo's chance to indulge the shy and introverted side of that little girl in the tutu. She is wide-eyed and mischievous, silly and sweet onstage as Amélie Poulain, the Parisian waitress with an impish grin belying her shyness, careening through Montmartre secretly doing good deeds for others and, finally, for herself. Based on the 2001 French film that made Audrey Tautou a star, "Amélie, A New Musical" is set to open Dec. 16 at the Ahmanson Theatre in Los Angeles prior to a Broadway run next spring.
"When I first saw the film in high school, I automatically related to the character of Amélie and felt close to her," says Soo, who also known by the nickname Pippa. "There was a lot of magic about the film that lifted people, and I definitely felt that as well. I was a young person trying to go out into the world, and so was she. I kind of always wanted to be her, and this was a great chance to do that."
Chatting in her dressing room at the Ahmanson, the 26-year-old Soo conveys poise and ingenuousness at the same time. She sometimes signals the thoughtful, gentle side of founding father Alexander Hamilton's devoted wife, Eliza, and sometimes the playfulness central to the wacky world of Amélie.
"From the first second I met Pippa, I thought this person is really world-takeover," says "Amélie" choreographer Sam Pinkleton, who worked with Soo on "Natasha, Pierre." "If you hit an idea to her, she hits back 10. She is like an engine of possibilities, which is such a gift to have with a leading lady."
Soo seems to have been aiming toward leading lady since childhood. Her Chinese father is a doctor, but his mother was a concert pianist who often would sit with Soo at the piano. The actress credits her love of the stage to her mother, who worked in various jobs in Chicago theater. Soo still remembers being "transported into a different world" by a production of "The Tempest" she saw as a child, and by the time she was in high school doing musical theater, she had studied piano, taken voice lessons and been active in choir.
Her role in early off-Broadway productions of "Natasha, Pierre" jump-started her career. Now faring well on Broadway, the show began small when first produced by Ars Nova in 2012. Director Rachel Chavkin remembers Soo's audition well.
"She had the training and chops of the Juilliard program, as well as a preternatural grace," Chavkin says. "Natasha has to have this blend of arrogance and grace that makes her thrilling and capable of the self-destruction she ends up wreaking, and Pippa clipped into that."
"Amélie" director and Tony-winner Pam MacKinnon ("Who's Afraid of Virginia Woolf?" in 2013) says she was impressed by Soo's performance in "Natasha, Pierre." So was "Hamilton" director Thomas Kail.
"I was sitting there, by myself, at 'Natasha, Pierre,' and at intermission, I turned to the people on either side of me and asked, 'Are you seeing what I'm seeing?' " Kail says. "There was something really incandescent about Phillipa. She has something you can't coach, and you can't teach. It just is. She is lit from within."
"Hamilton" creator Lin-Manuel Miranda says by email that Soo's voice struck him as truly special. "We just had to have her as a part of our founding family," he says. "I fell so in love with her voice, I even had her demo the music I was writing for Disney's 'Moana' between performances of 'Hamilton.' "
Soo was invited to come in for a reading of "Hamilton" in December 2013, when the second act was still taking shape. "At that point, Lin was writing Act 2 and wanted to hear it out loud," Soo says. "I really didn't know anything about Eliza and not much about Alexander Hamilton yet. But listening to the music, I was intrigued to know more. Plus, it was such a great room to be in."
Now comes "Amélie," which strangely enough Soo first worked on around the time she was in development on "Hamilton." In the two cases, she says, she had "a very similar first experience, working on the music and trying to get a whole idea of the story.
"The only musicals I've really worked on in New York are new musicals, and I like the idea that my job as an actor is also that of a detective, archaeologist and mystery solver. I'm trying to look into each character and try to realize her as someone who is also me."
On all three of her shows, she notes, the characters already have had other lives. " 'Hamilton' is based on a historical figure, 'Natasha, Pierre' comes from 'War and Peace' and 'Amélie' is based on a film. You're creating something off of something else, translating all of them into theater, which to me has much more immediacy. It really forces you to ask the question: Why take it off the page or movie so we can see it live? Why are we doing this, and why me? What can I bring to this, and what in my humanity can I find in this character's humanity?"
Berkeley Repertory Theatre produced "Amélie" last year with Samantha Barks as Amélie, and the musical since has been substantially rewritten, director MacKinnon says. "One of our big projects in these last 14 months has been to write more for Amélie. In the movie, she's largely silent. Onscreen, you can zoom in close up, and onstage, we can musicalize what she's thinking. There's a lot more for Amélie to sing since Berkeley."
MacKinnon calls Soo "a real-deal actor," and Adam Chanler-Berat, the actor who portrays Nino, Amélie's equally eccentric love interest, is similarly complimentary.
"A show like this brings so much joy and humor and empathy, and that really stems from Pippa," he says. "She embodies all those characteristics. Pippa leads by example."
Soo indicates she's also aware of leading by example in her role as an Asian American performer.
"I definitely have been approached and reached out to by a lot of young Asian American and Asian women, which has been really cool for me," Soo says. "It wasn't until 'Hamilton' that I began to be considered an actor of color, and I really don't know what to make of it. I feel like I had a very culturally and racially diverse life, being half Chinese and half white, so it was interesting that all of a sudden at this moment in time, people became aware of it in a different way. I definitely feel as a theater artist that the more we can push for diversity, the better."
Soo is busy offstage too. She is writing the foreword to a children's book about Eliza Hamilton and has been involved with the Eliza Project, an effort by several "Hamilton" cast members to help Graham Windham, an orphanage Eliza Hamilton started long ago in New York. Soo had a recurring role in the TV series "Smash" and says she hopes to work in other media. She is engaged to fellow actor Steven Pasquale, with plans to marry in fall 2017.
"Pippa is an undeniable talent, and it was an absolute pleasure to marry her Eliza every night in 'Hamilton,' " Miranda jokes. "She has an uncanny ability to portray vulnerability as well as strength in equal measure."
------------
"Amélie, A New Musical"
Where: Ahmanson Theatre, 135 N. Grand Ave., L.A.
When: In previews now, opens Dec. 16, ends Jan. 15. Performances at 8 p.m. Tuesdays-Fridays, 2 and 8 p.m. Saturdays, 1 and 6:30 p.m. Sundays (call for exceptions and additions).
Tickets: $25-$125 (subject to change)
Information: (213) 972-4400, CenterTheatreGroup.org
SIGN UP for the free Essential Arts & Culture newsletter »
Follow The Times' arts team @culturemonster.
ALSO
Times art critic Christopher Knight's latest reviews
Times theater critic Charles McNulty's latest reviews
Times architecture critic Christopher Hawthorne's latest columns
---
From the Oscars to the Emmys.
Get the Envelope newsletter for exclusive awards season coverage, behind-the-scenes stories from the Envelope podcast and columnist Glenn Whipp's must-read analysis.
You may occasionally receive promotional content from the Los Angeles Times.