The Saturday gallery: Grandma's knitting infused with fabulousness in 'Queer Threads'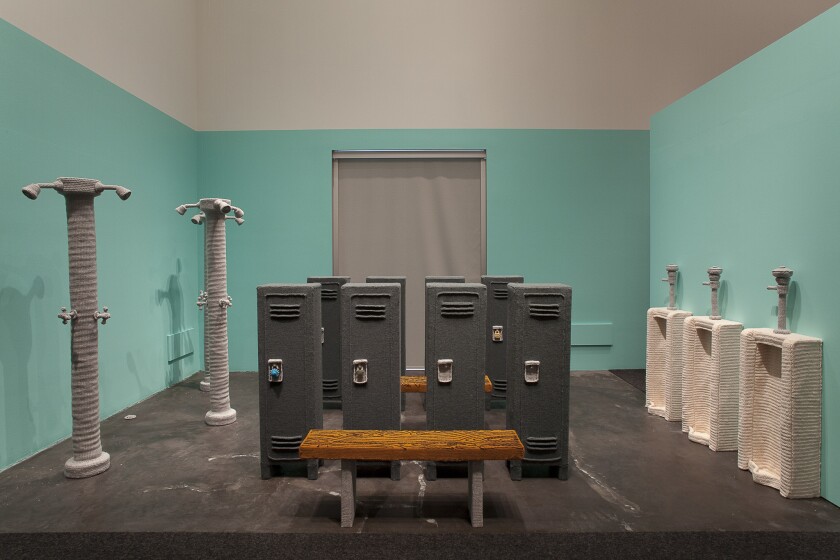 Nathan Vincent's "Locker Room," 2011. Lion Brand yarn, foam and wood. 144 inches by 228
inches by 144 inches. "The locker room used to be a shrine to masculinity," says the artist, who purposely made the lockers shorter than real life, and separated from one another, creating a sense of exposure.
(Steven Miller)
Nathan Vincent's "Let's Play War," 2014-2015. Yarn, foam, cotton fabric, Paverpol and steel. A boys' toy design, crocheted at a startling scale.
(David Lindsay)
Pierre Fouché's "The Kiss" (detail), 2008. Crocheted lace in mercerized cotton. "I remember the first time I saw a film with gay characters, and what a revelation it was to realize that I was not alone," the artist says in "Queer Threads."
(Hayden Phipps)
Allyson Mitchell's "Hungry Purse," 2006. Found textile, styrofoam, fragrance, mixed media.
(Tom Powel Imaging, New York)
Aubrey Longley-Cook's "RuPaul Cross-Stitch Animation Frame 27, Front." The artist held a workshop where 35 participants learned cross-stitch by creating designs based on stills from RuPaul's "Supermodel" video.
(Collection of the Leslie-Lohman Museum of Gay and Lesbian Art)
Ramekon O'Arwisters' "Where We Are" (detail), 2013. Tapestry installation of fabric, photographs, wood and paper; 48 inches by 84 inches by 12 inches.
(John White )
Jai Andrew Carrillo's "Lacing," 2007. Wool yarn, lingerie, silk, polyfill and ribbon.
(Korey Luna)
The explicit nudes in needlepoint, the erotica rendered on a quilted duvet cover, the expletive-laden hooked rugs, the remarkably detailed (and anatomically accurate) knitted sculpture of body parts — the sheer subversive glee of these works may delight or disgust, depending on your point of view. But keep turning the pages of the new book "Queer Threads: Crafting Identity and Community," and it's clear that the goal of co-editors John Chaich and Todd Oldham is not so much shock as it is awe: to wonder how these artists have taken embroidery, macramé, crochet and other familiar crafts into such unfamiliar territory.
The book spun out of an exhibition Chaich curated at the Leslie-Lohman Museum of Gay and Lesbian Art in New York in 2014. The work of 30 LGBTQ artists from around the world unfurls in pictures across more than 100 pages, followed by interviews with the artists conducted by the likes of Bill T. Jones, Michael Cunningham and Tim Gunn.
SIGN UP for the free Essential Arts & Culture newsletter »
In the first Q&A, Nathan Vincent tells Jonathan Adler about his experimentation with yarn in a college art class. "The first thing I made was a crocheted penis," Vincent says. "My classmates and professors thought it was funny, and it made me ask myself: 'Is this funny because the object is something very masculine made out of a very feminine process? Who is telling us this is funny?'"
In another interview, Pierre Fouché tells Chaich that he finds inspiration in the Vermeer painting "The Lacemaker," and that he's "drawn to how Vermeer used the camera obscura and traced and toned shadows." Elsewhere, Ramekon O'Arwisters explains how his Crochet Jam event is rooted in memories of growing up black and gay in the Jim Crow South, and Diedrick Brackens tells of his early fascination with West African strip-weaving traditions as well as the so-called kill the gays movement in Uganda to rid the country of gay people. Among Brackens' pieces featured in "Queer Threads": the silhouette of a black unicorn rendered against vibrant green and yellow kente cloth.
Jai Andrew Carrillo speaks of growing up in Mexico and wanting to learn to knit like his grandmother but being told, "Boys don't knit." Instead, his father wanted him to box. Years later, the artist channeled that memory into boxing gloves made of silk and satin. Because they're so soft, Carrillo says, the objects invite a caress rather than a punch. "The gloves don't make you want to fight."
"Queer Threads" is published by Ammo and available through Arcana: Books on the Arts in Culver City.
Support coverage of the arts. Share this article.
MORE:
A million points of dark: The thrilling pencil drawings of Eric Beltz
The stomach-churning, visceral power of Chris Finley's weightlifter portraits
A don't-miss African art exhibition full of mystery and beauty
---
Inside the business of entertainment
The Wide Shot brings you news, analysis and insights on everything from streaming wars to production — and what it all means for the future.
You may occasionally receive promotional content from the Los Angeles Times.