Sara Bareilles on life after 'Waitress,' being a misfit and songs about Obama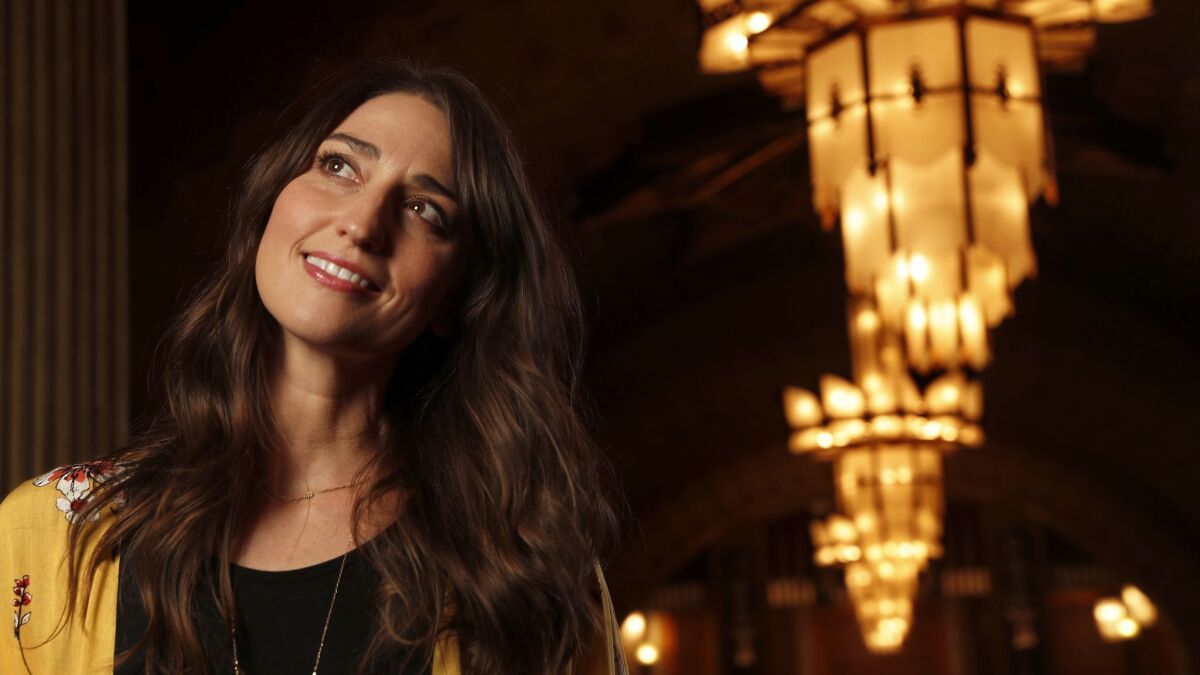 Sara Bareilles has spent the last five years of her life working almost exclusively on the musical "Waitress." With the show still sailing on Broadway after more than two years and a national tour finally reaching the Hollywood Pantages Theatre on Thursday, the pop singer-songwriter who became a theater composer must decide: What to do next?
Sitting in the lobby of the Pantages on a sweltering afternoon, Bareilles appears easy-breezy and carefree despite the pressure of figuring out the future. Arriving in Los Angeles is a bit of a homecoming for the Northern California native who attended UCLA, and the Art Deco majesty of the theater, with its gilded banisters and elaborate chandeliers, is rubbing off.
"I almost get emotional talking about what this show has given me," she says. "It has been the most joy I have ever experienced creating something, and it really reeducated me as to the profound value of collaboration. So bringing it to this theater is the best."
I've got songs about Obama on my record that sound like love songs.
— Sara Bareilles
Stepping away from "Waitress" will not be easy, but Bareilles is itching to make a new record of her own music, and she already has started the process. Her last album, "What's Inside: Songs From Waitress," landed at No. 10 on the U.S. Billboard 200 when it debuted in 2015, but that was all wrapped up in the show. Bareilles' new album, she says, will be about channeling her feelings about the world into her music.
"I've got songs about Obama on my record that sound like love songs," she says, smiling. "I'm definitely baring my soul and speaking to this beautiful feminist movement that's happening, and then there are just some good love songs on there too."
Like many artists, Bareilles says she is having a hard time processing the constant tumult and divisiveness of world news and current events, and she says it's necessary to speak out using her art.
"What I see in my community and peers that frightens me is a loss of hope," she says. "That's something I want to speak to on the record. That it's important to not lose sight of the hope that people are good, that our country is beautiful, that our values are intact, and that we are just very wounded right now."
"Waitress" delivers some dark themes: A woman accidentally gets pregnant by her abusive husband, has an affair with her married gynecologist and seeks redemption and salvation in a pie contest. It may have resonated with audiences on a mass scale because it was perfectly suited for the messiness of modern times, she speculates.
"This leading lady is heroic in her frailty and her vulnerability and her mistakes," she says. "She really doesn't know what to do, and I think people are like, 'Thank you for making this person who we get to fall in love and root for who is really struggling.' "
Bareilles considers herself a misfit and figures most people secretly feel that way too, so it doesn't surprise her when she pops into the Brooks Atkinson Theatre where "Waitress" is playing in New York and sees plenty of "butts in seats." And yet the sight never ceases to amaze her, either. Nobody, she says, thought this crazy labor of love based on the 2007 indie film written by Adrienne Shelly would go on to become the success that it did. Bareilles calls it "bananas."
She cemented her love affair with Broadway when she co-hosted the Tony Awards alongside Josh Groban in June, and she very much hopes to work on another musical someday, though she now knows what an insane amount of work it requires.
Until then, she is satisfied working on music, as well as on development of a TV show with Jessie Nelson (who wrote the book for "Waitress") and J.J. Abrams about a young songwriter in New York City. Plans are afoot for "Little Voices" to begin shooting in the spring.
"It's an exciting time to create another vehicle that can embrace a feminine perspective," she says.
ALSO:
---
Get our daily Entertainment newsletter
Get the day's top stories on Hollywood, film, television, music, arts, culture and more.
You may occasionally receive promotional content from the Los Angeles Times.