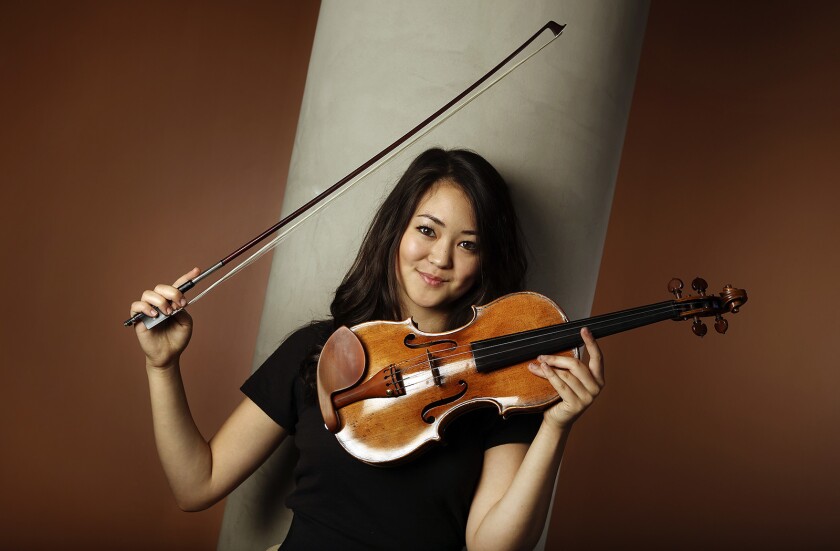 Víkingur Ólafsson The pianist performs works by Bach and Philip Glass. Walt Disney Concert Hall, 111 S. Grand Ave., L.A. Sun., 7:30 p.m. $20-$114. (323) 850-2000. www.laphil.com
Restoration Concerts Pianist Robert Thies performs. South Pasadena Public Library, Community Room, 1115 El Centro St., South Pasadena. Sun., 4 p.m. $20. (626) 799-6333.
Sundays Live Pianist Inna Faliks plays works by Schumann and Scriabin. LACMA, Bing Theater, 5905 Wilshire Blvd., L.A. Sun., 6 p.m. Free. (323) 857-6234. www.lacma.org
We Will Rise! The Iowa-based Wartburg Choir performs inspirational works by Bach, Boulanger and others. First Lutheran Church, 2900 W. Carson St., Torrance. Mon., 7 p.m. Free; donations accepted. (310) 316-5574. www.palosverdes.com
In Remembrance: Classical Music by Armenian Composers UCLA VEM Ensemble, the VEM String Quartet and others play works by Vardapet, Khachaturian, Hovhaness and Mirzoian. UCLA Hammer Museum, 10899 Wilshire Blvd., Westwood. Tue., 7:30 p.m. Free. (310) 443-7000. www.hammer.ucla.edu
Gala Bel Canto Los Angeles Children's Chorus' annual fundraiser. Millennium Biltmore Hotel, 506 S. Grand Ave., L.A. Wed., 5:30 p.m. $400. (626) 793-4231. www.galabelcanto.org
Martin Chalifour and Friends The LA Phil violinist and concertmaster leads a program of chamber music by Bach, Mozart, Bartók and Schubert. The Huntington, Rothenberg Hall, 1151 Oxford Road, San Marino. Wed., 7:30 p.m. $60. (626) 405-2100. www.huntington.org
Mary Lou Newmark The electric violinist and composer performs. Music @ Mimoda, 5772 W. Pico Blvd., L.A. Wed., 8 p.m. Free. (323) 935-0268. www.mimodastudio.com
Gil Shaham & Akira Eguchi The violinist and the pianist share the stage. Conrad Prebys Performing Arts Center, 7600 Fay Ave., La Jolla. Thu., 8 p.m. $35-$85. (858) 459-3728. www.theconrad.org
In the Penal Colony Long Beach Opera and California Repertory Company co-present the Southern California premiere of Philip Glass' chamber opera inspired by a Franz Kafka short story. Cal-State University Long Beach, Studio Theater, 1250 N. Bellflower Blvd., Long Beach. Thu.-Sat., 7:30 p.m.; next Sun., 2:30 p.m.; end May 5. $49-$150. (562) 470-7464. www.LongBeachOpera.org
Los Angeles Baroque Players The period-instrument ensemble plays works by Scarlatti, Janitch, et al. Glendale Community College, 1500 N. Verdugo Road, Glendale. Fri., 7:30 p.m. Also at Contrapuntal Recital Hall, 655 N. Bundy Drive, L.A. Next Sun., 2:30 p.m. $5-$30. (323) 254-9613.
Music of Queen Pacific Symphony and Queen tribute band Windborne salute the British rock group; program also includes Liszt's Hungarian Rhapsody No. 2 featuring violinist Aubree Oliverson, plus a Carlos Gardel tango and a medley of Beatles hits. Segerstrom Center for the Arts, Renée and Henry Segerstrom Concert Hall, 600 Town Center Drive, Costa Mesa. Fri.-Sat., 8 p.m. $50 and up. (714) 755-5799. www.PacificSymphony.org
Salonen Conducts Pines of Rome Conductor laureate Esa-Pekka Salonen leads the LA Phil in the Respighi favorite, plus Donati's "ESA (In caudal V)," Debussy's "Iberia," and Ravel's "Concerto for the Left Hand" featuring pianist Igor Levit. Walt Disney Concert Hall, 111 S. Grand Ave., L.A. Fri.-Sat., 8 p.m.; next Sun., 2 p.m. $20-$194. (323) 850-2000. www.laphil.com
The Tetzlaff Trio The piano trio plays works for strings by Schumann and Dvořák. Wallis Annenberg Center for the Performing Arts, Bram Goldsmith Theater, 9390 N. Santa Monica Blvd., Beverly Hills. Fri., 7:30 p.m. $45-$95. (310) 746-4000. www.TheWallis.org
Veronica Bell The soprano performs with special guests. Thymele Arts, 5481 Santa Monica Blvd., L.A. Sat., 8:30 p.m. $35 and up. www.veronicabellsoprano.com
54th Annual Gala Concert American Youth Symphony is joined by violinist Sarah Chang for the world premiere of Fil Eisler's "For J.E."; program also includes works by Richard Strauss, Shostakovich and Anna Clyne. Royce Hall, UCLA, 340 Royce Drive, Westwood. Sat., 5 p.m. Free. (310) 470-2332. www.aysymphony.org
Kaleidoscope Chamber Orchestra Brahms' Piano Quintet in F Minor, West Coast premieres from Alison Yun-Fei Jiang, Meilina Tsui, Anna Pidgorna and Ninfea Cruttwell-Reade, and more. Glendale City Church, 610 E. California Ave., Glendale. Sat., 7 p.m. Also, First Presbyterian Church, 1220 2nd St., Santa Monica. Next Sun., 2 p.m. Pay what you can. www.kco.la
Long Beach Symphony Mozart's Symphony No. 41, "Jupiter," plus Arvo Pärt's "Cantus in Memory of Benjamin Britten," Golijov's "Sidereus" and Korngold's Violin Concerto featuring violinist Simone Porter. Long Beach Convention Center, Terrace Theater, 300 E. Ocean Blvd, Long Beach. Sat., 8 p.m. $29 and up; students, $10. (562) 436-3203. www.longbeachsymphony.org
Los Angeles Chamber Orchestra Music-director designate Jaime Martín leads the ensemble and guest vocalists in Mozart's Requiem; program also includes the West Coast premiere of Bryce Dessner's "Voy a Dormir." Alex Theatre, 216 N. Brand Blvd., Glendale. Sat., 8 p.m. Also at Royce Hall, UCLA, 340 Royce Drive, Westwood. Next Sun., 7 p.m. $28 and up; discounts available. (213) 622-7001. www.laco.org
Alexander String Quartet With Joyce Yang The pianist joins the quartet for a program of works by Brahms, Schumann and Samuel Adams. Soka Performing Arts Center, 1 University Drive, Aliso Viejo. Next Sun., 3 p.m. $40, $50. (949) 480-4278. www.soka.edu
Inna Faliks The pianist plays works by Schumann, Scriabin and Chopin. Hamburg Room, 19365 Lemmer Dr., Tarzana. Next Sun., 3 p.m. $25-$55. (818) 343-3095. www.classicalencounters.org
David Garrett The LA Phil cellist plays works by Respighi, Hindemith, Ysaÿe, and Fauré; with pianist Junko Ueno Garrett, et al. Cal-State Long Beach, Daniel Recital Hall, 6200 E. Atherton St., Long Beach. Next Sun., 8 p.m. $7, $10. (562) 985-4781.
Orange County Youth Symphony Season closer includes includes Rachmaninoff's Symphony No. 2 and Shostakovich's Cello Concerto No. 1 featuring cellist Campbell Gardiner; presented by the Philharmonic Society of Orange County. Musco Center for the Arts, Chapman University at 415 N. Glassell St., Orange. Next Sun., 4 p.m. $15. (949) 553-2422. www.philharmonicsociety.org
Red Hen Press: The Figure of Orpheus in Poetry and Performance Contemporary poets read their works and pianist Paul Barnes performs his solo-piano transcription of Philip Glass' "Orphée" symphony. The Edye at The Eli & Edythe Broad Stage, 1310 11th St., Santa Monica. Next Sun., 2 p.m. $35 and up. (310) 434-3200. www.thebroadstage.org
Sundays Live Pianist Sophiko Simsive plays works by Bach, Ravel, Schubert and Elizabeth Ogonek. LACMA, Bing Theater, 5905 Wilshire Blvd., L.A. Next Sun., 6 p.m. Free. (323) 857-6234. www.lacma.org
---