Hollywood Bowl's Thomas Wilkins a classical case of beating the odds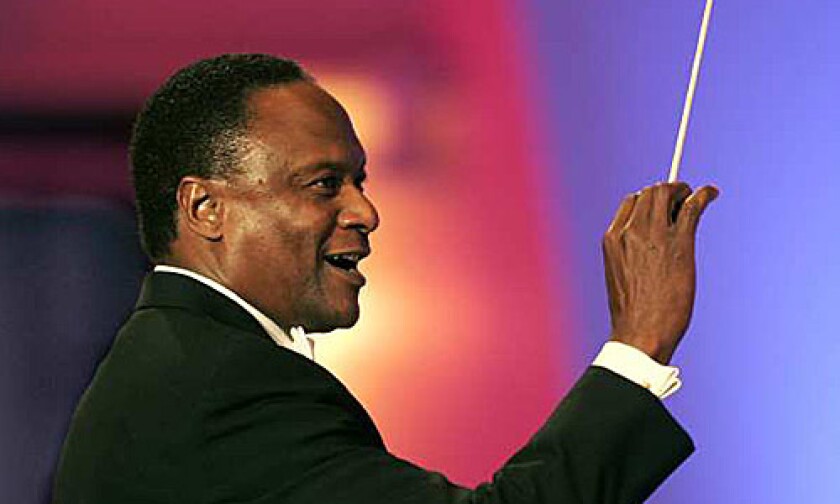 When conductor Thomas Wilkins takes his place at the podium in front of a major orchestra, he knows what he won't be doing.
"I used to wave my arms a lot when I was starting out my conducting career," said Wilkins, principal guest conductor of the Hollywood Bowl Orchestra. "It was a very physical thing for me. But ultimately I learned that less is more. There are physical benefits of not over-conducting."
He added, "It's about trusting the orchestra, which allows me to put more focus on the essence of the music, the shape of the sound. The better the orchestra, the less need for them to be timed."
Wilkins, who will guide the orchestra Friday through Sunday in the Bowl's fireworks finale, "Blame It on Rio," is also aware that no matter what he does with his arms, he instantly attracts attention -- not only of musicians, but of audiences -- in another, more subtle way: He is one of the few African American conductors leading major orchestras.
As music director of the Omaha Symphony and resident conductor of the Detroit Symphony, Wilkins is gaining recognition as the ranks of major conductors grow more culturally diverse.
Venezuelan Gustavo Dudamel will make his debut next month as music director of the Los Angeles Philharmonic. New York-born Alan Gilbert, whose mother is Japanese, is about to begin his tenure as music director of the New York Philharmonic. China's Xian Zhang, that orchestra's associate conductor, made her Walt Disney Concert Hall debut in May, leading the L.A. Philharmonic in a performance of Prokofiev's Third Piano Concerto.
Nonetheless, Wilkins and others bemoan the fact that the number of professional African American conductors is still small. "There certainly are not a lot at the upper lever professionally," Wilkins said. "At my level, there's probably less than 10 in the country."
Among the most prominent African American maestros are James DePreist, director of conducting and orchestral studies at the Juilliard School and laureate music director of the Oregon Symphony; Paul Freeman, founding music director of the Chicago Sinfonietta; and Michael Morgan, music director of Oakland East Bay Symphony. Kay George Roberts, founder and music director of the New England Orchestra in Lowell, Mass., is one of the few female African American conductors.
All have accumulated honors and appeared with many of the country's major orchestras. Many are spearheading programs to help expose classical music to more young people.
"African Americans haven't had as many nurturing opportunities," said Morgan, who is in his 20th year at the Oakland symphony. "I see part of my job being helping the orchestra have a relationship with the community. Young kids need help, and you have to make sure they see a logical path. Then they will take it. It's harder when they don't see anyone at the far end of the path that looks like them."
Freeman, who is also music director of the Czech National Symphony Orchestra in Prague, said he is seeing a slight increase. "There is a growing camp of younger African American conductors, which I'm very pleased to see, because for many years there were so few of us. I hope what we're doing in reaching out is rubbing off on younger musicians."
Wilkins recalled one of his appearances a few years ago when he looked down in the audience and saw two young African American boys staring wide-eyed at him: "I could just tell from their expressions that they were thinking, 'That guy looks like me.' It just seemed to be so far out of their reality in terms of what they knew about classical music. So I always try to make a connection with young people."
Wilkins noted that it's difficult enough for any musician, regardless of culture, to get a position with a major orchestra. "Auditions happen behind screens, so you can't tell what a person looks like," he said. "But I would love to increase the pool of black faces. The more the merrier."
Relaxing backstage recently during a break in a rehearsal, Wilkins displayed a loose, personable calm that seemed more in keeping with a painter than a scholar of serious music who counts Dvorák and Mahler among his favorite composers.
He conducts 70 to 80 classical concerts a year. This weekend's "Rio" program, which will also feature Seu Jorge and Bebel Gilberto, marks Wilkins' third appearance with the Hollywood Bowl Orchestra this summer. Among the pieces it will perform are Barroso's "(Aquarela do) Brasil," Jobim's "Medley: Memories for Orchestra" and Naughtin's "Amazon Journey." The climactic fireworks will be set to Stone's "A Carmen (Miranda) Fantasy."
When Wilkins was 8, he realized what he wanted to do with his life. "I went to this concert in Norfolk, Va., where I grew up, and the orchestra played 'The Star-Spangled Banner.' I watched the conductor shape the sound, and I just fell in love with the music. I knew right then and there that's what I wanted to do. Classical music always spoke to me. There's something deep in it that knows me, that calls me by name."
---
Inside the business of entertainment
The Wide Shot brings you news, analysis and insights on everything from streaming wars to production — and what it all means for the future.
You may occasionally receive promotional content from the Los Angeles Times.