The 99-Seat Beat: Justin Tanner weathers a storm, a play at the Santa Monica Pier carousel and more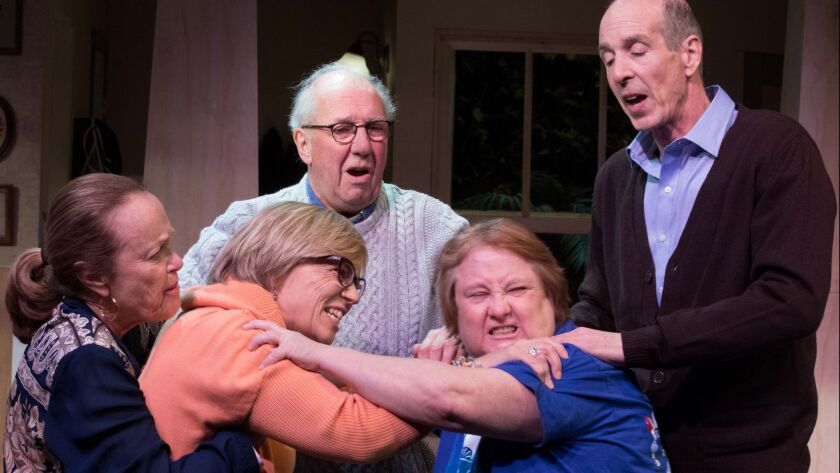 Three plays written from hard-won experience — and another with a talking rooster. It's going to be an interesting weekend at L.A.'s small theaters with Rogue Machine's "El Niño," "An Illegal Start" at the Santa Monica Pier carousel, "Wicked Pagan Gays" at Zephyr Theatre and "Year of the Rooster" at Theatre of NOTE.
---
'El Niño' by Rogue Machine
The essentials: Closing in on 50, a woman contemplates the dark clouds gathered around her. Her science fiction writing is modestly successful, at best; her boyfriend has tossed her out; and she's in excruciating physical pain. So she heads to her parents' home in Highland Park and plants her miserable self on their couch. Did I mention this is a comedy — and a love story?
Why this? Dysfunction never seems quite so appealing as when Justin Tanner delivers it. A prolific contributor to L.A.'s small-theater scene with such hits as "Teen Girl" and "Pot Mom," he's been MIA since 2011's "Day Drinkers," but he's returned with a script that figures significantly in his recent history. He lived with virtually immobilizing foot and back pain, much like his central character's, for a couple of months in late 2015, with lesser pain over about a year. He also was burned out from two decades of writing a play a year. But he realized that perhaps one was an answer to the other. "I wrote myself out of my depression," Tanner, 53, says, and found amusement along the way. He instilled his almost-fame into his character, the sense that "some people know who you are, most people don't. … It's a little bit like writing for theater in Los Angeles." By the way, his time away from theater has been by no means fallow. Google the web series "Ave 43" and the band the Roswell Sisters.
Details: Rogue Machine at the Met Theatre, 1089 N. Oxford Ave., L.A. Opens 8:30 p.m. Saturday and runs 8:30 p.m. Saturdays and Mondays, 3 p.m. Sundays; ends April 2. $40. (855) 585-5185, www.roguemachinetheatre.com
SIGN UP for the free Essential Arts & Culture newsletter »
---
'An Illegal Start' at the carousel
The essentials: In 1980s Colorado, a pickup smashes into a telephone pole during a rainstorm and its two 18-year-old occupants take refuge at a merry-go-round in an abandoned amusement park. Performed in the Merry-Go-Round Building at Santa Monica Pier with the carousel as the set, this story spins forward through 18 years of an unexpected friendship that helps sustain the men on their very different paths in life.
Why this? Any opportunity to hang out at the Santa Monica carousel is a good one, and this is a new way to do so: the first time in the building's 101-year history that it is being used for live theater. The play was written by James Harris, a 52-year-old Santa Monican who as a high schooler was involved in the same kind of wreck with a passenger he knew, though not well. "As a result of the accident, though, he became my lifelong best friend," Harris says. "We had so few similarities in our lives before the accident, but the bond that was formed during that moment has never dissipated." The play is a production of Santa Monica Public Theatre, which Harris helped actor Paul Sand (a 1971 Tony Award featured actor winner and frequent TV guest star) to found in 2016. Sand directs.
Details: Merry-Go-Round Building at the Santa Monica Pier, Colorado Avenue at Ocean Avenue, Santa Monica. 8 p.m. Friday, Saturday and March 2, 9 and 10. $24-$30. lat.ms/illegalstarttickets
---
'Wicked Pagan Gays' at Zephyr
The essentials: Friends can agree to disagree. The two here are Jeff and Greg, former acquaintances who meet up again when Jeff moves to Los Angeles. Greg, a 45-year-old with a spiritual bent, insists that cosmic forces are at work in their friendship; Jeff, a 35-year-old rationalist, is having none of it. But this is L.A., where life seems to unfold in one bewildering happenstance after another, so perhaps anything is possible.
Why this? The story riffs on the friendship of writer-actor Jeff Dinnell and journalist Greg Archer. There's "a funny, gay, odd-couple dynamic in our relationship," says Dinnell, who wrote the script and blurs distinctions between life and stage by performing as the character who bears his name. Archer doesn't appear in the show but is credited as co-creator. As the play tumbles along, the fictional Jeff has to wonder whether there isn't some cosmic force at work, but the real Jeff, Dinnell says, is "scientific and skeptical." The self-produced show is directed by Kiff Scholl, a familiar hand at such companies as Sacred Fools and Theatre of NOTE.
Details: Zephyr Theatre, 7456 Melrose Ave., L.A. Opens 8 p.m. Friday and continues 8 p.m. Thursdays-Saturdays, 7 p.m. Sundays; ends March 31. $25. www.plays411.com/wicked
---
'Year of the Rooster' at Theatre of NOTE
The essentials: Gather at ringside as a scrappy contender fights for glory. Portentously named Odysseus Rex, he is a strutting, talking rooster pitted against the neighborhood's undefeated champion. His owner, desperate for things to start going right in his life, is Gil, an invisible guy who works at McDonald's and lives with his ailing mother. Winning this fight isn't really about winning this fight.
Why this? A philosophizing rooster engaged in a nerve-rattling cockfight: Surely, this is the weekend's only opportunity to see that. The comic originality of Olivia Dufault's writing was highly praised during the play's introduction in New York's nonprofit scene in 2013, when Dufault was in her mid-20s and known as Eric Dufault. Recipient of all manner of awards, fellowships and residencies, the New York-based Dufault also wrote for the first two seasons of AMC's "Preacher." The L.A. premiere is by a particularly feisty intimate-theater company with a penchant for new and unusual plays.
Details: Theatre of NOTE, 1517 N. Cahuenga Blvd., Hollywood. 8 p.m. Fridays and Saturdays, 7 p.m. Sundays; ends March 24. $20 and $25. (323) 856-8611, www.theatreofnote.com
---
The 99-Seat Beat appears every Friday. Our team of reviewers — people with more than 75 years of combined experience tracking local theater — shortlists offerings with an emphasis on 99-seat theaters and other smaller venues. Some (but not all) recommendations are shows we've seen; others have caught our attention because of the track record of the company, playwright, director or cast. You can find more comprehensive theater listings posted every Sunday at latimes.com/arts.
Twitter: @darylhmiller
---
Your essential guide to the arts in L.A.
Get Carolina A. Miranda's weekly newsletter for what's happening, plus openings, critics' picks and more.
You may occasionally receive promotional content from the Los Angeles Times.