'All the President's Men' is back in a star-studded L.A. script reading and 'West Wing' reunion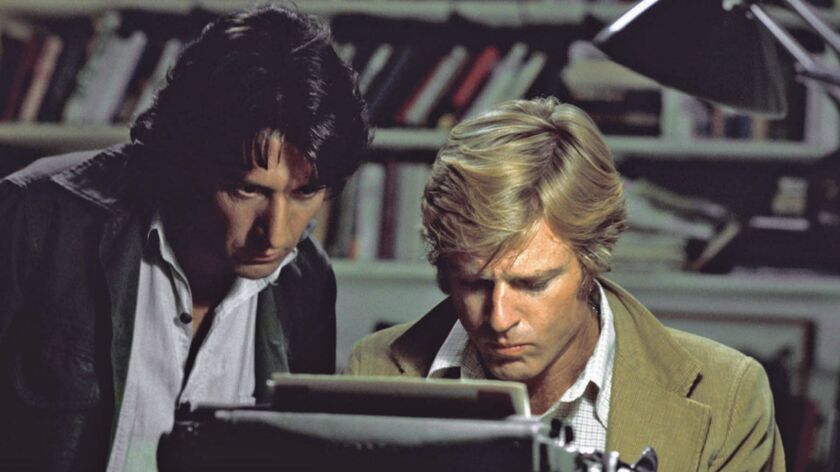 A celebrity reading of the screenplay for the Watergate drama "All the President's Men" has been set for Jan. 27 at Los Angeles City Hall in what the organizer is calling a show of support for a free press and the 1st Amendment.
The night's headliners include some familiar faces from TV's "The West Wing": Bradley Whitford (who's also in the films "The Post" and "Get Out"), Richard Schiff ("The Good Doctor"), Joshua Malina ("Scandal") and Ed Begley Jr. ("Future Man" and "St. Elsewhere").
The event is organized by the Fountain Theatre of L.A., hosted by Councilman Mitch O'Farrell and sponsored by the Los Angeles Press Club.
"I first thought about this last year during one of Trump's flurry of assaults on 'fake news,'" said Fountain co-artistic director Stephen Sachs. "I just had such an opposite opinion, because to me the reporters at L.A. Times, the New York Times, the Washington Post and CNN have really been heroes to our nation and warriors for democracy."
Sachs' father was a journalist for CBS News during the Walter Cronkite era, and he grew up around journalists in a household that revered them.
"I felt strongly that I wanted the Fountain to speak out to this in some way," Sachs said.
He found a partner in O'Farrell, and the city offered its council chambers for the reading of a screenplay that Sachs said has an uncanny similarity to current events.
The 1976 film "All the President's Men" starring Robert Redford and Dustin Hoffman had a screenplay by William Goldman. It was based on the book by Washington Post investigative reporters Bob Woodward and Carl Bernstein about the Watergate scandal, which brought down Richard Nixon's presidency.
The Fountain event is open and free to the public, but space is limited and reservations are required. Information can be found at FountainFreePress.com or by emailing freepress@fountaintheatre.com.
RELATED:
Robert Schenkkan's 'Building the Wall,' set in Trump's America
In 'Runaway Home' at the Fountain, hurricane-battered lives hang in the balance
---
Your essential guide to the arts in L.A.
Get Carolina A. Miranda's weekly newsletter for what's happening, plus openings, critics' picks and more.
You may occasionally receive promotional content from the Los Angeles Times.