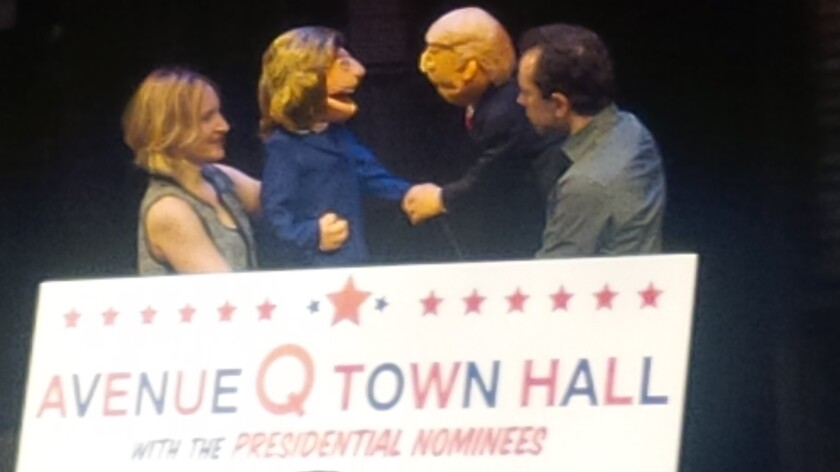 Reporting from New York —
The presidential candidates had come to a New York stage to make their plea to voters: Hillary Clinton, building a case for her experience, and Donald Trump, arguing for his outsider vigor.
Each had a disadvantage — or, depending on your level of political apathy, an advantage: They were puppets.
"We're gonna build a wall. A huge beautiful wall," said Trump, all 1½ fuzzy feet of him. "The one in China you can see from space. You'll see ours from the Death Star."
To a question about connecting with millennials, the Clinton springing from a hand on midtown Manhattan's New World Stages said: "I've been adulting for mad long. My pantsuits are on fleek. … If I'm elected it's gonna be so lit."
The Clinton and Trump puppets — manipulated and voiced by the married couple and past "Avenue Q" actors Maggie Lakis and Rob McClure — were part of the "Avenue Q Town Hall" event, a scripted piece of puppetry that aimed to put Monday night's human-sized proceedings in furry context.
How to satirize what many will say has long revealed itself as parody isn't easy. But "Avenue Q" had been making fresh comic fodder of standby subjects like political correctness for some time. A mock debate — complete with questions from the "live audience" ("Avenue Q" cast members) — just seemed right.
"Me longtime Internet computer user. Me running out of space on hard drive," said Trekkie Monster, known from the show for his adult activities online. "How can me permanently delete browser history?" he asked Clinton.
Another cast member piped in with a question for Trump: "Should I be worried about being stopped and frisked because I'm a person of fur?"
The event was the brainchild of the press agent Sam Rudy and carried out by current "Avenue Q" director Jen Bender. Rudy, who also was the media point man for "Hamilton" for the last year, had staged a George W. Bush-John Kerry debate as an "Avenue Q" publicity event during the 2004 election. He thought that, 12 years later, it might be a good time to revisit the idea.
"I felt like everybody just needs the opportunity to blow off a little steam, and one of the things we learned from 'Avenue Q' over the years is that it offers people a chance to do that while thinking about real issues," Rudy said. Plus, he added, "it's nice to find a way to keep the show in the news."
"How can me permanently delete browser history?"
Trekkie Monster, in a question posed to the puppet Hillary
The world is very different from when "Avenue Q" opened on Broadway in the 2003-2004 season, winning the Tony Award for best musical. Some political realities, however, remain.
Back then, a contested and consequential presidential election was unfolding. The show inserted George W. Bush's name in "For Now," the this-too-shall-pass-themed closing number; this time around, the show was interpolating Trump's.
"We have a unique ability to comment on what's happening," Bender said. "We can take things a step further than on 'SNL' because we're puppets.'
Bender added that she saw a similarity to "Hamilton" too. "That's a period show seen through a modern lens, and we're a modern show through a modern lens."
In interviews, cast members said that in some ways they shared with Trump the fight against political correctness. But they said the similarities went only so far.
McClure said he had spent a few weeks studying Trump's speech and body movements to play him as a puppet.
"It didn't actually take all that long. He only has like seven phrases he keep going back to," the actor said, going into an elongated outerboro-tinged "Fantastic."
McClure said he had taken a "Colbert-like" approach to the role. "If you just believe fully in what you're saying, it will reveal itself to be absurd."
See the most-read stories in Entertainment this hour »
Designed by Rick Lyon, who had created the original "Q" puppets, the Trump and Clinton puppets were dropped Sunday night at McClure's dressing room for "Something Rotten," whose cast he joined this summer.
After the live debate the puppets — with their human operators — were to make an appearance on Bravo's "Watch What Happens Live," a kind of counterpoint reminiscent of the old "State of the Union" commentary on Comedy Central. Rudy said he hoped that Monday's appearances were just the first of several stage and screen dates.
"Avenue Q" had a long history on Broadway, playing nearly six years. But it's now had a longer run at the smaller off-Broadway New World Stages: It will celebrate its seventh year at the theater next month.
Along the way it has become a New York theater improbability — the outre staple. "Avenue Q" these days reliably plays to tourists who want to see what was the fuss was about, if belatedly.
On stage Monday, Lakis' Clinton offered a reason why people still come as she showcased some topical humor.
"Women's rights and teachers' rights and puppet rights and 'Hamilton' lottery rights," she said, referring to the still-hot Broadway ticket.
McClure's Trump was asked a question about gay rights.
"This should have been left up to the states," he said. "Marriage should be between a man and a woman. Usually a beautiful younger woman with an accent."
On Twitter: @ZeitchikLAT
ALSO
A theater critic's point of view: Trump and Clinton as characters on the debate stage
Presidential debate expected to generate high scrutiny on moderator Lester Holt
Why TV news needs to pull itself together for the Trump-Clinton presidential debates
---