Column: Is 'Hamilton' the top Broadway musical of all time? Not necessarily, this expert says
The Times asked me to cite my "five top musicals," but I don't have five. I have 25, 100, 250. This rich art has thrown off countless wonderful or admirable or brilliant shows, so we need to specify what makes a musical top. I define it as a work that caps an ongoing artistic development of its age while springing forward to the next age.
First is that Mother of All Musicals, Jerome Kern and Oscar Hammerstein's "Show Boat" (1927). Contrary to what is often said, "Show Boat" was not the first integrated musical, nor even the first to deal with racism. (The long forgotten "Deep River," just the year before, was the first.) But "Show Boat" was so innovative that its central romance plays as boy meets girl, boy loses girl, then boy gets girl — 23 years later. More important, this show tailored all its numbers to the characters singing them. This had been trending for a while, but the production's huge set of principals — four major couples and various interlopers and kibitzers — forced the authors to create a score of many textures. It moves from the spiritual (in "Mis'ry's Comin' Aroun' ") to a comic ditty ("Life on the Wicked Stage") that suggests a tuba doing a gavotte; and from the utterly carefree ditty of young sweethearts ("Why Do I Love You?") to the dirge of a helpless woman at the end of her resources ("Bill"). That last title, written as a happy song, is performed in "Show Boat" as if for a funeral, a blend of textures in itself. Ever after, "Show Boat" inspired other writers to create music that sounds like the story.
George and Ira Gershwin and DuBose Heyward's "Porgy and Bess" (1935) reflects the musical's formal expansion from song and dance into opera. Think of "Summertime," a lullaby as natural as sunrise, or the fiercely tender "Bess, You Is My Woman Now," or the ecstatic finale, "I'm on My Way." "Porgy" is the work that tore open the emotional heart of the musical, in a rhapsodic composition that makes all its people — the two lovers, the sly dope peddler Sportin' Life, the villainous Crown, the Earth mother Serena — into figures of myth. It is the forerunner of such disparate shows as "Sweeney Todd" and "The Phantom of the Opera."
Richard Rodgers and Oscar Hammerstein's "The King and I" (1951) capped their invention of the "musical play": a show with powerful character conflict. The King is an absolutist, but so is his mentor, "Mrs. Anna." In earlier Rodgers and Hammerstein titles, the conflict of "Oklahoma!" was a range war of farmers and cowmen, "Carousel" was about class, and "South Pacific" was about race. But "The King and I" is a virtual world war of West versus East, all the more interesting in that, in some weirdly subdued way, the two leads might actually be in love. "The King and I" thus concluded the Rodgers and Hammerstein experiment so persuasively that the "musical play" became the art's most virtuous form, as strong as Eugene O'Neill or Tennessee Williams, but with the added lyricism of music.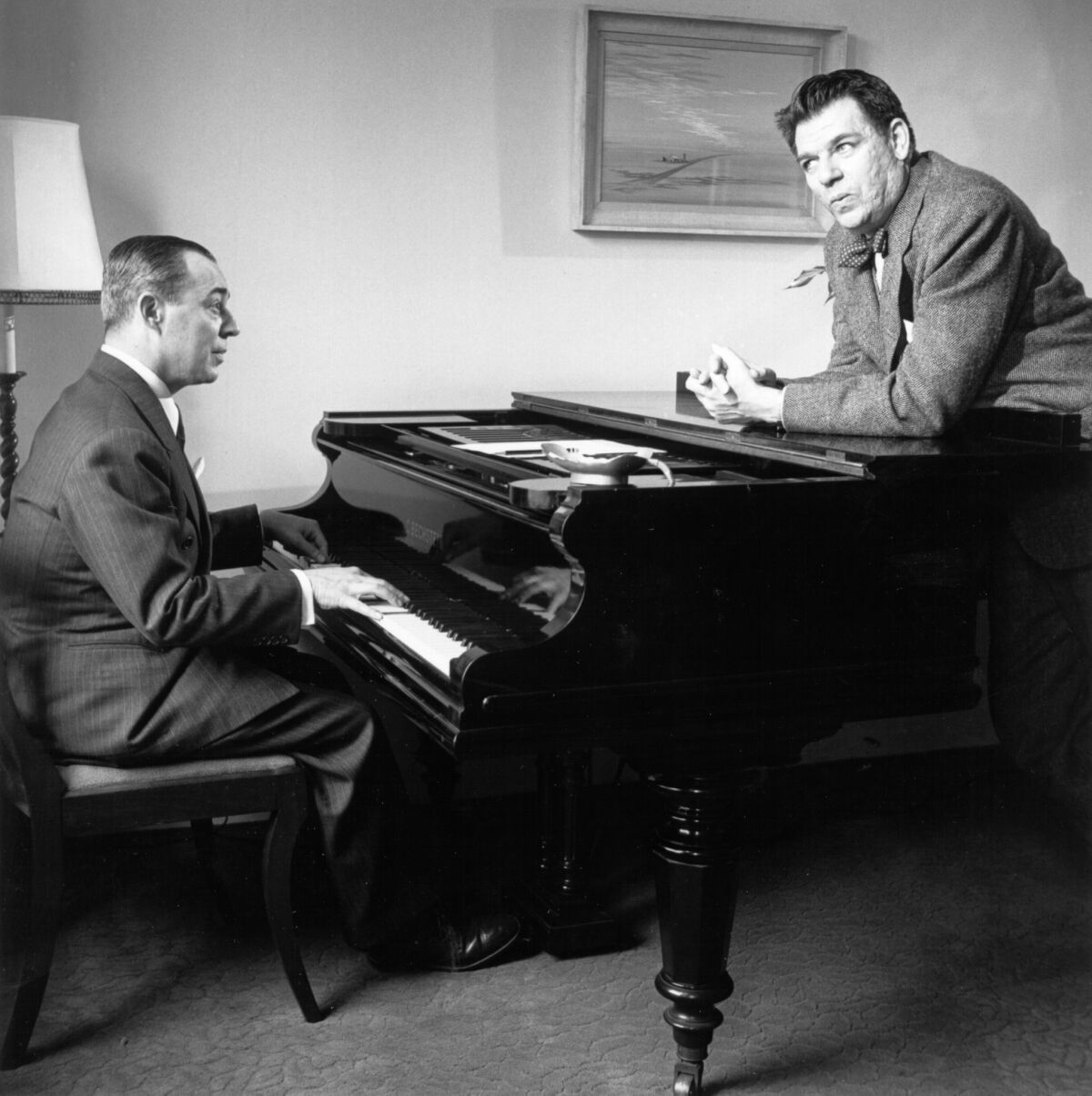 Now a little background before we get to No. 4: Another Rodgers and Hammerstein title, "Allegro," introduced the musical that collapses time and space, using a commentative chorus and allowing characters to appear anywhere in the narrative (even after death). This created a meta-theatrical environment in which a show analyzes its story while telling it. A unique work that alienated as many as it thrilled, "Allegro" had few successors till my fourth top show, John Kander and Fred Ebb's "Cabaret" (1966), reminded Broadway of the charms of this format.
"Cabaret" is really two musicals: One is the story and the other the nightclub numbers that examine the story, as in the risqué "Two Ladies" (on a ménage á trois) or "If You Could See Her Through My Eyes" (originally with a final line so toxic that it wasn't heard till the 1972 movie version), and I'm not quoting it here. After "Cabaret," the self-analyzing musical became routine, leading to Stephen Sondheim's shows and their balefully glittering subtexts.
And Sondheim's "Follies" (1971) capped decades of experimental dark musicals — the kind that deflate middle-class optimism, once the musical's essential element. These works see free will as terrorism: Every choice will be the wrong one and soon you're old and then you're dead. The "Follies" tale of two showgirls and their beaux bears the doom of the ancient Greek stage. Character is fate — and fate hurts. Yet this gloomy show is perversely glamorous and colorful, with so much there in it that we keep reviving it to try once again to penetrate that subtext.
And where is Lin-Manuel Miranda's "Hamilton," the most praised musical since "My Fair Lady"? "Hamilton" also caps an artistic development: the attempt to align contemporary pop music with dramatic ends. Broadway's powers that be have been trying since "Hair," nearly 50 years ago, and the "Hamilton" blend of hip-hop with more traditional theater music finally ushers in a new era. The show not only succeeds in this on both its own and Broadway's terms simultaneously, thus uniting two very different worlds. But it also makes its cast not a "color-blind" experiment but a very feature of its revolution, again uniting two disparate concepts of revolution: the American one of 1776, and the racial one of having people of color play our white Founding Fathers. There is as well the brilliant but deliberately nonconformist staging that expands the subject matter in ways we may appreciate but not entirely comprehend. Still, I'm citing only classics, so "Hamilton" is too new to qualify. We'll need decades to absorb its many meanings — historical, poetic, cultural.
Mordden has written extensively on Broadway history. His latest book is "On Sondheim: An Opinionated Guide" (Oxford University Press).
ALSO
Tony Awards 2016: The complete list of nominees
And the winner is ... the ensemble cast: How Broadway's best acting was a group effort
The emotional hooks of 'Hamilton': Why the soundtrack makes me cry every single time
Sheldon Harnick, 'Fiddler' and 'She Loves Me' lyricist, sails back into the Tony spotlight at 92
Follow The Times' arts team @culturemonster.
---
Get our L.A. Goes Out newsletter, with the week's best events, to help you explore and experience our city.
You may occasionally receive promotional content from the Los Angeles Times.