Review: Matthew Bourne's 'Cinderella' dances into WWII with a profound beauty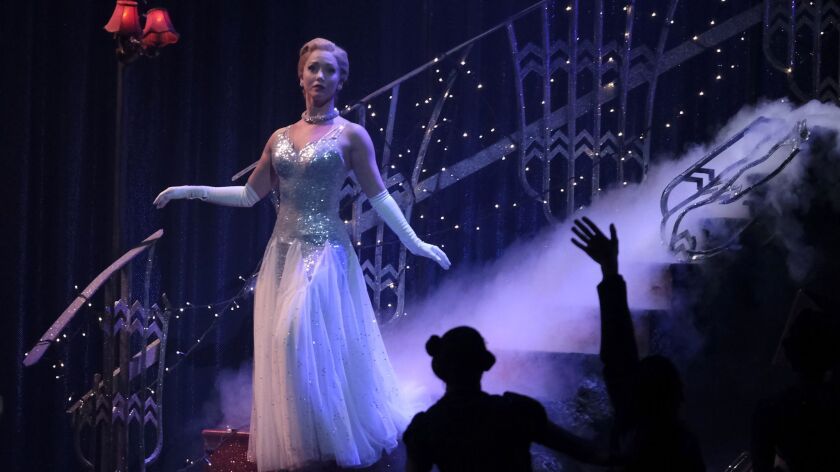 In the dance world, nobody makes a case for damaged heroes as brilliantly as Matthew Bourne. In his reworkings of classic stories and scores, the British director and choreographer invariably makes the search for love reveal bedrock human imperfections — sad truths about our needs and limitations that he defines through an alternately satiric and compassionate character-dance style.
Twenty years after its American premiere at the Ahmanson Theatre, his "Cinderella" returned to that stage for a run that opened Wednesday and ends March 10. As before, the brooding and frequently sardonic ballet score by Sergei Prokofiev had been taken from fairyland and re-situated during World War II (when it was composed).
For once, the mood of that score made perfect sense. What's more, the London Blitz became a major player, nearly destroying the lives of the title character and the man she loved.
Yes, as usual, you could find a supernatural protector, a lost slipper, a glittering ball and wicked stepsisters — along with abusive stepbrothers and an unhinged, murderous stepmother this time around.
Throughout the three-act dance-drama, Cinderella's large, supremely dysfunctional family yielded plenty of comedy and inspired reimaginings of pop dances (a Bourne specialty). But darkness reigned, and that darkness may be more potent now than it was in a safer, less turbulent era.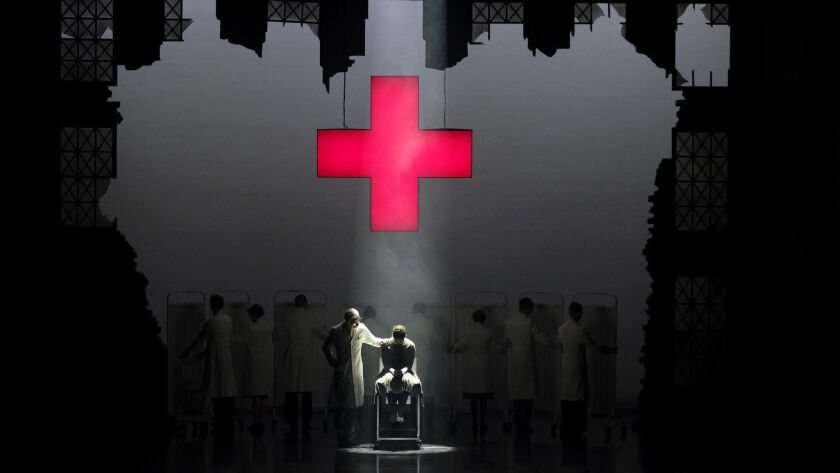 Using documentary films of the Blitz and unsparing depictions of the carnage and brutality it caused, Bourne not only created a "Cinderella" for adults but a superb display of hallucinatory stagecraft.
The revised physical production (circa 2010) with sets and costumes by Bourne's longtime collaborator Lez Brotherston and the resourceful lighting design by Neil Austin accounted for many of the startling shifts in perspective. But so did Bourne's tireless New Adventures company, whether seen as workaday Brits or as menacing embodiments of paranoia. Just about every role has been double-cast throughout the run, so the exact Wednesday lineup may not be on view in later performances. Each night major casting is posted in the lobby, but more detailed listings will reportedly be available on request.
The closest approximation to conventional ballet technique occurs in the extended dream scene of Act 2, a ball or party at the Café de Paris and its aftermath. Here, for a time, everyone's romantic illusions are satisfied, with Cinderella and her prince (a shell-shocked pilot in this version) seen at their most glamorous and lyrical.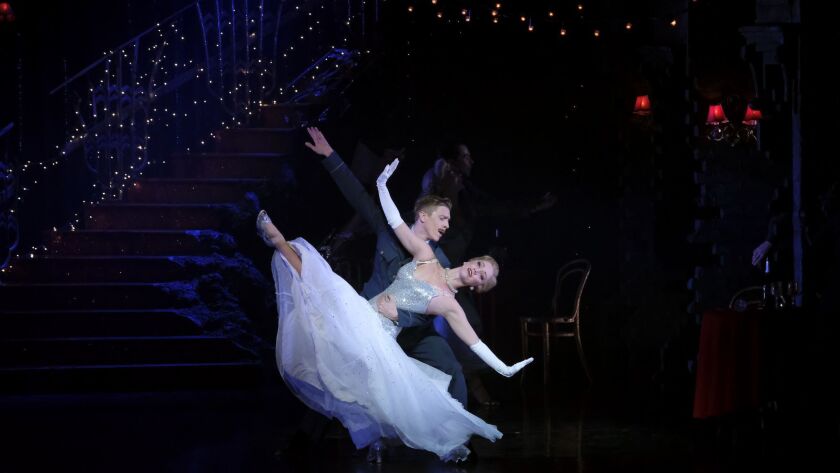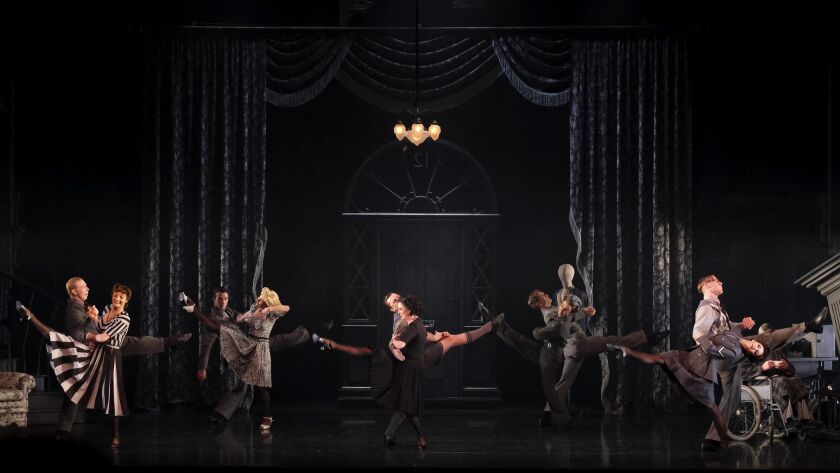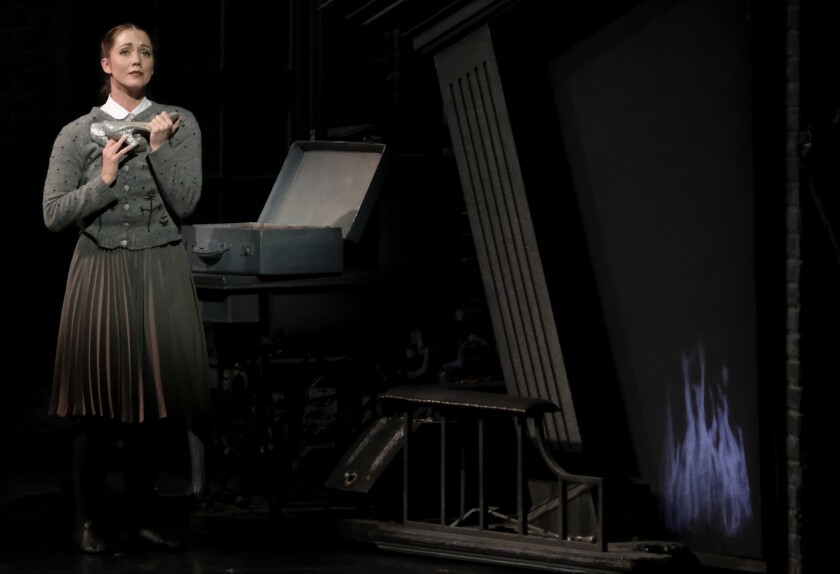 On Wednesday, Andrew Monaghan danced a commanding showpiece trio with Matt Petty and Paris Fitzpatrick before moving into love duets — formal and then sensual — opposite Ashley Shaw. The 1999 opening night had featured Royal Ballet stars as the lovers, and if the more modest Monaghan and Shaw sometimes got lost in ensemble sequences on Wednesday, their dancing remained faultless and true in their intimate scenes. Shaw made a spectacular transformation from mousy and abused into radiant and regal, while Monaghan kept the pilot's essential sweetness as convincing as his dangerous disorientation.
As Cinderella's guardian angel, Liam Mower looked a mite brusque, if technically secure, in his solos. Madelaine Brennan had great fun with the lusty alcoholic excesses of the stepmother.
Twenty years ago a live orchestra accompanied Bourne's "Cinderella." But realities now bring us canned Prokofiev ornamented with realistic sound effects (air-raid sirens, for example), used discreetly, for the most part. Bourne includes more of the score than many of his predecessors (among them Frederick Ashton) and the result balances the documentary, romantic, narrative and comic components of his vision in an entirely original way.
No toe shoes, tiaras or tights, but the quest for that lost slipper — and true love — has never seemed more profound.
♦ ♦ ♦ ♦ ♦ ♦ ♦ ♦ ♦ ♦
Matthew Bourne's 'Cinderella'
When: 8 p.m. Tuesdays-Fridays, 2 and 8 p.m. Saturdays, 1 and 6:30 p.m. Sundays, through March 10 (check for exceptions)
Where: Ahmanson Theatre, 135 N. Grand Ave., Los Angeles
Tickets: $30-$175 (subject to change)
Info: (213) 628-2772, centertheatregroup.org
Running time: 2 hours, 30 minutes (with two intermissions)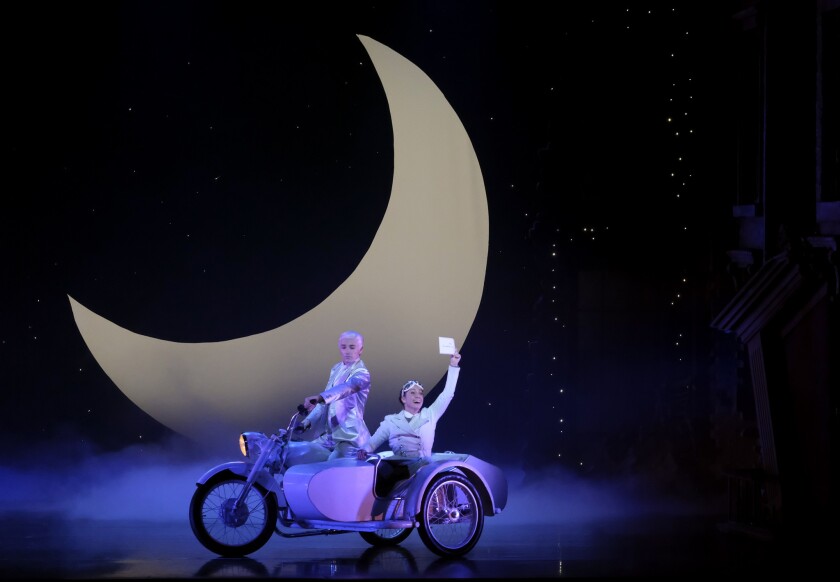 Support our coverage of local artists and the local arts scene by becoming a digital subscriber.
See all of our latest arts news and reviews at latimes.com/arts.
---
From the Oscars to the Emmys.
Get the Envelope newsletter for exclusive awards season coverage, behind-the-scenes stories from the Envelope podcast and columnist Glenn Whipp's must-read analysis.
You may occasionally receive promotional content from the Los Angeles Times.