Jeremy Denk, in words and music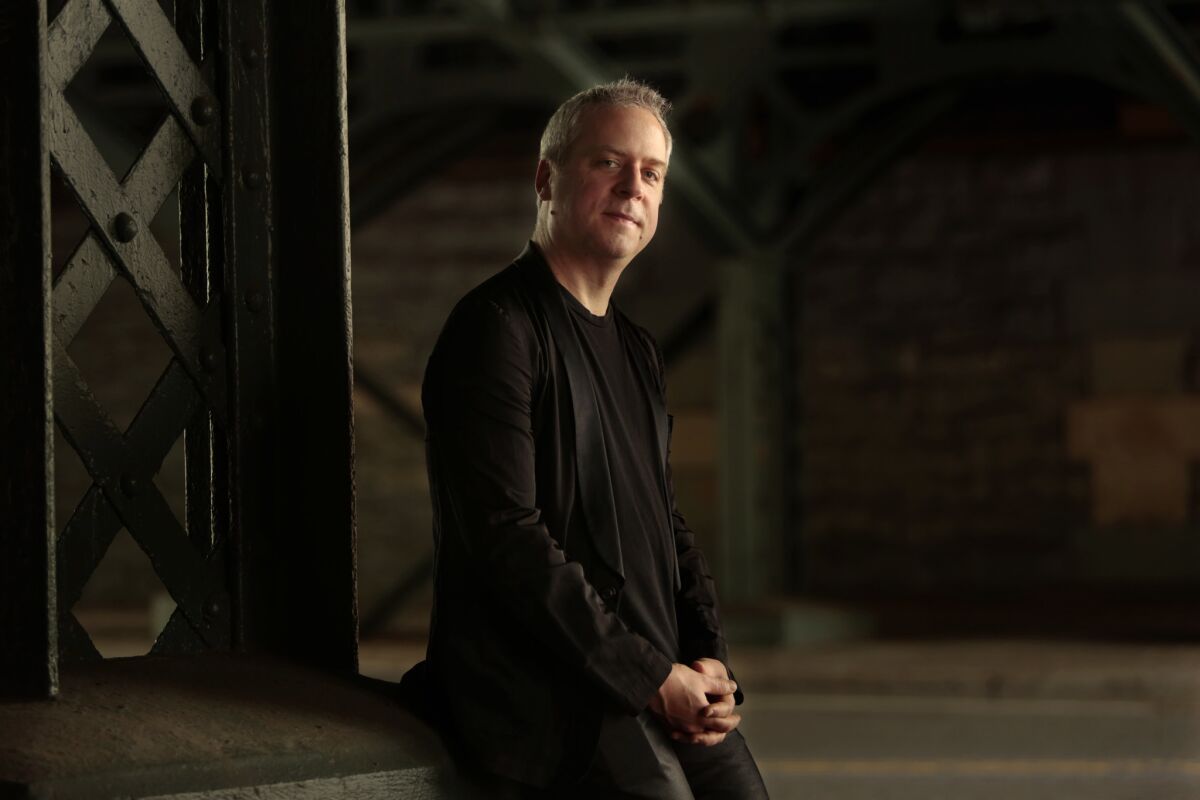 Reporting from New York —
These are illustrious times for the pianist and writer Jeremy Denk. Last year he won a MacArthur "genius" Fellowship, was named Musical America's Instrumentalist of the Year and signed a book contract to expand a New Yorker article about piano lessons.
A few months ago, he received the $75,000 Avery Fisher Prize, and in a few weeks he heads west to become music director of the 68th annual Ojai Music Festival. The festival, starting June 12, should offer a change of pace for Denk. Instead of his usual concertizing across the U.S., Europe and elsewhere, he'll be in residence at the four-day festival — and in charge.
------------
FOR THE RECORD
This profile of pianist Jeremy Denk identifies Charles Ives music being played at the Ojai Music Festival on Saturday morning, June 14, as four violin concertos. In fact, being performed are Ives' Sonatas for Violin and Piano, Nos.1-4.
------------
"I've never curated anything like this before," the 44-year-old musician said over coffee on the Upper West Side. "I've never had the responsibility for a weekend's stimulation."
He had never written an opera libretto before, either. But besides curating the festival and performing there, he's come up with "The Classical Style: An Opera [of Sorts]," which will be given its premiere in Ojai. Based on pianist Charles Rosen's 1971 scholarly book, "The Classical Style," with music by composer Steven Stucky, the comic opera features such things as Mozart, Beethoven and Haydn playing Scrabble in heaven.
The Ojai Music Festival thrives on ideas like that, and Thomas W. Morris, now in his 11th year as the festival's artistic director, thrives on picking music directors who will come up with such ideas. Last year it was the choreographer Mark Morris, a dancer with great passion for and knowledge about music, and this time it's Denk, a man who enjoys interpreting and intertwining musical pieces in novel ways.
Denk was at the festival in 2009 to perform Bach's "Goldberg Variations," one of the most challenging pieces in the piano repertoire, and, says Thomas Morris, "I was taken with his energy, musicianship and thoughtfulness. He was already somebody I had my eye on, and I took him aside at intermission and asked if he would be music director in 2014."
Denk was immediately excited by the prospect and has said he's "thrilled" to head a festival "full of varied and weird things I tend to like." The musician also likes to share his musical knowledge, whether from the stage or in print, not unlike the polymath Rosen.
Denk had been friendly with Rosen, who died last year at 85, and greatly admired Rosen's "The Classical Style." Although Denk says he first proposed turning the book into an opera as a joke, he admits he'd been thinking about it for years.
The way Morris remembers it, "Jeremy said, 'When I tell you the subject, you're going to laugh,' and when he told me, I did laugh. It's not a book that immediately screams out that it should be an opera. But I admire crazy ideas like that, and I view Ojai as a lab where artists should try things and not just do stuff they do anywhere else. I said, 'Let's do it.'"
The men discussed potential composers and kept coming back to Pulitzer Prize winner Stucky. The busy composer, who earlier held various composing affiliations with the Los Angeles Philharmonic, says he kept recommending other composers. But Morris and Denk apparently were quite persistent.
"Jeremy began peppering me with material when I resisted," recalls Stucky, "and as I read his drafts, I found myself laughing out loud. He's able to look at himself and this sacred business of classical music with a certain amount of humor. As a result, the piece he came up with is both a sendup of classical music and at the same time a heartbreaking and touching love letter to classical music."
As the opera took shape, Denk and Morris were planning the rest of the festival, meeting every six months over sushi. "I like programs to be (a) fun and (b) interesting, and that's not always easy," says Denk. "We kept talking and trying to come up with a structure so the music would be varied and interesting and also relate. We wanted it to be integrated but not monotonous."
They began with an invitation to Uri Caine, a jazz pianist and composer known for what Denk calls "recontextualizing classical music." "We both have a great affection for what Uri Caine does," says Denk, "and the opera and Uri Caine seemed like an irresistible combination."
Caine has made three albums interpreting and improvising the music of Gustav Mahler, and a festival highlight will be his opening-night concert of "Mahler Re-Imagined." He and his sextet will similarly take on George Gershwin's "Rhapsody in Blue," says Caine, noting it has not just jazz influences but klezmer, Latin, Broadway and more.
There will be Beethoven, Mozart and Haydn, reflecting their role in Rosen's "Classical Style," but there will also be the festival's usual offerings of more contemporary music. Denk's choice of the Brooklyn-based collective the Knights as orchestra-in-residence also reflects his desires to merge different kinds of music in unusual ways.
As the Knights' Co-Artistic Director Colin Jacobsen puts it, "Jeremy's combination of reverence and irreverence suits the Knights as well. Whether the music was written 300 years ago or yesterday, a great composer or performer will set up an expectation and then thwart it."
As in prior years, musical selections reflect the passions of the music director. Denk considers the music of Charles Ives "a big part" of his life, and Ives' four violin concertos are on the schedule. So are György Ligeti etudes that Denk performed, to thunderous applause, at a recent performance of the Los Angeles Chamber Orchestra.
At the piano
Born in North Carolina, Denk grew up in a home with a spinet piano and lots of records, but his parents were not musicians. His family moved from North Carolina to New Jersey, then to New Mexico. A constant was his piano study, begun when he was 5 years old. He didn't do much performing as a child, he says, noting his first real public recital was in Las Cruces, N.M., when he was 11 or 12.
Denk, who calls himself "a little bit of an overachiever," skipped several grades and went off to Oberlin College at 16 with a double major in chemistry and piano. But he knew by the time he was 18, he says, that he wanted to make a career of piano. "I sold all my chemistry books minutes after graduation. My chemistry teachers advised it. It wasn't that I was bad at chemistry, but it was clear I should be a pianist."
As we learn from his 2013 New Yorker piece, "Every Good Boy Does Fine," and will learn in greater detail in the memoir he develops for Random House from it, he then went off to Indiana University to study with the famed Hungarian pianist György Sebök. To further his career, he moved to New York, where he continued his piano study at Juilliard and in 1997 made his New York recital debut at Lincoln Center's Alice Tully Hall. Today he gives about 100 concerts annually, a number he laments has been rapidly accelerating in recent years.
Finding the words
Also accelerating has been his writing. He began a blog in 2004, called Think Denk (and subtitled "the glamorous life and thoughts of a concert pianist"), whose subjects have included actor Taylor Lautner and geese in Boston as well as music. After New Yorker music critic Alex Ross began linking to his blog, the New Yorker sought him out for writing, and he has since written for several other publications as well.
"I used to have all this time to muse about music in random or bizarre ways, but now I am so nose to the grindstone about piano playing," Denk laments. "Things I would normally put in the blog, I have been saving up for the book. It's hard to be imaginative about music for several hours when practicing and then be imaginative about words. It doesn't leave you much time or room for real life — whatever that is."
--------------
Ojai Music Festival
Where: Libbey Bowl, 210 S. Signal St., Ojai (call for exceptions)
When: June 12 through 15
Contact: (805) 646-2094 or https://www.ojaifestival.org.
Get our L.A. Goes Out newsletter, with the week's best events, to help you explore and experience our city.
You may occasionally receive promotional content from the Los Angeles Times.