Celebrating L.A.'s Central Library's 90th birthday with — what else? — a new book
Next month, the Los Angeles Central Library celebrates its 90th anniversary, but at a recent talk, author Stephen Gee noted that some Angelenos don't even know the landmark's location.
Many have never stepped inside the eight-story building at 5th and Flower streets downtown. Even for those who have, "Los Angeles Central Library: A History of Its Art and Architecture" (Angel City Press) holds some surprises — details of the paintings, sculptures, murals, gardens and décor, captured in pictures by Gee's co-author, photographer Arnold Schwartzman.
New York architect Bertram Goodhue was selected to build the library in 1923, based on the Spanish Colonial Revival building he designed for the 1915-17 Panama-California Exposition in San Diego. Goodhue was deeply influenced by Mediterranean Revival architecture and ancient Egyptian culture following the 1922 discovery of Pharaoh Tutankhamun's tomb — evident in the tiled mosaic pyramid roof and pylon-like shapes resembling ancient Egyptian mortuary temples at the entrance by Hope and Flower streets.
"What other library has a pyramid?" Gee asked.
When Goodhue died unexpectedly in 1924, Carleton Winslow took over. Lee Lawrie created the exterior sculptures, which symbolize writers and thinkers such as Shakespeare, Socrates and Da Vinci.
For Schwartzman, the most interesting feature to photograph was the rotunda ceiling with its bronze Zodiac Chandelier by Lawrie, accented by stenciling painted directly on the concrete by Los Angeles artist Julian Garnsey.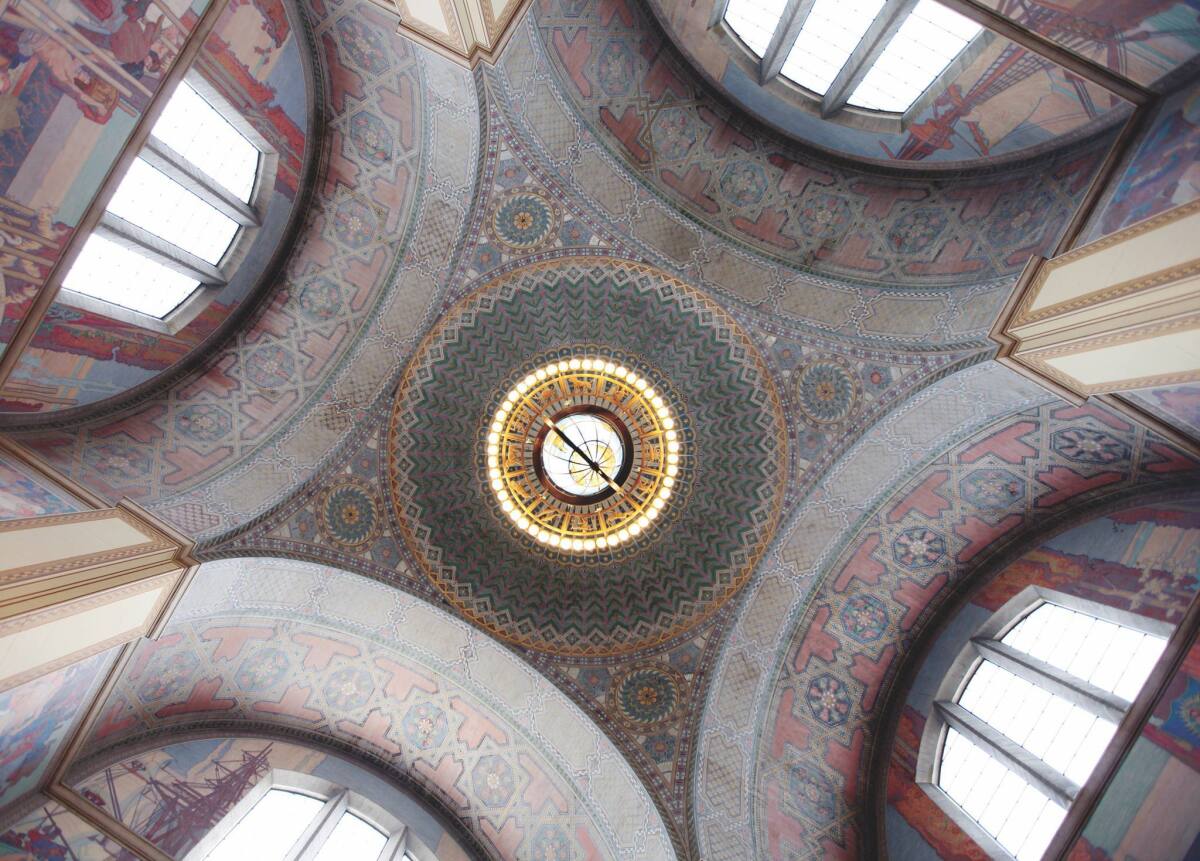 On the upper walls surrounding the rotunda are Dean Cornwell's five-years-in-the-making murals depicting early California history.

"They were promoted as being the largest work by a single artist since Michelangelo worked on the Sistine Chapel," said Gee.
The library has survived the threat of demolition, relocation and, in the 1980s, two arson fires. In 1993, the library was expanded and renovated, adding an eight-story Tom Bradley atrium wing and nearly 89 miles of shelving.
Follow The Times' arts team @culturemonster.
Get our L.A. Goes Out newsletter, with the week's best events, to help you explore and experience our city.
You may occasionally receive promotional content from the Los Angeles Times.