Review: 'Deer Rear' and other unnerving looks at the nature of trickery
While humans have recently shown themselves highly susceptible to fake news and false accusations, L.A. artist Chadwick Rantanen looks at the deceptions and broken promises we offer our neighbors in the animal kingdom. His exhibition of mechanized sculptures at the gallery Team (bungalow) uses hunting decoys and pest traps to examine notions of trickery and simulation.
The gallery's main space — the living room of a small house — features three sculptures. The most striking is a hanging mobile made up of plastic crows. The decoys have wings that flutter and are powered by battery packs that Rantanen has altered to run on lower-powered AAA batteries instead of AA. The insufficient power causes the wings to whir spastically, as if the crows are struggling. The batteries themselves are exposed and decorated to look like large bees.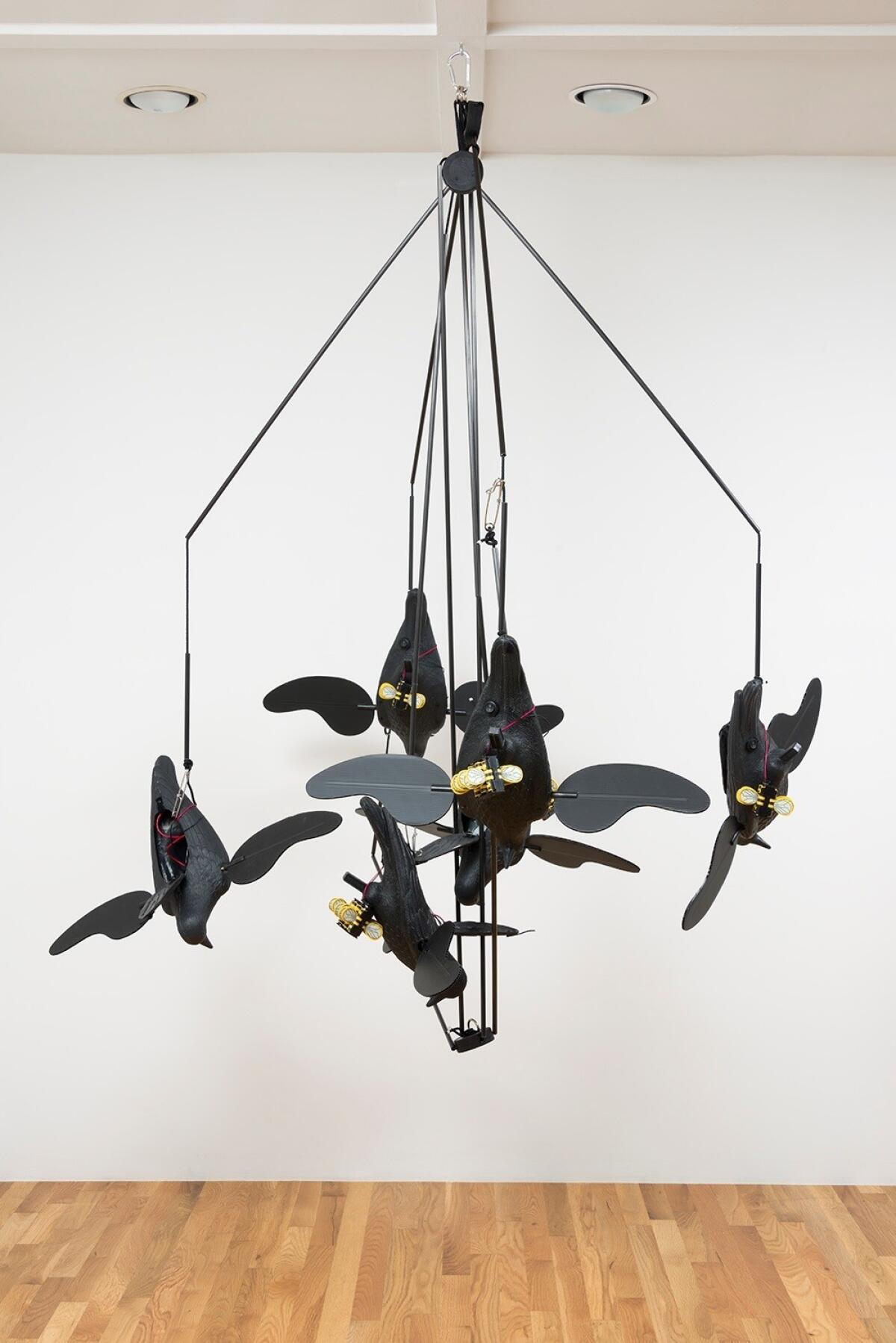 In another corner is a plastic bowl containing decoy pigeons. The pigeons and their metal support rods roll around in the bowl, the rods flailing like disabled legs, trying fruitlessly to escape. The piece also emits a disturbingly high-pitched squeak: a mechanical distress call.
These constructions not only expose the mechanisms behind such stand-ins, they are also images of disability, evoking the maiming and killing that the decoys are designed to facilitate.
The third piece is a long green floor sculpture. Studded with holes and containing some brownish sticky substance, it is an over-sized rodent trap turned modern sculpture. It might make you think twice before walking into a giant Richard Serra.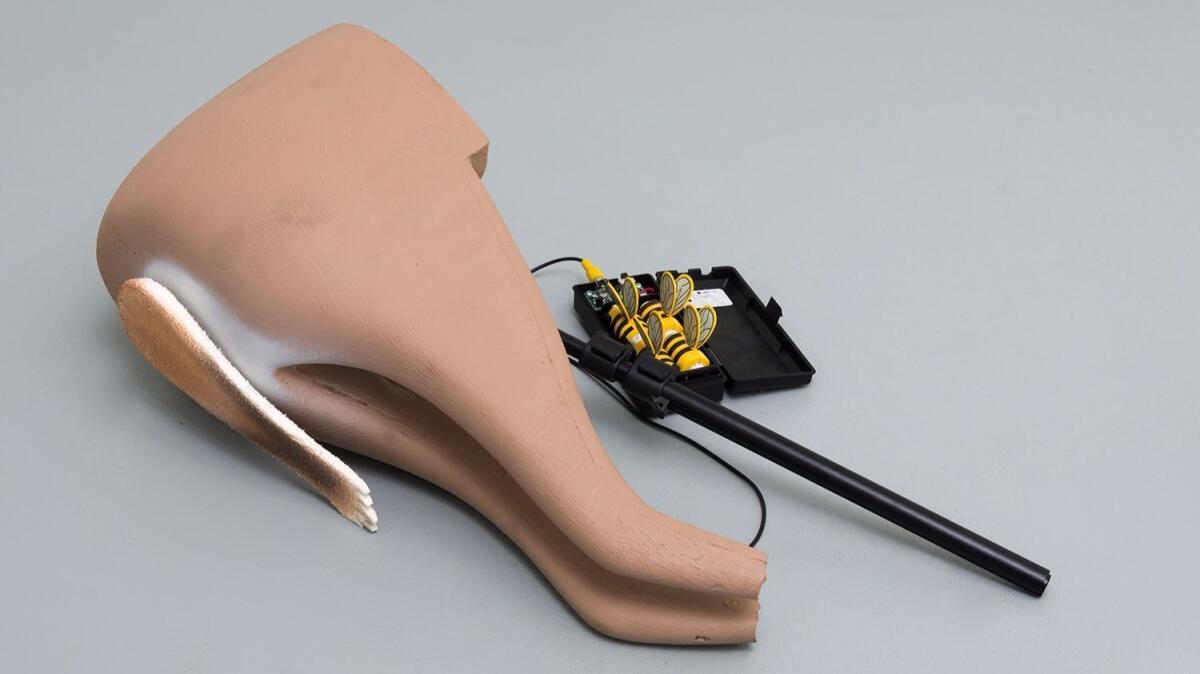 SIGN UP for the free Essential Arts & Culture newsletter »
Yet the most disturbing work appears in the detached shed behind the house. In a room hung with the most beautiful flypaper strips you will ever see is "Deer Rear," which is just what it sounds like: a facsimile of the rear quarters of a deer. Lying on its side with its altered battery pack and metal support rod exposed, it's clearly fake. Yet the tail twitches ever so slightly and at just long enough intervals to be completely unnerving. I imagine tucked away in the woods somewhere, it might be attractive to some lonely deer. But it's fake news, just real enough to be dangerous.
Team (bungalow), 306 Windward Ave., Venice. Through April 16; closed Monday and Tuesday. (310) 339-1945, www.teamgal.com.
Follow The Times' arts team @culturemonster.
ALSO
Auction battles and encounters with royalty: LACMA curator looks back at 24 years of adventures
With bold brush strokes and luminous neon, L.A. painter Mary Weatherford comes into her own
Doug Aitken's 'Mirage': a funhouse mirror for the age of social media
100 missing women: Drawings at African American museum tell a powerful story of loss
L.A. Without the NEA: Series looks at what's lost if agency gets the ax
Get our L.A. Goes Out newsletter, with the week's best events, to help you explore and experience our city.
You may occasionally receive promotional content from the Los Angeles Times.