Review: 'Conceptual Craft' at Denk Gallery: The wood chair returned to nature and other heady ideas
"Conceptual Craft," the name of a spirited show at Denk Gallery in downtown Los Angeles, might seem at first to be a contradiction in terms. Conceptual, after all, implies an idea, a product largely of mind, while craft is grounded in materiality and generated by the hand. More than ever, though, art flouts categorical definitions, and "Conceptual Craft" takes the presumption of either/or and turns it into an exultant and.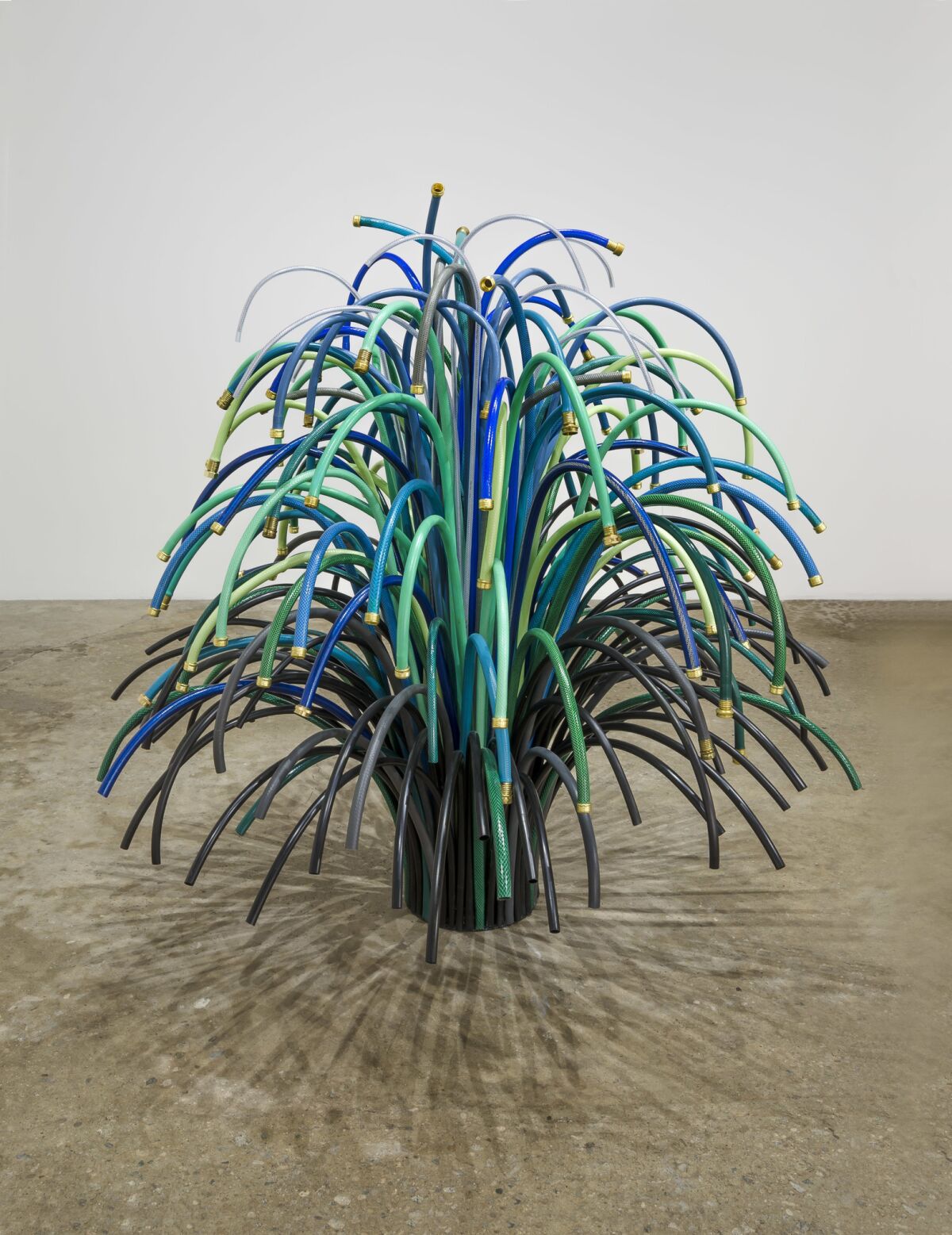 SIGN UP for the free Essential Arts & Culture newsletter »
The Denk show features eight artists who revel in a kind of play, heady and tactile. They adopt their materials with exacting deliberateness, often setting in motion a visual pun or witty self-referential turn. In Lynn Aldrich's "Sprinkler," for instance, multicolored garden, irrigation and fuel hoses evoke a fountain. Pontus Willfors' irresistible "Rocking Chair" appears to return itself back to nature, its beech slats extending outward, splitting and twisting into a rooty bramble.
Tim Hawkinson is always good for a deep chuckle, and he delivers here with "Gumball," a bubble-gum-pink sphere of cast body parts — feet, elbows, tummy, rear — a compact mutant portrait that begs to be rolled across the floor. Works by Jared Pankin, Ashley Hagen, Ephraim Puusemp and Nova Jiang also ripple with surprises, but the show assumes the most emotional heft in Jeff Colson's three sculptures.
Each features an object on a base, but the pedestals, instead of being neutral supports, are pieces of furniture reconstructed from memory to replicate those from Colson's childhood home, scuffs and all. The sculptures that rest on them appear to be assembled of wood scraps but are actually resin. One looks suspiciously like a cubist head by Picasso — and that seemingly errant drop of red paint on the cabinet top it sits on coyly marks it as sold. The other two sculptures evoke improvised shelters, echoing the work of Beverly Buchanan as well as recent natural disaster coverage.
These different modes of domesticity — one warmly glowing with nostalgia, the other reeking of instability — converge with aching poignancy. Throughout the show, head and hand ally consistently, cleverly. In Colson's work especially, heart joins in too.
Denk Gallery, 749 E. Temple St., L.A. Through Oct. 14; closed Sundays and Mondays. (213) 935-8331, www.denkgallery.com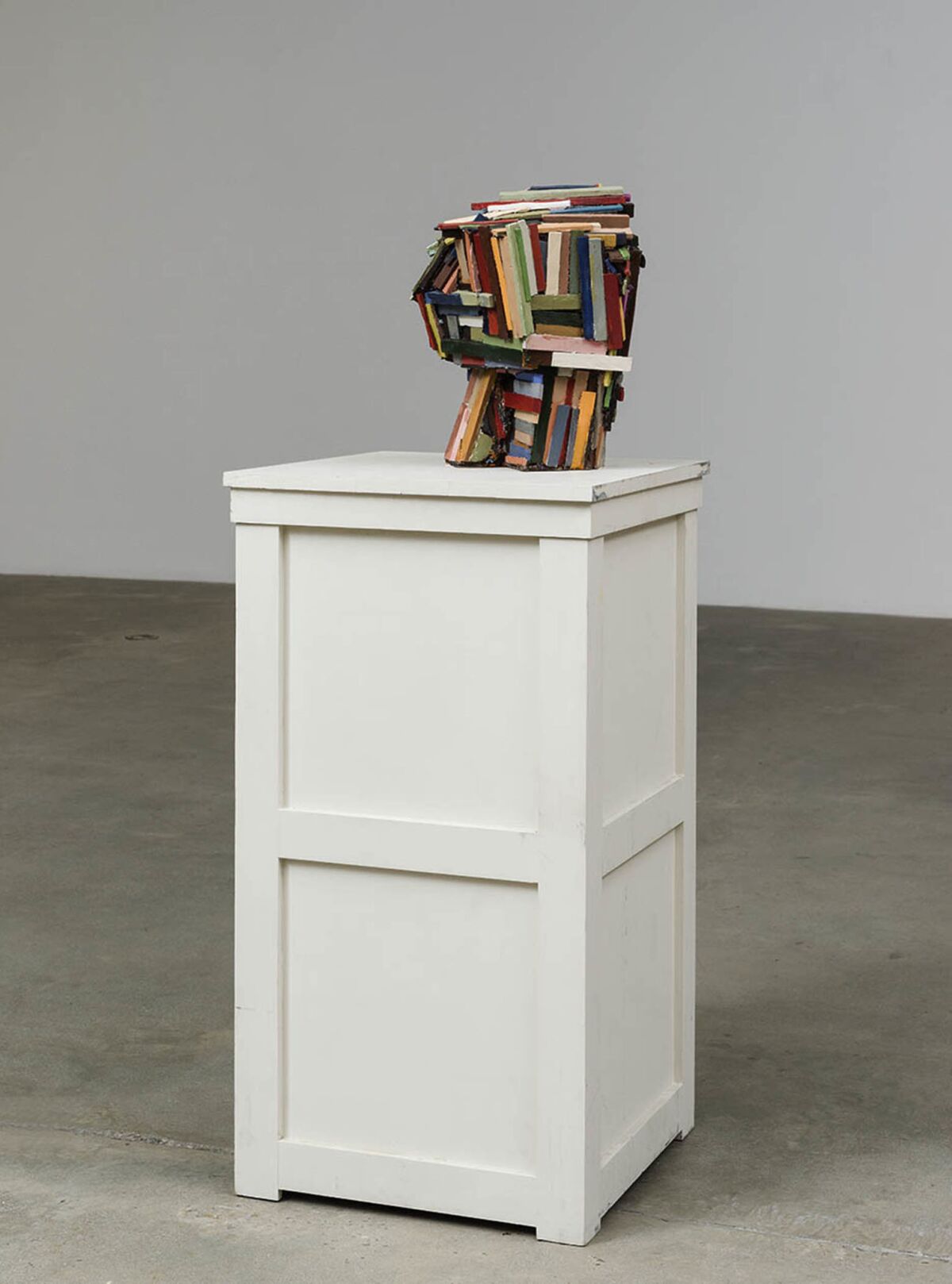 Support coverage of the arts. Share this article.
MORE ART:
Interview with Ai Weiwei and the global refugee crisis
Anna Maria Maiolino and art about being a woman
Why David Geffen is pledging $150 million for LACMA's new building
Get our L.A. Goes Out newsletter, with the week's best events, to help you explore and experience our city.
You may occasionally receive promotional content from the Los Angeles Times.