David Geffen pledges $150 million for new LACMA building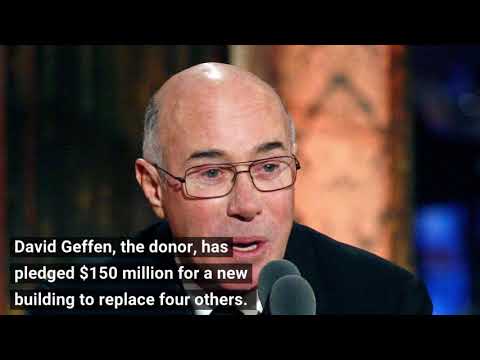 David Geffen has pledged $150 million to a new building for the Los Angeles County Museum of Art. (Oct. 4, 2017) (Sign up for our free video newsletter here http://bit.ly/2n6VKPR)
Breathing fresh life into one of the city's most ambitious cultural projects and making history as the largest gift on record toward the construction of an American museum, David Geffen has pledged $150 million to a new building for the Los Angeles County Museum of Art.
Geffen's pledge raises LACMA's fundraising total to $450 million of the $650 million needed to break ground on a modernist Peter Zumthor building, arguably the most anticipated new piece of architecture in L.A. since Frank Gehry's Walt Disney Concert Hall opened in 2003.
The Zumthor building, to be named the David Geffen Galleries, has evolved from a black, amorphous design reminiscent of the nearby La Brea Tar Pits into a more muscular, sand-colored concrete structure that bridges Wilshire Boulevard. Beyond giving LACMA the kind of architectural presence that has become the norm for world-class art museums, the Zumthor project would further cement L.A.'s rising status as a cultural capital of international import.
"There is no great city without a great museum," Geffen said by phone from his Beverly Hills home, film giant Jack Warner's former estate. "Los Angeles is the city of the future, and with the involvement of those who support art and architecture here, the creation of this building is a very important event."
The Geffen gift — the largest single cash gift from an individual in LACMA's history — comes after more than three years of relentless fundraising spearheaded by museum Director Michael Govan.
"That this watershed gift is happening in Los Angeles is a testament, not just to LACMA, but to all of Los Angeles as a cultural center," Govan said. "This is a public-private partnership of extraordinary dimension."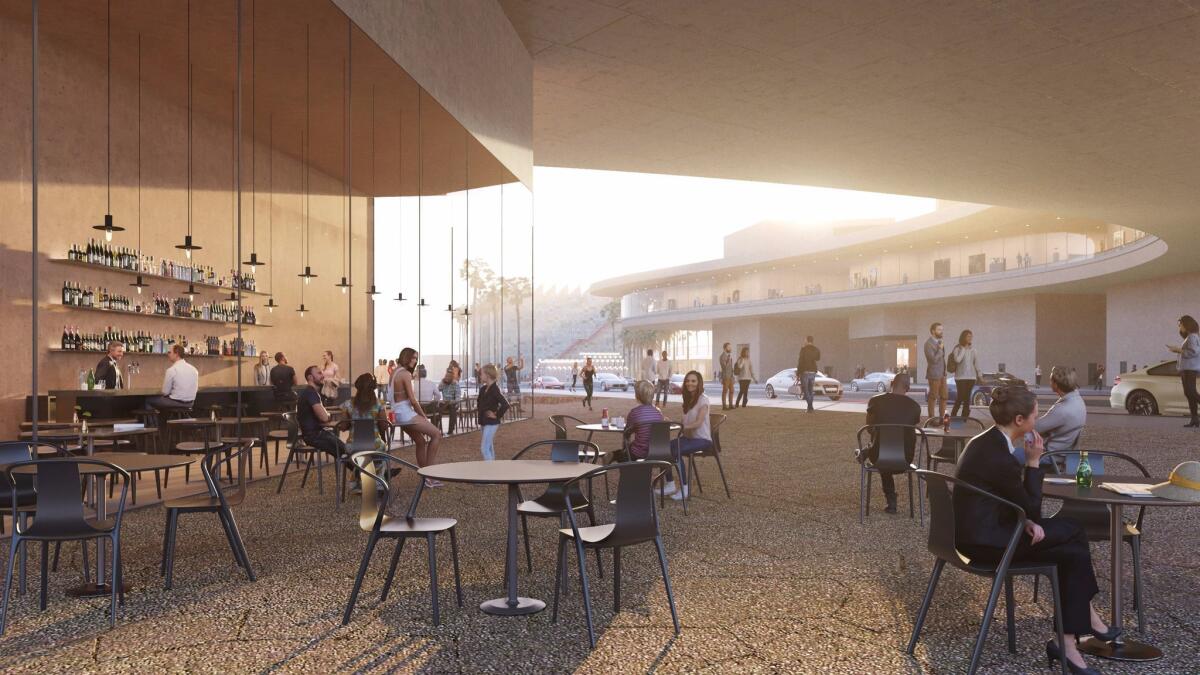 When it is finished, the building will essentially be owned by the people of Los Angeles County. That LACMA is a public facility sets it apart from museums with patron-funded endowments including the Getty and the Norton Simon.
Board of Supervisors Chairman Mark Ridley-Thomas called the Geffen gift a "game-changer" for the museum and "an inspiring example of how private philanthropists can partner with public institutions to expand architectural and artistic horizons for everyone."
Although philanthropist Eli Broad, filmmaker George Lucas and Wal-Mart heiress Alice Walton have spent or pledged as much or more than Geffen, their museums were designed specifically to house their personal art collections. For a donation on par with Geffen's, one must look back to 1937, when industrialist Andrew Mellon contributed $10 million for the construction of the National Gallery of Art in Washington, D.C. That gift, adjusted for inflation, equals about $174 million today.
The new LACMA structure will replace three original William Pereira buildings, completed in 1965 and often criticized for being too inaccessible, as well as a 1986 addition by Hardy Holzman Pfeiffer Associates. Govan campaigned for the new construction, in part, by saying those buildings would soon need more than $300 million in upgrades and restoration if they were to remain standing.
LACMA's groundbreaking, originally planned for 2018, is now scheduled for 2019, with completion slated for 2023 — around when the city aims to complete the Metro Purple Line light-rail extension along Wilshire Boulevard, with a stop across the street from the museum.
When built, the new building would cap a two-decade expansion effort marked by steps forward and back. An ambitious 2001 plan for a new Rem Koolhaas design was abandoned a year later because of stalled fundraising. LACMA did open the Broad Contemporary Art Museum building, or BCAM, in 2008 and the Lynda and Stewart Resnick Exhibition Pavilion in 2010. Both were designed by Italian architect Renzo Piano, and both came with $50-million grants from their namesakes.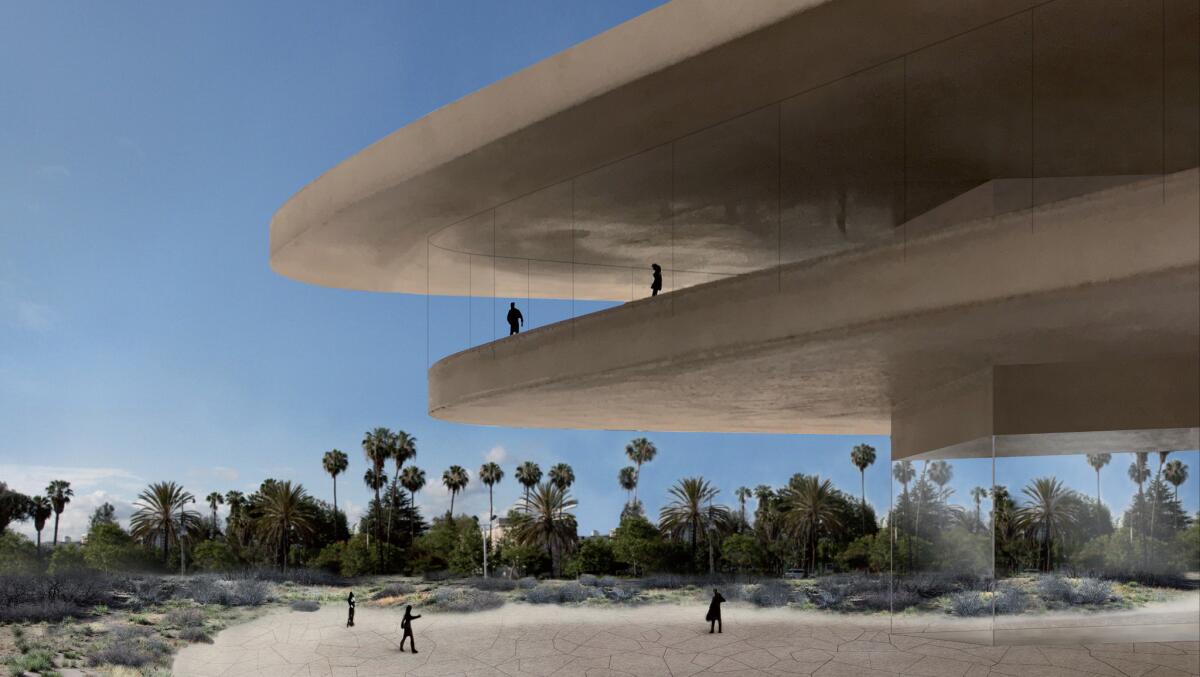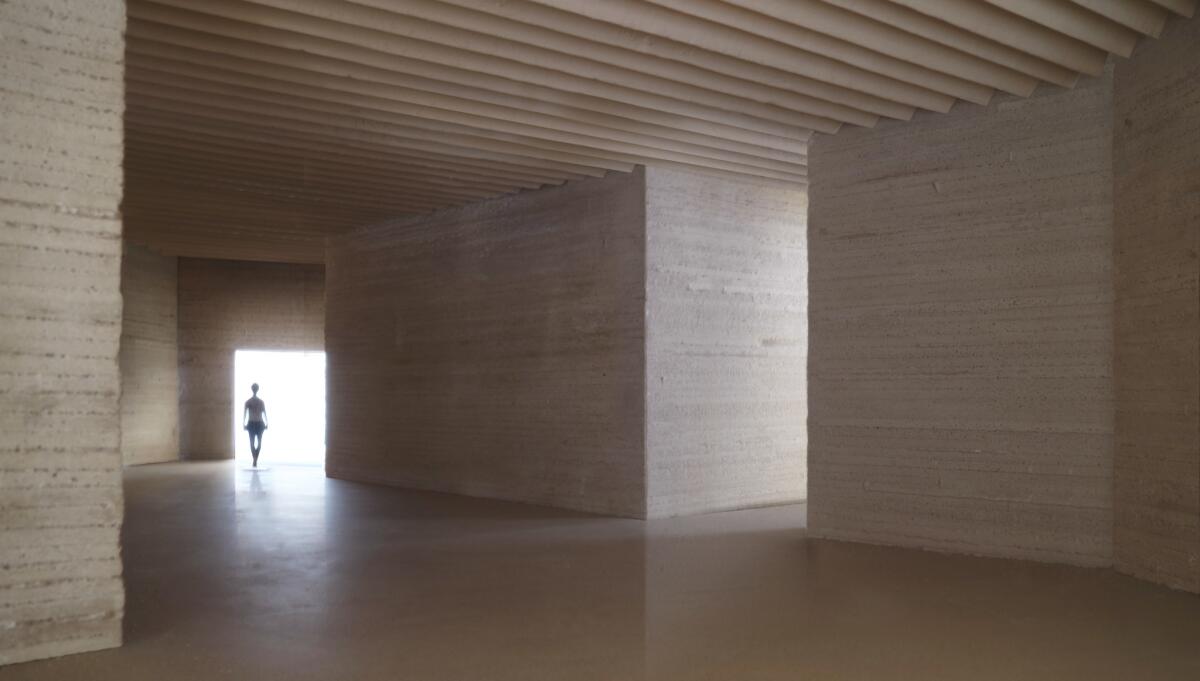 For the Zumthor project, last year LACMA announced a $50-million pledge from Las Vegas art collector and museum co-chair Elaine Wynn and a $25-million pledge from former Univision Chairman A. Jerrold Perenchio. With $125 million already approved by the Los Angeles County Board of Supervisors, total fundraising stood at about $275 million, the museum said. Harbor Freight Tools founder Eric Smidt and his wife, Susan, pledged $25 million last October.
Then news about fundraising went largely dark for a year, prompting some speculation that LACMA's expansion might be stalled — and making the timing of the Geffen announcement all the more crucial to keeping the Zumthor plan alive.
"I've lived here for a very long time and I believe in the power of these institutions to change people's lives," Geffen said. "I think it's valuable to support them, and I'm fortunate that I can. There are many others who also can, and hopefully will do so in the future."
The entertainment mogul — founder of Asylum and Geffen records, co-founder of DreamWorks SKG and a man whose worth is estimated by Forbes at $7.8 billion — is synonymous with Hollywood. But after he moved back to New York part-time, many assumed he intended to play the role of philanthropic prodigal son. He donated $100 million to that city's Museum of Modern Art last year and $100 million to renovate Avery Fisher Hall (home of the New York Philharmonic) the year before that — a plan that remains up in the air.
There is no great city without a great museum.

— David Geffen
Geffen, however, dismissed as "nonsense" any suggestion that he is playing favorites when it comes to coasts. L.A. has been the leading recipient of his largesse. In 1995 he gave $5 million to UCLA's Westwood Theatre, renamed the Geffen Playhouse. The following year he gave $5 million to the Museum of Contemporary Art in Los Angeles, and MOCA's satellite location in Little Tokyo was renamed the Geffen Contemporary. Since 2002 he has donated more than $400 million to the School of Medicine at UCLA, now the David Geffen School of Medicine. And in 2013 he donated $25 million to the Academy of Motion Picture Arts and Sciences' museum under construction next to LACMA.
"I think medicine, education and the arts are extremely important to the community," Geffen said, shrugging off a question about his legacy. "It's about creating opportunities for young people to become inspired. I think you find more young artists living in Los Angeles today who decades ago would have been in New York."
More gifts to both cities will follow, he said. Geffen is among the world's top art collectors, with a cache consisting largely of postwar art by American masters including Jackson Pollock, Jasper Johns and Willem de Kooning valued at more than $2 billion.
Geffen said it's possible he will leave a portion of his collection to LACMA, adding that he hasn't given it much thought yet.
"Hopefully I'm not going to die for a long time," he said.
MORE ARTS NEWS AND VIEWS:
Perspective: If we can't gather for a concert without fear, we are doomed
The 'L.A. Phil Effect' hits New York, Cleveland and beyond
He put his own DACA story onstage
After 27 years in a warehouse, a once-censored mural rises in L.A.'s Union Station
Get our L.A. Goes Out newsletter, with the week's best events, to help you explore and experience our city.
You may occasionally receive promotional content from the Los Angeles Times.