The 99-Seat Beat: Jeanine Tesori, Culture Clash and more on L.A. stages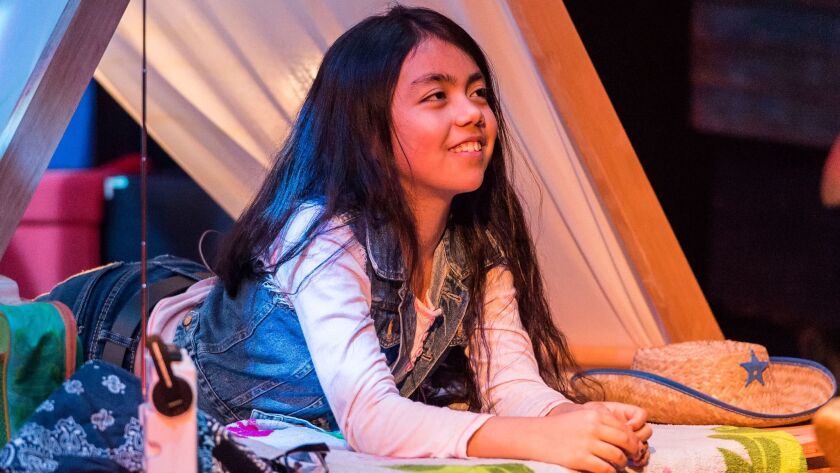 Our weekly look at promising productions on Southern California stages includes Jeanine Tesori's "Violet" at the Chance Theater in Anaheim, the premiere of "Two Fisted Love" at the Odyssey, the Culture Clash-Buyepongo show "Sapo" at the Getty Villa and "Dessa Rose" at Chromolume. Here's the quick rundown:
---
'Violet' at the Chance
The essentials: Set in the 1960s, this Tony-nominated musical traces the journey of a disfigured young woman on a long bus ride through the South. En route to a televangelist she hopes will help her, she befriends two soldiers with new notions of what it means to be beautiful.
Why this? Jeanine Tesori, one of the most celebrated female composers on Broadway ("Fun Home," "Caroline, or Change"), wrote the music for this unjustly neglected show, which premiered off-Broadway in 1997. Director and choreographer Kari Hayter, who staged "Parade" at the Chance last season, has brought on board many team members from that production — a creative combination that should do justice to this underserved material.
Details: Chance Theater @ Bette Aitken Theater Arts Center, 5522 E. La Palma Ave., Anaheim. 7:30 p.m. Thursdays, 8 p.m. Fridays, 3 and 8 p.m. Saturdays (no performance Feb. 10), 3 p.m. Sundays; ends March 4. $31-$45. (888) 455-4212, www.ChanceTheater.com
---
'Two Fisted Love' at the Odyssey
The essentials: David Sessions' comedy premiere is set near Silicon Valley on the cusp of the 2008 financial meltdown, as a Hollywood celebrity copes with a dire medical diagnosis and upheavals on the domestic front.
Why this? The seasoned cast includes Serena Scott Thomas as the ailing matriarch and Sessions as her bluntly outspoken husband. Developed over three years at Pacific Resident Theatre in Venice, "Love" had been performed in a staged reading by Alley Mills and Orson Bean, then further polished by veteran director Jules Aaron, director of this full production.
Details: A visiting production at the Odyssey Theatre, 2055 S. Sepulveda Blvd., West Los Angeles. Opens Feb. 10. 8 p.m. Thursdays to Saturdays, 3 p.m. Sundays; ends March 11. $34. (866) 811-4111, www.twofistedlove.com
---
'Sapo' at the Getty Villa
The essentials: Culture Clash's cheeky take on Aristophanes' "The Frogs" is a free-wheeling adaptation that spans an ancient journey into the afterlife, raging firestorms near the 405 Freeway and a wild 1970s party in which a Latin rock band tries to score a music deal with God.
Why this? A Los Angeles treasure, Culture Clash has a long history of rattling societal preconceptions while tickling funny bones. The L.A. band Buyepongo, known for its buoyant blend of musical styles, contributes to the festivities. With seating for 243, the villa is a much larger venue than we usually feature in this column, but the collaboration of contemporary L.A. groups finding inspiration in the comedy of ancient Athens spurred us to include "Sapo" here.
Details: Villa Auditorium at the Getty Villa, 17985 Pacific Coast Highway, Pacific Palisades. 8 p.m. most Fridays, 4 and 8 p.m. most Saturdays and 4 p.m. most Sundays; ends Feb. 24 (check for exceptions). $20. (310) 440-7300, www.getty.edu
---
'Dessa Rose' at Chromolume
The essentials: Based on the acclaimed novel by Sherley Anne Williams, this musical comes from the co-creators of "Ragtime," Lynn Ahrens (book and lyrics) and Stephen Flaherty (music). "Dessa Rose" details the unlikely friendship between a condemned runaway slave and a white woman, abandoned by her husband, who offers refuge on an isolated farm.
Why this? This timely tale centers on two strong female characters, both new mothers who increasingly rely upon each other in a man's world.
Details: Chromolume Theatre at the Attic, 5429 W. Washington Blvd., Los Angeles. 8 p.m. Fridays and Saturdays, 3 p.m. Sundays; ends Feb. 25. $30. (323) 205-1617, www.crtheatre.com
---
The 99-Seat Beat appears every Friday. Our team of reviewers — people with more than 75 years of combined experience tracking local theater — shortlists offerings with an emphasis on 99-seat theaters and other smaller venues. Some (but not all) recommendations are shows we've seen; others have caught our attention because of the track record of the company, playwright, director or cast. You can find more comprehensive theater listings posted every Sunday at latimes.com/arts.
---
Inside the business of entertainment
The Wide Shot brings you news, analysis and insights on everything from streaming wars to production — and what it all means for the future.
You may occasionally receive promotional content from the Los Angeles Times.